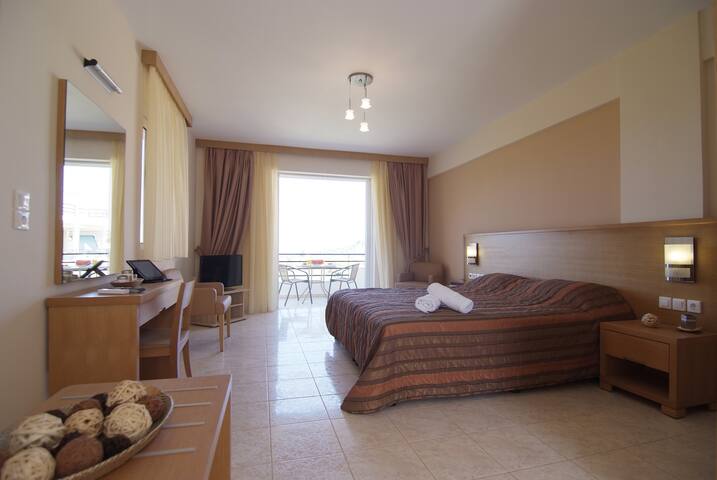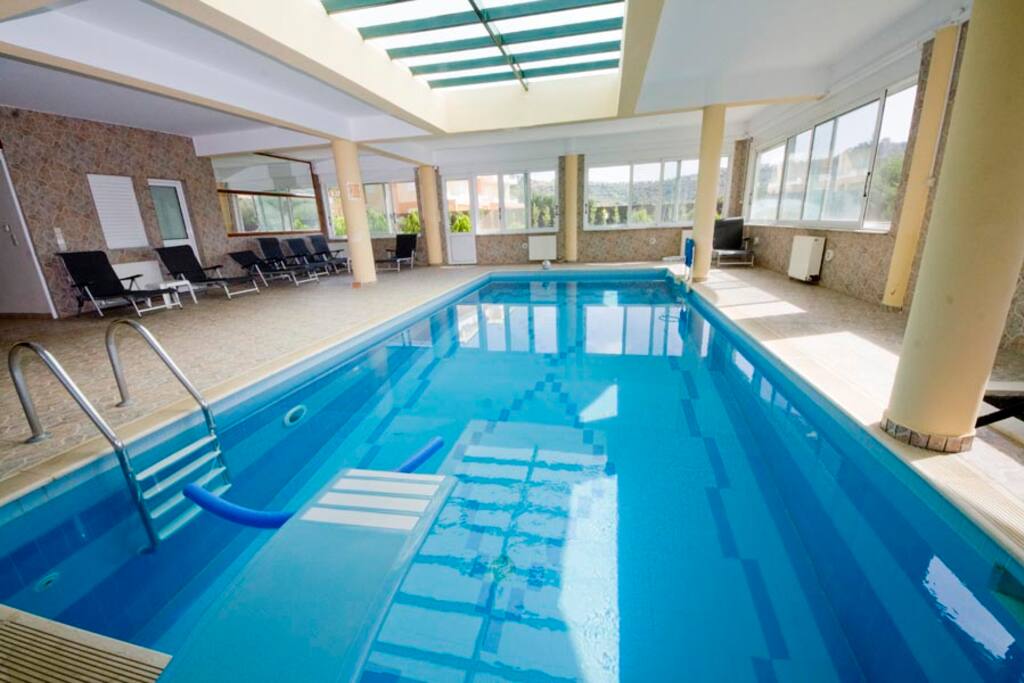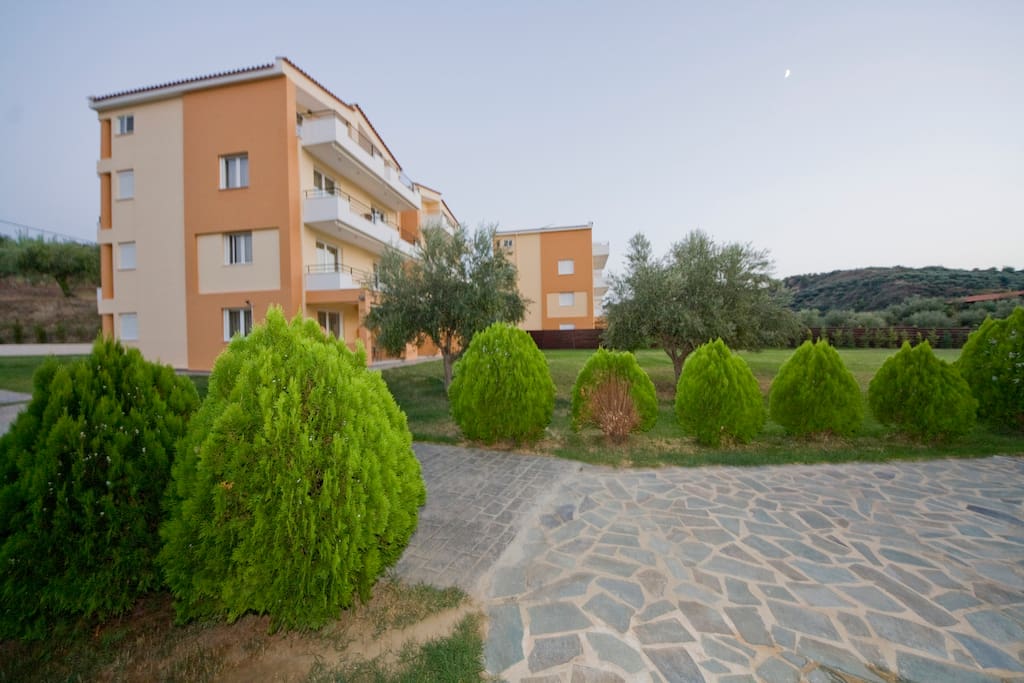 Includes 2 separate large rooms, one on each floor with private shower and WC with double bed that has a special mechanism to convert the double bed into 2 single beds, also it is equiped with kitchenette with all essential items (pots, dishes, cutlery, coffee pot, 2 eyes, refrigerator, closed-circuit extractor, sink, etc.) Each floor also has balconies with balcony furniture.
房源
Free use of Internal Pool (heated when needed and more than 10 apartments or studios occupied), playroom with billiard, pink ponk, soccer games, outdoor green area with playground,.
Catering that support our visitors with special prices for full menu and served in our place in very low prices (4 euros /Person breakfast and 8 euros /Person full lunch or dinner menu selected from catalogue including a lot of options). It is necessary to inform us in order to arrange that and it is in your responsibility and only one good suggestion by us.
---
Nous avons été bien accueillis par une dame, qui nous a donné les clefs à la place de Maria. L'appartement ressemble plus à une chambre d'hôtel qu'à une vraie maison mais il est fonctionnel et propre. En revanche, à part une petite table sur le balcon, impossible de manger à l'intérieur à quatre, ça incite à manger dehors. L'environnement est agréable, dans un parc et nos garçons ont eu accès à la salle de jeux (billard, baby-foot) ce qui les as définitivement séduits !
---
This has been by far our worst Airbnb experience. The pics of the room are misleading and they are not in compliance of what you get once you enter the room. The welcome was not good, since we had to "search" for the host, there was no active reception at the two appartment buildings and no directions of how to get the keys. The "pool" is not actually a pool, but a small like 6 X 4 meters bath. The rooms have common balconies, so privacy is not quaranteed. Finally, the room itself was dirty and the shower in a bad shape... Actually the curtain and the holder where falling off when you touched them. So... it was far from a value for money stay!!!! We would never stay there again and wouldnt suggest it to others.
I do not understant why this year continuesly there are rude visitors through airbnb. The couple from the first time was very rude and did not read the website that is really described and has photos. I do not write for privacy in any place and lies about cleaness is something that is against our accommodation. We have many satisfied visitors and they come again and again. If someone is searching for privacy and is rude please keep away !
---
A EVITER ABSOLUMENT - ABSOLUTLY AVOID Je voyage énormément , et beaucoup avec Airbnb, c'est la première fois qu'à mon arrive je fais demi tour et ne prend pas la location. Pourtant la plus chère de ce tour de Grèce 16 € pour 2 nuits. Nous sommes arrivés avec ma fille, aucun accueil , juste une dame et une jeune fille ne parlant que grec ( dans un lieu touristique ) incapables de nous donner la moindre information... En principe d'après le site internet Anilio Plaza, il est possible d'obtenir des repas, boissons, ... AUCUNE DES INFORMATIONS SUR LEUR SITE N' EST VRAI En fait rien du tout, ces deux dames nous ont tendus des prospectus et nous ont montré les numéros de téléphones des restaurants de la région. De plus l'endroit franchement pas acceuillant. Pas de responsable présent. Pas de wi fi free , en 2015 dans un lieu touristique? Ma fille et moi avons décidé de louer une chambre à Kakovatos, pour 35 € la nuit , inclus wifi, air conditionné à deux pas de la mer... Le prix et la qualité des prestations ne sont pas à la hauteur. J'ai demandé à Maria d'annuler ma réservation et elle à refusé. Un conseil : NE RESERVEZ JAMAIS Nous avons décidé avec ma fille
Our presentation is clear enough to understand what is exacty included in our services. We have not internet and this is a problem not in our responsibility but no company has access in our location and is exactly descibed in our web page in airbnb. It is not fair from anybody that has daughter that wants internet to find a wrong reason and to rank our accommodation in that way with 1 to create impressions not good for us only because he loves his daughter and not give any feeling for other people. Really I do not want to have such visitors in our accommodation. Furthermore normally visitors do not ask for internet when coming as their first concern and especially when they are in a nature environment ! I was there and during the short delay of seeing Mr Francois he met our cleaner lady. Of course she does not knw english but I was there helping another visitor with his room. I do not accept the comments of Mr Francois and not want other ime to have him in my accommodation !
---