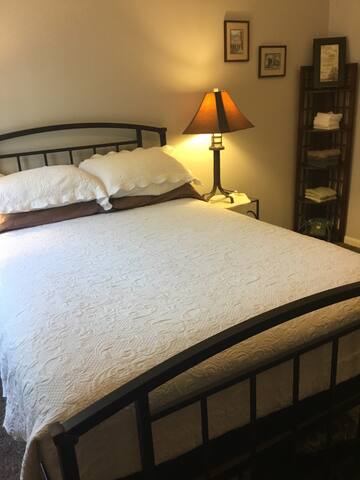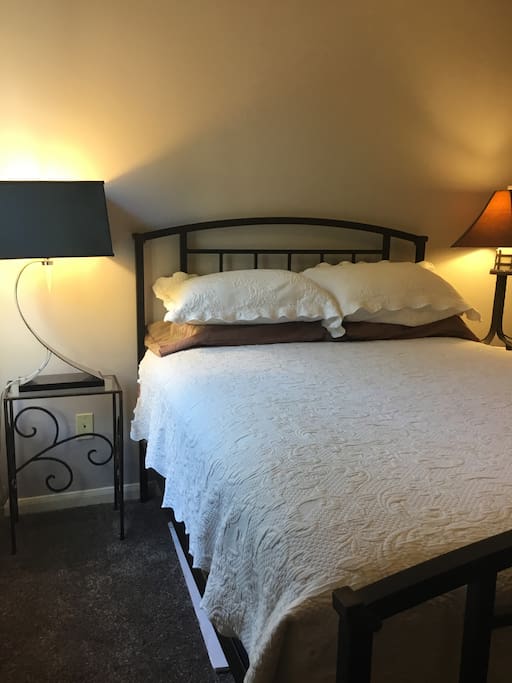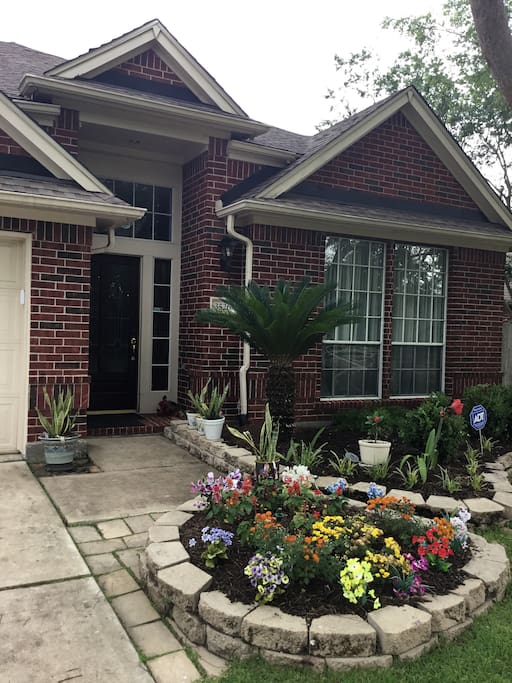 Clean Private bedroom in a house on a golf course
Nestled next to a corner lot, in a master planned community, this great place to relax and recharge after a day of tour or business in the City, is a lovely one-story home. The breath taking golf course views in a green backyard... an extraordinary and unique Airbnb find.
---
---
---
A printed version of this house rules detailing what we expect of our guests and what our guests can expect from us will be provided upon check in.
Amenities and Supplies:
1. Complimentary towels, and bathroom supplies, ie, shampoo, conditioner, shower gel, hand and body lotion, toothpaste, toothbrush and bar soaps; toiletries and cleaning supplies.
2. Bed sheets, including warm cover and pillows are clean and for your exclusive use. Please notify us if you need extra pillows or blankets or need to change them.
3. Ceiling fan to provide extra cooling, extra drawer and closet space, portable tables with mirror, bedside lampshades and side tables, corner shelf.
Accessible Areas:
1. Living room with sofa and TV with remote control. Ironing is done at the living room corner.
2. Kitchen and breakfast nook with cooking and dining utensils marked for exclusive use of AirBnB guests. We do not provide breakfast. You are welcome to prepare your own meals. Please clean and neat as you go. Our refrigerator could share some of your grocery items on a space marked Airbnb.
3. Dining Area and Dining Table. You can enjoy your meals here, or do some reading or paper works.
4. Backyard Porch and sun-deck. There is gas fired grill that you can use. The sun-deck has two beach chairs and a shed for you to enjoy. There is also an outdoor portable table if you wish to hang out and enjoy a meal or coffee. A conduction stove is handy and a portable sink is available. We only need it cleaned every after use. Do let us know in advance if you need to use the grill or conduction stove so we can have it ready.
5. Uncovered driveway is for your vehicle to park when you are home. Please park at the left side to give way to the owner's car at the right. You can also utilize the spaces on the road for parking.
6. Washer and dryer. You can use anytime you wish. We do not provide laundry detergents.
7. Bike lanes available within the neighborhood. Jogging tracks within the golf course also accessible from the backyard.
Check-in and Check-out:
1. Your check in time is 11am and check out time is 11am. We allow adjustments. Please inform us in advance if you need late check in or check out as we need to tidy the place for the next guest.
2. Upon arrival we would like to verify your identification by showing us your valid photo ID.
Others:
1. We do not allow pets with our guests. Only children above 12 years old will be allowed if accompanied by one parent. Our bedroom is not designed for kids younger than 12 years old and neither do we accept kids as guest all by himself.
2. The entire house is a non-smoking house. If you smoke, please stay outside of the house until you are done.
3. Drugs and illegal activities are not allowed within the premises.
4. The house is equipped with ADT safety surveillance system. Opening doors not expressly mentioned to be accessible may trigger an alarm that requires complex intervention. Please refrain from entering rooms or opening doors that are not designated as accessible.
---
---
---
---
This was truly a wonderful place to stay, the little personal touches all over the house, made it feel like a home away from home for me. The room was spacious, cozy and clean with plenty of storage space, the bathroom was clean with complementary items. The neighborhood was beautiful and quiet. If you have the opportunity I would recommend watching the sunset from the backyard, it is very nice. And the communication with Dr JohnRich was very pleasant, any questions I had were were promptly answered. If you are looking for a affordable and relaxing place, this is it.
来自Dr. JohnRich Randall的回复:
Hello Deborah, I consider myself both lucky and blessed to have you as our guest in our humble dwelling. If you ever have a need for a place to stay in the Houston area, please do not hesitate to book or contact me for assistance. I will be very happy to offer our place for you.
---
John has a very nice comfortable and cozy house. It's very clean and makes you feel right at home. He was very responsive to messages if I needed anything and was accommodating to any question or concern I had. Loved having the bathroom right next to the room. Both were immaculate and the shower had everything you needed already there. Only thing to be aware of is the bed is a bit on the firm side. But it's still comfortable. Would definitely stay again.
---
Dr. Randall was a wonderful host. He wasn't around too much, but that didn't prevent him from accommodating every need I had. Communication was great. As for the room, it was great. It was clean, tidy, and comfy. The bathroom was right next to it and was clean as well. I have no complaints.
---
Dr. JohnRich's home is absolutely beautiful and very clean. Dr. JohnRich is a pleasant host and very welcoming. He made sure that if I needed something to let him know immediately. He cares a lot about having his airbnb guests completely satisfied and feeling welcomed in his home. The bedroom was very clean and as well as peaceful. The bathroom is right outside of the bedroom and it is for guests use only. It was nice to have a private bedroom and as well as a private bathroom. If you are looking for a place to stay in Pearland or close to Houston, I highly recommend Dr. JohnRich's home! You will be completely satisfied at his home which is located in beautiful and peaceful Pearland, Texas
---
Review: 5-star. Dr. JohnRich is a pleasant host. I stayed in his place overnight and it was a smooth and relaxing stay from check in to check out. I arrived on time and Dr. JohnRich was on the door waiting to welcome. He then showed me the room I was going to stay. The room was immaculate and the bed linen are brand new and clean. It smells fresh. The bathroom was outside the bedroom but was dedicated for exclusive use to the guest. bathroom supplies were also provided as complimentary. I didnt have to worry a single thing. Upon check out, I notified the host that I will leave a little late by one hour and he was very considerate. He offered complimentary tea and coffee. The kitchen was well kept and as clean. His place has class despite its humble location. He has taste with furnishing that goes with his charm. I would recommend his place to anyone who are looking to stay in Pearland and Houston utilizing Airbnb. I would vote for him as super host anytime.
---
Traveling is to me a way of broadening. But hosting you brings out my charm. When your destination includes my place of stay, your adventures will have taught you new ways of seeing beauty, charm and a sense of fulfillment.
When I travel using Airbnb, I enjoy rare privileges of meeting unexpected wonderful people and building unexpected new friendships. I want to return that favor when I host.
语言:
English