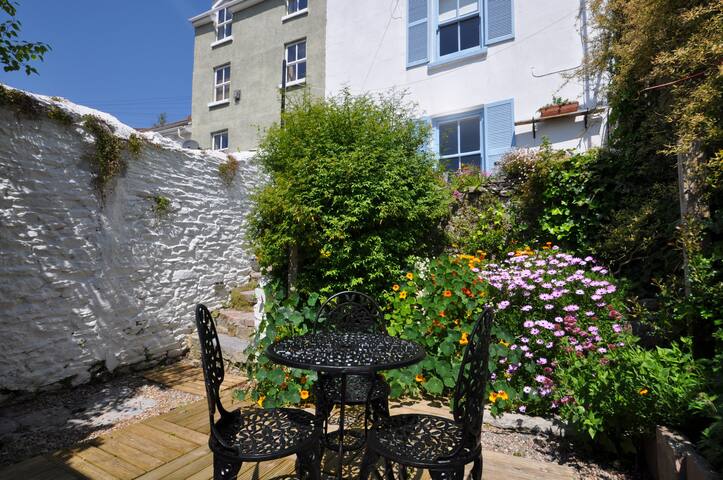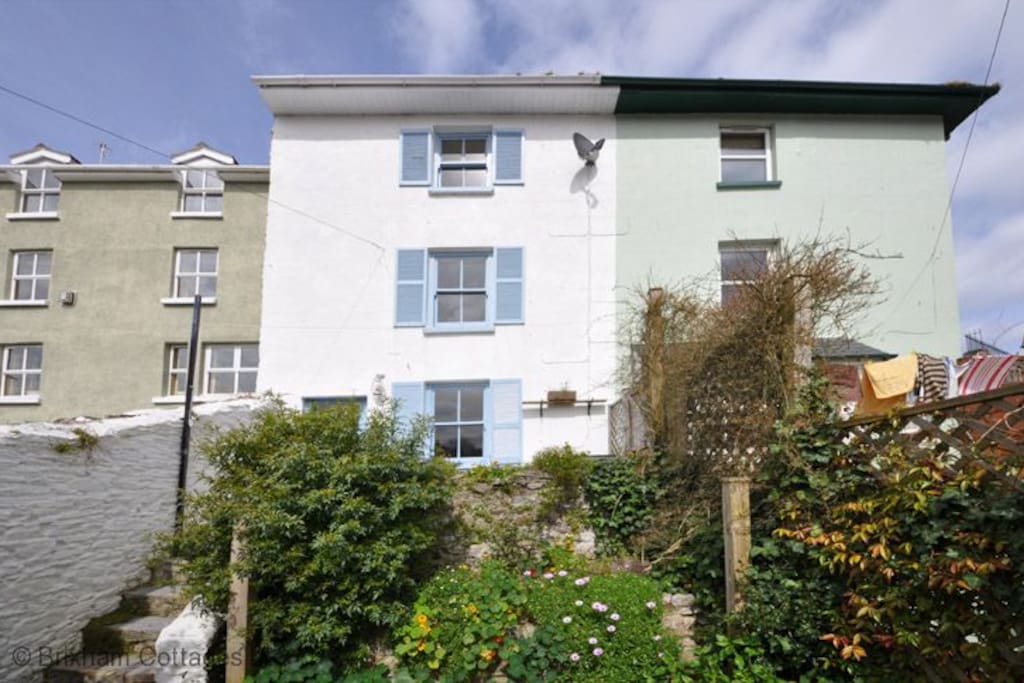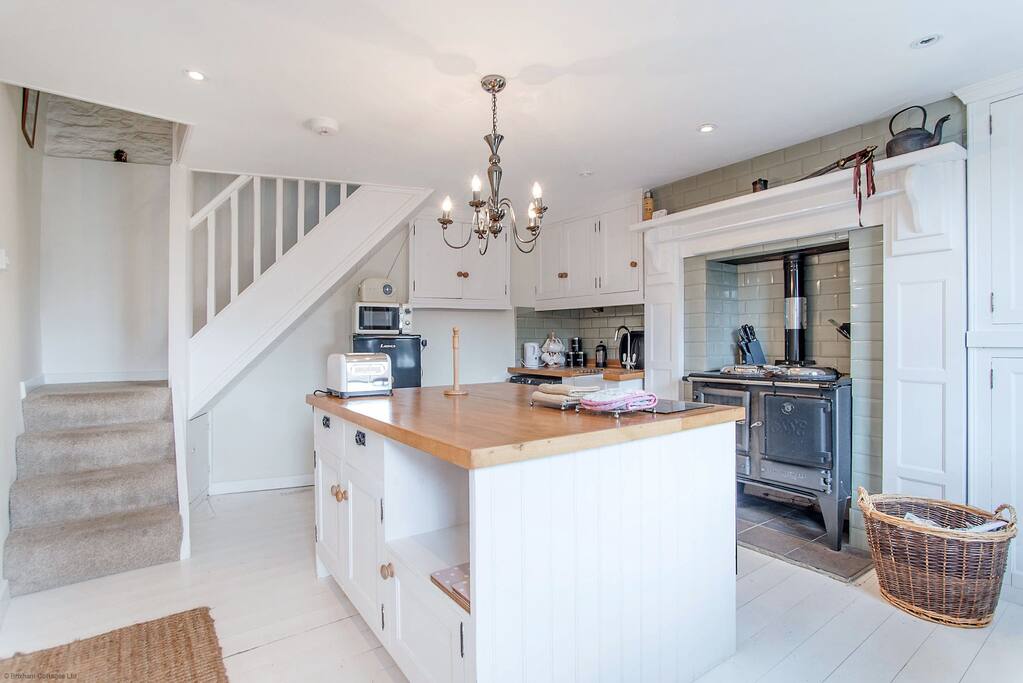 Hideaway Cottage is a delightful period fisherman's cottage with parking, sleeping 2, in a quiet location within a few minutes walk of the inner harbour with it's numerous shops, cafés, restaurants and pubs -a true slice of Brixham's history and character.
Hideaway Cottage has been recently renovated from top to bottom, furnished with shabby chic furniture, and soft furnishings from Laura Ashley, creating a quaint and comfortable home-from-home.
房源
Hideaway Cottage has been recently renovated from top to bottom, creating a quaint and comfortable home-from-home, a real romantic getaway!
Ground Floor: Large kitchen breakfast room with bespoke units and breakfast bar island; with electric oven and hob, fridge freezer, washing machine, cooking range.
Stable door with direct access to the terrace, and decked cottage garden, perfect for alfresco dining. BBQ available.
First Floor: Lounge with cast iron open fireplace, perfect for those winter evenings. With a dual aspect, this room is light yet cosy. Under floor heating.
Second floor: Bedroom with shabby-chic furniture, king size feature bed, window seat overlooking the garden and countryside surrounding Brixham. Under floor heating.
Smartly fitted shower room with corner shower cubicle.
Outside you are greeted with a very private yet sunny terrace with a few easy steps down to the very well proportioned and super sunny cottage style garden, with a decked patio with attractive 'cottage' style planted borders, a very pleasant surprise and a rarity so close to the heart of Brixham.
Wireless internet is provided free of charge.
Free Parking space available in the Church car park. (Permit at cottage)
If you require any further information don't hesitate to call us on (PHONE NUMBER HIDDEN), we are open 8am to 10pm everyday and will be very pleased to help.
---
---
BOOKING CONDITIONS
Reservations:
Reservations for accommodation are accepted by Brixham Cottages (the Agent) on behalf of the property owners, on the following conditions:
The Agreement:
The condition of hire is between the Hirer and the property Owner. Brixham Cottages act only as agent.
Contract
When you submit a booking via our online reservation system you will receive an automatically generated booking summary by email to the email address you provide in the booking form. This does not form a contract. A contract shall only arise when your booking is subsequently confirmed in writing via a letter of confirmation sent to you by post or email. You must be over 18 years at the time of booking.
Booking:
When the booking is made an online Booking Record must be completed either by the person making the booking, or by the Agent on their behalf. The lead party named on the booking record (The Hirer) will be responsible for all persons included on the Booking Record and should ensure that they are aware of these booking conditions. All OnLine bookings are provisional until confirmed in writing by the Agent. The Agent/Owner reserves the right to decline any booking or refuse to hand over a key to any person who has not complied with the booking conditions.
The Hirer agrees to pay the balance of the cost eight weeks before the holiday is due to start.
Number of People using Holiday Accommodation:
The licence from the Owners shall permit the Hirer and members of the Hirer's party as shown on the Booking Record (but no one else) to occupy the property for holiday purposes only. No more than the maximum number of persons stated in the brochure and included on the Booking Record may occupy a property unless by prior written agreement with the Agent/Owner. Large group bookings of people aged under 25 may only be accepted by special arrangement.
Arrival/Departure:
The properties (unless otherwise stated in the property details) are available for occupation from 3.00 pm on the first day of the holiday and must be vacated by 10.00 am on the last day.
Pets:
The Hirer may only bring such pets as are mentioned on the Booking Record. Pets must be well behaved, kept on a lead at all times and never be left unattended in the property. They are not permitted in the bedrooms or on any furniture in the property. Neither the Agents nor the Owners can accept responsibility for their safety. 'No Pets' in a description may not guarantee that pets have never occupied the property.
Your Responsibilities
The Hirer agrees:
That the supervision of children, babies, dogs and any adults requiring care remains the responsibility of the Hirer at all times.
To be responsible for leaving the accommodation in good order and clean condition, otherwise a cleaning charge will be levied.
To pay for any damage or loss however caused, excluding reasonable wear and tear incurred during occupation.
The Hirer expressly agrees that where credit/debit card details have been taken for the booking the costs of rectifying the damage or loss will be debited from the credit/debit card.
Not to cause nuisance or annoyance to occupants of nearby property.
To allow reasonable access to the property by the Agent/Owner if it is deemed necessary.
If, in the opinion of the Agent/Owner any person is not suitable to continue their occupation of the property because of unreasonable behavior, damage or nuisance to other parties, the contract may be treated by the Agent/Owner as discharged and the Agent/Owner may repossess the property immediately. The Hirer will remain liable for the whole cost of hire and no refund shall be due.
Complaints:
The Agent has inspected the standard of facilities in all properties but cannot accept responsibility for any changes made by the Owners since the inspection, or failure by the Owner to keep the property dry, clean and in good repair.
The Agent cannot be held responsible for any perceived inadequacies in any of the properties. Property descriptions and all details both written and verbal are given in good faith and believed to be correct, but their accuracy cannot be guaranteed.
The Agents and Owners take no responsibility for noise or nuisance resulting from third party activity over which they have no control. Tenants are responsible for ensuring the property is suitable for their needs prior to booking.
In the unlikely event of a complaint the Hirer should immediately contact the Agent or their named representative to ensure sufficient time is given to investigate and take any necessary remedial action. No complaint can be considered where the hirer has denied the agents or the owners the opportunity to visit discuss and if necessary rectify perceived problems or inadequacies. Any dispute arising out of the booking will be between the Hirer and the Owner. The Agent shall not be liable for any claims by the Hirer or the property Owner. No complaints can be considered after departure from the property.
Liability:
The Agent/Owner cannot accept responsibility for any material loss, damage, additional expense or inconvenience directly or indirectly caused by or arising out of the property, its plumbing, gas, electrical services or exceptional weather.
No responsibility is accepted for loss or damage of property, (including pets), vehicles or vehicle contents belonging to the Hirer or any member of the party during their occupancy.
Cancellation by Us:
The Agent/Owner reserves the right to refuse any booking and to cancel any bookings already made if the property is unavailable (e.g. through fire, flood, etc) for any reason whatsoever, subject to a full refund of all monies paid. Neither the Agent nor the Owner shall be under any other liability if such cancellation occurs. Note: in the unlikely event of a cancellation the Agent will make every possible effort to secure alternative accommodation if required.
Force Majeure:
The Agent or Owner cannot accept responsibility or liability for any alterations, delay or cancellation or any other loss or damage caused by war, civil strife, terrorist action, industrial disputes, fire, sickness, bad weather, epidemics, acts of any government or public authority, changes imposed by re-scheduling of airlines or any other event outside our control.
Waiver:
The failure of the Owner to enforce or exercise, at any time or for any period of time, any term of, or any right pursuant to this Agreement does not constitute and shall not be construed as a waiver of such term or right.
Miscellaneous:
The Hirer agrees that the Contract with the Owner is made at the Owner's premises and that any proceedings between the parties shall be conducted in the County Court nearest to the Owner.
These booking conditions supersede all previous issues. June 2013
---
Johnny & Linda run Brixham Cottages Ltd, which is a holiday cottage agency based in our home town of Brixham. UK. We have run this business for over 10 years now and know all of the properties listed inside out and can offer information and advice before your booking and are on…