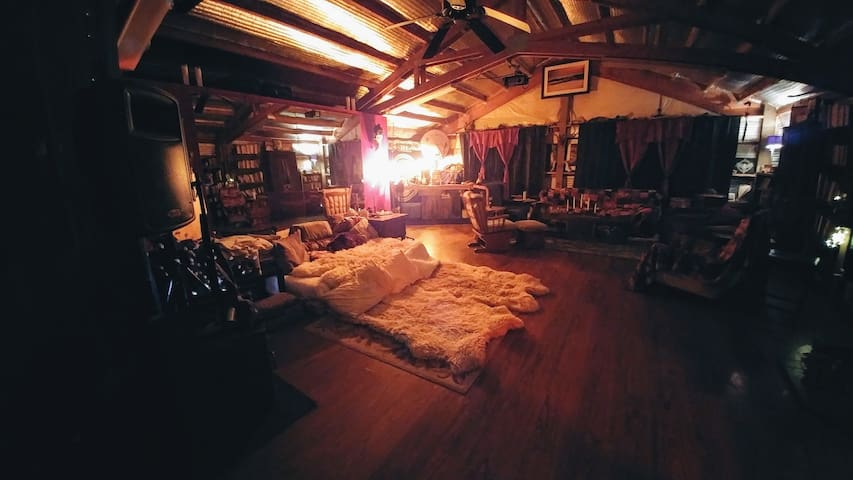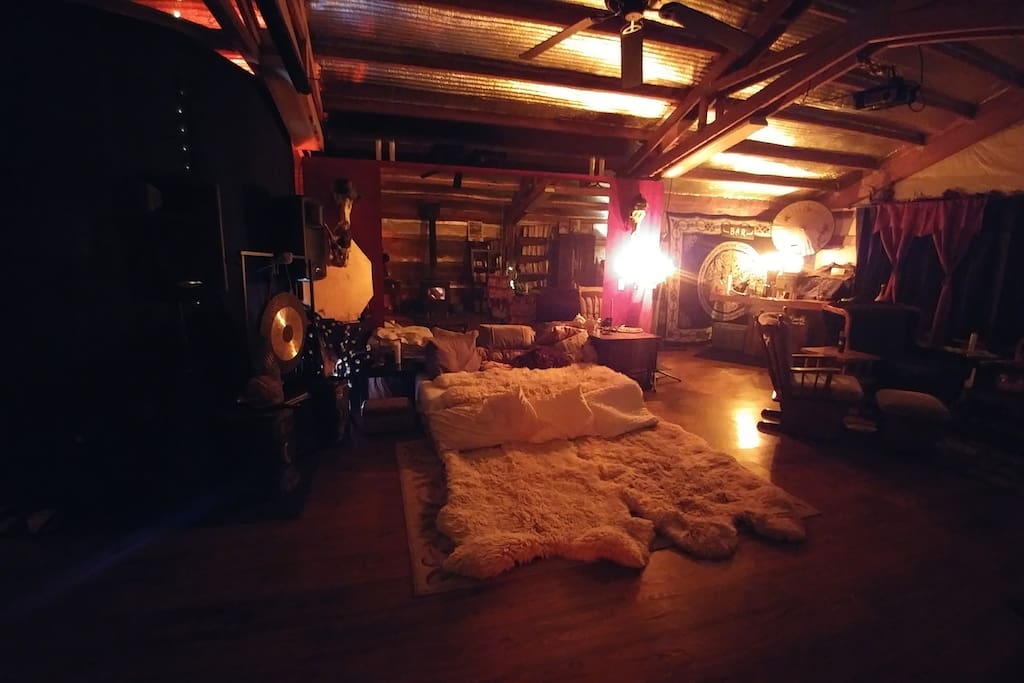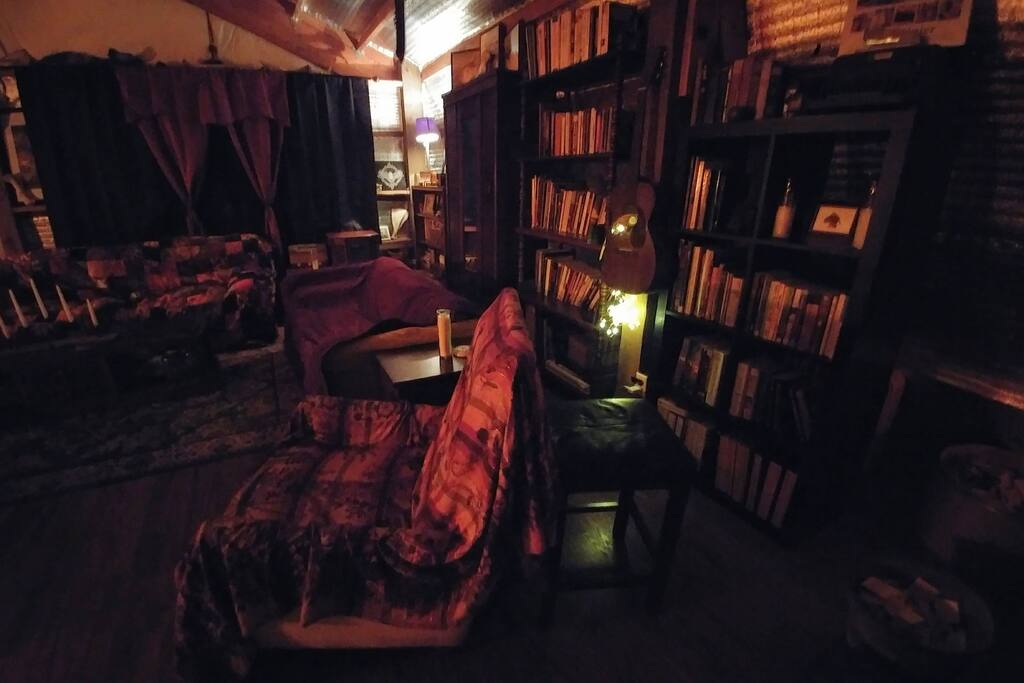 Quirky creative space in the Willapa Hills of SW Washington State, which is located on 32-acres of creek-front private property.
房源
The loft is a 925 sf space, located upstairs above the 'shop'. It boasts laminate floors, a woodstove, kitchenette, library, Wii console and TV with games, record player and records, an assortment of board and card games, ample seating, table and chairs, bar, and mirrored wall and ample floor space; ideal for yoga and dancing.
房客使用权限
阁楼位于商店旁边的楼上,旁边是房子。它不是ADA可访问。 有32英亩的克里克前面的物业可供客人使用,包括一个草地,树木茂盛的小径,火坑,它毗邻数百英亩的国家土地和旧的采伐道路和小径。 该物业平行于Rails至Trails路线,从道路到雷蒙德,WA。足迹的一些部分是自行车可达的。
The loft is located upstairs above the shop, which is next to the house. It is not ADA accessible.
There are 32-acres of creek-front property accessible to guests, which includes a meadow, wooded trails, fire-pits, and it abuts to hundreds of acres of state land and old logging roads and trails.
The property runs parallel to the Rails to Trails trail, which runs from Chehalis to Raymond, WA. Some parts of the trail are bike-accessible.
与房客的互动
There will always be someone available on-site.
其他注意事项
This is not a pristine 5-star hotel room... but the space is comfortable and accommodating and offers more than just a bed and bathroom. The loft is rustic and definitely quirky and off-the-beaten-path. There is an outdoor primitive shower. A composting toilet (bucket with sawdust) and sink are located downstairs for dish and hand-washing. These things are not located in the actual space, but are close by and available. We have a futon mattress and sofa-bed and couches for sleeping. There are clean sheets, but it's not a real bed.
We live in nature and there are many treasures of the forest we find, including bones, which are in the loft and throughout the property in various shrines. We think they are beautiful and like the nature immersion... There are also insects and critters. We try to keep them out, but it's virtually impossible.
We have satellite internet and no cell service on property. We do have a land-line for emergencies, or you can drive less than 5 miles into town for cell service. Sometimes I get a text... but it's not guaranteed.
The kitchenette has a hot plate, dishes and silverware, small refrigerator, toaster oven, french press, and electric kettle.
---
---
---
您还必须确认以下情况
Dog(s)、cat(s)、other pet(s) live in the house
---
---
---
---
Magical, enchanted, communal property in some of the most beautiful forested areas in Washington. Si and Ambers loft is everything your child's mind ever dreamed your secret hideaway in the woods would be. Cozy and eclectic and filled with eye candy and mind treasure. It's truly one of a kind. The surrounding forests are deep and storied as is the property located on the site of an old ghost town and saw mill. We will always relish our night hikes through the forest and lying in the meadow stargazing. We got lost for hours in the wonderful collection of books in the loft. All of the landmates in the community were warm, inviting and accommodating. Si has a vast knowledge of the history of this area and many tales to tell about it. We hope to be back soon to hear more and share this amazing space with friends. We hope you recover quickly from your dirt bike mishap Si! We are going to get that full historical tour next visit! The description of the space is very accurate. You are renting a space, so if you have certain creature comforts you can't live without bring them with you. We brought our own air mattress because we are old hippies whose backs have seen many a lumpy forest or desert floor and we were very comfortable next to the fire. But if you are young and limber there are many comfy couches and a futon mattress to crash on as well. There was always someone available to answer questions or show you where to find anything you couldn't. Go enjoy this piece of wonder in the woods! You will find your adventurous child within it.
---
Beautiful space and loved being in the main room. HOWEVER-more rural than you would expect and expect big spiders/other crawly creatures in the bathroom/washroom. Also the bathroom was a glorified porte-potty. The wifi barely works and no cell phone service (even with verizon). I was very disappointed.
Thank you for the feedback. If you were disappointed, I wish you would have said something in person and perhaps I could have addressed and eased some of your concerns. I remember going up to meet you and ask how everything was going, and you didn't say a word. A lot can happen with clear and direct communication. It was very clearly stated we lived in the country on 32 acres, bordering state land, which is what most people appreciate about our listing. That implies a very rural setting. There are also many insects and critters in the country. I choose to live in nature. It was mentioned that we had a composting toilet... which means in its' definition it's a 'glorifed porta-potty' and .. Most guests actually like that aspect and want something different. Living in a rural wooded setting in the country means we can only get satellite internet. Frankly, we are fortunate to get the internet we have and believe me when I say, I wish we had better service also. That is beyond our control... I believe you paid for an experience away from the city and modern luxuries. Blessings.
---
Perfect pad for the low maintenance traveler. This homestead is an absolute jewel if you're looking for a unique spot to explore. Hosts were very kind and welcoming. Our trip was a fast one, so we didn't have the opportunity to chat with Si and Amber about the homestead, but new guests should know that the trails are also used as a spiritual place and have animal bones decorating them. No complaints other than the bed being pretty uncomfortable. There are plenty of couches and cozy rugs to crash on if needed! Overall our trip was a great one and we can't thank our hosts enough for taking us in on same day notice.
---
Red Hawk Avalon lives up to its magical name! A powerful retreat from the collective dream of the urban environment. Sitting by the river, hanging out with Amber, Si, and their daughter, and eating dinner around the fire pit are all some of the good memories we will take with us from our visit. We will surely be back for more!
---
Overall our stay at Red Hawk Avalon was amazing. We were greatest by Amber the second we pulled into the long secluded driveway. The property is nestled in the dense Washington forest. We were shown around the property where there was nice walking trails behind a meadow that they hold festivals in. If you're looking for a retreat from the hustle and bustle of the city, this quiet loft next to a creek is the place for you.
---
I made a last minute reservation at Red Hawk the day before my stay and Amber and Si were incredibly accommodating right from the beginning. Si showed me around the loft space and told me how everything worked and answering any questions I had. Their mellow, sweet dog was always close behind and a welcomed presence during my stay. Si and Amber showed me around their gorgeous acreage and were more than happy to tell me about its history and lore. The walking paths and proximity to the creek were truly a magical setting, a place I will not soon forget and already look forward to returning to. Si shared some of his delicious home-made mead with me as he told me fascinating history of the area surrounding their land. The loft area itself was huge and just as described--cozy and quirky with beautiful decorating and so many interesting things to look at. In the morning, I was treated to scones, bagels, and coffee from a French press. This is a wonderful place to go to get away from it all, and whether you are there enjoying the land on your own or with the wonderful hosts, you will feel right at home in this gem.
---
Nestled in between the Ocean and the Mighty Cascade Mountains, in the Willapa Hills of Washington, lies Red Hawk Avalon. It is a 32 acre homestead on the historical ghost town site of Walville, Washington which straddles the Lewis and Pacific County lines. Red Hawk Avalon derives it's name sake from Brother Red Hawk who graces the homestead, and for which the road is named after, and Avalon comes from the constant mists that blow through from the Pacific Ocean.

Red Hawk Avalon is 25 miles west of I-5, and 25 miles east of hwy. 101 off of hwy. 6, near the town of Pe Ell, Washington.