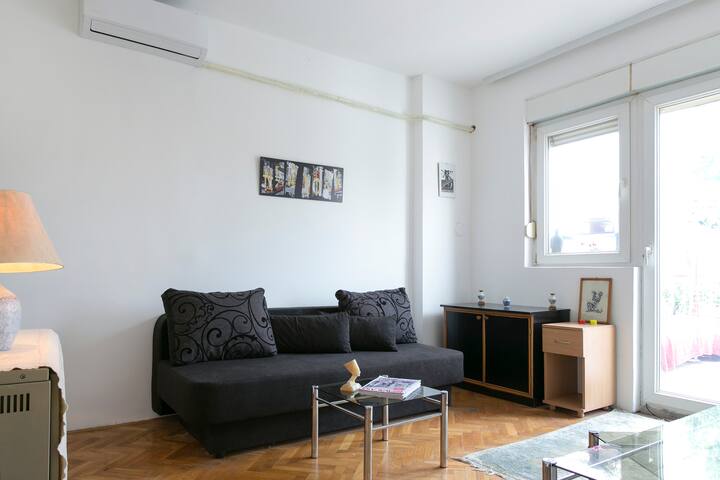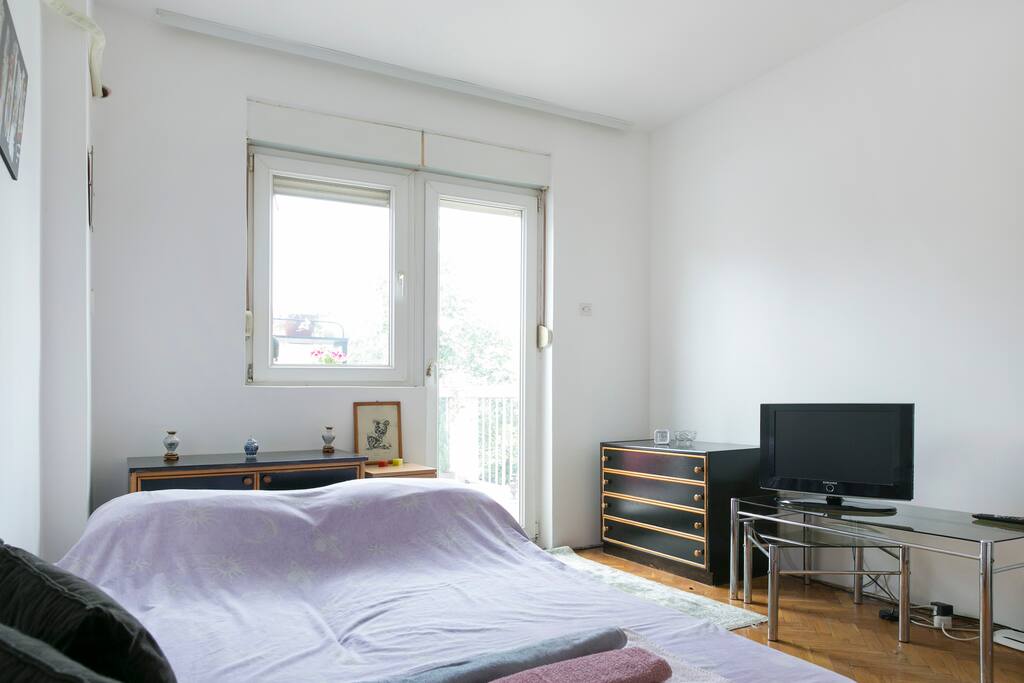 Radmila was a pleasure to meet and her place is wonderful for a brief stay in Belgrade. A decent distance from the center, superb cable channels, and a quaint veranda that allows for sleeping under the stars on mild summer nights. She even took my friend and me to some cool spots in the city and helped us find a taxi. A superstar hostess!
---
Staying at Radmila's place was like a nightmire. Firstly: flat was very dirty and filtfhy. All the rooms were stinky, the dust was everywhere on the floor. In bedroom were many insects. The fridge was the worst: all in old food, dead insects and hair. There was no kettle which was pretty unconviniet. Furthermore the batrhoom was really awful because of strong discusting smell. In addition the woman who probably was sister of Radmila who met us first day disinformed us about reporting our stay. To all foriners coming to Serbia: remember that you need to report your stay at the Police station with your host otherwise you can pay a fee (something about 400€). The strenght of Radmila's place is it's well localization, near to the city center, shops and bus stops.
Dear airbnb First there were no food in the fridge when they arrived. SEcond it was not dirty when they arrive and there are insects outside on balcony. Those 2 young ladies from Poland do not speak very well English and they overheard when I mentioned police station. And I have met them at the police station to sort out everything. Do not know why they have written such a bad review.
---
The flat is nice and bright. It has a wonderful roof terrace. The complete flat is very quiet and it is oriented towards inner garden of the block which will make you think that you are somewhere in the Mediterranean. Easy reachable from city center and with the plenty of services in the surrounding.
---
This flat is definitely good value for money, located in city center within 5 minutes of walk towards 3 bus and 2 trolley stops, from which you can get transportation towards any part of Belgrade. Flat is equipped with everything you need for a normal short stay in Belgrade, Wi-Fi and air conditioner are working smoothly, there's also cable TV. Flat is located in really peaceful neighborhood, in amazingly quiet building, so your peace won't be interrupted by anyone. Also, flat has a really nice and sunny balcony with sofa bed on it, where you can take your dining table out and have a romantic dinner. Me and my girlfriend stayed for 10 days in Radmila's flat and had a really good experience. Radmila is really communicative and funny person, you can definitely count on her in case you need anything, or just grab a casual coffee with her. :)
---
I am writer, journalist, critic and English translator I like to travel and I like to host, always welcoming new people in my life.