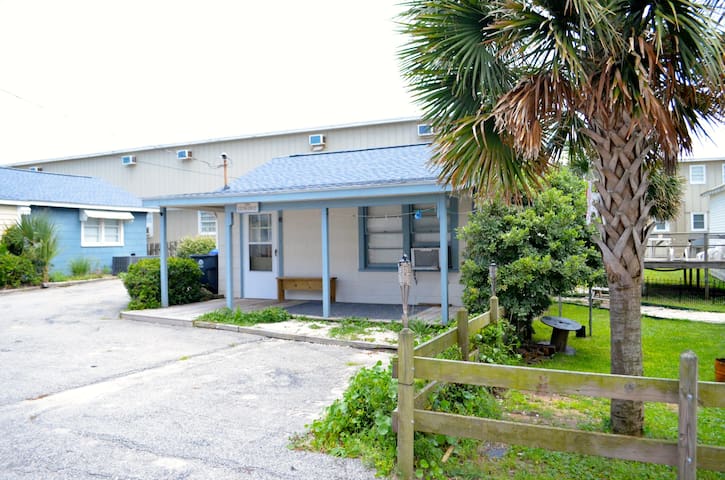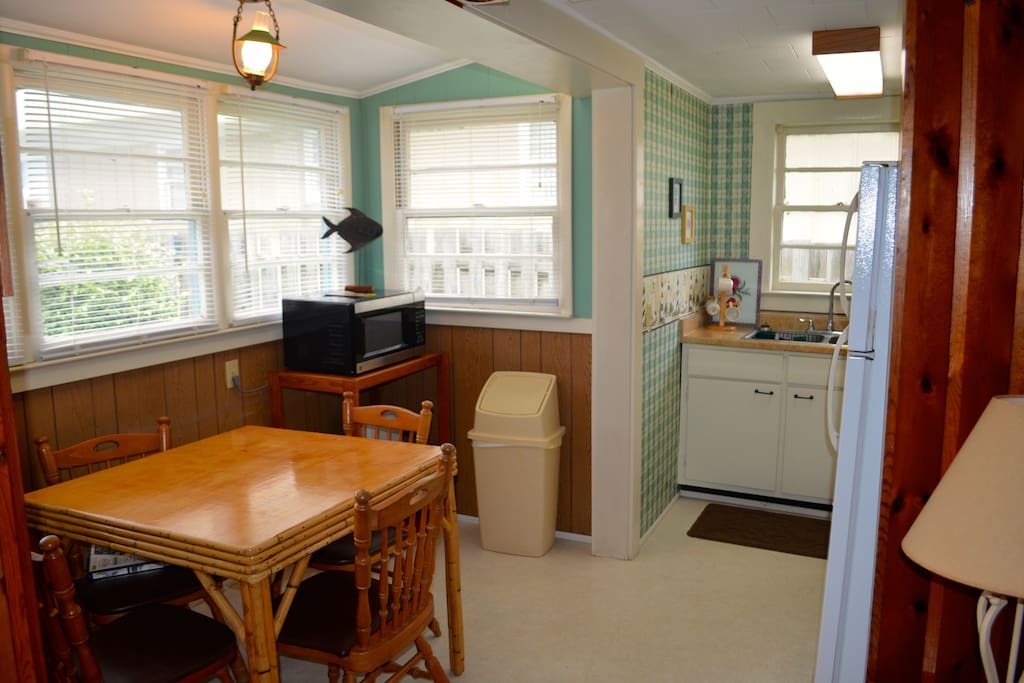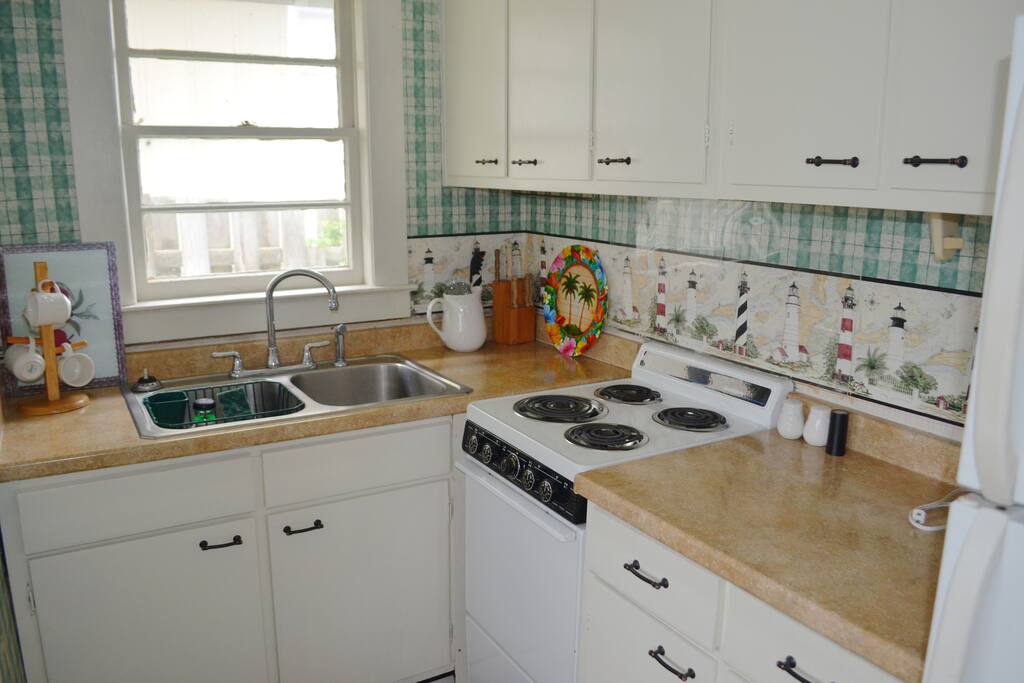 The stowaway is an intimate, family-friendly cottage that will remind many people of beach vacations from their childhood! Located on the ocean-front, the Stowaway was converted from old army barracks and transported across the island from Fort Fisher. On an island evolving as quickly as Pleasure Island, the Stowaway is one of the few remaining cottages that provides the charm of a bygone era. Just a stone's throw from the ocean, this cottage is an endearing place to create new memories.
---
I don't want to give a good review because then others will know about the place and reduce our chances of getting it again. Seriously, this is a hidden little gem of a cottage that's close to the Ocean Grill & Tiki Bar as well as the Boardwalk at Carolina Beach. It has everything one needs at the beach - a bed, a bathroom, a sitting area (with cable TV for Weather Channel updates) and a full kitchen. It reminded me of the rustic military cabins I would stay in a child - not fancy by any means - but clean and provisioned with the basics. The window A/C worked great and will get the cottage as cold as your heart desires. The porch is covered, so if it rains you have the option to sit outside, and there are clothes wires set up out there to dry towels and bathing suits. As an aside, there are companies that will provide chairs and umbrellas (and more gear) and set them up in the morning on the beach and take them down in the evening, so that's what we did and it was super convenient walking out of the cottage down to the beach and have everything set up and ready to enjoy. We're definitely coming back and appreciate the Jamison family providing the great little cottage!
---
We usually stay in more of a multi unit resort type location. This year though since we were going in "High season" we decided to try something smaller with easier access, i.e. no parking garages elevators etc. This cottage fit the bill perfectly! The cottages have their own private drive right off the main road, and you park right in front of your own cottage! Super easy for unloading and just generally getting about. The cottage was very clean and easy to keep clean for just my husband and I. The TV was actually upgraded from the pics that were on Airbnb and had a nice selection of cable channels. The cottages don't have a direct ocean view from the cottage itself but there is a nice private wooden deck that provides one. There is also a private walkway with direct beach access. It was a perfect size for us (2 people). Everything worked well and we look forward to another stay!
---
Amazing location on the beach! Quaint and small, just enough for our family. I found the bed comfortable but not so much the pull out couch ( good thing we brought blow up bed for kids). Great modern shower head! But missing a few essentials like toilet paper. Would stay again though. Nice cottage on the beach!
---
Carolina Beach has been a second home to our family for 4 generations. We love this little island and all that it has to offer! Our family patriarch, AJ Jamison, purchased the land 70 years ago, bought out-of-use WWII bunkers, and moved them to the beachfront to create the quaint cottages we still enjoy today. It gives us pleasure to continue this tradition by providing families with affordable beach rentals!
语言:
English、Français