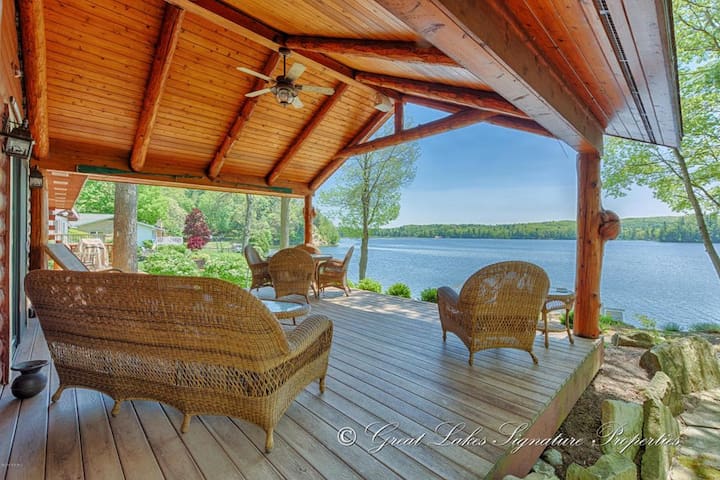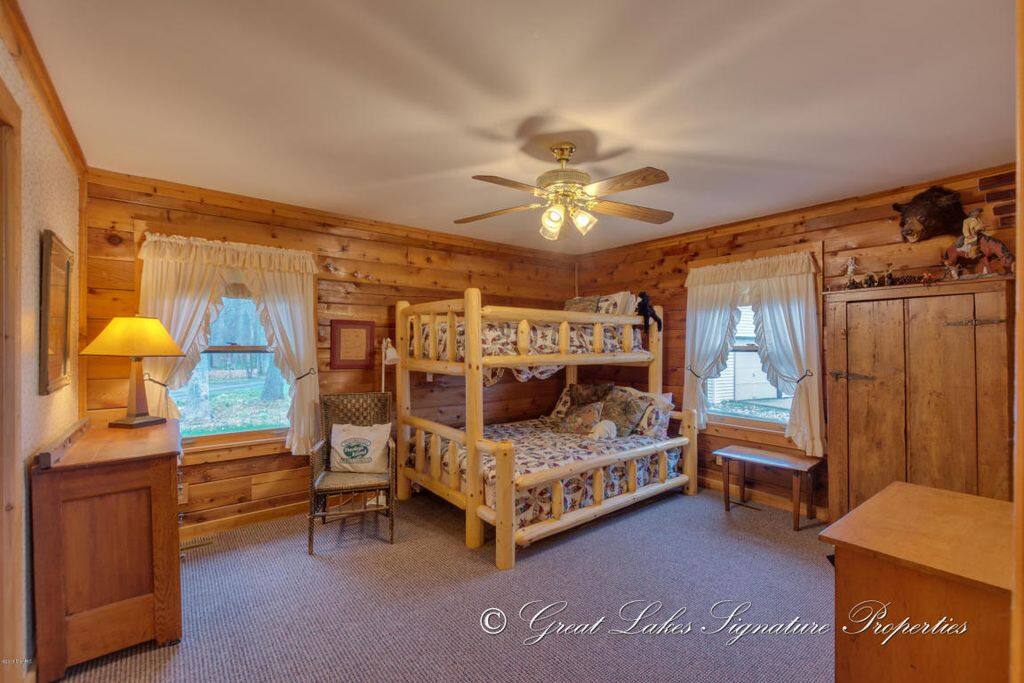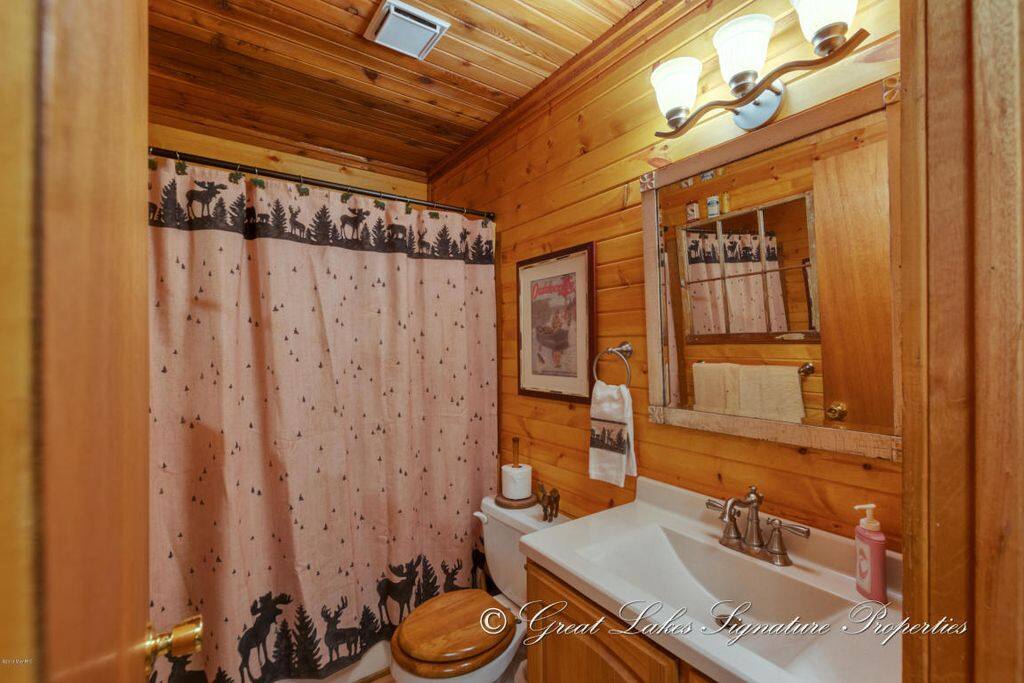 Log home of (y)our dreams. Two bedrooms and two baths upstairs, and a third bedroom downstairs.
Cut-stone fireplace, hickory floors throughout, real log siding, and birch tree cabinetry make this a woodsy getaway delight.
Loose all sense of time enjoying the living space outside with a covered deck spanning the full lakeside of the house.
Natural stone walkway to the water. Stop part way down for a s'more at the fire pit.
We LOVE our home. Guarantee it's the getaway your dreams!
---
Christine's lake house was a wonderful retreat for our group of 6 ladies looking for a weekend get-a-way! The back deck overlooking the lake was perfect for our group. The house was very clean, the beds were super comfortable, and the kitchen was well stocked with everything we needed. We also enjoyed taking the kayaks out around the lake. We'll definitely be back!
---
The pictures on the website speak for itself, Christine's home is so beautiful and clean. The host is very flexible with our request, prompt to reply to our inquiry, her notes and instruction in the cabin were very helpful. The view from the covered deck is amazing - I can stay there all day. We look forward of going back again- hopefully one weekend this fall. THanks Christine.
---
If you are looking for a cabin getaway, well look no further. A group of friends and I had the pleasure of staying at Christine's cabin in beautiful Newaygo over the Fourth of July weekend. She was extremely helpful and prompt to any questions we had about our stay. The place was very clean and the pictures of the cabin were spot on. We had a very handy manual that Christine left us that had great recommendations of things do in and around Newaygo. I honestly have no critique except, I wish we would have stayed an extra day. Five stars, and I look forward to going back.
---
My friends and I had the pleasure of staying at Christine's amazing cabin and could not be happier with our decision! Our group came up to Newaygo just for a relaxing girls weekend and had just that. The cabin was the perfect size for 8 of us and we spent most of our time out on the patio or on the deck enjoying the view of the lake. We will definitely be coming back and hope to make this an annual trip for our group! Thank you again, Christine!
---
For our 13th anniversary, we were looking for somewhere quiet to relax and unwind - and Christine's house was perfect! We were greeted with a sweet note & a bottle of chilled champagne in the fridge when we went to unpack our cooler...what a great little touch! The location couldn't be more perfect to enjoy the serenity that we were hoping to capture. We spent almost our entire vacation outside under the covered deck - from our morning coffee at the table to lazy afternoon naps in the lounge chair to cozy fireside chats, this home was the ideal setting! The lake/pond looked like it had great fishing. We enjoyed watching spawning carp across the pond in the kayaks provided for our use which was a sight to see! By 9pm, everything was silent - it was like we had the entire place to ourselves, and the stars were gorgeous! The home itself is stocked with anything & everything that you could possibly want, or need. It's very clean & well taken care of. We brought most of our own food because of dietary restrictions but the neighborhood grocery store provided everything we'd forgotten, or ran out of! We'd love to visit Christine's home again!
---