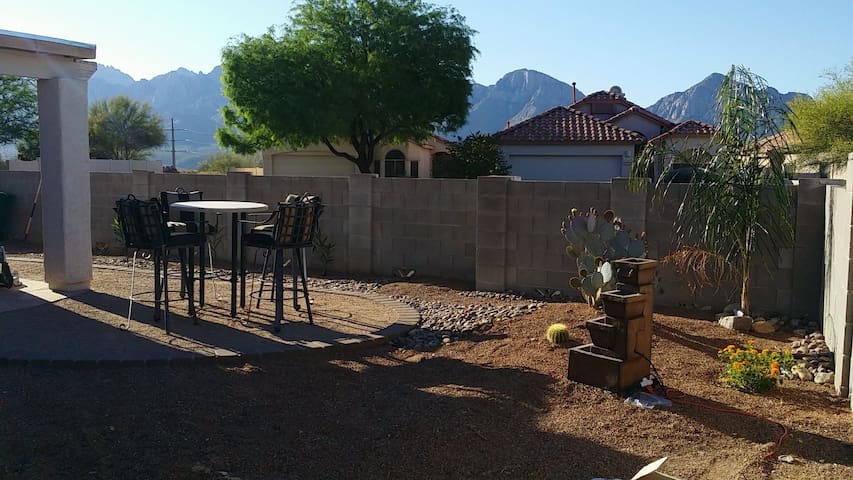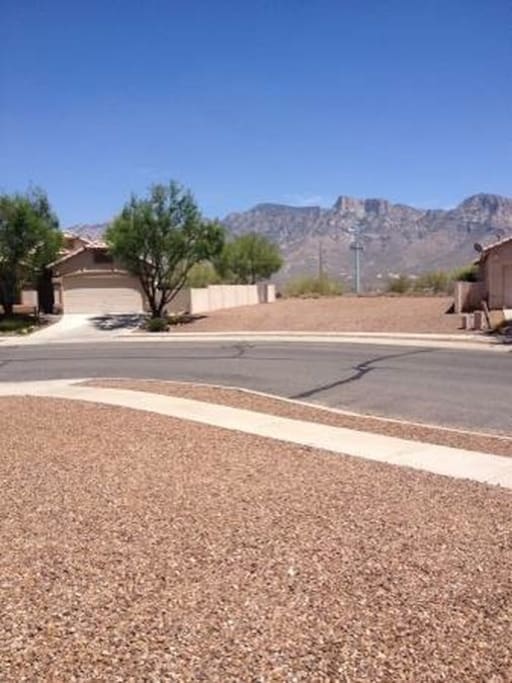 Newly refinished, nice view of Santa Catalina mtns
Clean, newly refinished southwest style home.
Tile throughout gives a cool, comfortable feel.
View of Santa Catalina mountains.
All new stainless steel appliances.
Master bedroom suite - king bed, walk in closet & vanity, walk in shower
Front bedroom - queen bed
Den/bedroom - pull out couch, desk, double doors that open to the LR
Backyard
- freshly landscaped
- patio & fountain
- plenty of seating
- new gas grill and wood fire pit
其他注意事项
Check in time 4pm
Check out time 11am
Taxes will be collected by AirBnB for the state, county & city under "Occupancy tax".
---
---
---
No overnight parking on street
We provide kitchen equipment and accessories so you can do all the cooking you would like to and have all the appliances required, but not staples or food/spices.
We have a short check out list that mainly asks you to take out garbage, start dishwasher, and strip beds. This allows our cleaner to get the full cleaning job done in time for the next guests to arrive the same day you check out.
We ask for a damage deposit to cover any potential damage. We really don't think this will be needed, but it is requested as a security. When you check out without any significant issues, we refund it to you 100%. There are expensive electronics and appliances in the home so we hope you understand.
We provide hand soap in the bathrooms and kitchen soaps, but not personal toiletries.
---
---
---
Lora's home was very nice, and it is centrally located. Their home was clean and really just like the pictures shown. Lora and Jim were very hospitable and willing to make our family stay pleasant! It was our first time, so they really made the decision very easy. The neighborhood was pleasant and very quiet! We would definitely book with them again!
---
This was the most complicated Airbnb reservation I have ever done. First she wanted us to pay separate taxes by mail until I pointed out that Airbnb was collecting those themselves. There was also a rental agreement and a $350 security fee. (I have never had one of those before!) There was a reasonable cleaning fee for the size of the house, however there were also detailed instructions on cleaning up after ourselves. A great residential neighborhood, quiet, easy to find from major crossroads. Nice out door space. Bare bones as far as spices/seasonings in the otherwise well appointed kitchen and be sure to bring your own shampoo and conditioner, almost ran out of hand soap in bathrooms, shower stall and tub were not clean. Absentee host is also something I have done before and may never do again, but need room for 4 people, 3 separate spaces.
We have straightened out the tax issue. It was a problem on my knowledge of how it worked because it is done differently in Minnesota vs Arizona. Airbnb does not collect tax in MN for us. This was our first rental in our new Arizona home. I apologized for the misunderstanding and hoped that she would understand it is confusing from the way Airbnb does things also. Online I do not see the tax information just as they don't show what the guest actually pays (including the Airbnb charges). Adding this information would help tremendously and I have put in a request for that change. The security fee is there as a safeguard. With most instances we don't collect or if they do send a check we don't deposit it. We communicated to Nancy that it would not be necessary. We will follow up on the shower and tub. We just re-epoxied both in April this year it so it shouldn't be bad. It has not been lived in for a month so maybe it needed a good rinse/dusting. We had the house swept and dusted, but the cleaner may have missed those areas. Maybe this house would do better on (SENSITIVE CONTENTS HIDDEN) since we cannot be there if that is what is expected on Airbnb rentals. We have had great success with our Minnesota home and good reviews from all our guests.
---