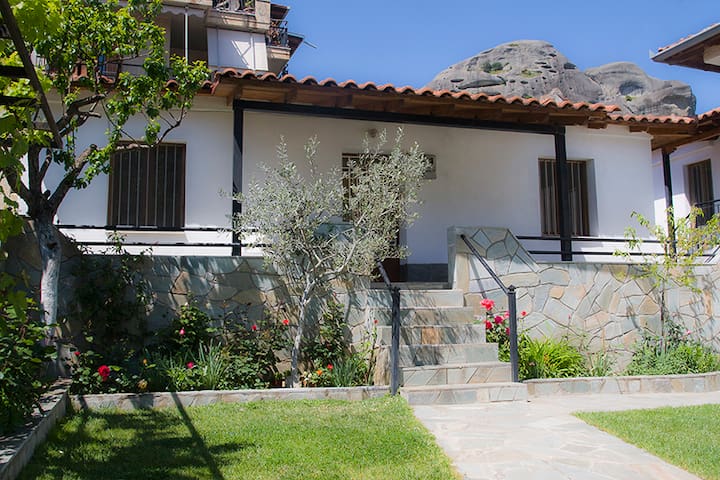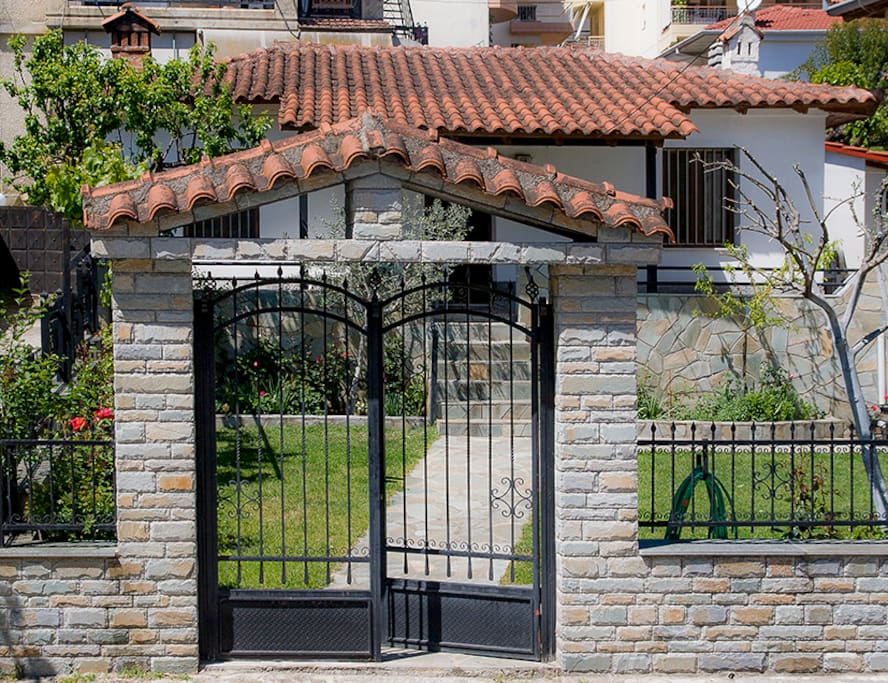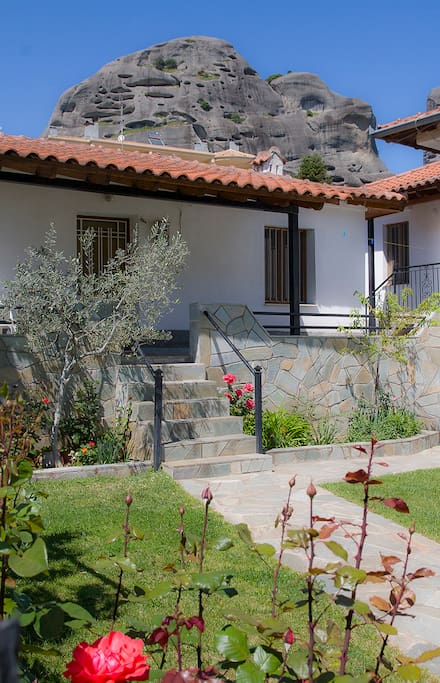 Σε μια ήσυχη και ασφαλή γειτονιά της Καλαμπάκας βρίσκεται το Lena's Garden House, μια μονοκατοικία 55 τ/μ με κήπο και θέα στα Μετέωρα.
Ευρύχωρο και διακοσμημένο με ιδιαίτερα αντικείμενα σας υπόσχεται ξεκούραστες και άνετες στιγμές.
房源细节
The house has two separate rooms, a kitchen and a bathroom. The bedroom has a 140 x 200 cm bed and a spacious wardrobe.
The living room has a fireplace and a sofa, for a third person to sleep.
The kitchen and bathroom are equipped with the essentials.
Please notice that the kitchen and the bathroom are a bit lower than the rest of the house (1,90 m height). If you see the photos you can see there is a step.
房客使用权限
Guests have exclusive access to all parts of the house!
与房客的互动
I live in a different city, but you can contact me via Airbnb or phone anytime.
其他注意事项
There is free parking just outside the house.
Το κάπνισμα δεν επιτρέπεται μέσα στο σπίτι. Μόνο στο μπαλκόνι.
Τα παιδιά κάτω των 2 ετών δεν πληρώνουν.
Παιδιά ηλικίας μεταξύ 3 και 12 ετών πληρώνουν το 75% των ενηλίκων.
Παιδιά ηλικίας άνω των 12 ετών πληρώνουν ίδια τιμή όπως οι ενήλικες.
We had a pleasant stay at Lena's apartment. Lena was in Athens during our visit, but her mom was there to greet us when we arrived. Nice clean apartment with easy walking access to the downtown area. Lena's Mom brought us some delicious treats toward the end of the stay. For guests who like to cook, it's worth noting that the kitchen is stocked with basic cooking utensils and pots and pans, but smaller that we had expended. Ceilings in the kitchen and shower are fairly low and might not be ideal for tall travelers.
---
We loved our stay here and highly recommend! The place was beautiful, clean, and close to the downtown square. The bedding was very comfortable as well. Lena's mother brought us some homemade bread that was so good after a long day hiking. Meteora is beautiful! You should visit and stay here!
---
This was the perfect location for our family of three! With a toddler finding a place with parking that is also within walking distance of restaurants and cafes is key to a successful vacation and Lena's place is just that! Not only is it centrally located to all of the attractions but in a nice neighborhood near shops and restaurants. The home was lovely and having a yard for our daughter to play in was amazing. If that wasn't enough Lena's mother greeted us with treats and gave us home made banana bread the morning we left. She was so sweet and hospitable we were sad to leave.
---
We didn't get the chance to meet Lena in person because she was on holiday as well, but she was very communicative and everything went great! Her mom lives in the main house on the property and checked us in/made sure we had everything. She was so sweet! On our last day she came over and gave us banana cake- super yum. The apartment is a few minute walk from one of the main roads with lots of restaurants, a bakery, a pub & a supermarket. It was nice to be just outside of where all the other tourists are staying and instead be in a neighborhood. The place was very clean! The kitchen has everything you would need. The wifi works great! The only disclaimer we would have is for anyone over 5'5...the ceilings are low and the door frames are small (except for the bedroom). It was hilarious more than anything, but my husband and I both had to walk around the house at certain points and duck (him way more than me). I am 5'8 & he is 6'1 and neither of us could walk into the kitchen without ducking our head down. Again- it was funny and definitely not something that would deter us from booking here again :).
---
Lena's house was a great location for exploring Meteora - walking distance to downtown Kalabaka and easy hiking/driving to Meteora. The house was clean and comfortable, and a perfect place to relax for our one night stay. The shower is quite small as seen in the photo (I had to sit down inside it), but we didn't mind. Would recommend.
---