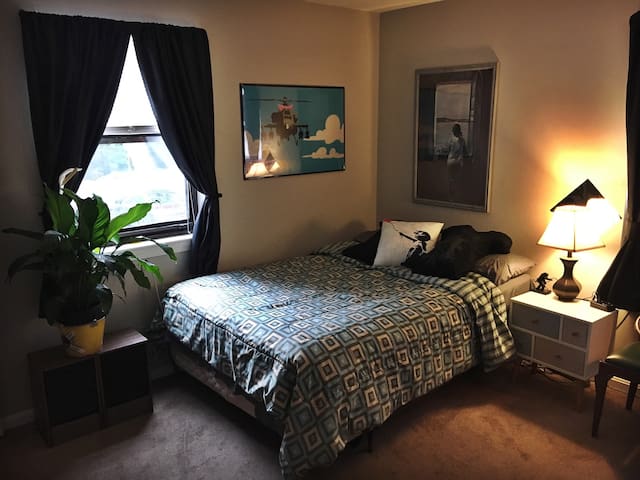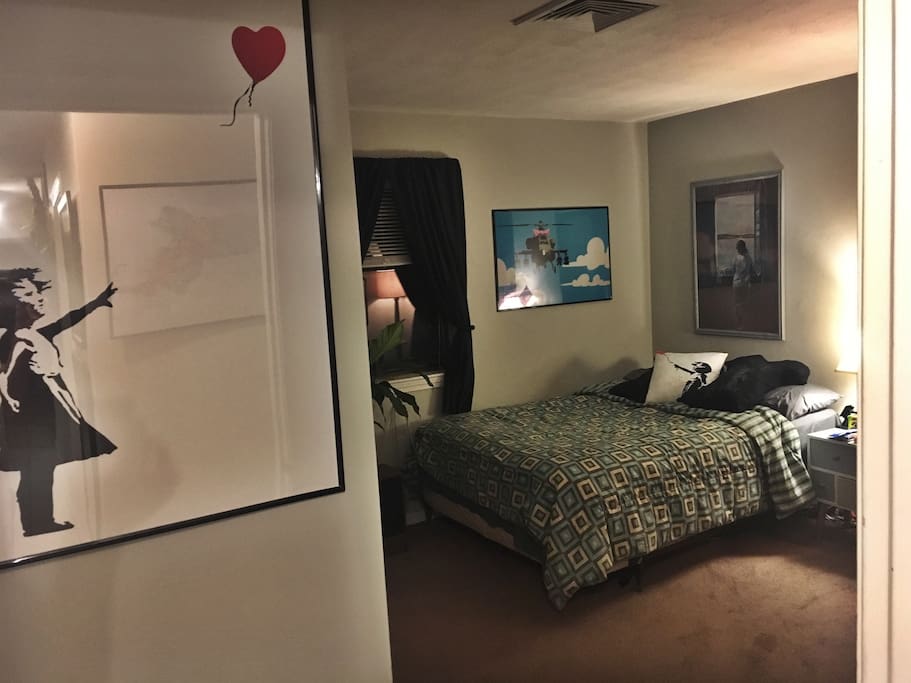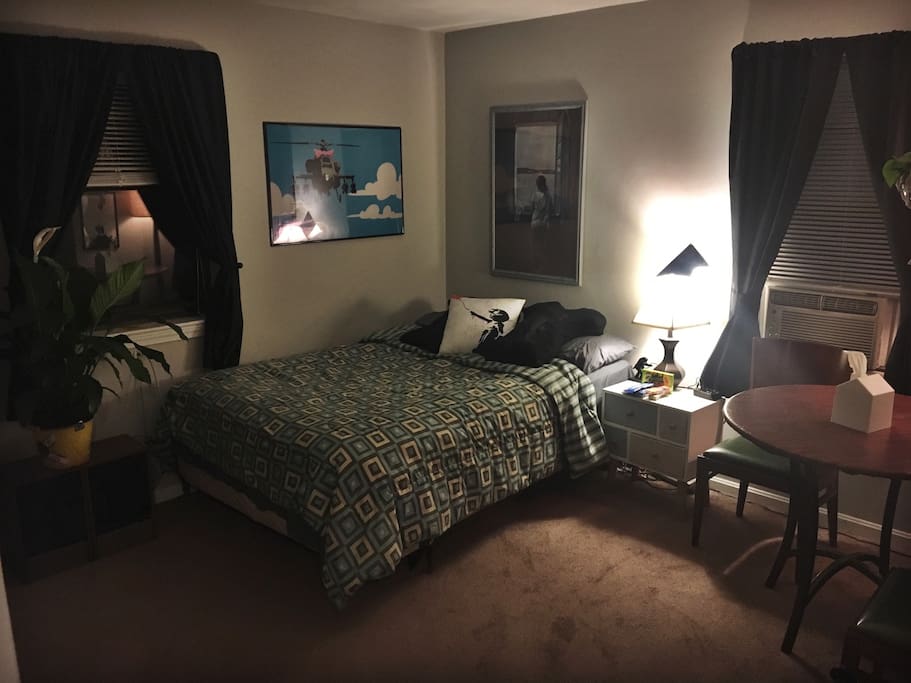 Private Room in Waltham w/ Parking
这间私人客房位于Brandeis和Bentley大学之间,交通便利,让您感觉宾至如归!距离MBTA通勤铁路仅有几分钟的步行路程,以及沃尔瑟姆繁华的穆迪街所提供的所有设施,房间配备齐全的床,交流电,所有床单,大部分洗浴用品,包括肥皂,洗发水和护发素,一吨的衣柜空间,以及您自己的停车位安全地位于建筑物的后面。楼下有洗衣机/烘干机,如果需要更多的空间,还有一个舒适的单人吹拂床垫!
Conveniently located between both Brandeis and Bentley University, this private room has all you need to feel right at home! Only a minutes walk from the MBTA commuter rail and all that Waltham's bustling Moody Street has to offer, the room is fully furnished with a full sized bed, AC unit, all linens, most toiletries, including soap, shampoo, and conditioner, a ton of closet space, and your very own parking spot securely located in the back of the building. There is a washer/dryer downstairs, and a comfy single blow-up mattress if you need more space!
房源
客房包括尽可能舒适的住宿所需的一切。一张全尺寸的床,配有额外的SINGLE吹瓶床可容纳两人。丰富的自然光线充满了房间,但可以轻松地被遮蔽的窗帘遮挡住那些喜欢睡觉的人。有足够的地板空间伸展,还有瑜珈垫以及您所需要的所有床单。你留下。大量的衣柜空间,挂着梳妆台,丰富的衣架,以及顶层货架。冬天热中央热,夏季冰冷的窗户交流,秋季和春季完美不变的微风。充电站有一个扩展,每个输入你可以想象和抽屉的空间,任何你想要靠近。根据场合,带有四把椅子的圆桌会议是一个很好的借口打牌或照顾家庭作业。房间的窗户之一俯瞰着您的停放的汽车,以增加安全性艺术品受到Banksy的启发,女孩和红色气球领先于您的谦逊居所。你会和两个植物分享房间;一个pothos和一个即将开始的和平礼来!
The guest room includes everything you need to make your stay as comfortable as possible. A FULL sized bed with an additional SINGLE blowup mattress more than accommodates two. An abundance of natural light fills up the room, but can easily be blocked out with insulted curtains for those who like to sleep in. There's ample floor space to stretch out and a yoga mat, as well as all the linens you'll need during your stay. Plenty of closet space, with a hanging dresser, an abundance of hangers, and top shelving as well. Hot central heat in the winter, icy cold window AC in the summer, and a perfect constant breeze in the Fall and Spring. The charging station has an extension with every input you can imagine and drawer space for anything you want close by. A round table with four chairs makes for a great excuse to play cards or take care of homework, depending on the occasion. One of the room's windows overlooks your parked car for added security The artwork is inspired by Banksy, with the girl and the red balloon leading the way to your humble abode. You'll be sharing the room with two plants; a pothos and a soon-to-blossom Peace Lilly!
房客使用权限
You have access to your room and the rest of the house the other two bedrooms are off limits.
与房客的互动
我在这里的每一步,以确保你有一个愉快的假期。我的室友,戴夫,是一个爆炸,和一起出去,也是超级容纳。他是一个非常有才华和有素的纹身艺术家,通常是深夜,如果有的话,如果碰巧抓住他,就可以随时问波士顿问题,因为他来自这里!我是一个音乐家和调酒师,所以如果我不工作或表演,我会一次又一次的喝杯咖啡和鸡尾酒!
I'm here every step of the way to ensure you have a pleasant stay. My roommate, Dave, is a blast to hang out with and is super accommodating as well. He's a profoundly talented and busy tattoo artist, and is typically home late night if at all, so if you happen to catch him, feel free to ask any questions about Boston, since he's from here! I'm a musician and bartender, so if I'm not working or performing, I make a mean cup of pour over coffee and cocktail now and again!
---
---
不适合儿童(2-12岁)入住,或不能为儿童提供安全的住宿环境
Please treat this home and the people in it with the same respect and courtesy they will show you. There are labels around the house with small rules that we appreciate you adhering too.
---
I was in town for a wedding in Weston, so Lawrence's place was a great location for me. I didn't get to meet Lawrence, but he gave me super clear directions for check in and was very communicative. The apartment was spotless, and the decorations gave it so much character. The art is really fantastically done. I'd recommend staying just to check it out!
---
After a relaxing stay in a lovely Airbnb apartment in Montreal, my wife and I were subjected to the tyrannical rules of no other than Darth Vader in his Evil Empire in Waltham, Boston. There is nothing wrong with a Star Wars themed house unless you're not into that, which we weren't so it would have been nice to include some pictures of the Darth Vader in a Monet painting shower curtain. Then there's the notes. Don't open this window because I'm in the process of replacing it. Keep toilet seat down. Make sure shower curtain is extended. Clean up after yourself. Don't leave anything in the sink… Unfortunately we were in a hurry that Sunday morning and left some toiletries out on the vanity. When we came home that night, the owner had texted us that he put our items in the drawer and that we had left the shower curtain (the Darth Vader one) not extended. He asked us if we had any issues with the "house rules" and thanked us "in advance for understanding." I texted back to apologize and explain that we were in a hurry. He texted asking again if we were ok with the house rules. We keep our own house clean and pristine and did not appreciate him implying that we are slobs due to a few items left out. We are a quiet couple and just wanted a comfortable place to rest after vacationing all day. The mattress sunk into the middle and had squeaky springs. There was a vinyl waterproof cover under the faded and worn sheets which made the bed uncomfortably warm. We had to sleep with the wall a/c unit on all night but it was too loud and noisy. We told the owner and he brought us a twin sized air mattress with an oversized wool blanket to use as bedding. Needless to say, we did not appreciate the owner's passive aggressive attitude, my wife was not comfortable with the shower curtain and other decor, and we didn't get one good nights rest during our 4 nights stay.
I had no idea that Henry and his wife were such passive aggressive people. In no way did they express any discomfort regarding my demeanor or my homes decor, but after reading their review, it's clear they were very unhappy with me and my home, which is disheartening given their lack of communication. When asked if everything was okay and if there was anything I could do to make their stay more comfortable, they were silent.. until now. I meant no disrespect when asking them to adhere to my house rules. I understood that they were late for church, which caused them to not clean up after themselves, but as adults, I mistakenly assumed they would adversely understand my position, and respect the rules I have in place. I simply moved their toiletry items into their own drawer so I could keep the bathroom organized for the other two people who live here. I also politely asked them to keep the shower curtain extended to ward off mold growth and show off the artwork, which Henry later mocked and additionally used as a reference to me being "Darth Vader and his Evil Empire". In no way by doing this was I implying they were unclean people. I was simply managing my home, which I mistakenly opened to them. Henry stated in his review that he responded back with an apology, which was not true. In fact he wrote: "We woke up late to get to chuch on time Rules are fine ." To which I replied: "I really appreciate it! :)". Henry then writes that I responded again, which is also not true. In fact, I find it hard to believe that Henry wrote this review at all, given the written and verbal contact we had prior to and during his reservation. Henry showed little literary prowess in any other written interaction I had with him, yet has written a detailed and coherent review. I am actually Henry's first review, since he's new to Airbnb. But Henry is my 97th, and for the first time in my three years with Airbnb and with hundreds of guest hosted from all over the world, I am encountering a person who is untruthful and for some reason taking their personal anger out on me. After asking if they slept okay, Henry explained he had a problem sleeping with his wife on the bed, because admittedly it does sink a bit in the middle, and if you happen to have a heavier frame, I can sympathize with this bed being uncomfortable for two people. I immediately went above and beyond, however, to remedy the issue and brought Henry an inflatable bed to sleep on. I'm sorry his wife didn't like my Star Wars themed bathroom and had the need to call me "Darth Vader" in their review. On his feedback, Henry wrote that there were no pictures of the Darth Vader Monet painted shower curtain, to which I apologize. I find it hard to believe a shower curtain would deter him from staying here, but if one really dislikes Star Wars, which is obvious from this review, then to each their own. I misled his wife's bathroom viewing experience, and I'm sure that's a conversation he didn't want to have. He also noted that the "house" was Star Wars themed. This is also not true. Only the bathroom is beautifully decorated in George Lucas' finest. I'm sorry they thought my sheets were too thin and my AC unit was too loud. I'm sorry the window is broken at the moment and can't be opened right now. And most assuredly, I'm sorry I allowed these people into my home and would sincerely recommend other hosts to be weary of this passive and angry couple.
---
I stayed with Lawrence for a couple of weeks while I transitioned to the Boston area from California. He immediately opened his home and all its amenities to me--I couldn't have made this move without this space! It was very easy to navigate around Waltham, having private parking was great and so is the deli on Moody St. The home is well-decorated and has lots of fun things to look at. Great for my longer-term stay. Lawrence's home was friendly and kind--I'm so thankful!
---
Gracious host, operating smoothly. Lawrence was really accommodating and thoughtful during my week long stay. He was flexible when my arrival time needed to be pushed back 45m. The place is consistently clean, and I was able to get work done at the desk in the room and in the living room. The bed is good and gets the job done, but the mattress can be a bit uncomfortable on the neck - I hear that Lawrence has plans to upgrade it in future. Convenient and economical option with quality follow-through, I'll return if I'm in Waltham again.
---
I recently moved to Boston from Brooklyn, where I spent 3 years hosting with Airbnb! I am very excited to have the opportunity to share my home again with fellow travelers, as I frequently travel and use the site often. I work in the entertainment and hospitality industries, and …
语言:
English