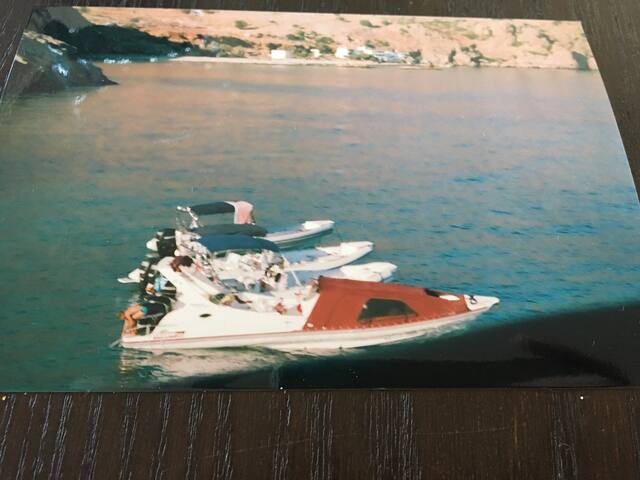 Chania has to offer a lot more than strolling around Old Town and the harbour. So many beautiful beaches and secret bays all around the prefecture of Chania. Whether you want to go to Balos, Gramvousa, Loutro or Elafonisi and you don't want to feel packed using the tourist boats, the answer is to hire a private speedboat (up to 11 people) for your daily excursion. Enjoy private bays, sunshine and crystal waters. Live your myth as you should...
房源
The 50 euros paid via Airbnb is non refundable deposit. Please contact us for more information. Cost for June/July is 600 euros and for August is 700 euros.
What are the advantages of hiring your private speedboat?
You can arrange your time and excursion the way you want and pleases you. You will NOT be packed on a boat with other 200 tourists and you can enjoy swimming to any place you want. The excursion lasts around 12 hours. More than the 6-7 hours normal boats offer.
There are only a handful of licensed speedboats that can be used in entire Chania's prefecture.
Any questions please feel free to ask.
其他注意事项
This is a speedboat and NOT a house or a land property.
---
My name is George and although I spend time in London I live in Crete. Crete is a magical tapestry of splendid beaches, ancient treasures, and landscapes, encompassing vibrant cities and dreamy villages, where locals share their traditions, wonderful cuisine and generous spirit... Priceless!

But it all comes down to senses...
where the sun softly burns your eyelids, the smell of orange and olive trees which reminds to everyone the appreciation for small things, the crystal sea that re-vitalises every cell of the body and ultimately.... the feeling of satisfaction gained after a sumptuous feast at a small taverna at the plaza of the village, enriched by aromatic herbs and green gathered from each hillside, which ends with a raki treat from the owner...

I have landed my foot on more than 20 countries and still counting... this is probably why I see myself in the eyes of every traveller who wishes to grasp as much of culture, bewitching scenery and local cuisine taste from every place I go to. To me, hunting out the best coffee place, most magical view, most tasteful local dish is what I call small "gems", and makes my trip memorable.

Founder and CEO of AirBnB-Helper, we help house owners with the property management and logistics... and we help guests finding the right place according to their needs for a great experience.

My moto comes from Martin Bubber who said "All journeys have secret destinations of which the traveler is unaware.", which I would like to spot and share them with others!

We are always 24/7 ready to help available and instantly reply to every and each of your questions!