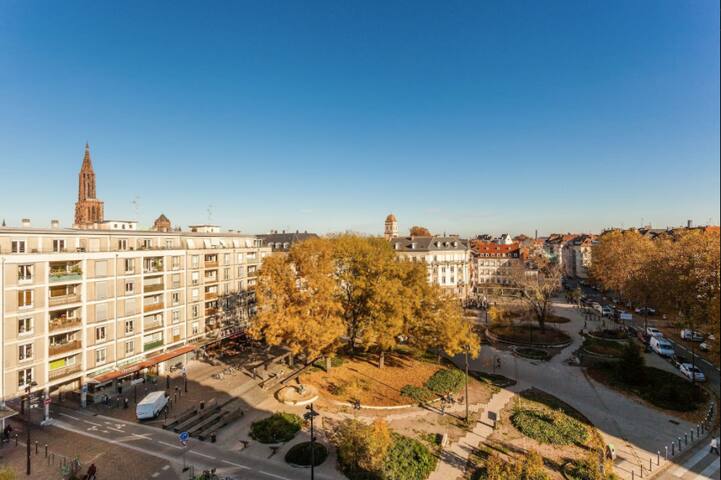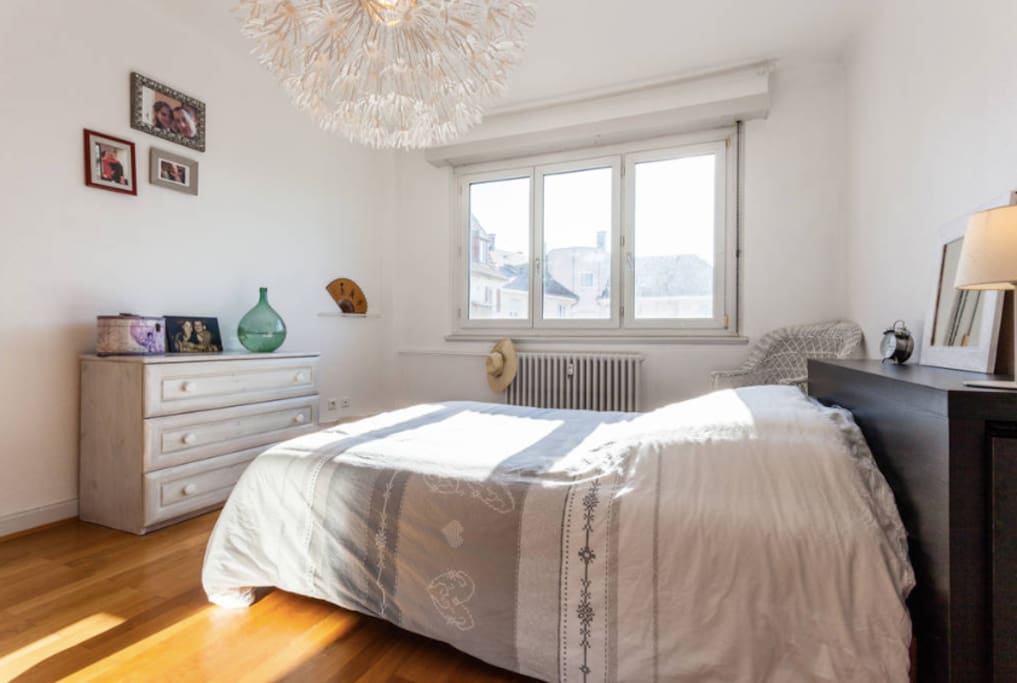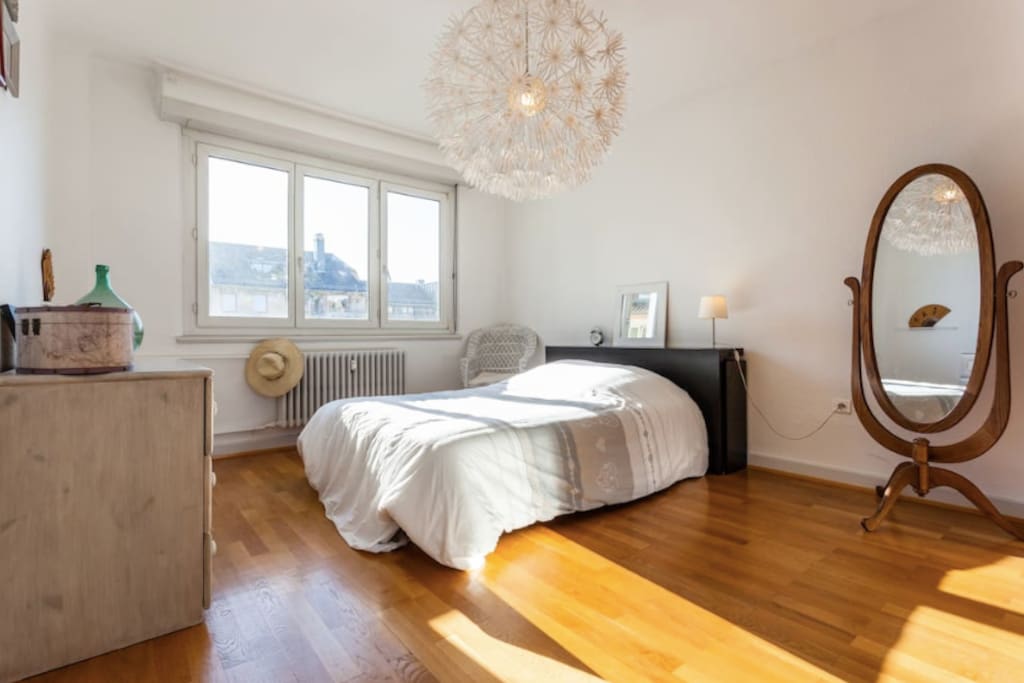 Charming apartment, spacious, ideally located, not overlooked, in a lively area, with all convenience less than 2 minutes walk.
Town center and its famous "Christmas Market" at 5 minute walk.
3 minutes from the motorway by car.
房源
The view over the Place d'Austerlitz, the cathedral and the sunset over the Vosges is unbearable
Music from your devices (computers, phone) in bluetooth on the Bose channel
Access to a host of french TV channels
与房客的互动
I can give you lots of good addresses, I know the city very well. I will be happy to answer any questions you may have!
---
I had the pleasure of staying at Nicolas's home for three nights. It's a lovely, spacious apartment with lots of natural light. The view looking into the communal area from the bathroom, kitchen, and bedroom are nice, but the views of the cathedral, the square, and rooftops of Strasbourg are the most impressive. There was a little hiccup with check-in, which he acknowledged was his mistake, and I had some difficulties with his wifi, which he mentioned he would fix for future guests. He was very kind and courteous, and was very responsive to my text messages. There are some great restaurants in the neighborhood as well! To my surprise, I was given some breakfast items! That was a lovely touch. Plus, he gave me tickets to use for the public transit, which was also very thoughtful He has a well stocked kitchen (lots of cutlery, utensils, juicer, essential pots and pans) for those who like to cook. The bed was very comfortable and I got to enjoy some good night's rest! I did get to relax on his couch, another one was being repaired, and enjoy some television after all the walking around. The apartment was nice and quiet as well, which I loved! I would give 5 stars to everything, minus the check-in and wifi situation. So, 4.5 stars overall. As a Super Host myself, I am a little more picky with things. I still TOTALLY recommend that people come and stay at his place. It's a comfortable getaway and homey getaway after exploring the city. I would easily come back and enjoy staying in his home the next time I come to Strasbourg.
---
This is an incredible place. It is huge. It has plenty of natural light at all times of the day and shutters on all windows so you can block it out when you don't want it. It has a great view of the park below, and is high up enough that you have a nice view of the city and sunset as well. It's also just outside the super-touristy core of the city, surrounded by places you'll be happy to frequent while still being close enough to the center that everything is just a short walk away. On top of all that Nicolas is a great and helpful guy. I wouldn't hesitate to return.
---
I travelled with my 15 years old daughter. The apartment was very spacious for us, perfectly located, luminous and completely equipped. Nicolas is extremely gentle and friendly. Even though we arrived at 9pm, one hour latter of what we'd arranged, he was there ready to explain everything, and advised us about dinner places. We would gladly return. Highly recommendable.
---
Perfect stay. Best appartment in Strasbourg (and believe me I've been around :)). Really cool host with, might I add, excellent taste in music. So: flawless
---
Bonjour, Nous recommandons sans réserve l'appartement de Nicolas, tant pour sa situation idéale pour la découverte de Strasbourg, que pour sa vue, son agencement et bien sur l'accueil chaleureux de notre hôte. Nous retournerons certainement chez Nicolas lors d'un prochain séjour à Strasbourg. Cordialement, Carole et Arnaud
---