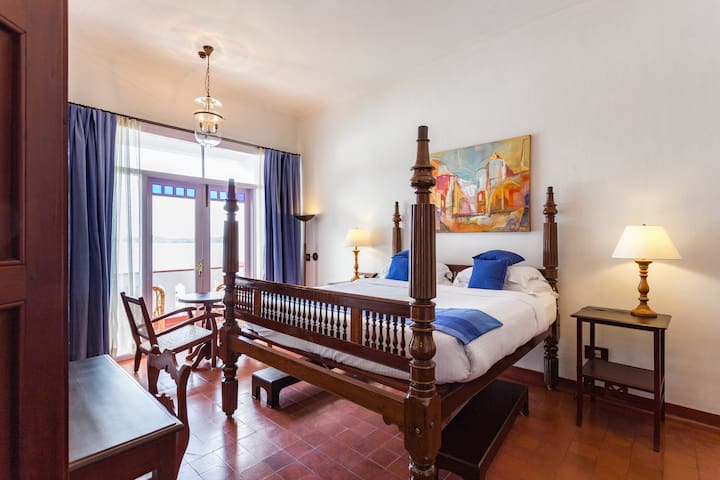 Moored on a historic stretch of Cochin's famed harbour, the Brunton Boatyard Hotel is our tribute to another age. Resurrected from the remains of a Victorian shipbuilding yard, it gives the modern traveller a unique opportunity to dwell amidst the shadow-plays of 19th century history.
房源
The room overlooks the sea, and so, by happy circumstance, do the en-suite bathrooms. Few pleasures rival a long hot soak in your tub of an evening, watching the dolphins play tag with the trading ships of the globe.
Small fishing boats along with larger pleasure ships vie for your attention. Watch a spectacular sunset over the palm fringed shores of Vypeen Island. Listen to the cry of cormorants over the lapping of the wavelets. In short, take relaxation to hitherto unknown levels.
IN-ROOM FACILITIES
•Safe deposit locker
•Tea / coffee maker
•Hair Dryer
•Hot and cold water
•Packaged Drinking Water
•Dental kit / Shaving Kit
•Foot Ware
房客使用权限
Entering the lobby and reception area, the foremost feeling is one of open space, beautifully lit by natural light. The high arched wooden ceiling and terracotta floors tell the story of Brunton Boatyard's colonial heritage. Photographs and prints of the old boatyard and old Dutch maritime maps decorate the walls. Faces of long gone dignitaries proffer Victorian scowls. Authentic antique furniture and chandeliers complete the picture. Only a reassuring glance at the electric lights will tell you that you're not in the 19th century.
其他注意事项
Services :
• Ayurveda treatment centre
• Yoga and Meditation
• Sunset Cruise
• Cooking demonstration
• Complimentary Wi-Fi available in all rooms
• Bicycles available on hire
---
Hi. I'm Suresh and I will be your host. My two passions are food and travel. I'm a self-confessed foodie and I love Kerala cuisine. After all, who doesn't love the food from their home town? So, when you dine with us, you can be sure that you will be served only authentic food, p…