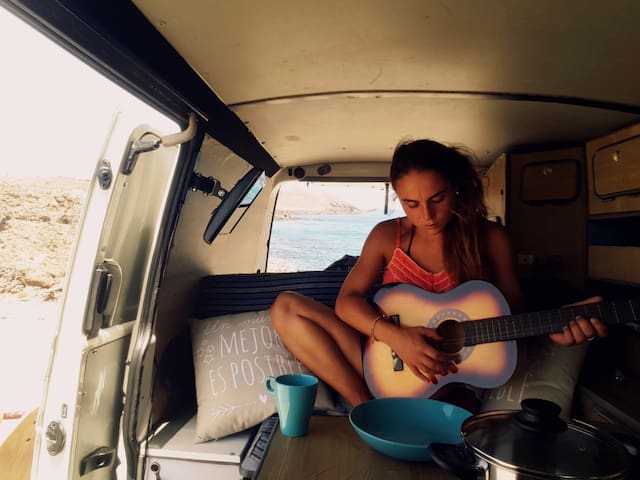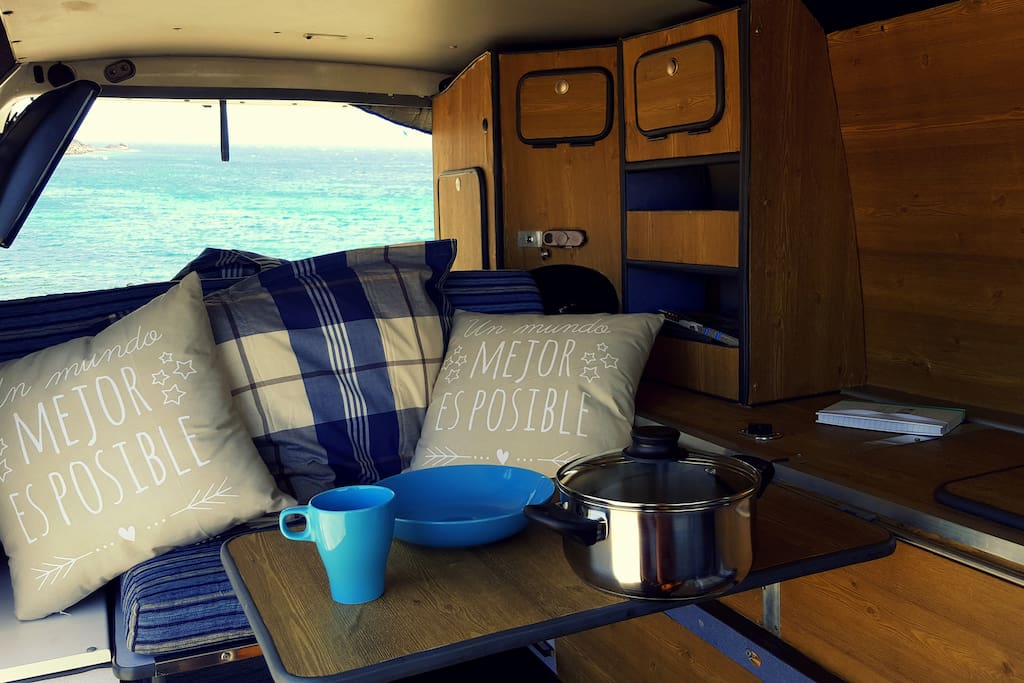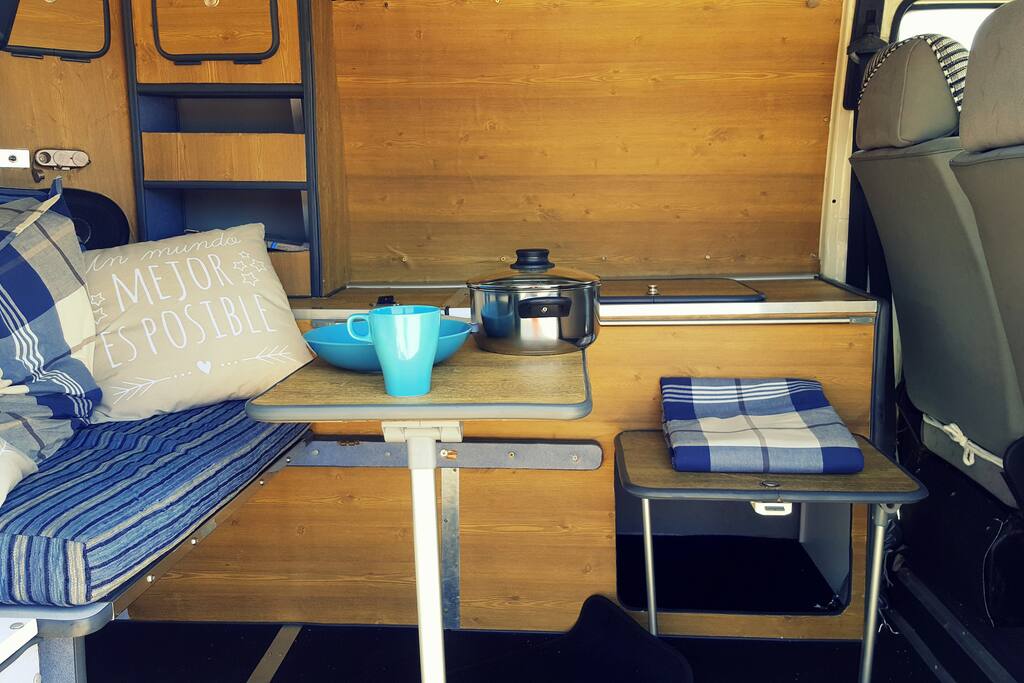 Visit Lanzarote and Fuerteventura sleeping in a campervan is a unique experience, that allows you live the wildside of the islands, sleeping under the stars, waking up each morning in different sites near to the ocean.
Our VW t4, is a pretty wheels-house, where nothing missing! Perfect for 2 people, it's equipped with a confortable double bed (incl. beddings), 1 ring gas cooker, BBQ, kitchen utensils, stereo USB, two onboard water tanks and out shower. The van has five 12V & one USB plug.
---
Giulia and Max were great hosts; really friendly and full of great advice about where to surf, what else to see and do and where to camp. Travelling the island in one of their vans allowed us peace and quiet and some unforgettable camping experiences. There's not many places you can park up alone, at the foot of a volcano and right on the beach with the sound of the sea to keep you company all night long. Our only regret is that we didn't book for longer!! We're already looking forward to returning and catching a few waves with Max :)
---
Il nostro periodo con il Campervan è stato meraviglioso. Abbiamo potuto raggiungere ogni angolo senza problemi. Sicuramente non ce ne dimenticheremo mai. Giulia e Max sono stati gentili e cortesi. Sempre pronti a darti informazioni su dove andare e come andare. Sono stato con la mia fidanzata sul Campervan solamente per tre notti; siamo stati contenti e soddisfatti del mezzo/casa. Vorremmo tanto rifarlo. E in futuro... Chissà! Ringraziamo molto ancora Giulia e Max per la loro disponibilità, anche loro hanno contribuito a rendere fantastica questa nostra avventura. CONSIGLIATISSIMO!
---
Discovering Lanzarote in one of Giulia's vans was simply amazing. The van was a perfect home on wheels, which we parked at beautiful beaches every night to fall asleep with the sound of the waves so close to our ears. It is great to discover the whole island with a portable home - we really felt and "lived" the different landscapes of the island. Sometimes it was challenging to cook with the camping gaz because of the heavy trade wind - but it always worked out somehow, so we could have a great dinner at the beach. There are also many restaurants around serving delicious frish fish. The bus provides for everything you need - pillows, blankets, tableware, camping gaz, camping table and chairs, camping shower, water tank (to shower and do the dishes). However, it is good to bring a good torch or other source of light if you like reading or so after nightfall. Giulia is a super lovely host and very helpful with giving advice where to go and where to stay on the volcanic island of Lanzarote. Traveling with the van allows you to discover Lanzarote aside mass tourism and overfull holiday resorts. Activities on the island include trekking, surfing and diving - we went diving with the Northdiving Lanzarote diving centre, based in Arrieta. And we loved it. If you are looking for an unforgettable and adventurous holiday destination - book one of Giulia's vans and discover Lanzarote!
---