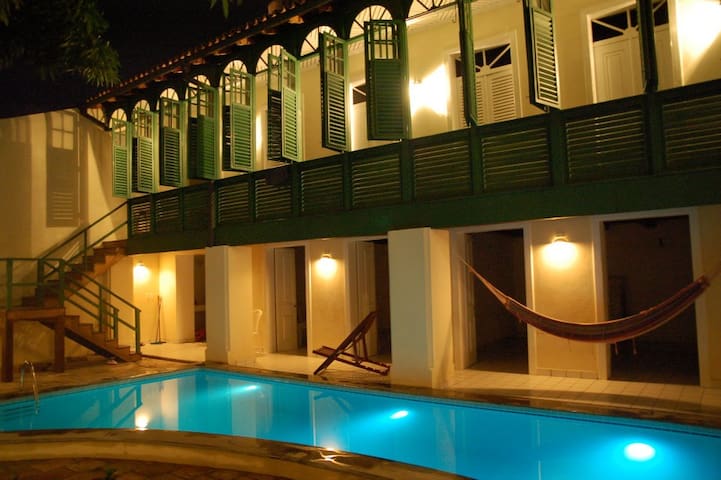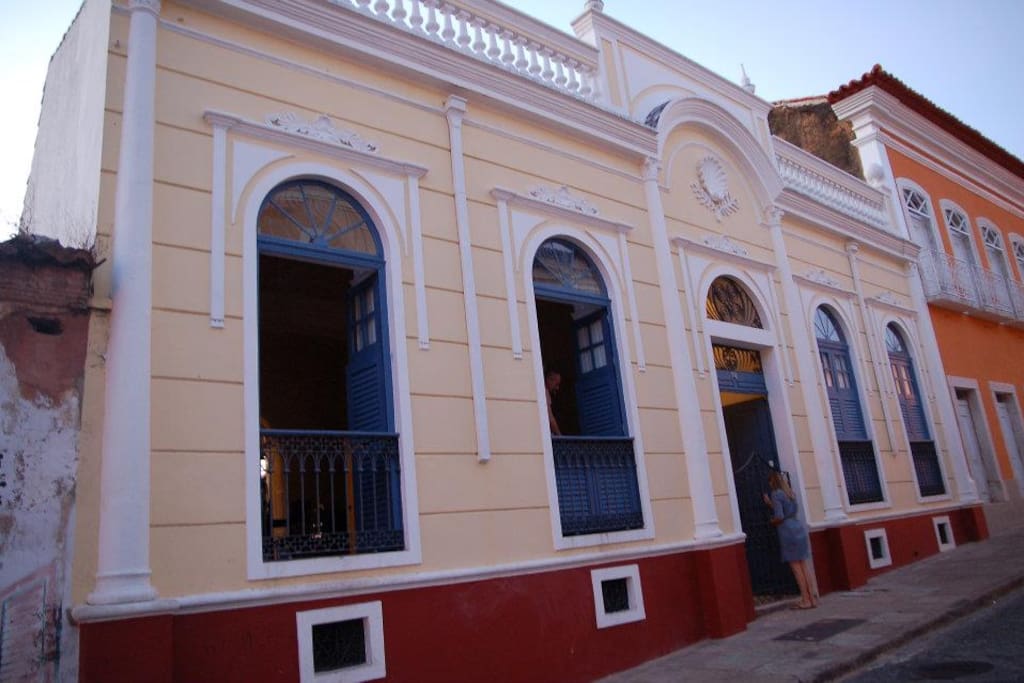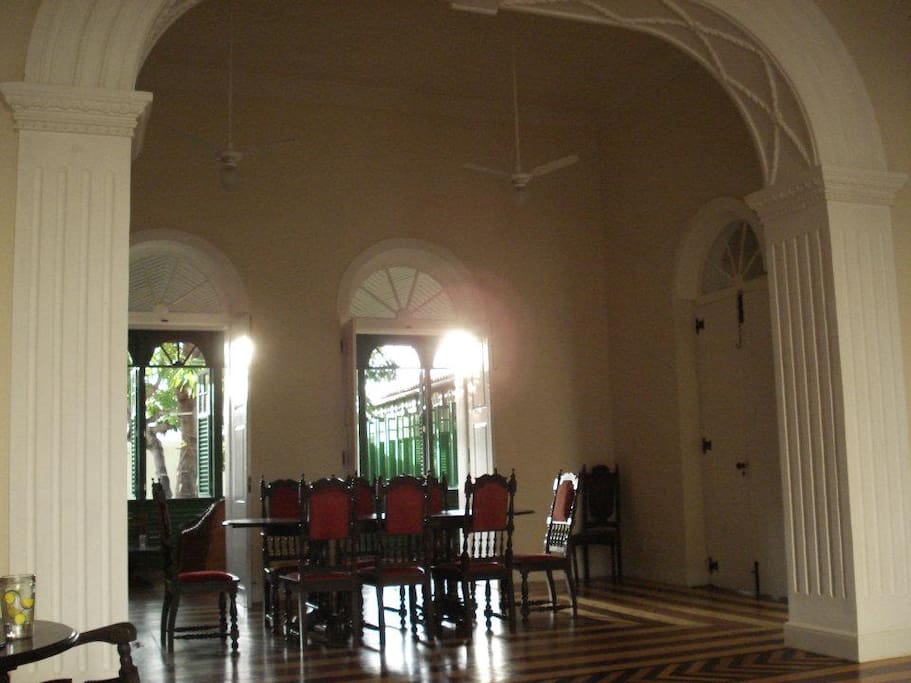 房源
Sao Luis in Northeast Brazil, capital of Maranhao State, was the only Brazilian city founded by the French in 1612. Situated on an island with kilometres of fine beaches. It is already a growing Brazilian vacation spot due to its proud colonial history, UNESCO World Heritage status and proximity to unique national parks.

Our beautifully renovated relaxing colonial house complete with swimming pool and all modern amenities is located in Sao Luis, MA on a quiet and safe side street in the heart of the historical Reviver centre in Praia Grande, with its colonial charm and folkloric tradition. My house is not a hotel, or a pousada but instead welcoming home from home accommodation.

The house is 600 square meters and has 8 bed rooms, 3 bath rooms, an open kitchen with a fridge, stove etc., a living room, a big dining room, and a huge veranda.

You will be within less than 3mins walking distance of nice restaurants, daily live music like Samba, MPB, Tambor di Crioula and Reggae or one of the many festivals such as Bumba Meu Boi which is only found in the North/North East of Brazil. It is a 10 min. bus/taxi ride to city beaches such Ponta D'Areia, Ponta do Farol, São Marcos, Olho d'Água & Calhau. There is a great carnival in February, Tambor de Mina after Easter, Forro, MPB, Crioula and the famous Bumba Meu Boi cow festival in June, it is attractive year round for tropical holidays

We are also the closest city to the small town of Barrerinhas, the access point to the 1550 km² unique white powder sand dunes hills and freshwater oasis of Lençóis Maranhenses National Park with nearby coastal villages with activities such as kite surfing, wind surfing. Maranhao also has Brazil's newest national park Chapada das Mesas which has stunning waterfalls perfect for hiking, climbing and swimming and table top mountains.

People are very friendly towards the few tourists and unlike many Brasilian cities, here you will find an authentic and unforgettable experience off the beaten track.


60,- RS per single room per day
80,- RS per double room per day
120,-RS per trible room per day
150,-RS for the Suite per day (private bathroom)
WiFi/Internet flat-rate
Swimming pool
Free access to washing machine & kitchen

Breakfast can be arranged for 10 real per person


Airport pickup (and return) can be arranged and costs 40RS. It is about 20 min. drive. Reservations can be (EMAIL HIDDEN)

---
Casa Franki is a beautiful house and Frank was helpful when I needed to arrange transport to another city. I recommend Casa Franki to anyone traveling to Sao Luis.
---
I chose to go with Casa Frankie because I wanted to stay in the Centro Historical and had 4 people while still paying a relatively low price. I messaged Frank and he was able to accommodate 4 people for a suite at an agreed upon $80 USD. This is significantly higher than his prices listed but are listed within the hotel description profile. He sent the special rate and we agreed to have the suite. My friend checked in for us a day early. He had trouble finding the place since theres no signs. This can be a problem since Centro Historical can be a dangerous place. My friend was given a 1 bedroom, 2 twin bed room instead of the suite that was promised. Since he didn't book it, he wasn't aware of the problem. The rest of us checked in a day later. We arrived around 2-3pm and no staff was present. We settled in our room and waited for staff to drop in. Here's some problems that we found in addition to the lack of staff... -wifi network works only in a small radius -phone only works for incoming calls. there was no way for us to call the staff -mosquito nets provided but you still end up getting bit -there is a pool however we saw bats swooping down into the water. Possible water viruses spread from bats? (Watch Contagion) -when we found the staff no one could speak any english. this might be trouble for those who don't speak portuguese. luckily we had someone who did. We only were able to contact the staff because one of the people in our group was Brazilian and asked people in Centro Historical if he could borrow their phone and make a call. This could be potentially dangerous. Once we made the call to the property manager who called the staff over we had the Brazilian in our group talk to her. To fix the room situation she gave us another room. This was ok for us but had there been no other vacant rooms it would have been a problem. Overall the place isn't that bad but there needs to be a staff member present. It's not ok to have them only available in the early mornings. They also need to have better communication with the AIrbnb bookings. Centro Historical is also a dangerous place which I would make a day trip at most; not stay and sleep there. We left Casa Frankie and went to Lencois Maranhenses. When we returned to Sao Luis we just booked a regular hotel instead.
---
Well, what can i say? This place is just beyond beautiful and awesome. You won´t find a better place and better host in São Luís. Frank is one of the best hosts u can ask for. The House is super located in the heart of the historical center, where you have nice bars and restuarants, also cultural places with a beautiful vibe. It´s too easy to turn on the relax mode once you check in. I highly recommend this place !!!
---
Frank's house really is very beautiful. He has lovingly restored it to its original condition. The pool area with its huge mango tree is a perfect place to relax and Frank himself is a calm and generous host. He was very helpful arranging transport and advising on the area. The house is situated in the picturesque old town, peaceful but with bars and restaurants close by. A memorable stay.
---