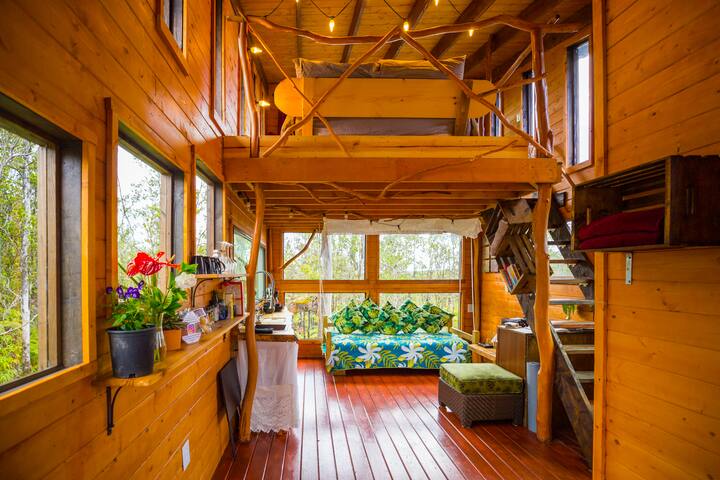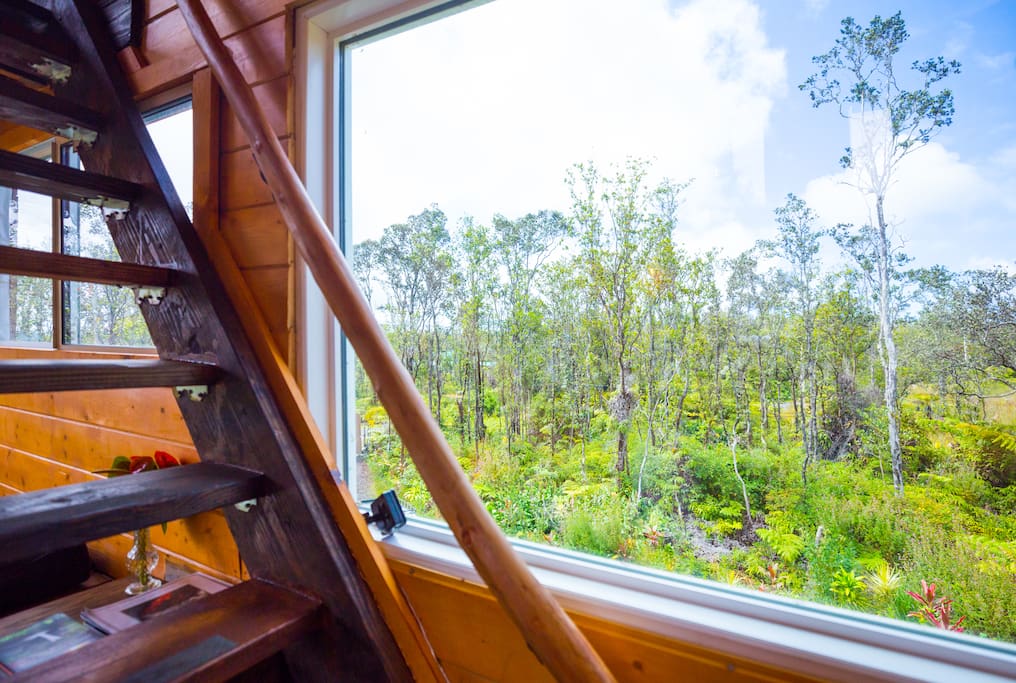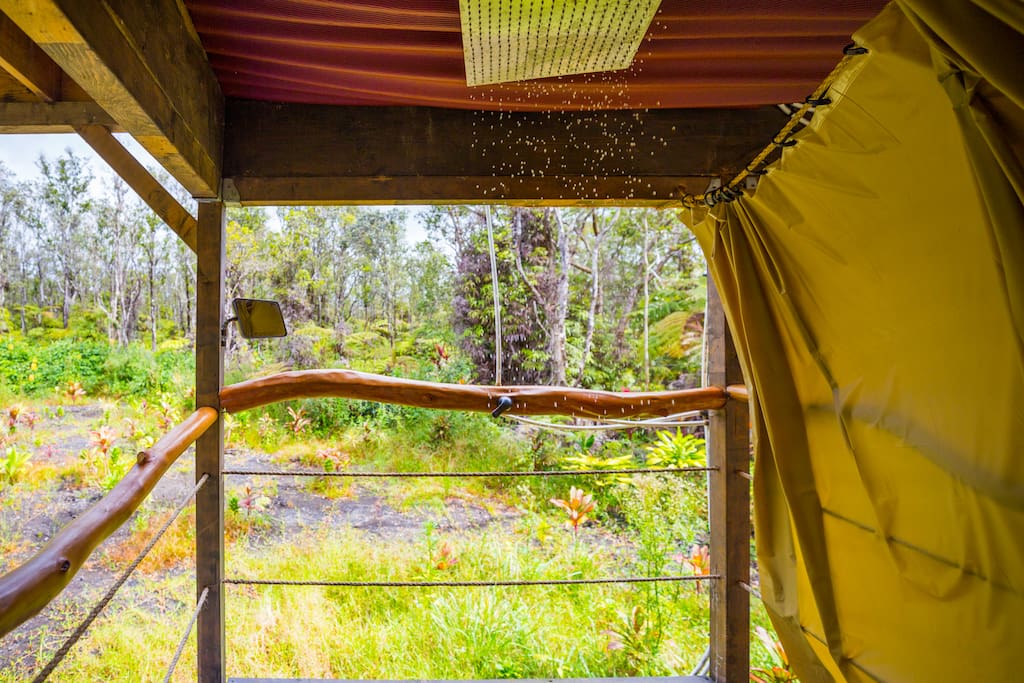 从我们的客人: "超出了我们的期望!这么多想法! "如果你想要一个宁静的放松假期,它不会比这更好!高度推荐" "绝对惊人!它干净,安静,超级独特!超大的吊床是一个巧妙的触摸! "喜欢户外雨淋淋浴,醒来到森林的惊人景色" "惊人的宽敞" "令人印象深刻" "火山国家公园很方便" "希望我们能留下更久"
From our guests:
"Exceeded our expectations! So much thought put into this!"
"It doesn't get much better than this if you want a peaceful relaxing getaway! HIGHLY recommend"
"Absolutely amazing! It's clean, quiet and super unique! The oversized hammock bed was an ingenious touch too!"
"Loved the outdoor rain shower and waking up to amazing views of the forest"
"Surprisingly spacious"
"Impressive and indulgent"
"Very convenient to Volcano National Park"
"Wish we could've stayed longer"
房源
距离国家公园仅有8英里,完美的度假空间是16'。这个小房子实际上是相当大的,在你看到的地方都有拱形天花板和窗户,周围有树木和森林。睡眠在阁楼与星星,你梦想着你的下一次冒险在皇后大小的Tempur-Pedic床垫。在躺椅上听录音,在大甲板上烧烤,或在144平方英尺的吊床上放松身心,因为您考虑延长您的假期。更多。天。 熔岩石渣车道可以通过手动清除的丛林和太阳能门将来到您最喜欢的度假胜地。公园上升到树屋天堂。 第一站是大约12'X 12'的手工编织的吊床。当你挂在那里,检查周围的许多当地的植物和鸟类,你会知道这是100小时值得的工作好花了。 下一个级别肯定是最喜欢的区域。室外淋浴设有一个非常大的花洒淋浴头,将自然雨水从房顶赶出。窗帘确保隐私,同时欣赏郁郁葱葱的丛林景观。您使用的天然肥皂和头发产品确保通过地板消失的水有助于更多地种植叶子。 将交替的胎面楼梯向上悬挂到活门上。因为它不是没有陷门的树屋。关闭它在你身后享受包括大甲板的美丽的树木景观。用滑轮(!)带上行李,放松在户外沙发上。考虑在平底锅炉上制作煎饼,或者随着您穿过玻璃门进入房间的主要区域,随时随地放置在绝热的冷却器中。 捏住自己,想知道你还在外面吗? 27个窗口可能会播放你的全景技巧,因为你看到的地方,更多的森林和阳光跟随。自然染色的木质墙壁整体将您的目光引向拱形天花板。在芒果木凳上脱掉你的鞋子,待一会儿。 您右边的浴室刚刚通过回收的门,包括一个装在更多本地木材中的瀑布水槽。此外,一个环保的冲水马桶和'ōhi'a树枝似乎在房子周围萌芽。 在房屋的客厅区域里可以看到更多的树木,这些房屋区域放置在阁楼和照明设备上。随着太阳下降,运动灯亮起,你想知道为什么你不早点离网。一张带双层床垫的沙发床似乎在微风中摇摆,它是完美的场所,可以收听填充扬声器的乙烯基收集。您还可以制作自己的音乐,因为您可以尝试在古式风格的鼓机上玩乐,或者与复古View-Master图片护目镜及时回来。 厨房区位于房子最大的窗户前方,设有一个手锤铜槽,下拉式水龙头和定制的切割板,它们坐在台面上,方便您随时准备任何物品。所有的都在一个大型手工制作的芒果木板内,结果是准备烧烤的理想场所。 最后,经过漫长的一天的探索之后,阁楼楼梯上升到卧室。在这里,在23英尺高的大教堂风格的窗户和7'天花板迎接您,并准予访问一个必须被认为是相信的观点。如果星星或月亮出来,通过天文双筒望远镜将它们靠近,或者从Tempur-Pedic床垫上注视着他们,当你离开睡觉休息为明天的冒险。 是的,没有Wi-Fi。 客人可以访问家庭的所有区域,这是我设计的!我想我成功地建立了我的梦想家园,所以请小心处理,以便别人也可以享受。 - 唯一的访问例外是在收集水的房子的下面。那里有几台机器保持房子正常运行,最好留下来。 以下是您可以使用的惊喜设施列表: •吊床 •户外淋浴 •有机肥皂/洗发水 •毛巾 •沙发,沙发床和床 •干净的床单 •天文望远镜 •记录播放器和乙烯基收集 •Harmon / Kardon蓝牙音箱 •鼓机 •白噪声/声音机 •图书 •插座(3针和USB风格) •厨房和浴室水槽 •切菜板,餐具 •食物和饮料冷却器 •太阳能手电筒 •充足的停车位 我设计了这个家,让你有一个真正惊人的住宿,完全自给自足。我已经留在了很多Airbnbs,我一直喜欢那些允许我的人 发现我自己的地方。我永远不会在大岛上居住,但我可以随时通过电话,短信或电子邮件联系。幸运的是,我的邻居很好,我有一个人可以尽快帮助处理任何问题,如果他们出现。 树屋位于一条安静的石路上,距离公路仅数分钟。 你会遇到的一些最友好的邻居在附近,但除非你通过他们在路上行驶,否则你可能没有乐趣。 树屋距离希洛25英里,距离Pahoa 28英里,距离火山仅有4英里。 我选择了这个位置,因为它是相对偏远的,并设计为一个完美的逃脱夫妇或个人寻求一个逃离的天堂。 虽然有几个伟大的餐馆和火山的杂货/冰/酒的地方(查看我的指南了解更多信息),如果您有机会停在希洛或凯奥,你会发现最便宜和最丰富的选择。 建议租用汽车(任何尺寸)进入酒店,但如果您的东西,则高速公路上的搭便车相当普遍。 在你预订之前 我想确保你喜欢大树树屋,我喜欢建立它,所以请在预订之前阅读完整的这个简要的注意事项列表。谢谢! 我设计了这个离网家庭的梦想,享受一个被困在丛林中间的豪华酒店房间的舒适。与这样一个家庭有一些小的权衡。 围绕着这座房子的丰富的森林,由于我们在火山上起床的雨量很大。在一段时间内幸运地赶上了这个实际上是非常愉快的,这个房子跑在雨水上! 水淹在屋顶上用于淋浴和水龙头的水不会过滤饮用。将有一个大容器的饮用水让您享受您的逗留。 房子从屋顶的太阳能电池板上收集电力,然后将电能储存在电池中。 (太阳光越少,使用的能量就越少)。当电池从使用中排出时,您必须等待太阳光再次开始充电。 我建议在白天使用许多窗户的自然光,入住传感器将在晚上自动打开灯。 *笔记本电脑是太阳熄灭时最好收取的最耗电的物品。 (没有熨斗或吹风机) 作为树屋,距离地面16英尺。虽然有舒适的楼梯通往户外淋浴,一个陡峭的梯子式楼梯(7')带您到主楼。我已经安装了一个很棒的滑轮来帮助拉起行李。 *如果你觉得你有爬梯的能力,请只预订。 人们总是问蚊子,但在8个月的建筑里,我从来没有过!外面有一些小臭虫,蚊子和蛾子被吸引,但我的邻居总是在谈论他们的缺乏。壁虎是我们的朋友!它们有助于防止错误。请随意使用位于浴室的蚊子喷雾器。 除屋顶上的一些温和的雨水外,还有一些其他的噪音要注意。水泵在使用时会产生少量的噪音。 晚上,coqui青蛙会让你睡觉,因为他们轻轻地相互呼喊。 如果您在夜间睡觉时遇到麻烦,我已经安装了水疗风格的白色噪音/声音设备。 我想要更加彻底地包括任何小的障碍(即使大多数的Airbnb都没有),所以你知道期望什么,因为我知道你在这里的留下将是一个真正罕见的和非凡的体验。
Just 8 miles from the National Park, the perfect getaway is 16' in the air. This tiny house is actually quite large and features vaulted ceilings and windows everywhere you look, with trees and forest surrounding you. Sleep in the loft with the stars as you dream about your next adventure on the queen-sized Tempur-Pedic mattress. Listen to records on the daybed, grill on the large deck or relax in the 144 sq ft hammock-bed as you consider extending your vacation one. more. day.
The lava-rock cinder driveway leads you through the hand-cleared jungle and solar-powered gate to your new favorite getaway. Park and ascend the stairway to treehouse heaven.
1st stop is the hand-weaved hammock bed roughly 12' X 12' large. As you hang there, checking out the numerous local plants and birds all around, you'll know it was 100 hours worth of work well spent.
Next level up is sure to be a favorite area. The outdoor shower featuring a very large rain showerhead gently flows the natural rainwater the house catches from the roof. A curtain ensures privacy while you enjoy the view of lush jungle landscape. The natural soap and hair products you use ensure that the water that disappears through the floor helps to grow the foliage even more.
Towel off and ascend the alternating tread staircase to the trapdoor. Because it's not a treehouse without a trapdoor. Close it behind you to enjoy the beautiful treetop views encompassing the large deck. Bring up your luggage with the pulley(!) and unwind on the outdoor sofa. Consider making pancakes on the griddle-stove or reaching for whatever you've placed in the heavily insulated cooler as you step through the sliding glass door and enter the main area of the house.
Pinch yourself as you wonder if you're still outside. The 27 windows may play panoramic tricks on you because everywhere you look, more forest and sunlight follows. The naturally-stained wood siding throughout guides your gaze to the vaulted ceilings. Take off your shoes on the mango wood bench and stay awhile.
The bathroom to your right just past the reclaimed door includes a waterfall sink encased in more local wood. Also, an eco-friendly flushing toilet and ʻōhiʻa tree branches that seem to be sprouting up all over the house.
More trees can be spotted in the living room area of the house holding up the loft and lighting fixtures. As the sun goes down, the motion-activated lights kick on and you wonder why you haven't gone off-grid sooner. A daybed with twin-size mattress appears to be swinging in the breeze and its the perfect spot to listen to the growing vinyl collection on house-filling speakers. You can also make your own music as you have fun trying your hand at the vintage-style drum machine or travel back in time with the retro View-Master picture goggles.
The kitchen area rests in front of the largest window of the house and features a hand-hammered copper sink, pull-down faucet, and custom-built cutting board which sits recessed in the countertop allowing easy preparation for anything you can come up with. All are inside of a large handcrafted mango-wood slab which it turns out is the perfect spot to prepare something to grill.
Finally, after a long day of exploration, ascend the loft staircase to the bedroom. Here, at 23 feet up, the cathedral-style windows and 7' ceiling greet you and grant access to a view that has to be seen to be believed. If the stars or moon are out, bring them up close through the astronomy binoculars or just gaze at them from the Tempur-Pedic mattress as you drift off to sleep resting for tomorrow's adventure.
Yeah, there's no wi-fi.
Guests have access to all areas of the home, that's what I've designed it for! I think I succeeded in building my dream home, so please treat it with care so that others may enjoy as well.
-The only exception for access would be underneath the house where the water is collected. There are a few machines there that keep the house running properly that would be best left alone.
Here is a list of amazing amenities that are available to you:
•Hammock Bed
•Outdoor Shower
•Organic Soap/Shampoo
•Towels
•Sofa, Daybed and Bed
•Clean Sheets
•Astronomy Binoculars
•Record Player and Vinyl Collection
•Harmon/Kardon Bluetooth Speaker
•Drum Machine
•White Noise/Sound Machine
•Books
•Outlets (3-prong and USB styles)
•Kitchen and Bathroom Sink
•Cutting Board, Dishes and Utensils
•Cooler for Food and Drink
•Solar Flashlight
•Ample Parking
I've designed this home so that you can have a truly amazing stay and be entirely self-sufficient. I have stayed in a great many Airbnbs and I've always preferred those that allowed me to discover the place on my own. I do not reside on the Big Island year-round, but I can always be reached by phone, text or email. Thankfully, my neighbors are great and I have someone who can help to handle any problems as soon as possible if they should they arise.
The treehouse is located on a quiet gravel road just minutes from the highway.
A few of the friendliest neighbors you're ever going to meet are nearby, but unless you pass them driving on the road, you may not have the pleasure.
The treehouse is 25 miles from Hilo, 28 miles from Pahoa and just over 4 miles from Volcano proper.
I've chosen this location for it's relative remoteness and designed it to be a perfect escape for couples or individuals seeking a getaway paradise.
While there are a couple of great restaurants and places for groceries/ice/liquor in Volcano (check my guidebook for more info), if you have the opportunity to stop in Hilo or Keaau you will find the cheapest and most plentiful options there.
A rental car (any size) is recommended to access the property, but hitch-hiking is fairly common along the highway if that's your thing.
BEFORE YOU BOOK
I want to make sure you enjoy the Big Tiny Treehouse as much as I enjoyed building it, so please read this brief list of considerations in full before you book. Thanks!
I've designed this off-grid home with a dream to enjoy the comforts of a lavish hotel room that was stuck in the middle of a jungle. There are some minor trade-offs that come along with such a home.
1. The rich forest that surrounds the house grows so well because of the amount of rain that we get up here in Volcano. It's actually quite enjoyable to get caught up in every once in awhile and luckily, this house runs on rainwater!
2. The water caught on the roof and used in the shower and faucets is not filtered for drinking. There will be a large container of drinking water for you to enjoy for your stay.
3. The house gathers power from the solar panels on the roof and energy is then stored in batteries. (The less sunlight, the less energy can be stored for use.) When the batteries are drained from use, you will have to wait for sunlight to start the charging process again.
I recommend using the natural light from the many windows during the day, the occupancy sensors will turn on lights automatically at night.
*Laptops are among the most power hungry items which are best charged when the sun is out. (No irons or hairdryers)
4. Being a treehouse, it is 16' off of the ground. While there are comfortable stairs leading to the outdoor shower, a steep ladder-style staircase (7') takes you to the main house. I have installed an awesome pulley to help pull up luggage.
*Please only book if you feel that you have the ability to climb a ladder.
5. People always ask about mosquitos, but in the 8 months building, I've never been bit! There are a few small bugs, mosquitos and moths outside that are attracted to light, but my neighbors always remark about the lack of them. Geckos are our friends! They help to keep the bugs away. Please feel free to use the mosquito spray located in the bathroom.
6. Besides some gentle rain on the roof, there are some other noises to be aware of. The water pump will make a small amount of noise as it is used.
At night, coqui frogs will send you off to sleep as they lightly call out to each other.
I've included a spa-style white noise/sound machine if you have trouble sleeping at night.
I wanted to be extra thorough to include any minor hindrance (even though most Airbnb's don't) so you know what to expect because I know that your stay here will be a truly rare and extraordinary experience.
与房客的互动
我附近有很多邻居谁可以帮助在任何紧急情况下,但我位于毛伊岛。
I have great neighbors nearby who can help out in the case of any emergencies, but I am located on Maui.
---
---
不适合儿童(2-12岁)入住,或不能为儿童提供安全的住宿环境
Check-in is at 3:00PM
Check-out is at 12:00 PM
This is a treehouse, so if you have difficulty with steep stairs or an aversion to heights, unfortunately, this may not be the place for you.
There are no open flames allowed inside the house or on the lanai.
Smoking is allowed on the porch downstairs, please be sure to pick up your cigarette butts.
Have fun! That's a rule.
---
The Big Tiny Treehouse was the most unique and memorable Airbnb we have stayed in. In addition to the interesting design of the place, we thoroughly appreciated the little luxurious details - a very comfy memory foam bed, high powered telescope, awesome records selection, quality Japanese kitchen knife, good selection of spices, great little outdoor griddle, and overall just fantastic design that's simple and functional without skimping on quality. Exploring each handmade part of the little treehouse was a delight. You can tell a good deal of thought was put into the usage of each area, and how to make the most of the space while keeping the design natural and minimal. We loved the tree branches used as handrails, and the wooden slab kitchen counter with built in chopping board was adorable. My husband spent most of the time lying on the huge outdoor hammock, or lounging in the outdoor living area. The location was perfect too - just 15 minutes away from Volcanoes National Park, and secluded in a forest, with only the sounds of birds, coqui frogs, and the occasional rooster in the distance. Mahalo Levi and Devin for our best Airbnb experience yet!
---
This big tiny treehouse was the BEST!! Perfect location for exploring Volcanoes National Park and driving to Kalapana for lava viewing. But, secluded enough to be the perfect little treehouse in the jungle that I hoped for. We LOVED it! The bed was super comfy. The outdoor shower was amazing with the hot water (almost a little too hot) and everything else was just perfect. The hosts are very responsive and have added all the perfect touches. One of our new favorite places, can't wait to return!!!
---
We had an incredible time at the Treehouse! The instructions were great and made everything go so smoothly. The house was so clean with sweet little touches throughout. I'm a little bit of a snob when it comes to bed comfort- and hands down the bed was amazing! I think my husband and I slept for 9 hours straight! The seclusion and beauty of this place is wonderful. I would definitely come back here again!! 5 stars all around!
---
This place is so, so cool and it's ideal for anyone looking to get away from the touristy hustle & bustle. It's located on a beautiful little slice of forest in the middle of a secluded subdivision off the highway to VNP. We saw maybe three people in the area during our two night stay, and they all gave us friendly waves but otherwise kept to themselves. Check-in was a breeze, as Levi and Devin proactively reached out in the days before to make sure we had everything we needed as far as directions went, and they made themselves very available via email/phone during our stay (although we didn't need to contact them). The treehouse itself is very comfortable and very well-appointed. It was the perfect spot to unwind after a long day of hiking; just crack open a cold beer or bottle of wine (pick up some ice before you drive in!), lounge on the daybed, and put on some records, and the sounds of Bob Marley (supported by a chorus of coqui frogs) will lull you right to sleep... We didn't have any problem with bugs, despite the lush location; my husband and I are both very sensitive and attractive to mosquitoes, and we didn't get a single bite here (although we did get eaten alive elsewhere on the island). Also worth noting – this was by far the most comfortable bed we slept in during our trip (and a big chunk of our time was spent at a fancy 4.5-star resort, for comparison). The icing on the cake was waking up early on our second night and, after mostly rainy/overcast days, seeing the sky speckled with countless stars right from our bed. And just a heads-up: the roads are unlit, and starting halfway through, unpaved – certainly an adventure in our 2WD rental – but it's not that much of a difficulty to navigate, although I would suggest downloading offline maps of the area in case your cell coverage isn't great.
---
Such a beautiful hideaway! Loved every minute we spent here. The tree house is by far the best airbnb we've ever stayed in. We loved all the special little touches that made it feel cozy and unique. The bed was also extremely comfortable, and waking up surrounded by trees was magical. The only part that was a fun challenge was the shower, which was either icy or scalding. We opted for icy and it was a refreshing way to start our day! Bring some playing cards, a good book, and some wine and enjoy the escape! Thanks Levi!!
---
Aloha, My name is Levi and I'm a Filmmaker/Editor/Bartender/Carpenter from Maui. My travels around the world have led me to countless stays in Airbnbs and finally, in 2016, I decided to build my own. I built the Big Tiny Treehouse with my brother in the fall of 2016 over…