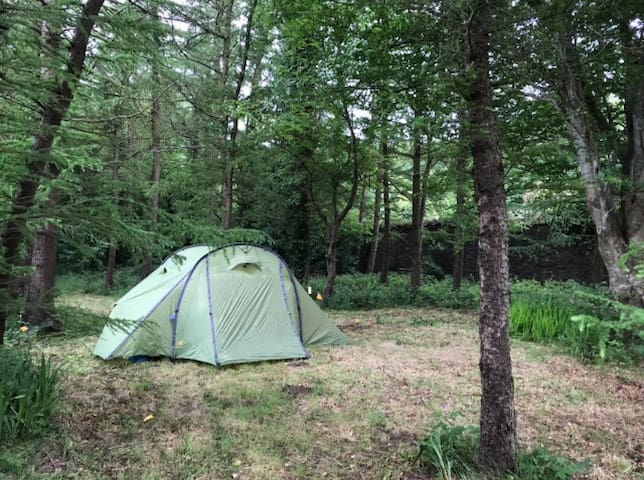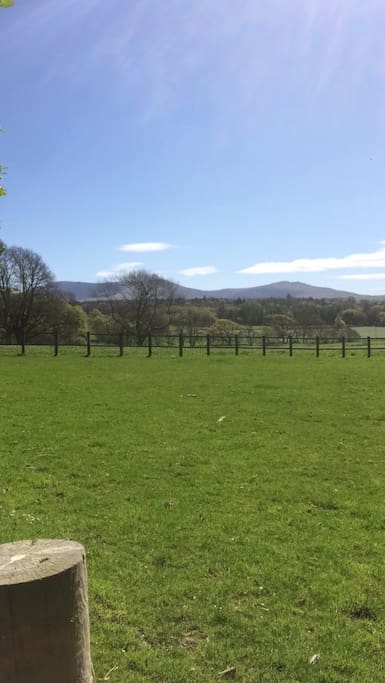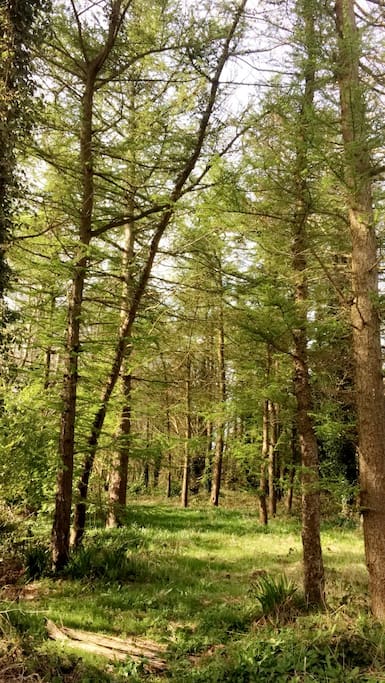 Pitch your tent overlooking Snowdonia
This is a great place to pitch your tent for a break, close to Snowdonia & the Lleyn Peninsula. Fabulous views of Snowdonia and surrounding areas. Close to Caernarfon & Anglesey. You need to bring your own tent (any size) Full access to house toilet 24/7, water. 2 shower rooms indoors can be accessed from 7am - 11pm. If you need electric please let me know in advance. Pets allowed but must be kept outdoors.
房源
Please note this is not an official camp site and you'll be pitching in the garden. It's a very large garden with lots of places for you to pitch, either next to the house or deeper in the woods.
房客使用权限
Full access to house facilities including communal sitting room, kitchen and 2 bathrooms between the hours of 7am and 11pm. Plenty of parking available.
---
The location was great, we thoroughly enjoyed the stunning walks through the grounds of the adjoining estate. Kieran welcomed us with a cup of tea and was a good host for our first three days. It was agreed with Kieran by text that we would be the only people camping in his garden. However, after a day out we returned to discover there were two tents and a gazebo erected in the garden, along with about five people. I asked Kieran why as we had agreed we were to be the only ones camping. In my opinion he became very hostile, telling me they were friends who had shown up. He then denied we had agreed until I showed him the text he'd sent me. My wife and myself decided we wouldn't stay. We packed up and I told Kieran we were leaving, as he had broken our agreement. He said as it was his garden he could do as he liked. He then said I was like a five year old child (I am in fact almost 55) going home. I said to him he being a business man he should honour contracts. He spitefully said words along the lines of when I had achieved something with my life, I could talk. He went on to say he was the UK Business Man of the year. I walked away from him and we left his property. Ironically my wife and myself had decided earlier that we would see what availability Kieran had later in the year as we wanted to stay in his home with friends for a week.
---
The place is great. Lovely view of snowdonia and nearby an intetesting forest garden, the sea and other interesting sites. Kieran was super hospitable i could use the common rooms and shower insight the house and also warm up near the fireplace after an cold day climbing snowdon. I can really recomment staying at Kieran's.
---
We had a great stay at Kieran's place! He was great at communicating with us about arrival and directions, he had plenty of space to pitch a tent, the location was perfect as a base from which to do our activities, and you couldn't beat the price! I would definitely recommend and would stay again if he would have us!
---
I've recently moved to the lovely area that is Caernarfon for a quieter life away from the hustle and bustle of Manchester City Centre. I run an international menswear company and spend a lot of my time coming up with new designs. Very laid back and always open to chatting.