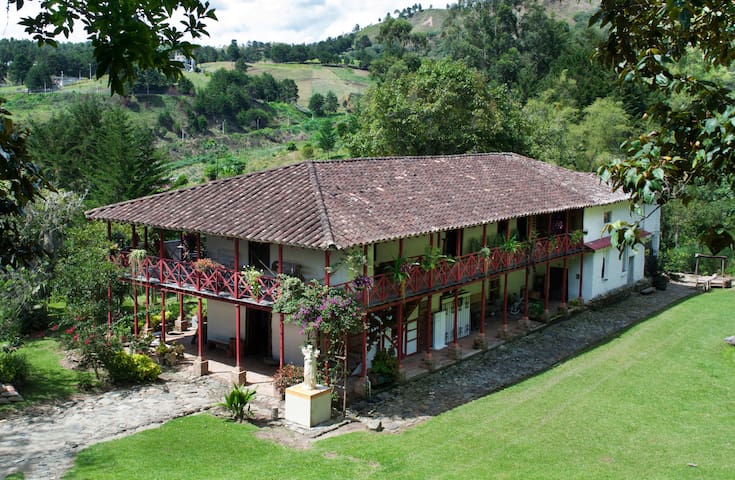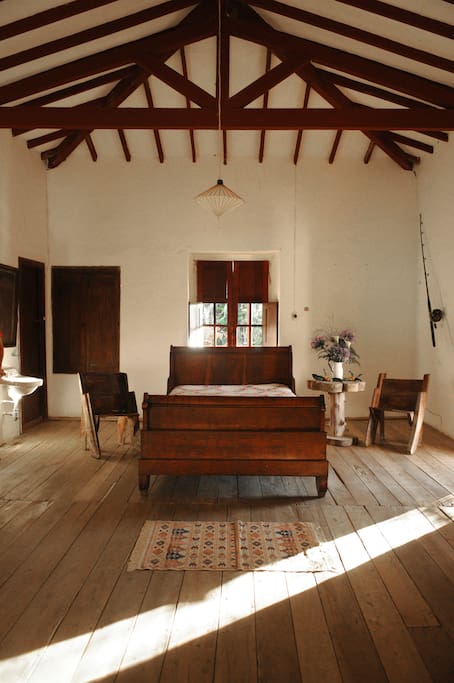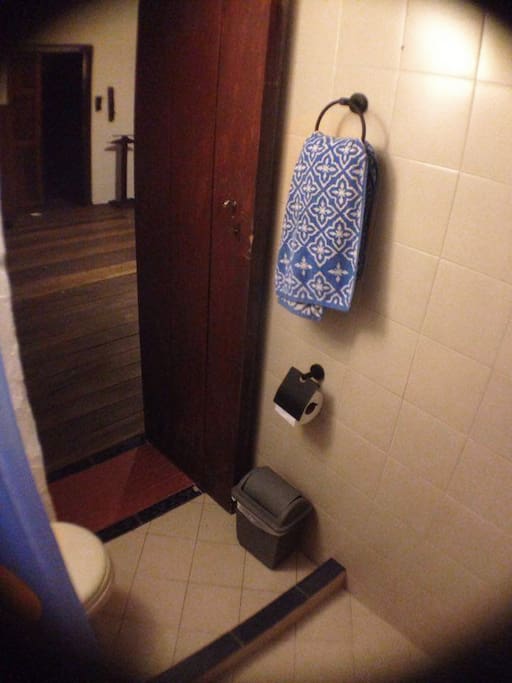 Stay in our beautiful historic Colombian coffee farmhouse, built in the Mid-19th Century.
Today the building also houses the Campos de Gutiérrez Foundation, an arts organization where you can learn ceramics and discover more about the art scene in Medellín!
Just 30 min away from Medellín's City Center, come and stay for a weekend while you visit the city and take a ceramics class or just relax and be amazed by our natural surroundings.
房源
Our large coffee farm house is surrounded by pristine nature, with native and secondary forests, natural creeks, a wide variety of exotic fauna and flora and nearby sites of interest like waterfalls and trails into the woods. It's also a great spot for bird watching, there are many exotic bird species in the area! You can also discover a variety butterflies and other wildlife. We are under the zone of influence of Parque Arví's Natural Reserve.
We have a pond in front of the house that can be appreciated from a balcony that surrounds the entire building. This balcony once served as an area to dry coffee beans and today it is an ample communal space where you can also enjoy a beautiful view of the woods and neighboring communities. It's the perfect place to start the day with a cup of Colombian coffee.
We also have a bilingual library that is focused on art and regional subjects.
We have two communal bathroom facilities in the house, one upstairs and one downstairs. Laundry facilities are available upon request for guest staying more than 3 days.
WiFi is available in the common spaces and throughout most of the building.
Other services at additional cost (please let us know when you book if you would like to reserve):
Lunch
Dinner
Airport pick-up
And whether you are interested in joining a ceramics class or any of the activities connected to the Campos de Gutiérrez Foundation.
其他注意事项
FOOD AND COOKING
Arepas, eggs, cheese and fruit - breakfast is included! Coffee and tea are also available for free during your stay.
The kitchen is large and available only for light guest use during non-peak hours, you can use the microwave at any time and there is some space in the fridge if you need to store goods.
For a unique and local experience of the city, we can recommend some hidden gems where you can find delicious Colombian or international food.
If you want, we also offer to cook lunch for an additional $3 per day
OUR ANIMALS
We live with a cat (Aurelia) who stays mostly on the second floor. We also have two dogs (Negra y Negro) and two goats (Macareno and Argemiro) who live in the yard and aren't allowed indoors. As mentioned before, we are surrounded by birds and wildlife. If you have pet allergies it's important you consider these before reserving with us.
HOUSE RULES
Not suitable for pets (we love them but we already have 1 cat, 2 dogs, 2 goats…)
Check in time is from 2 PM - to 9 PM (under special circumstances we can make exceptions)
Check out time is 11 AM
House is quiet after 10 pm until 9 am so that everyone's sleep and needs are considered.
---
En definitiva un paraiso, más que un hermoso lugar para descansar, es un trozo de historia que hace de tu visita una experiencia increíble. No se pierdan la oportunidad de participar de los talleres de Cerámica con Andrés, al igual que las increibles historias de Don Carlos alrededor de las fogata.
---
I am an artist and founder at the Campos de Gutiérrez Foundation, co-funder of the Maati Ceramics Studio. Originally from Colombia, I've spent a significant 11 years of my life abroad, mostly in the United States and also in Korea. Since 2011, I have had the amazing privilege of …