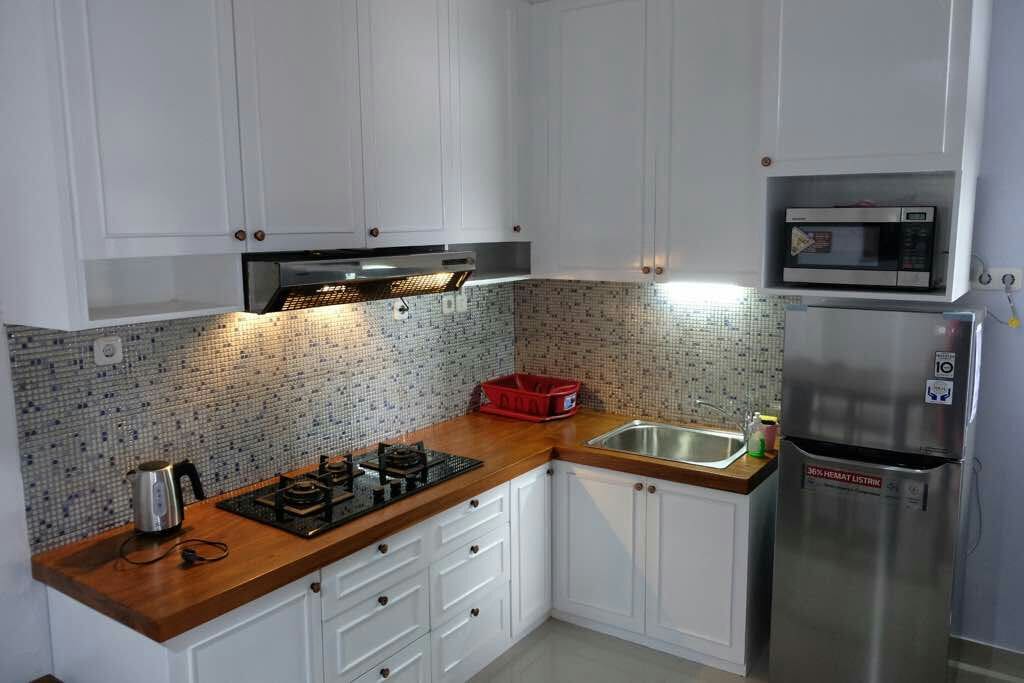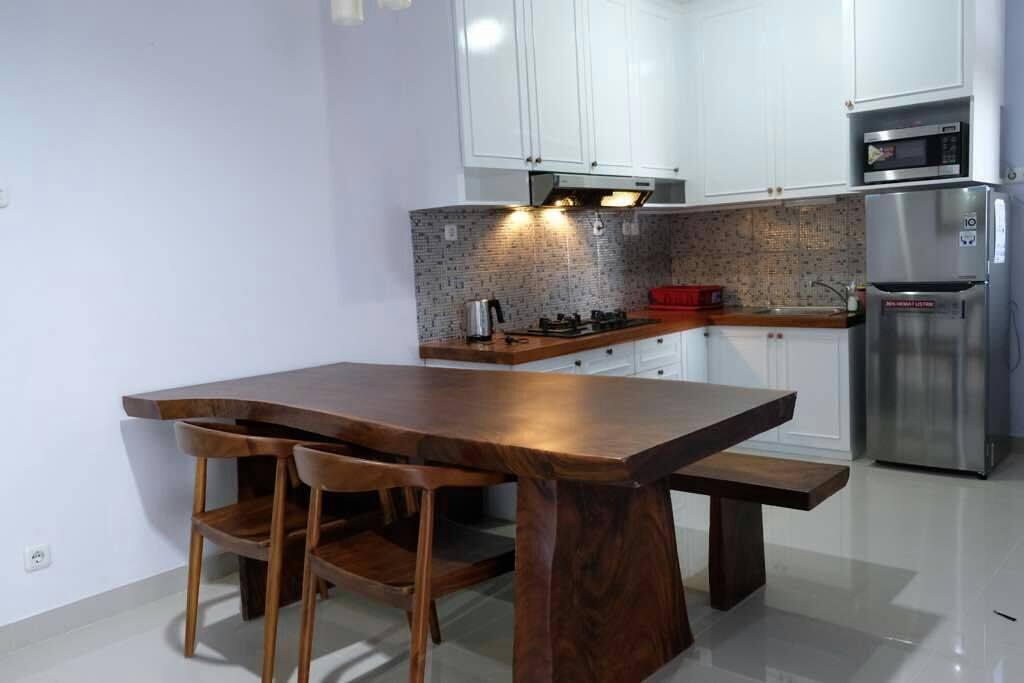 Woody White's Nest/158, Apartment in Jogjakarta
我们的公寓位于日惹市中心,距离市中心很近。它也很方便,靠近各种街头食物,美味的restos,咖啡馆,理发店以及迷你市场。它有舒适的气氛 入住愉快。
Our apartment is located in Yogyakarta's city center, a short distance to the town center. It is also conveniently located close to various street foods, nice restos, cafes,barbershops, as well as mini markets. It has cozy atmosphere
Enjoy your stay.
房源
它在安静的社区有一个舒适的气氛,舒适的床,所有卧室与AC,配备了新的厨房和许多停车场
It has a cozy atmosphere in quiet neighborhood, with comfortable beds, all bedrooms with AC, equiped with new kitchen set, and a lot of parking areas
---
---
1. There will be a penalty of
IDR 100,000 to be paid in cash, in case off key loss.
Please make sure that the key remains in your possession during your stay.
Akan dikenakan denda sebesar IDR 100.000 apabila kunci unit apartment hilang.
Mohon bisa dijaga dengan baik.
2. Cooking which can leave unpleasant smell is prohibited.
Memasak yang dapat meninggalkan bau yang menyengat tidak di benarkan.
---
Irwan is hands down a great host. Check in was very convenient and Irwan was very attentive with my wife and I. Whatever we needed he was our go to guy. Definitely recommend for anyone who is looking to stay near the downtown area of Yogyakarta. Close to many restaurants and shopping centers and not too far away from one of Jogja's staples, Malioboro Rd.
---
Irwan is the man! Just to piggyback off of the other previous reviews of the place, the apartment was shiny and clean. The only issue we had was with our arrival. There was no one manning the front desk when we arrived, so my wife had to search for the key to our room behind the desk and reach over to get it. It was quite humorous. To be fair, we didn't arrive until 1am. As a host, Irwan is incredibly helpful and professional. Well ahead of our arrival, he was messaging us to see if he could help us with transportation in Jogya. There is a reason why he is a super host. The apartment itself is found in a set of run down buildings that sort of look like they are from the "Soviet era." But, do not judge this book by its cover. As soon as you walk into the building, walk by the men playing card in the lobby, hop into the rickety elevator, and take it up to your apartment you are in for a treat! As soon as you open the door a sheek, modern, and spacious apartment awaits. It is fully renovated, with new appliances, furniture, and an awesome wood dining room table. There are two bedrooms, a large living room, and a spacious kitchen. One of the bedrooms has its own private balcony and of course the balcony from the living room provides amazing views of the city. I would highly recommend this place for families or a group of friends taking a holiday to Jogja. It is not too far from the madness of the city center, yet just far enough away where one can get some peace and quite. It is very close to a university, so the neighborhood has some great places to eat. Definitely recommending this place to others en route to Yogyakarta in the near future.
---
Firstly, the cleanliness of this house is just okay. I found no issues until i found a few mosquitoes inside the house especially at the kitchen as the surroundings of the house is a bit unwell maintained. Secondly, we never able to communicate to the owner directly as the owner only contactible by (SENSITIVE CONTENTS HIDDEN) and emails. So, miscommunications happened. One of my family members accidentally took the adaptor from the house as he may assumed that the plug is iphone's plug as it looks the same. But, we managed to return it back on the same day's we checked out after the owner messaged me. However, it is a bit dissapoinment when the owner slams us with this issues and use a sarcasm words towards us eventhough we already returned the plug. Then, i was asked by the owner to give 10 ++ dollars to him for nothing. It is so unprofessional and absurd. Then, during the stay I already complained regarding his small size bath towels. I asked already to him before we arrived that he could give us bath towels or not and he said yes. Unfortunately, he gave us small soze towels which u can use to wipe ur face only. It is so unacceptable to my guests and he only gave us another extra small size towels when i complained on the next days. And he said we only provided the small sizes towels as it is standard. I'm not sure about this as i travel a lot and most of the owners of the house never treats me like this as him. Overall, the house is just okay, not so good and not so bad. Onbtopnof that, we are so regrets of the hospitality from the owner of the house. He is so sarcasm and not professional. He finally apologised me through (SENSITIVE CONTENTS HIDDEN) but in a sarcasm way which i think it is not an apology statement. It just put his guest more disrespectful to him and the image of the country.
---