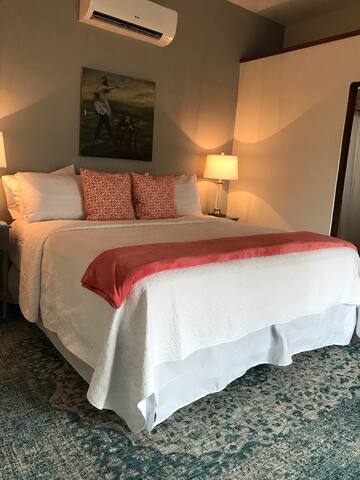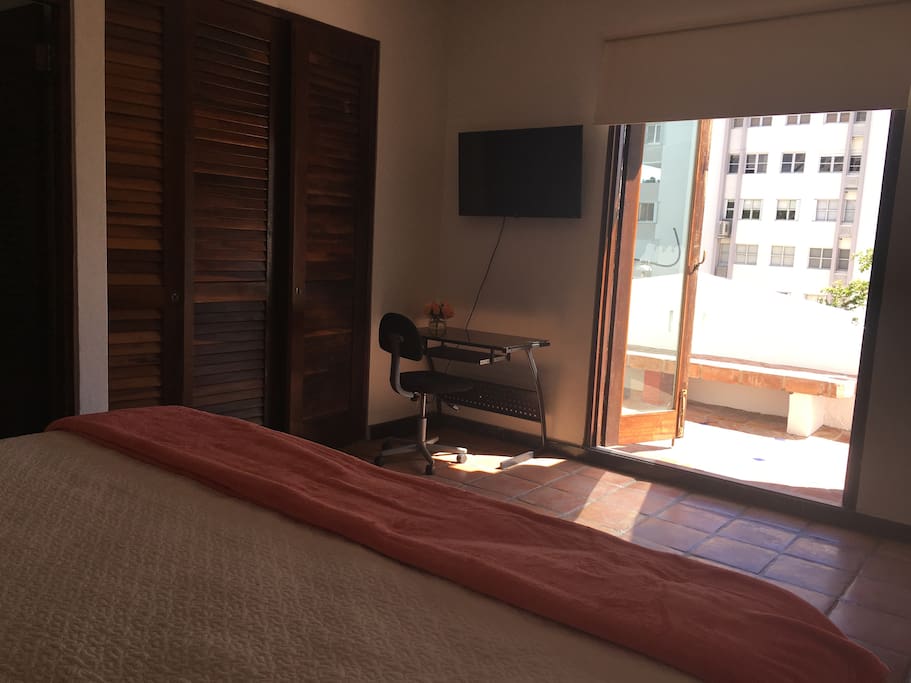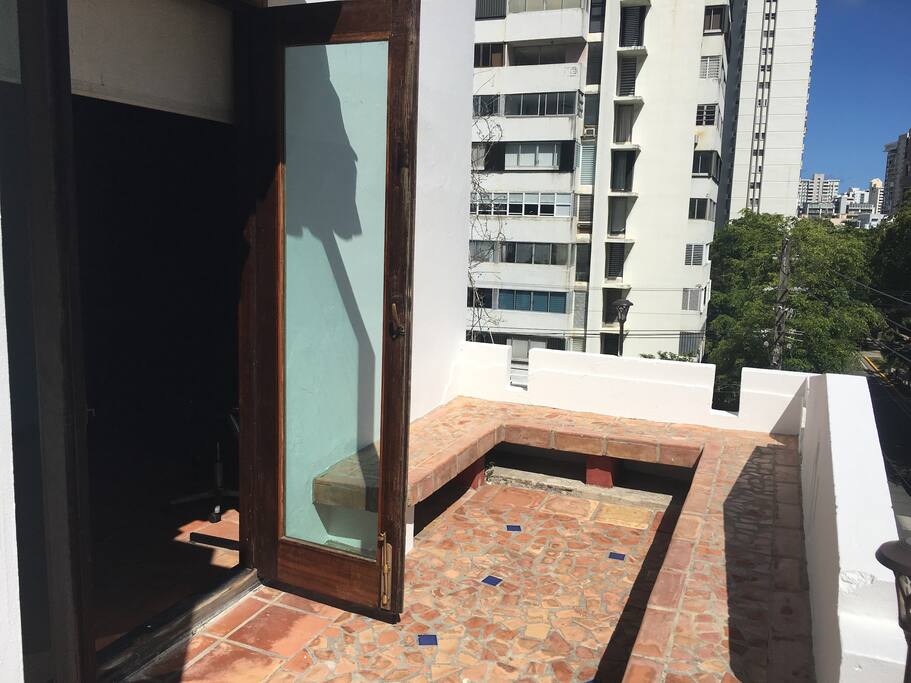 Luxurious Penthouse Master in the Fun Part of Town
Location, location, location! You are in a shared penthouse apartment, less than a minute from the beach, with tons of great bars, restaurants & shops within a 5 minute walk. This is your perfect home away from home with all amenities.
Your master suite has a connected private bathroom & double doors to the wrap around balcony.
There is no elevator in the building & you have to walk up 4 flights of stairs. This is a private room within my home. I work from home but you have your own room.
---
---
---
---
Please make sure to park in the designated parking area so as to not upset the neighbors.
您还必须确认以下情况
需爬楼梯 - We are on the 4th floor and there is no elevator.
---
---
---
---
Calebs place is beautiful inside. Even though he was home we rarely saw him and when we did he was very nice and communicated well with us, we felt very much at home. He also gave us great restaurants to visit and the beach was literally 3-5 minutes walking distance. The entire home was well cleaned and looks exactly like the pictures, gorgeous view from the balcony. We didn't have a problem finding his place and would love to stay again. I definitely recommend his home.
---
good communication, the place is nice but not much privacy at all.
---
I stayed at Caleb's with my sister and we had an wondeful time! The private room and bathroom were very clean and stocked the same amenities as most hotels. The bed and pillows were really comfortable and the AC worked great. From the balcony you can see a sliver of the beach in between two buildings. To get there, go to either corner of the street and walk towards the palm trees. Total of a block and a half walk. The neighborhood was safe and overall quiet as well. It was mostly residential with small hotels here and there. Grocery, pharmacies and all kinds of restaurants are within walking distance. Caleb was an amazing host. He had great suggestions for activities, restaurants and shops. He is very kind, down to earth and respectful. He also made himself available if we needed anything. I would not hesitate to stay again.
---
The owner resides there so for couples they will not get any privacy and will be confined to the bedroom only! It is not safe for a female to stay there and alone with owner... Kitchen was not cleaned to perfection. There is a loud annoying noise outside of the bedroom. The directions there were terrible I rode past the place 6 times. The shower in the bathroom does not run the water smoothly from both the shower and the bathroom sink. There's no trashcan in the bedroom. The place is not in walking distance from the beach you have to drive.
Hi Jazzmin, I'm sorry you didn't enjoy yourself! You and Troy never brought up these concerns on the several occasions I checked in with you, if you did I could have tried to make your stay more comfortable and clarified a few things, as your issues seem to be based largely on misconceptions. The AirBnb listing clearly says it is for a private room and the info states that I work from home, so I'm not sure where the confusion occurred... I had to confirm to you in person that I lived there, after you arrived - if this was a problem, you and Troy should have told me in the moment. On the same note, if you would have talked to me I could have pointed you in the direction of the beach, which is literally within walking distance; people love it. I'm really curious which beach you were driving to. I make a morning routine of walking to the beach and meditating. I normally get from my condo to the beach within the length of one track of music, so that' 3-5 minutes of walking. I even do it barefoot it's so close! Regarding the cleanliness, as I live there, the kitchen will never be cleaned to perfection as it's in constant use. However, it is cleaned regularly and is in great condition, a few crumbs or not. The address I provided is exactly at the spot of the condo. When you called me and I stepped outside to find you, you were right out front. The buildings in PR don't always have numbers, that's just the way it sorta work :slightly_smiling_face:. Using a gps you get taken to the exact spot. As far as the "loud annoying noise" goes, I imagine it was just the washer and dryer as I let you guys check in early and told you I was still washing your towels. If it's something different, I'll have to investigate. Unfortunately, the water smoothness is symptomatic of Puerto Rico. I've talked to several people about the issue, and from what I have gathered PR just has low water pressure as a whole; you'll find that pretty much where ever you go residentially. I'll grant you I should add a bathroom trashcan (something I could have done within 2 minute had you brought it up). Your private comments details "The description said 4 flights of steps instead when I arrived there was 7 flights of steps to climb. " Well actually, the listing says it's the 4th floor, not 4 flights. However, the definition of a flight is ambiguous and can equally equate to the level of floors (regardless of if it's a 2 part set of stairs or not). So the posting is accurate in that respect. Jazzmin, I'm always sympathetic to a guest who doesn't enjoy their stay, but a lack of communication from the renter and a clear lack of awareness of what they have rented (as evidenced by your compliant contrary to what the listing clearly says) makes it difficult for me take it seriously. I haven't had any of the issues brought up before and would appreciate if you recanted this review as it is misinformed.
---
Hey, I'm Caleb and I'm taking advantage of my internet based work to travel. If you have a great place in a cool town, I might be staying with you. Most of my life has been lived in Arizona and California, so I'm craving a change of scenario.

I'm a person of integrity and am respectful of others, always open to adventures and good conversation. I studied philosophy in college, used to do video production before deciding I wanted mobile work, read and write as often as I can, enjoy fitness and metal music (I'm not a huge deviant though, don't worry).

AirBnb prompts to write about how I like to travel. Well, I'm focusing on a life of simplicity right now and like to experience new places as authentically as I can, more than just a quick tourist stop.