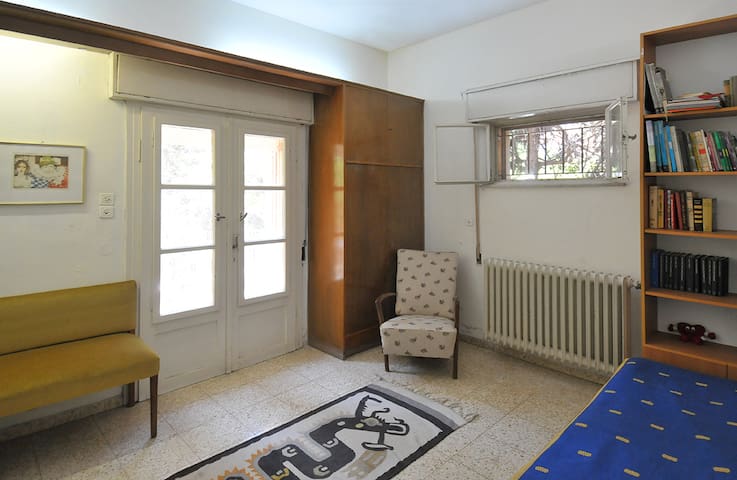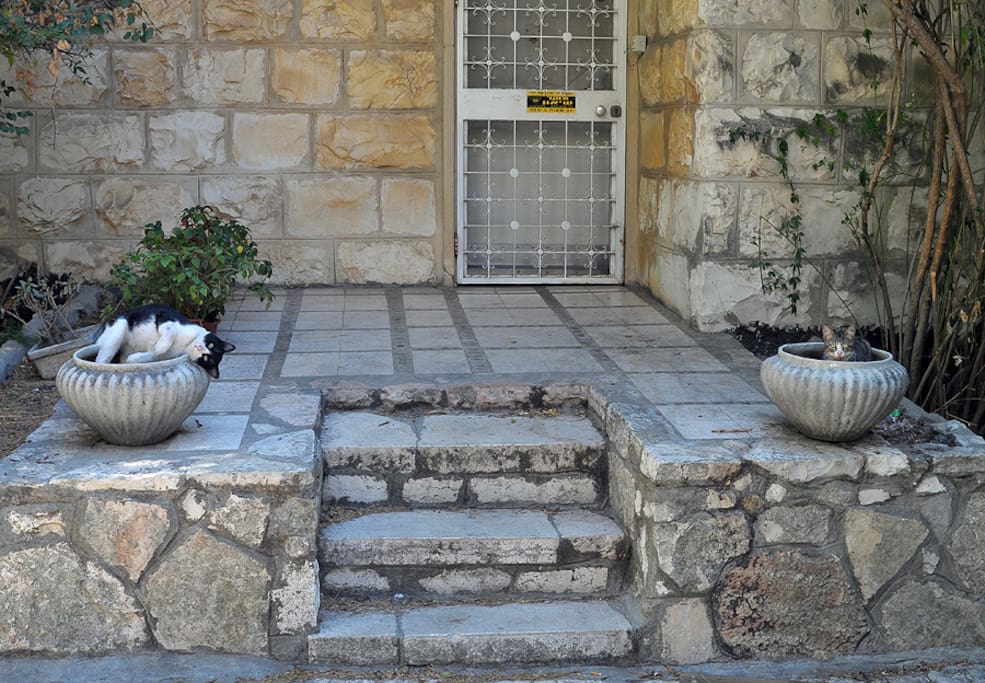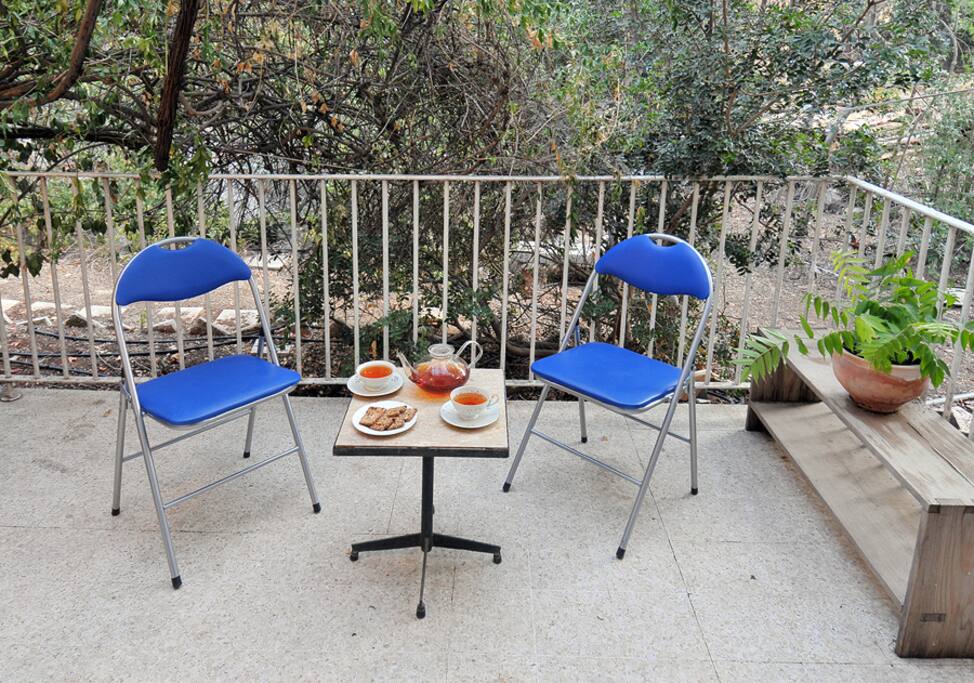 房源
在Kiryat Shmuel,在一条没有交通路口的小街道(仅停车场), 一个安静的13平方米的房间+一个门廊,在一个古老的风格一楼的房子被树木包围和一个大的私人花园。 毗邻Brodi生态公园(步行1分钟), 距离Rehavia&Talbiah社区步行距离(3-7分钟),耶路撒冷剧院,伊斯兰艺术博物馆,总统府,距离市中心15-25分钟步行路程,耶路撒冷非常丰富多彩的"Mahane Yehuda"市场,以色列博物馆,大卫王街道,耶米·莫西,耶路撒冷电影院 附近的Azza和HaPalmach街道提供咖啡,餐馆,酒吧,购物和/或从耶路撒冷老城"Hamoshava",Emek Refaim&Derech Beit Lehem街道步行25-30分钟。 如果您有任何问题,请与我联系,我乐意回答您的问题,尽可能协助您,并尽可能让您在耶路撒冷逗留愉快。
In Kiryat Shmuel, at a small street without traffic (only for parking),
a quiet 13 sq m room + a porch, in an old style one floor house surrounded by trees and a large private garden.
Next to Brodi ecological public garden (1 minute walk),
short walking distance (3-7 minutes) from Rehavia & Talbiah neighbourhoods, Jerusalem Theatre, The Museum of Islamic art, President's residence, 15-25 minutes walking from City center, Jerusalem's very colorful 'Mahane Yehuda' market, Israel Museum, King David street, Yemin Moshe, Jerusalem cinematheque...
Caffes, restaurants, bars, shopping - available at the very nearby Azza and HaPalmach streets, and/or 25-30 minutes walking from The Old City of Jerusalem, 'Hamoshava', Emek Refaim & Derech Beit Lehem streets.
Please contact me if you have any questions, I would be happy to answer your questions, assist you as much as I can, and make your stay in Jerusalem as enjoyable as possible.
---
---
---
Fill free to use the kitchen for eating and cooking,
and store your products in the refrigerator.
Balconies may be used for eating.
Washing machine can be used.
Free wi fi internet access.
Smoking is allowed only in the balconies and in the garden.
No additional charge for electricity during spring and summer times,
but during COLD WEATHER, if water & room heating is required,
relative extra costs for electricity consumption will be charged separately.
Check in after 09:00 and not later than 23:00.
PLEASE LET ME KNOW YOUR APPROXIMATE HOUR OF ARRIVAL.
Best Regards,
Shlomo.
---
---
How can I possibly beat Shlomo's hundreds of glowing reviews! I had a great time staying there, the location was perfect for me, quiet, and close enough so it was easy to get to the center. It was perfectly clean, with a very friendly host. It was very comfortable to stay there for a long time (4 months). Shlomo always welcomed me to do things with him, and also left me alone when I got busy. Absolutely would recommend to anyone, and will miss Shlomo a whole lot.
---
Shlomo was great. He is always willing to help out his guests with anything they could possibly want or need. Not only will he help you with directions, there is a giant map in the kitchen that is super useful. I loved chatting with Shlomo about anything. I would highly recommend going with Shlomo to the museum. The house is old, as other reviews have mentioned, but Shlomo is always working on improving the house. Some reviewers have mentioned that the house is not as clean as they would have liked, but I think that they were confusing clean with organized. Shlomo cleans the whole house once a week and does an extra cleaning before guests arrive. On the other hand, it is a little disorganized. The house is in an excellent location. I was able to walk everywhere in Jerusalem. It is about half an hour to the Old City, the Israel Museum, and the Market. The neighbor hood is green and peaceful as advertised. I was very comfortable staying here.
---
Shlomo was a very friendly and accommodating host and I was lucky with our confluence of schedules. He gave me a ride to the Israel Museum once and didn't mind my night owl hours of reading and occasional midnight snacking. The room I stayed in was very comfortable with interesting books, some of which I browsed at night. It was pleasantly cool even in August heat. I loved the little garden behind the house with the grape trellis, fruit trees and hedgehog. The neighborhood to be very safe to me. The location of Shlomo's house is very good. I walked to the Old City and to the Knesset/Rose Garden. Taking a bus to Tel Aviv was easy. Overall, a great stay.
---
I stayed with Shlomo for a week in February and had a wonderful time! He is kind, generous, funny, and knowledgeable. He was extremely hospitable and even cooked delicious dinner and breakfast a few times for me! The room was a very nice size, and the house was great. It is a bit of a schlep to the Old City, but it's manageable if you don't mind a hilly walk. The house is in a beautiful residential neighborhood with lots of tree-lined streets. Highly recommended, thank you Shlomo!
---
Very sweet house located on a tiny street adjacent to a public garden. Shops just down the road. Shlomo was very welcoming and kind--showed me around the neighborhood, interesting to talk to, and accommodating as he could be. In addition, the surrounding neighborhood is as advertised: green and peaceful. At night, despite being right in the middle of Jerusalem, it becomes completely silent and dark; as the sun comes up, different birds begin singing, and only then can you hear some cars. Very peaceful, very pleasant, both place and host!
---