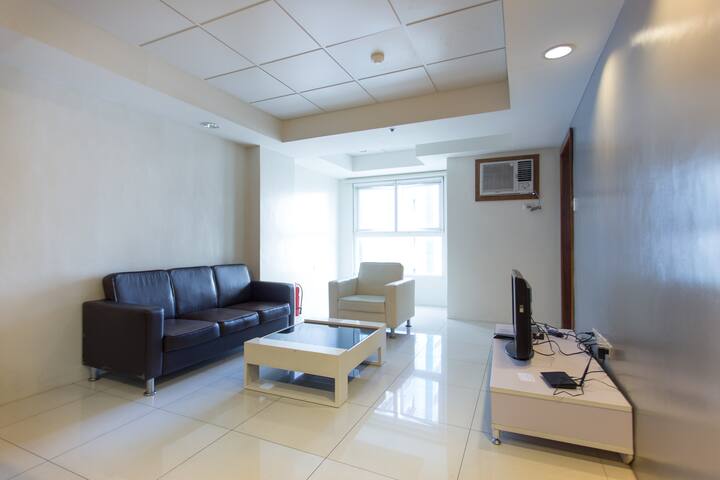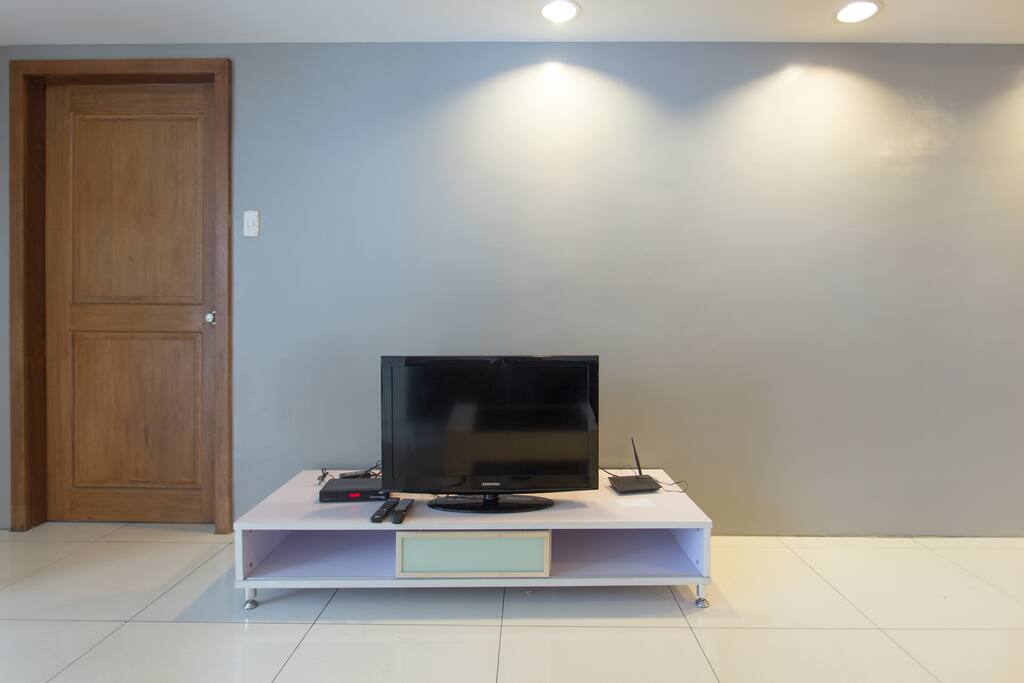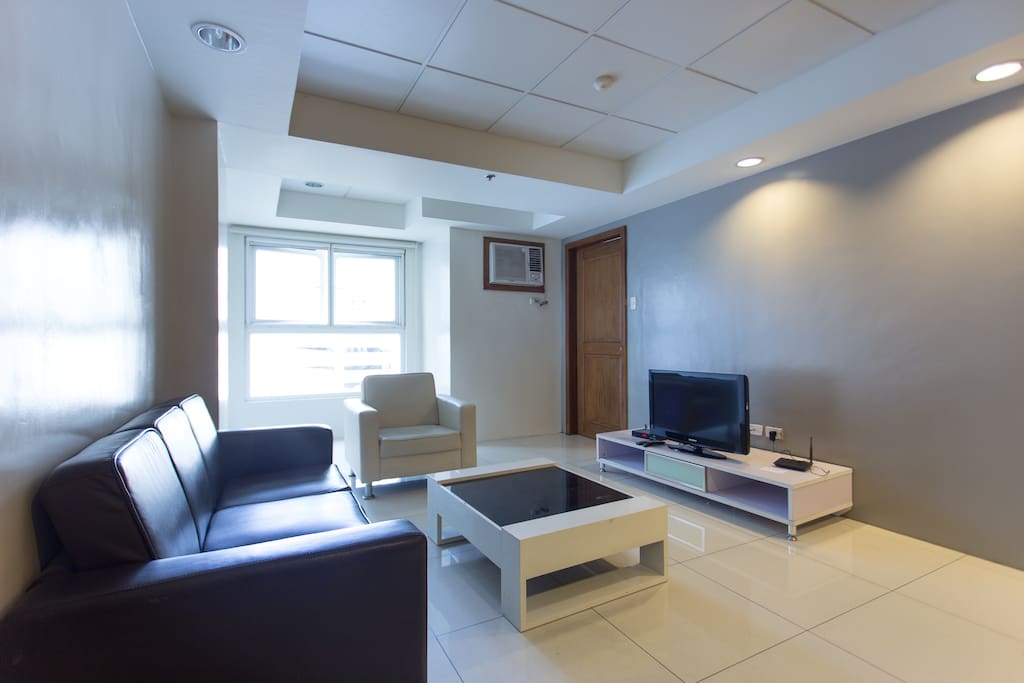 我们位于宿雾首屈一指的商业区,宿雾商业园的心脏地带。在建筑前面是宿雾首屈一指的生活购物中心,阿亚拉中心宿雾。 当您在城市中拥有最好的地址时,一切都是一箭之遥。 关于此房源 这个全新的两卧室单位(120平方米)位于宿雾商业园的中心,交通便利 一切都在1分钟步行距离内,如24小时便利店,多种餐厅,
We are located right at the heart of Cebu's premier business district, Cebu Business Park. Right in front of the building is Cebu's premier lifestyle mall, Ayala Center Cebu.
Everything is a stone's throw away when you have the best address in the city.
About this listing
This brand-new two-bedroom unit(120sqm) is conveniently located at the heart of Cebu Business Park
Everything is within 1 min walking distance like 24 hrs convenience stores, many kinds of restaurants,
房源细节
随着公寓规模越来越小的趋势,我们相信,宽敞的客厅空间对于为客人提供一个更开心的家园至关重要:宿雾商业园区很少见。我们所有的房间通风良好,带有大的防声窗,让自然光线进入室内。即使我们通往单位的走廊也很通风。 附加功能: 所有厕所和浴室都有窗户 2.低密度居民,因为只有有限的单位可用 3.免费停车位 没有协会会费 5.加压软水系统 光纤互联网连接 每周免费进行一次家务
Amidst the on-going trend of apartments getting smaller in size, we believe that a spacious living space is essential in providing our guests a happier home: a rare feature to be found in Cebu Business Park. All our rooms are very well-ventilated with big sound-deadening windows to let natural light inside. Even our hallways leading up to the units are airy.
Additional Features:
1. All toilet & bath have windows
2. Low density residents because only limited units are available
3. Free parking slot
4. No association dues
5. Pressurized soft water system
6. Fiber Optic internet connection
7. Free housekeeping once a week
房客使用权限
客人欢迎客人前往住宅单位的电梯到达高架天花板。在这座建筑前面,宿雾的首要购物中心,阿亚拉中心宿雾,阿亚拉地铁和商场的出租车队列。一切都很方便,我们在城市最好的位置。
Guests are greeted with a high-ceiling lobby where the elevator to the residential units is located. Right in front of this building are Cebu's premier mall, Ayala Center Cebu, Metro Ayala and the malls' taxi queue. Everything is convenient with our best location in the city.
与房客的互动
由于整座建筑由本公司全资拥有和管理,因此我们非常亲手处理您逗留期间可能出现的问题。我们保证为所有客人提供无忧无虑的住宿。为此,我们有一个专门的建筑管理员,以满足您的需求,为您增添舒适和安心。
Since the entire building is wholly owned and managed by our company, we are very hands-on in dealing with issues that might arise during your stay. We guarantee a hassle-free stay to all our guests. In line to this, we have a dedicated building administrator to accommodate your needs for your added comfort and peace of mind.
Quiet time after 10PM, no parties
Hope Airbnb will publish this, so other traveller will know what a hassle I had been thru with zenith and/or this unit upon booking, else I will no longer book. First, I able to booked this unit since it was available on given date as per Airbnb, so after that I called the "owner"/zenith. I told him politely that I had booked the unit just behind Ayala mall, and as if he is not aware of, he answered me like "what?"/ "so?", My impression was, WTF! He doesn't know the business he was dealing with?, So I explained further. So during our conversation, issues begins, he told me that the unit was already booked and not available. Then I ask him to cancel this booking and refund me the money(USD 204), he said that he cannot cancel since Airbnb will not allow due to less than 24hrs. So the hassle begins, I help him clean up his shit, by asking me to cancel my booking instead though it's not my fault, but I did try to cancel as he requested, unfortunately Airbnb would not allow to do so. So what happened was, it was, it proceeded as booked but he refunded the money, in which I need to go to there office and look for a certain person. Another hassle was I cannot use the credit card to book another Airbnb, since they still need to clear my previous credit card. Imagine, a traveller/s wanted to relax and unwind, and encounter this kind of scenario. It's unprofessional and unacceptable. Hope this issue will be addressed. p.s. Airbnb pls refer to our inbox conversations.
Hello Rolando. I understand the position we placed you in and we admit that it was our oversight that caused your inconvenience which we sincerely apologized for. In spite of what happened, we believe that we treated you as fairly as we could given the situation since we fully refunded you the full equivalent amount of $204 airbnb even when we wouldn't be able to receive that amount from airbnb had your stay in our place pushed through. Again, we apologize for any inconvenience this has caused you and your companions. Thank you for initially choosing to stay with us. God bless you.
---
The apartment is clean, spacious and located right across Ayala mall. Just need to improve on communication since we were not able to reach the host thru call, text or airbnb messenger. We only talked to the security guard at the front desk. Also, the extra bed fee is a little overpriced at 3,000 php. Nevertheless, we had a good stay.
---
We're disappointed because the photos are totally different from the unit itself. The photos in the listing seems to be their model unit but the actual unit is so plain. The aircon in the master's bedroom has a leak, the utensils are incomplete. Overall, the good things about the listing are the internet and the location. The property manager is also accommodating.
We did state that the pictures we are showing in our Airbnb page is of our mock-up unit and actual unit may vary from the said mock-up pictures. If there was a problem with the airconditioning unit, the guest did not let our administrator know, otherwise that problem would have been fixed the soonest. Overall, I think the review submitted was very biased and unfair in the host's part
---