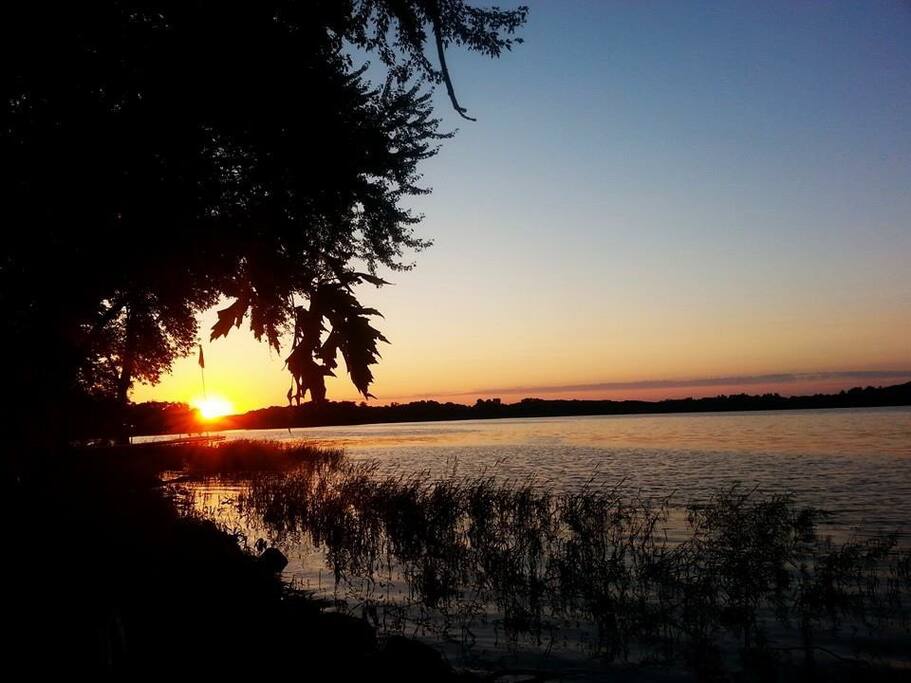 Deer Lake is a quiet 163-acre lake less than 2 miles from downtown Buffalo's wonderful antique & occasional shops. Perfect for a relaxing getaway. We have everything you need, except running water inside, but don't let that scare you! Amenities include a lugga-loo potty-serviced daily, an outdoor shower, small refrigerator, microwave, toaster, coffee pot, cable tv, air-conditioner, a new DVD player, lakeside firepit, hot tub access, beautiful four poster bed & more. Winter? Keep reading.
房源
Relax on the couch & look out of the French doors to see a beautiful lake view complete with your own firepit area with supplied firewood.
The cozy studio space is beautiful with red brick walls, open rafters to the vaulted ceiling and lots of charm! A beautiful four poster queen-sized bed, complete with electric blanket, will let you relax, cuddle and snooze while listening to the birds in the trees and rain on the roof (weather permitting).
If your booking is after the first freeze of the year, the outdoor shower is shut down. We then will have you come into the main house and use the bathroom for your showering needs.
We have a brand new 50,000 BTU propane gas heater in the boathouse to warm it up for Airbnb guests anytime of year. The front has a 'fire-like' look to add to the cozy ambiance.
房客使用权限
Deer Lake Public Boat Access is right next to our property. It is easy to launch and land your boat & tie up to our dock during your stay. We have a canoe and a kayak to use as well as various life jackets & a swimming raft. August does mean our lake has a few more weeds than earlier in the year, but there are several lakes within five miles that have dedicated swimming beaches if that is what you need.
You will have your own fire-pit and firewood, near the lake, a large family sized rustic picnic table, a Weber grill, tetherball, & well-loved hammock. You also have access to our well-loved hot tub. The stars make for a breathtaking scene during a night time soak.
If your booking is after the first freeze of the year, the outdoor shower is shut down. We then will have you come into the main house and use the bathroom for your showering needs, when we are home.
与房客的互动
We are available to be of assistance when you need something or our help. We don't mind mingling with you if you like~ we have been accused of being very friendly! Ultimately, our guests set the tone and amount of interaction they would like.
其他注意事项
We have a system to change out your potty daily:)
Between 4 pm and 8 pm, we look for a time when either you are away or are up and about, active or outside. We sneak in, switch your used potty with a fresh, spic-n-span new potty! If you are home and sleeping or laying low, we will just put the fresh potty right outside your back door. We will send you a message letting you know the fresh potty has been delivered. Just grab your new potty and put the used one outside (the back door). The whole process is easy-peasy and very private.

IF YOU ARE NEW TO AIRBNB, it may be helpful to know, reviews are VERY important in the Airbnb community. Ratings for guests and hosts are examined closely when traveling or hosting. If something is amiss, PLEASE let us know right away and we will do what we can do to earn 5 stars for your stay.

PLEASE SIGN OUR GUEST BOOK and share your name, when you stayed with us and what you thought! It is fun to look at other entries and see things others have to say.

PETS: PLEASE CHECK WITH US REGARDING PETS. We ask that 'approved' pet guests, not lounge on the couch or plaid rocker. Approved pets will wither need to be kenneled if you leave, or go along. Consider bringing along a tie-out system so they can relax outside without you needing to worry if they will wander off.
ITEMS AVAILABLE TO USE INCLUDE THE FOLLOWING:
OUTSIDE:
-canoe and kayak (use at your own risk:)
-Weber charcoal grill (bring own charcoal and lighter fluid)
-basic grill tools
-Large rustic picnic table
-Two chaise metal lounge chairs by boathouse ( can be moved to down by the lake)
-Well-loved hammock
-Board-swing near the lake
-Tire swing
-Tether ball
- 4 chairs, a bench, & small table around campfire pit
- 2 Adirondack chairs on the heavy steel dock
IN OUR STORAGE SHED/BUILDING TO USE:
-tons of life jackets
-paddles for the canoe
-paddle for the kayak
-a variety of bikes to use (helmets are not provided-bring own)
-hula hoops
-croquet
-sidewalk chalk

INSIDE:
-fresh towels
-a freshly made bed
-Cable TV
-air conditioner for hot days
-new DVD player with a variety of DVDs and remote control
-hairdryer
-COFFEE MAKER: COFFEE AND FILTERS
-microwave oven
-toaster
-ceramic coffee mugs
-small ceramic plates
-complete set of metal silverware
-paper plates
-paper towels
-kleenex
-disposable bowls 2 sizes
-disposable glasses & coffee cups
-coffee and filters
-plastic silverware
-small cutting board
-tongs
-grill spatula and tongs
-corkscrew opener/bottle opener
-manual can opener
-vegetable peeler
-cheese slicer
-small whisk
-spatula for mixing
-small cutting board
-rubber jar opener
-metal skewers for roasting over the campfire
-night lights
-electric blanket on the bed
-radio/cd player
-oscillating floor fan
-portable floor heaters: one radiator style, two oscillating heaters
-Dirt Devil vacuum cleaner
-umbrella
-flyswatters
FUN:
-Monopoly
-Scrabble
-Checkers
-Chess set
-Mancala
-playing cards
-popular adult coloring books...not naughty, just for grown-ups:)
-Sudoku book
-word find puzzle book
AVAILABLE UPON REQUEST:
- extra set of sheets to make up the couch for one person
-iron & ironing board
-extra sleeping bag(s) for under the stars, or the floor.
-air mattress
-a tent (for kids to sleep in?)
-fishing poles
YOU MAY WANT TO BRING?
bug spray,
sunscreen,
fishing bait
charcoal and lighter fluid,
aluminum foil,
ice and an ice chest,
marshmallows,
lots of delicious food,
extra beach gear,
personal fishing gear,
your boat,
and SPENDING MONEY FOR A LOCAL APPLE ORCHARD, occasional shops, a movie or a nice dinner in town, our local farmer's market on Saturdays....
---
---
FYI:
We have two dogs that have access to the yard near the boathouse. You are welcome to give them some love if you see them, knowing they do not go past the front driveway road due to their wireless fence collars. We also have a neighbor black lab that likes to do a 'fly-by' through our yard when he escapes from his parents- his name is Harley. Very friendly and really just wants to run and play:)
Guest dogs:
No dogs on couch or plaid rocker. Pets must be in a secured kennel if left in the boathouse alone. Please bring towels for your pet if you plan to have them enjoy the lake.
---
A most excellent and romantic stay! Kris and Jo were very sweet and made us feel very welcome in their boathouse and encouraged us to enjoy their hot tub (which we did!) and their canoe (which unfortunately we did not have time for). The outdoor shower was a memorably fantastic experience, especially in the rain. Perfect for a quiet trip with your partner with very welcoming and accepting hosts.
---
They are as good as hosts as it gets. Very beautiful area, nice beautiful home and they go out of their way to make your stay as pleasant as can be. Great people. We were very stressed so we decided to get away from the cities for the night and the staying at their nice little home with a beautiful lake view helped.
---
This place is a little piece of heaven of earth and exceeded our expectations! Very comfortable and quaint - stocked with everything you need. Kris & Joe are WONDERFUL hosts and we enjoyed talking with them very much. We loved fishing off the dock and across the street, biking into town to check out the many antique stores and local brewery, lounging in the hammock with a good book, and camp fires/stargazing at night. Very peaceful and extremely quiet, just 45 minutes from downtown Minneapolis. Highly recommend checking out the orchard and cider taphouse just down the street too! There is an outdoor shower and sink that is FANTASTIC and don't be scared off by the lack of a flushable toilet - there is a bathroom in the boathouse with a portable potty that's changed daily. We will most definitely be back and highly recommend this place to all! Thank you Joe and Kris :)
---
Beautiful view of the lake right out your front door from the quaint boathouse. Joe and Kris have thought of everything to make the rustic boathouse cozy and comfortable. It was exactly what we were looking for and turned out to be even more than what we needed for our getaway. We enjoyed the fire pit under the stars, the hot tub, the outdoor shower, the hammock, the dock, and the feel of camping but with a comfy bed to sleep in. Our dog, Max also took advantage of the land to run and play and explore. Joe and Kris made themselves very available if we needed them and responded quickly if we had any questions but also gave us all the privacy we wanted. It was perfect!
---
Joe and Kris's boathouse surpassed our expectations! They were so welcoming. We arrived later in the evening when they were out but they had everything perfectly ready for us. Kris was awesome at communicating with us before the trip to find out our needs and gave clear instructions about where to park, how the potty worked, etc. We brought our black lab and our 20 month old daughter and Kris even went out of her way to dig up her older children's old toys and books and beach toys and had them ready for us in the boathouse. She had everything we needed to make sure our stay was comfortable. They were there when we needed them and also gave us the privacy we wanted. Their daughter even babysat our daughter while my husband and I used their canoe in Deer Lake (which actually connects to Buffalo Lake!). Our dog was in heaven being able to jump right off the dock into the lake and made a point to do that several times throughout the 2 days we were there. Our daughter loved the hammock right by the dock and called it her "swing", and my husband and I really enjoyed relaxing in the hot tub. The outdoor shower is unexpectedly refreshing and really nice! Kris even had baby shampoo set out for our daughter! The house doesn't have easy walking paths directly from it to get to the orchard or downtown, but they're both an easy drive away. Downtown Buffalo is adorable. The Orchard has a fun petting zoo, but I guess is pretty quiet until September – no wagon rides or corn maze yet, but the zestar apples were great and fun to pick. We'd love to come back here.
---