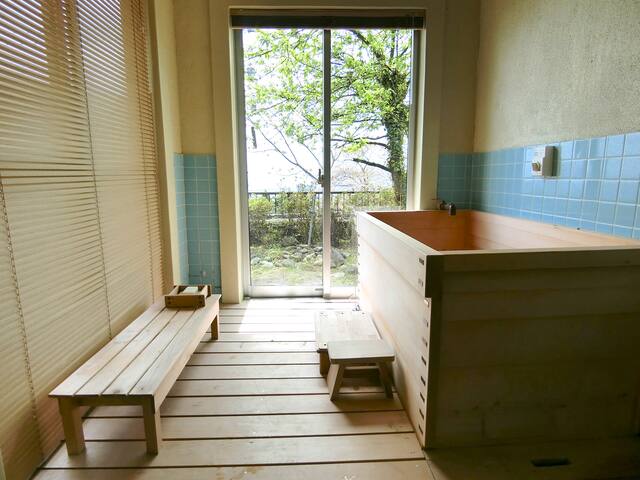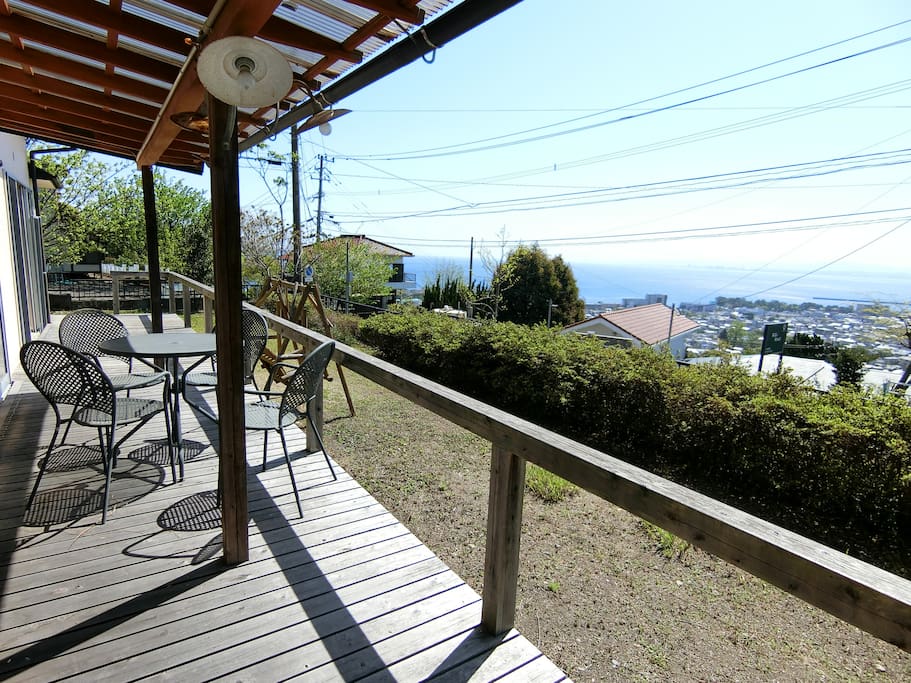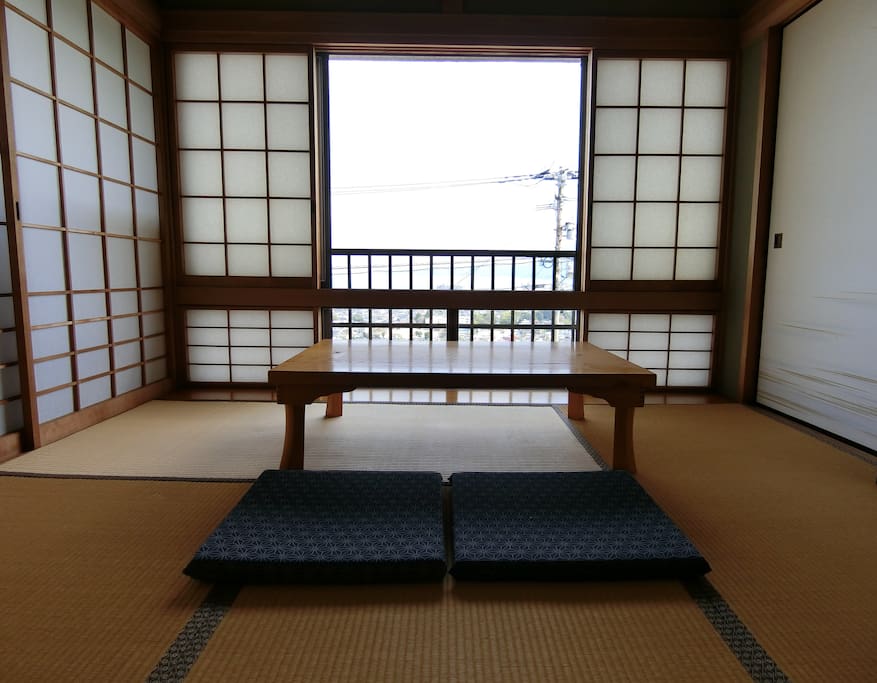 这个2楼的日本传统风格的房子位于别府镇热门的温泉(温泉)镇,提供完美的休息和平静的氛围。 房子有壮观的景色,因为它位于山上5分钟车程从中心川内,从龟尾车站10分钟车程)。 我们的浴室是现代日式,配有天然火山温泉,设有"HINOKI"浴缸。
Located in the popular Hot Spring (Onsen) town of Beppu town, this 2 floor Japanese traditional-style house offers the perfect get away in peace & quiet.
The house has spectacular view, as it is situated on the hill 5 min drive from Center Kannawa, 10min drive from Kamegawa station).
Our bathroom is Modern-Japanese style with natural volcanic thermal Onsen, in a "HINOKI" Bathtub.
房源
★整个房子每晚仅欢迎1对客人入住。 这个舒适的日式家庭有3-4间卧室,配有4-5套日本FUTON床上用品。一楼浴室,每层厕所(2)。 ===设施=== - 独立式房屋与HINOKI浴缸和天然火山热温泉 - 壮观的别府市全景 - 宽大的木质甲板和花园摆椅 - 1辆私人免费停车位 - 决斗功能所有房间的空调 - 2台电视机 - 大冰箱 - 微波炉 - 2个厨房与货物 - 洗衣机和烘干机 - 高科技洗手间一楼
★The whole house welcomes only 1 pair of guest per night.
This cozy Japanese-style home comes with 3-4 bedrooms with 4-5 sets of Japanese FUTON beddings. Bathroom on the 1st floor, toilet on each floors (2).
=== Amenities ===
- Detached house with HINOKI Bathtub & natural volcanic thermal Onsen
- Spectacular whole view of the Beppu city
- Spacious yard with large wooden deck & Garden swing-chair
- Private free parking space for 1 car
- Duel functions Airconditioning in all rooms
- 2 TVs
- Large Fridge
- Microwave oven
- 2 kitchen with goods
- Washing & Dryer machine
- Hi-tech washlet toilet 1st floor
---
---
---
Please note that the house is located in the nature of warm-spa town. There maybe insects that are likely to come out.
鉄輪温泉の温泉街に近く、自然の中に位置するため、
稀に昆虫が出ることがあります。
Our bath has regular hot water (available 24/7) & Onsen water.
Our Onsen water is natural volcanic thermal water.
Please note that the Onsen water may reduce its amount after a while, so please re-heat once you already fill up the tub. The temperature may also depend at the time.
我が家のお風呂は、通常のお湯と天然温泉のお湯を引いています。普通のお湯は常時ご利用いただけますが、天然温泉のお湯は稀に枯れることがあります。一度温泉水を入れたら、お湯を温めてお楽しみください。温度も異なる場合がありますので、ご了承ください。
Please help save electricity by turning off every lights and Air conditioner when you are not using or leaving the house.
電気・水道・ヒーターをつけっぱなしにしないでください。
外出時や、使用しない部屋の電気・ヒーターは、必ずオフにしてください。
Please take care of the house as you would take care of your own home.
---
---
---
For Koreans, 벳부 시내가 잘 보이는 산 중턱에 자리잡은 독채입니다. 2층집이며, 방3 테이블방1 주방1 화장실2 욕실1(히노끼 욕조 포함) 테라스 주차공간1로 구성되었습니다. 동네는 조용하며 벳부온천단지와 차로 5분 거리에 위치하고 있습니다. 전형적인 일본주택이며, 집주인의 대응이 빠른 편입니다. 주차는 승합차까지 1대가 가능합니다.
---
This house is wonderful. Be careful if you use (SENSITIVE CONTENTS HIDDEN) maps, it is a little further up the road than the app said. The house was clean and gorgeous, the bathtub is absolutely amazing, and Amy was a very sweet and gracious host with flexible check in and out times. I would definitely recommend and will certainly be back. :)
---
가족여행으로 5명이 찾아간 곳이었는데, 정말 만족스러웠습니다. 전망대를 굳이 찾아갈 필요 없이, 바다와 마을이 한눈에 내려다 보이는 멋진 전망을 가진 숙소였습니다. 지옥온천과 효탄온천이 가까이에 위치해 있는 점도 좋았습니다. 집 내부도 너무 마음에 들었습니다. 침구는 깨끗하고 푹신했습니다. 방들이 넓어서 2층까지는 이용하지 못하고 왔습니다. 더 많은 인원이 함께 가도 될 것 같습니다. 집 앞에 정원이 있어서 그런지 왕거미를 비롯한 많은 벌레들이 출몰하긴 합니다. 렌트카가 주차는 1대가 가능하며, 밤에 주차할 시에는 어두워서 주차장의 경계석이 잘 보이지 않으므로, 동행자가 차에서 내려서 봐주셔야 할 듯합니다. 이 숙소의 호스트 Amy는 매우 친절하고 빠르게 응대해 주셨고, 매니저 타쿠야도 매우 친절하였습니다. 뱃부를 다시 방문하게 된다면 다시 머무르고 싶은 곳입니다. 덕분에 편안하게 잘 지내다가 왔습니다.
---
집찾기가 좀 어렵습니다, 주차도 조금 불편합니다, 누수 되는 곳도 있습니다, 주변에 편의점이 1km 넘게 가야 있습니다. 하지만 이 모든것이 단점이 아니라고 생각될 정도로 조용하고 편안하고 한적하고 경치 좋은 숙소입니다. 그리고 벳푸 지옥이 차로 10분 이내에 있어 접근성은 좋습니다 호스트 Amy는 응답이 빠른편이고 집을 관리하는 매니져 총각도 살갑고 친절합니다. 침구 푹신한 료칸식 후동에 청결상태 좋고, 수건 많고 세탁기 건조기, 테라스, 방 다 마음에 듭니다, 다만 밥 해드시려면 기본 양념류 유무는 확인해 보세요, 이 전 묵었던 게스트가 남기고 간 것들이라 간장이나 식용유 같은것은 없을 수도 있습니다 전반적으로 저는 매우 좋은 기억으로 남았으며 다음에도 다시 머물고 싶은 곳입니다
Thank you very much for taking your time to write us a review, Myong-Ho! I hope you and your family had a relaxing stay for your mother's birthday. It was absolutely our pleasure to welcome you and stay this time in Beppu. Thank you very much! 평생 잊지 못할 시간을 내 주셔서 감사합니다. 명 호! 가족과 함께 당신의 어머니의 생일을 축하해 주시길 바랍니다. 안녕하세요. 벳푸에서 당신을 환영하고, 이번에 머 무르시는 것을 진심으로 기쁘게 생각합니다. 감사합니다. 흠뻑!
---
Communication with Amy has been very easy from the start. Amy provided very clear information about the house and the surrounding area. We took an overnight ferry from Osaka and Amy is very accommodating to allow us to check in early. The house is located mid-hill with a great view over Beppu and the sea (you can see sun rise from the decking). We enjoyed natural onsen and loved using the massage chair. There is a grocery store about 15-20 minutes walk but I would recommend a car to get around as we did not see a bus stop around the area. People in Beppu are super friendly and there is a good selection of onsen bath houses and restaurants in the area (also Amy has provided a lot of guidebooks in the well-equipped kitchen). It was a lovely stay and thank you Amy for hosting us.
Camille, Thank you very much for leaving detailed and positive review for us. It was a pleasure for me to communicate with you because not only I knew you were such a generous and kind guest, but also easy to communicate with and made things go smooth. I am glad you enjoyed our house Onsen and massage chair! They are very relaxing especially after a long day of sightseeing and walking;) Thank you for choosing our house for your stay and hope you had fun moments in Beppu city! Thank you.
---
벳푸에서 휴식을 취하기 안성맞춤인 곳입니다. Amy의 응대 또한 완벽합니다. 다음에 또 오고 싶은 숙소이고 강력히 추천합니다.
---
The house was on a very scenic perch overlooking Beppu. The location was very close (5 mins by car) to the Hells of Beppu site and some of the famous onsens. The town was a short drive away. We arrived on a day when there was a typhoon and Amy checked in with us to make sure we were safely on the way, really appreciated it!
Thank you for taking your time to write us a generous review, Jessica. I am glad you made it to our house safely when there was a typhoon approaching, and happy to hear that our house was able to meet your expectation. Despite of bad weather, I hope you enjoyed all the Beppu experience of Hells and onsen! Thank you very much. Amy
---
Hello wonderful guests, my name is Amy!

Just like most of you, I am passionate about traveling around the world, meeting new people and eating delicious food!

Currently living in the heart of Tokyo, traveling whenever I find new destination for an adventure!

I can speak English and Japanese fluently.
Please feel free to contact me anytime if you have any questions or concerns.

I hope to do my very best for every guests of mine, for the most comfortable & relaxing stay in Tokyo :)


I look forward to welcoming you!
Amy
语言:
English、日本語