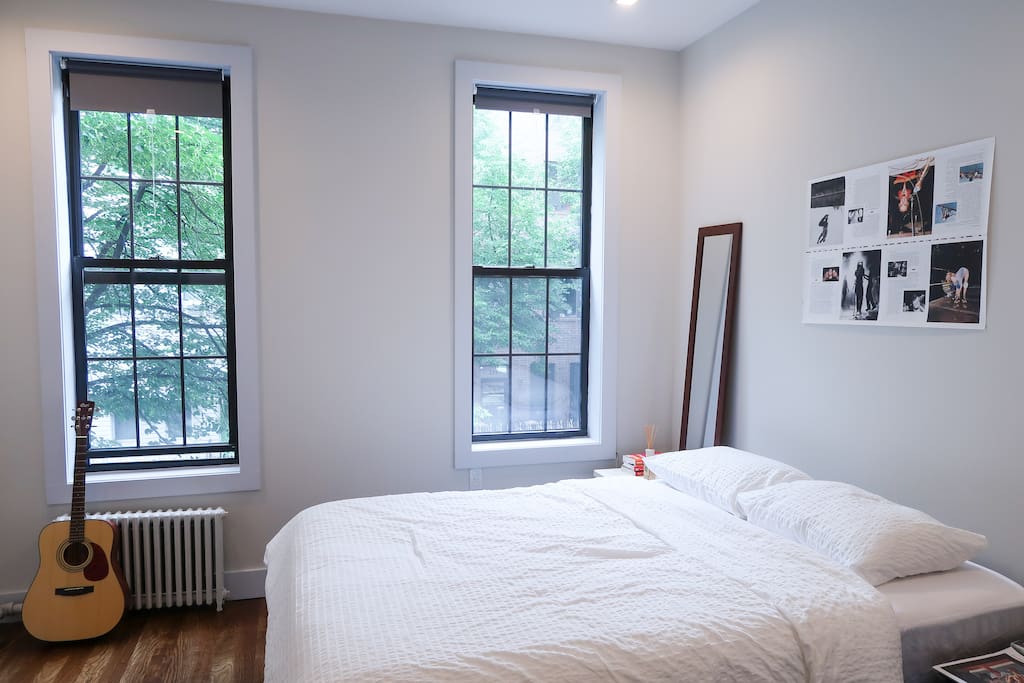 Master Bedroom in a, newly furnished 2BR apartment on a quiet street in Bushwick, Brooklyn, 17 minutes from Union Sq, 10 minutes from Williamsburg.
There's lots to do in terms of restaurants, bars, cafes, galleries/art spaces and music venues!
L (DeKalb stop) or M (Knickerbrocker Av stop) trains get you anywhere in Manhattan/Brooklyn quickly (Union Sq is ~17 minutes away).
房源
Within a 3 min walk from the apartment you'll find great places to eat, drink and party (till late) or grab a cup of coffee and do some work. Twin Suns Deli next door has arguably the best breakfast burrito in Brooklyn.
The busier Jefferson St stop area is just 1 stop/10 min walk away as well as the Maria Hernandez Park to go for a run or chill in the sun.
---
This was our first time in New York and our experience couldn't be better! Although we haven't met in person, it was always easy to get to chat by phone with Petr for anything we may need. Prior to our flight, he made sure we had all the necessary information to have a nice and enjoyable stay. All details exposed in the profile page are accurate and except TV, the house has all the basics you may wish and need for your stay. The surroundings are safe, but nothing of much interest to do or see at walking distance. At daytime there's lot of movement in the main avenue, with many stores, groceries and fast food which you will be glad to have just a couple of blocks away. At night don't expect much, just empty streets and a few groceries open till late night (even some of them 24/7). Overall, we felt safe, comfortable (bed is sooo hard to leave at morning) and the 10 minutes walk to the metro station will get you to anywhere you want in the New York area. I could even receive an Amazon parcel with no problem next to the apartment's door. Only negative I can recall of the building is the noticeable odor of cigarette smoke which was always present on the corridors and stairs. It would be a 10/10 if it wasn't for that. If we ever come back to NYC, we will surely have Petr's house as first choice. Would highly recommend.
---
Petr went over and above to make sure our stay was great. Very comfortable and clean, with everything you'd expect from a newly renovated suite. We really enjoyed our stay - felt safe, comfortable, and had the opportunity to ask Petr about local places to visit and how to get around. 10/10. Thanks again!!
---
This is a great apartment! Newly renovated, high ceilings, spacious kitchen, and comfy bed. The neighborhood is a really cool, largely hispanic area with plenty of grocery stores, and nice cafes and coffee shops. It takes no more than three to four minutes (by foot) to the nearest subway station (DeKalb Ave) where it's easy to catch a Manhattan-bound train. From DeKalb Ave, it takes about 15-20 minutes to get to the heart of Manhattan. Even though Petr was out of town during our stay, he was a great host. He was very eager to help out and answer questions through (SENSITIVE CONTENTS HIDDEN) Messenger, and he even provided us with a long list of recommended places to check out in Bushwick. My girlfriend and I can't recommend this place enough!
---
Wij hebben bij Petr in Brooklyn , of eigenlijk Bushwick, een hele goede tijd gehad. Hij heeft een mooi appartement , waar hij zelf ook verblijft, en we mochten gebruik maken van een mooie ruime slaapkamer en badkamer. Ook konden we thee zetten in zijn keuken. Alles is prima verzorgd en schoon en Petr is een aardige gastheer. Hij had leuke tips voor eetgelegenheden in de buurt. De omgeving is anders dan Manhattan, maar dit was ook speciaal . Met de zg L train is alles heel goed bereikbaar. Een aanrader!
---
The place is so nice and clean, everything is close, groceries, pharmacy, subway, bars, restaurants. The room is very bride and spacious and the mattress so comfy and amazing to sleep on. My only suggestion for a very light sleepers like me is to bring earplugs with you because can be noisy, I brought the earplugs in advance because I know my self, and I'm glad i did, you have the beautiful birds singing in the morning and some other noise. But my boyfriend slept perfectly with out earplug. We walked at night and we felt save around. Be ready to hear a lot of Spanish around hehe. Petr was not there because he had a trip as well but I talked to him just right before he left and he was so nice to me and told me as much as he could before he left to catch his fight even though he wasn't there, the communication was super good, he send me an e-mail with recommendations of places, and he was answering super fast any of my questions. We got to enjoy the apartment for our selfs. Definitely a recommended place to stay. Thanks again Petr
---