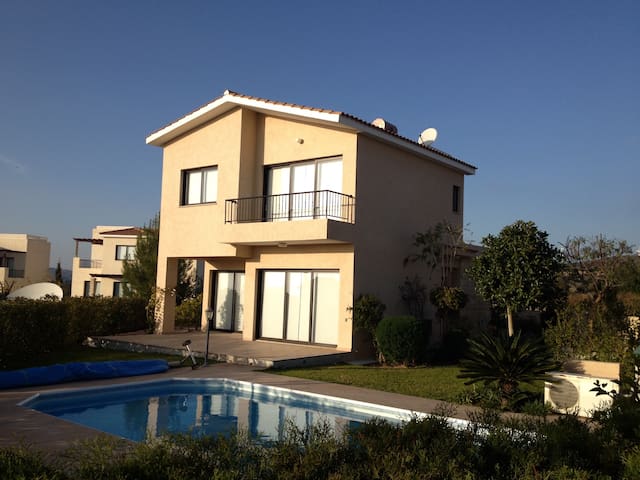 Cozy Villa by Aphrodite Hills (3BR)
Villa located on the hills overlooking the sea. Enjoy privacy at the pool and patio surrounded by lawn and olive grove. Only 2 min drive to the sea and Golf Club, 10 min to Pafos Old Port offering nightlife and shopping areas!
房源
Spacious 3 bedroom house with full kitchen integrated with dining area and living room. Large pool and patio, lawn and tropical garden are surrounded by green live fence securing privacy. Close to Pafos and Limassol. 2 min drive downhill to the beach.
房客使用权限
Full access to all areas. Enjoy -
Pool
Patio
Free Wi/Fi Internet
Flat screen TV set
Cable TV
Parking for 2 cars
Golf club next doors
与房客的互动
Guests enjoy full privacy through out the stay. No bothering. Our representative will show up only when needed and at check out.
其他注意事项
Golf is right there!
Secret Valley maintains one of the best golf courses in Cyprus! That's exactly where you are to stay!
Neighboring with Renown Resort!
We are adjacent to Aphrodite Hills, one of the best five-star resorts in Cyprus, offering exquisite spa and much more.
Secluded Refuge on Crossroads!
Close proximity to Paphos airport can make your trip highly comfortable. Don't worry if your flight arrives at Larnaca international airport - it is only an hour ride!
We look forward to host you in a private refuge, right on the crossroads of Cyprus!
---
---
---
---
We Do Have Few Simple Rules ... but most important one is: Enjoy every day at Panorama villa as if your vacation ends tomorrow!
RULE: We expect you to treat the property the way you would have treated your own. Shall you damage something, please bring it up to settle with us. We hate filing claim against you at Airbnb!
RULE: Shall something get damaged or malfunction - contact the host. Do not repair it yourself.
RULE: In consideration of safety, please do not leave children unattended around the pool and elsewhere. We certainly welcome children, however we have not installed any gears or other special amenities for children. It will be your responsibility to bring them with you.
RULE: We recommend you to refrain from parties and numerous guests as the situation may get out of your control. If it happens, you will be responsible for any damage.
RULE: We do not recommend inviting strangers to villa - it may be dangerous for you!

RULE: In consideration of others please smoke with comfort out on the patio. Enjoy the wonderful view! Please refrain from throwing stubs on the ground.
WARNING: Pool, stairs, balcony, patio, chairs and even trees are source of danger. By making reservation you agree to indemnify the landlord and keep him safe from any liability for any damage as a result of any natural or artificial condition. We do not represent or warrantee as to safety of any facility or equipment on the premises and do not regularly inspect or test such. The house is purely residential and not business property and it is let out to keep it populated during our long absence.
INDEMNITY: If you are to throw a party or have guests over, by doing so you agree to indemnify the landlord from any liability for any damage to any of your guest resulting from any equipment, mechanism, facility, natural or artificial condition on or off the premises. You solely shall be responsible for any such damage.
---
---
---
Edward,s villa exceeded all our expectations . It was clean , plenty of towels and very spacious. The views were lovely along with a well maintained garden and private pool. It is quiet and tranquil. We had trouble in finding the villa on arrival ,as (SENSITIVE CONTENTS HIDDEN) maps stated the wrong road but after a phone call , it was all resolved swiftly. As mentioned in a previous review , it is a five minute drive to Kouklia village , with some nice local restaurants. On the main road past the Kouklia turning about another further five minutes , we found a good large supermarket which is cheaper than the local Kouklia supermarket which also sells hot takeaway local food. We go to Cyprus every year and would certainly go back to Edwards villa. We really enjoyed our stay as a family and would highly recommend this villa. Thank you Edward for being a great host.
---
A beautiful house!! Everything there as listed ! Edward is an extremely attentive host nothing's to much trouble. Ample towels, linen etc. This house is like home from home very comfortable. What more can I say except we all loved the house the location and felt at home. So close to both Secret Valley and Aphrodite Golf courses that suited us perfectly. We will be back We did have a minor problem with the internet but this was sorted by Edward very quickly and toaster didn't work and this was quickly replaced. As I've already said Edward is a great host. We will be back !!
---
Villa quasi neuve, toute équipée, très confortable, dans une résidence/lotissement très récente. Communication et réactivité du propriétaire parfaite. Merci.
---
Замечательный дом в коттеджном поселке. В доме есть все, что нужно для комфортного отдыха. Очень подходит для отдыха с большой семьей и маленькими детьми. Чистый бассейн, ухоженный двор, в отличном состояние вся мебель. Советую арендовать автомобиль если вы собираетесь жить на этой вилле, поскольку до пляжа и магазина пешком идти будет далеко. Большое спасибо Эдварду за прекрасное жилье.
---
Мы приехали с 3 детьми к Эдварду на виллу. Район очень понравился, там очень живописно, вилла расположена на холмах рядом с другими виллами, где нет ни души. Было очень удобно гулять по этим дорожкам с коляской вдоль оливковых деревьев и любоваться, было ощущение что мы одни на Кипре:). Если у нас возникали воросы по вилле, Эдвард сразу отвечал, на территории виллы и в доме есть быстрый wifi. Спасибо хозяину что поедоставил нам кроватку для ребенка и детский стульчик! Это очень помолго. Муж очень обрадовался системе кондиционирования, в гостинной их даже 2, панорамные стеклянные двери на первом этаже тоже нас порадовали. Большой чистый бассейн, купались и малыши тоже, есть игрушки для песочницы, круг для плавания! На вилле 3 туалета, это тоже немаловажно:) Ближайший пляж, это Камень Афродиты, но мы ездили каждый раз на новые пляжи, то в Лимассол, то в Пафос и даже а Айа -Напу, поэтому машина нужна на все время пребывания. Ближайший супермаркет в 9 км. (Papantoniou Supermarket (Pissouri), Pissouri 4607, Кипр). На вилле есть мангал с электрическими шампурами, удобно готовить овощи гриль и мясо. Вечером включается подсветка и очень романтично. Я рекомендую данную виллу для отдыха с детьми и семьей.
---
Edward is a super host!, he replied very quickly. We enjoyed staying at his villa and thanks to made our holiday perfect :) The villa is very clean. It has plenty space, good view, nice garden and private swimming pool. The location is very good with a car, it's just 5 mins by car to Kouklia, the old town where it has plenty of Cypriot traditional restaurants and supermarket. The villa's care taker, Anna is very kind and helpful.
---