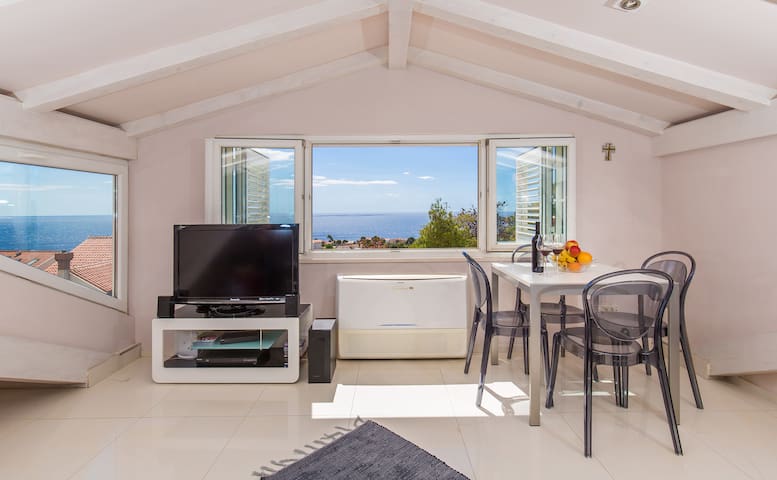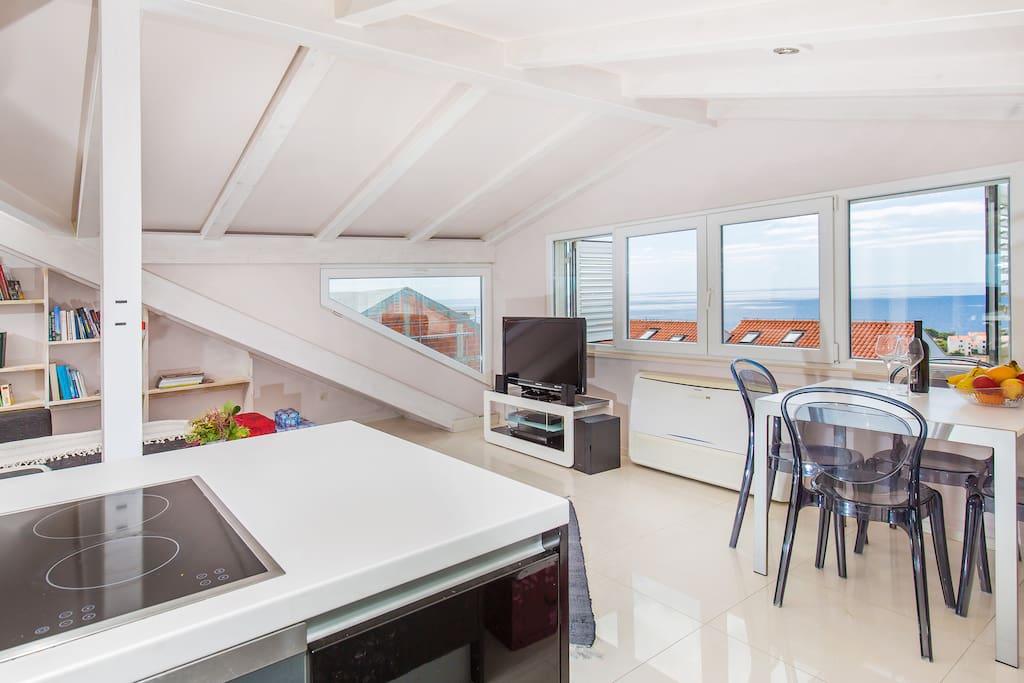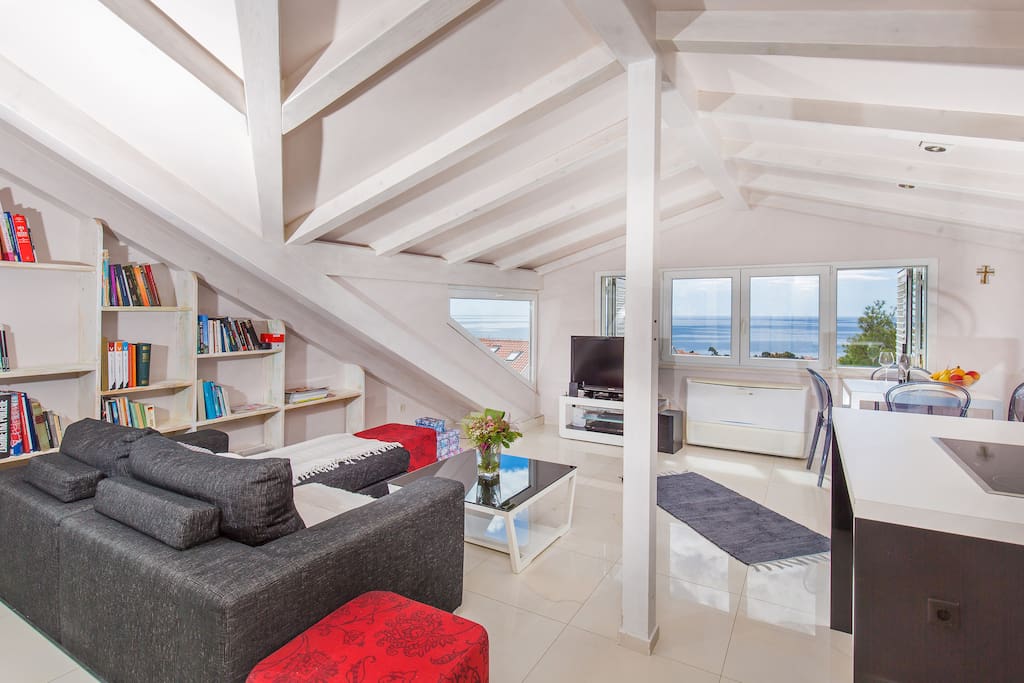 Montovjerna Hill Apartment
公寓距离杜布罗夫尼克市中心的老城区仅有1.8公里,俯瞰主要港口和旧城区和亚得里亚海海域的屋顶,是独特的50平方米的空间,设有厨房,一间卧室,客厅,浴室和封闭的露台。在厨房里,你会发现眼镜,杯子,盘子,锅,餐具,洗碗机,冰箱,烤面包机,电热水壶和浴室洗衣机,洗发水,肥皂,香水纸,吹风机,熨斗,熨衣板,毛巾一样。
The apartment is situated just 1,8 km away from the Old town in quite zone in the center of Dubrovnik overlooking the main harbor and the roof tops of the Old town and Adriatic sea.It is unique space of 50m2 containing kitchen,one bedroom,living room,bathroom and closed terrace. In the kitchen you will find glasses,cups,plates, pots,cutlery,dishwasher,refrigerator,toaster,electric kettle as same as in the bathroom washing machine,shampoo,soap,toilette paper, hair drier,iron,ironing board,towels.
---
A fantastic place to stay for any length of trip (we stayed a week). Davor arranged for his mother & father to pick us up at the airport, immediately they made us feel at home. He had informed us that the apartment may not be ready until a couple of hours after we arrived (it was being cleaned and readied for us), so Nedo (Davor's father) and Lilli (his mother) sat with us in their forecourt and gave us freshly prepared lemonade and figs to welcome us after our flight. A lovely touch. We chatted for a while and, luckily, the apartment had been readied whilst we relaxed. It was as described in previous reviews and in the pictures. Modern, spacious, comfortable and extremely 'simple'. It has everything anyone could possibly need (and more). We went down to the supermarket we'd spotted on the way there to 'stock up' for our stay. The cooker is modern, with ceramic rings easily controllable, the fridge/freezer massive and upright ( we left some ice-cream) and has an added facility for dispensing its own cool water. The bathroom and shower are large, spotless, and couldn't be bettered. The bedroom has enough storage space for a large family, the bed is large and comfortable, and the view out over the new harbour and town, spectacular. The lounge area is large and very spacious. The air-conditioning, powerful and modern, will keep things as cool or temperate as you like. Their is a table to sit and eat at, overlooking the Adriatic, the comfortable lounge seating perfect for relaxing and reading/watching t.v. Davor's girlfriend called round to make sure everything was ok and to give us advice on what to do, where to go, travel etc. There are modern maps and timetables in the apartment. Acquaint yourselves with the nearby bus stops and routes (7-10 min walk downhill) to make things easier. The 'Old City' is easily walkable, downhill, but we tended to take a bus to most destinations as they are frequent and cheap (15 Kuna each). We often took a taxi back to the apartment from the Old City at night (70-80 Kuna).... it was easy and convenient. Dubrovnik was a delight, a truly memorable experience. Davor and his excellent apartment, his regular communication and the hospitality shown (his extended family were incredibly warm) enhanced out stay immeasurably. We would certainly recommend to everyone interested. Worth every penny. Thank you Davor.
---
Superbe appartement dans les hauteurs de Dubrovnick entre l'ancien et le nouveau Dubrovnick , attention il faut être en forme pour monter la côte vous pouvez aussi louer un scooter pour vous déplacer facilement dans la ville et quitter l effervescence du vieux Dubrovnick surchargé de monde. Davor et s famille sont très agréable et plein de bons conseils pour les plages et les restos.
---
Nous avons passé un bon séjour dans cet appartement avec vue sur la mer adriatique d'un côté et sur le nouveau Port de l'autre. L'appartement était très propre et Davor et sa femme nous ont tres bien accueillis. Nous le recommandons. PS : possibilité pour ceux qui ont loué une voiture de la laisser devant la porte, très pratique à Dubrovnik !
---