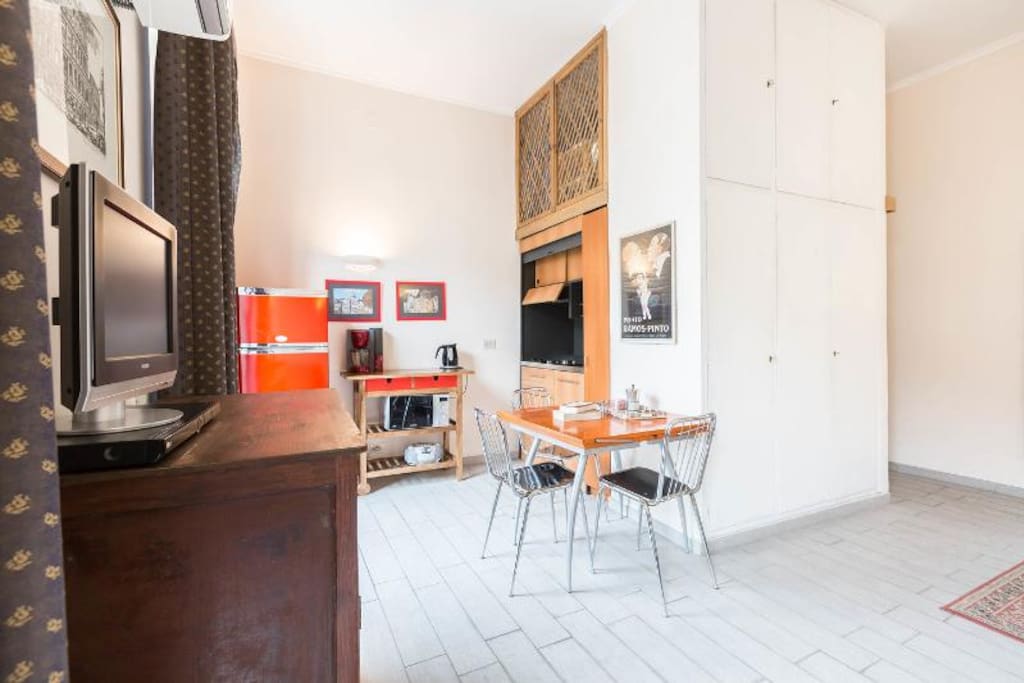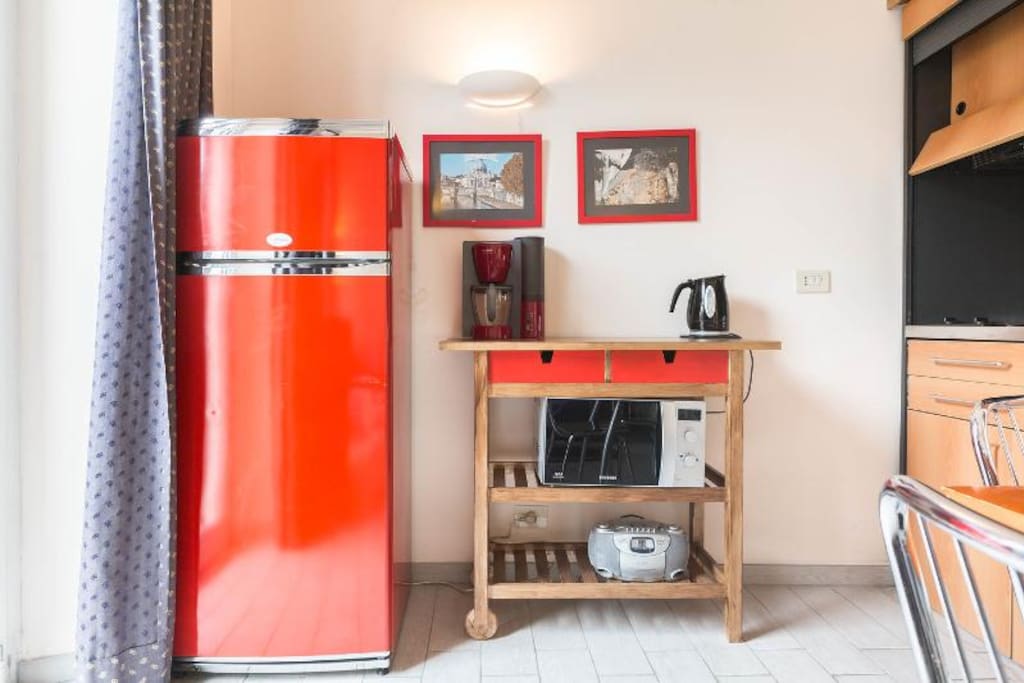 房源
Lovely and sunny studio on a 5th floor in a historical building with high ceiling and a beautiful balcony overlooking the famous Barberini Square and the fountain of Tritone.
Located in one of the safest areas of Rome, the apartment is just few steps away from all the major attractions such as the Spanish Steps and the Trevi Fountain.
The apartment is really central and very well connected; it is just outside the Metro stop BARBERINI.
The apartment can comfortably accommodate two persons, and is perfect for the couple looking for a prestigious apartment in the center of the city.
The apartment is very sunny and composed of a large room with master bed, sofa (sofa-bed), table, bathroom (big shower),kitchen corner, balcony, washing machine ( laundry room). There is not an elevator in this building.
The apartment is provided with a new powerful and modern air-conditioning system and high-speed, unlimited, WiFi Internet access.
---
Ale was a great host. He made our check in and out swift and easy, and was great help in carrying our suitcase 6 stories up! The studio looked just like the pictures. However, the washroom was very small. I am 5"2 and it was very difficult for me to get in and out of the shower, and could not move inside the shower without hitting the walls (which were not so clean). The sink was very tiny and if you had the sink running, the shower couldn't stay on. Also, you could not really hang the towels near the shower as it would touch the toilet seat. The bed was okay, not too comfortable, we could sleep at night. The stairs are very tiring, but still doable. I loved the windows in the place. This was one of the reasons I booked it in the first place! The location of this place is probably the feature of this listing. It cant get any better than this. There are many cafe's downstairs, the metro is 1 min walk away and the Spanish steps are less than 5 min walk away. Keep in mind that the mobile wifi does not exist anymore :( Overall, its not the best bang for buck.
---
Everything about this listing is 100% as described. It is small but cozy, tastefully appointed, and extremely comfortable - AC worked great, the apartment is peaceful and quiet when the doors to the balcony are closed... no complaints at all. Washer on premise was a great feature - we spent 12 days in Italy with only carryon luggage, so this was helpful. The kitchen area features a small range top and microwave but no oven, so factor this if planning to cook during your stay. Far and away the best feature is it's central location - you are within manageable walking distance of many of the city center attractions, and abundant public transit connections are less than half a block away on Piazza Bernini, along with a taxi stand. The second best feature of this apartment is the 6th floor balcony, along with it's floor to ceiling glass doors, that allow abundant fresh air and sunlight from inside, along with excellent views of Piazza Bernini and the Tritone Fountain when you step out. You have to earn these views however - the stairwell to the 6th floor was manageable for us without any issues whatsoever- it was just enough effort to be a pleasant workout- but guests with mobility issues should be aware. Alessandro was a gracious and most helpful host, meeting us at the agreed upon time (we were arriving directly from the Rome Termini station and were a few minutes late, which he was very understanding of) and offered to carry our bags up the stairs. Once in the apartment he gave us a brief but thorough overview of the features of the apartment and happily and patiently answered all of our questions about nearby restaurants, grocery stores etc. Although we had no need to get in touch, he made it clear he was available to answer any questions via cell phone at any time. Alessandro also leaves a super comprehensive binder that addresses almost every question about the apartment and neighborhood anyone could think to ask- restaurant recommendations, instructions on how to use the AC and clothes washer, etc. Wifi is provided and works excellent... under the coffee table you will find more than half a dozen recent guidebooks on Rome, including books dedicated to food and wine / restaurants ... Bottom line: Staying in Alessandro's apartment was one of the highlights of our vacation to Italy ... you can't go wrong with this apartment or this host!
---
charming little apartment with everything you need. Ale waited for us at the entrance of the apartment and checking in was smooth. There was a little folder of everything you need to know from nearby supermarkets and eateries, to guides on where you need to know. The view from the balcony is stunning and worth the flights of stairs we need to climb everyday! Probably not suited for the elderly or with people who have a lot of luggage. We did not use the washing machine as it was too much of a hassle to get things out of the way to get to it. The bed was comfortable and the apartment was clean with plenty of fresh towels. The wifi provided is a mobile wifi which you can bring it out with you for your use, but it was too late for us as we've already bought mobile cards for us as we were not aware of it. Water was hot but the water pressure was quite small, making it a little hard to shower as the shower head tends to trickle occasionally. All in all, a lovely little apartment, right smack in the middle of all the sights and the places you need to visit in this stunningly beautiful country.
---
We loved this apartment! Alessandro was a great host, helping us with our bags and giving us all the information we needed. Being able to do laundry in the apartment was a huge benefit since we were in the middle of our Eurotrip. The balcony, kitchen, AC were all great perks. Also a great location! It was the best place to stay in Rome!
---
I'm a winemaker and graphic designer living in Rome with my wife Nina from Philadelphia ( US) and my two children, Grace and Massimo.
I like to travel, meet new people and different cultures also taste food from al over the world!

I'm friendly, approachable and passionate about Rome and proud to call it home!

I'm really enjoying sharing my knowledge and experiences of the city through the many wonderful people who've stayed as my guests through Airbnb - what a fantastic concept it is. I take much pleasure in making sure anyone staying with me has a great experience and stay and have a very professional approach in the preparation and presentation of my apartment.

If you've got any questions or need any help while planning your trip to Rome I'd be very happy to lend a helping hand.

Looking forward to hopefully meeting you and welcoming you to Rome!
语言:
English、Italiano