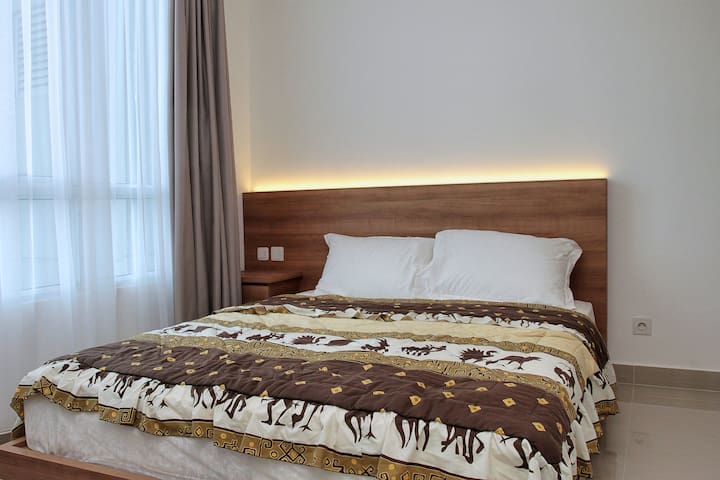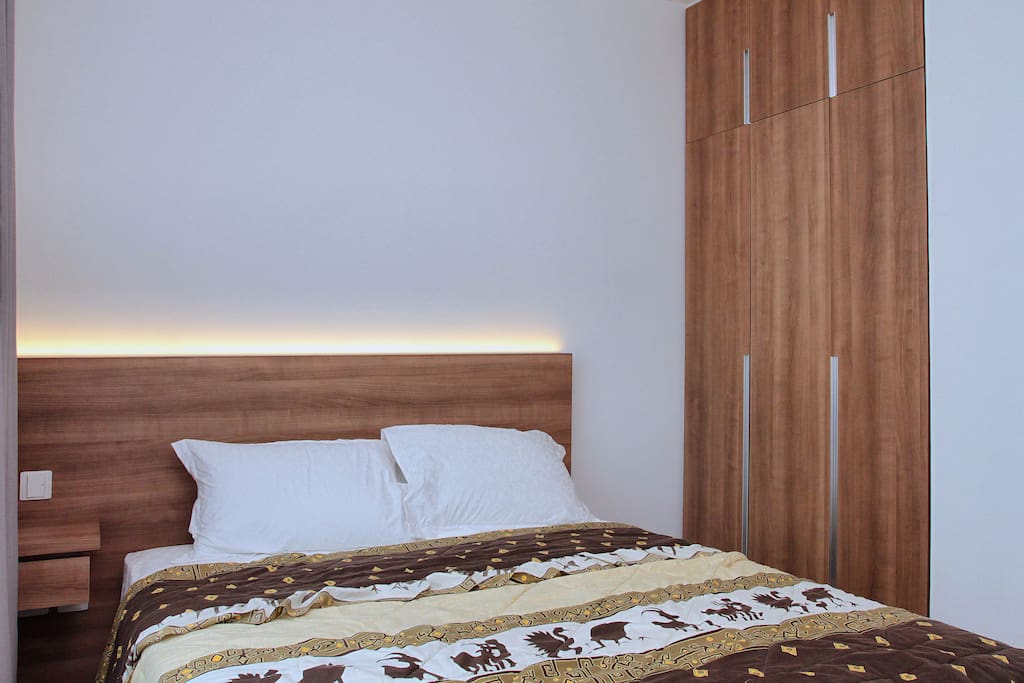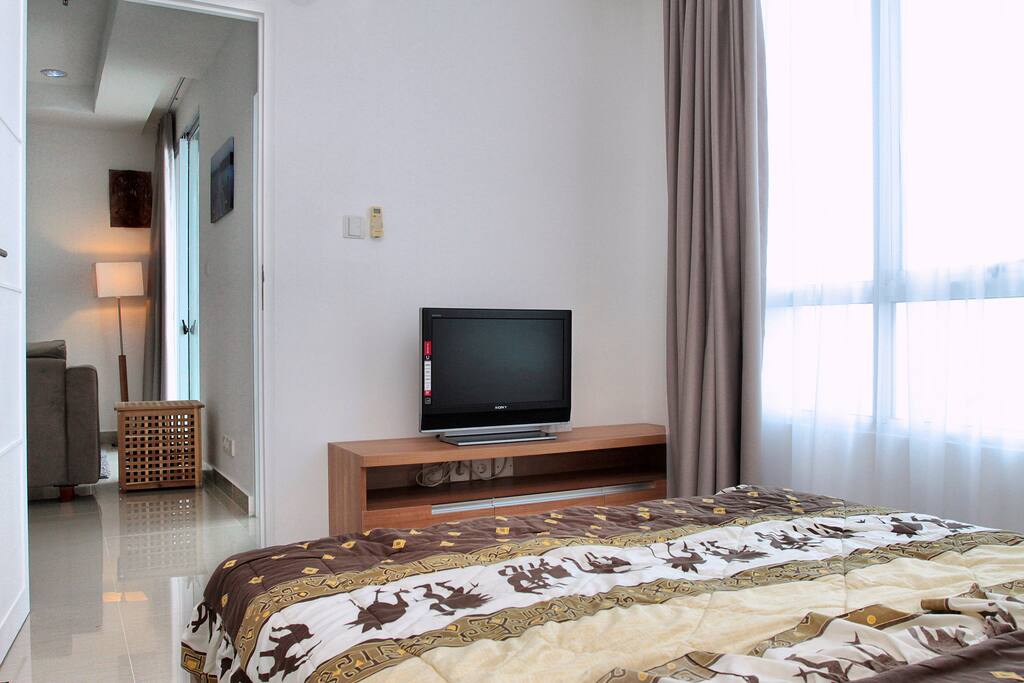 My place is close to nightlife, public transport, and the city center. Dharmawangsa area is the expatriates and Indonesian upper communities living and also workings. Close to many CBDs. You'll love my place because of the neighborhood, the light, the comfy bed, the kitchen, the coziness and also exclusiveness
The Essence Dharmawangsa is one of the prominent Compound in the South of Jakarta. The furniture are imported quality, equipped the city light view in the night. Makes you feel like home.
房源
My place is newly furnished. So, it's a new home for you!
---
---
---
HOUSE RULES
1. MANAGEMENT OFFICE:
The management office is located at Gedung Kemang 15, Jalan Kemang Raya No.15. Jakarta Selatan
2. CHECK-IN AND CHECK-OUT TIME:
Check-in time at 12.00pm, check-out at 14.00pm. For any changes please make an announcement.
3. REPAIRS:
Please report any repairs to us at +(PHONE NUMBER HIDDEN) as soon as they happen. Reporting maintenance early can reduce the possibility of the problem getting worse or causing other damage.
4. EMERGENCY REPAIRS:
For emergency repairs, please call the Reception from the provided intercom and select the emergency option.
5. DAMAGES:
Some examples of damages chargeable to the tenant include:
o Grease or foreign objects in drains or toilets.
o Holes or marks on walls, cupboards, or doors.
o Burn marks, stains or holes on floor/carpeting.
o Broken window or screen.
o Hauling of rubbish/garbage.
o Broken or misplaced light fixtures and receptacles.
o Locks (if you request to have them changed.)
o Use of any sharp instrument on appliances.
PLEASE NOTE: These items above are caused by the tenant, his/her family or visitors. Call the office at once and report any damage.

6. MOVING FURNITURE:
Please consult with host on the best way to move your furniture to minimize disruption of other tenants and avoid damages to the common areas or your apartment home.
7. LOCKS:
You are NOT permitted to change your apartment lock, common door locks or install any additional locks or deadbolts. Changing your locks can cause significant problems with our care and maintenance of your apartment home including accessing your apartment in case of emergency.
8. KEYS AND ACCESS CARDS:
No duplicate keys / access cards are to be made for any of our apartment buildings or apartments. Lost keys / access cards will be replaced by management (owner). There will be a charge for replacement of keys.

9. TRASH:
Trash must be removed from your apartment daily. All trash must be put into heavy plastic bags and tied securely and placed in the proper receptacle which is located at the rear of the building. Recyclables are to be put into blue bags and placed next to the trash receptacle. Tenants are reminded to be very careful in moving the trash from your apartment home to the trash receptacles. Clean up any leakage and assure that the trash receptacles are covered to avoid attracting rodents or animals.
10. GUESTS:
For all guest and visitor, follow same rules with tenant.
11. AIDES/SUPPORTIVE SERVICES:
Tenants that are utilizing supportive services, including live-in aides, are responsible for the actions of these service providers while they are on landlord property. Supportive service personnel must abide by landlord rules and regulations while on the property. Violations to the rules and regulations by a service provider may lead to the eviction for the household members on the lease.
12. MODIFICATIONS TO THE APARTMENT HOMES:
Under most circumstances, we will not allow you to paint, wallpaper, install carpets, contact paper or otherwise modify your apartment home.
13. ENERGY CONSERVATION:
We anticipate all tenants to keep our operational costs to a reasonable level by conserving utilities.
a. Inspect window for gaps and deterioration and make sure they are shut. If there is air leakage, notify the Landlord.
b. When rooms are not in use please turn lights off.
c. Do not use the oven or burners on your stove for heat. This is not only expensive, but unsafe as it may lead to a fire in your apartment home.
14. ILLEGAL FIREAREMS:
NO ILLEGAL FIREARMS OF ANY KIND: No type of illegal firearms are allowed to be in the possession of tenant or any guests of tenants in the unit or on the premises unless carried by Law Enforcement officer who is removing the illegal firearm off the premises.
15. ILLEGAL DRUGS:
ABSOLUTELY NO ILLEGAL DRUG USE ON THE PROPERTY BY THE TENANT, FAMILY MEMBER OF A TENANT OR GUEST OF A TENANT. The first offense will be considered a violation of the lease agreement and is subject to immediate termination of the lease.
16. SMOKING:
SMOKING IS PROHIBITED INSIDE THE HOUSE / APARTMENT. Any indication of smoking inside the property (smell, cigarette trash, or smoke), guest will be fined at IDR 1 million.
17. ALCOHOL USE:
ALCOHOL USE IS ALLOWED AT TENANT'S OWN RISK.
*PS.
For long-term stay (1 month or later), We will adjust the water and electricity (WE) bills.

ADDITIONAL SERVICES
In order to make your stay more convenience, we provide guests with several additional services with very affordable prices. We do our best to give you pleasant stay.
1.AIRPORT PICK-UP AND DROP-OFF
The distance between the airport (Soekarno-Hatta Int. Airport) and city center is relatively far. Public transportation is also unreliable. Due to those situation, we provide you hassle-free airport pick-up and drop-off. Surely, with an affordable price.
Price List
-Airport Transportation: Rp 250.000
-Car Rental (8 hrs/day): By Request
LAUNDRY SERVICE
We value your time. Let us take care of your laundry, so you can spend more time to do productive things during your vacation/business trip.
Price: Rp. 75.000 per pick up
3.CLEANING SERVICE
We exactly know that pleasant stay comes from clean and neat home. We have in-house professional cleaning to assist you.
Price: Rp. 100.000 per visit

Thank you :)
---
---
---
I am a young entrepreuner who highly passionate in property business. I am the founder of Expat Helper Indonesia ( I believe that AirBnB has changed the property business market, which allows the property owner to manage its own property to be as productive as it can be. AirBnB not only helps me as the property owner, but also help my company to offer better services to clients.

The listed properties are not only mine, but also several properties that managed under my company.
语言:
Bahasa Indonesia、Bahasa Malaysia、English