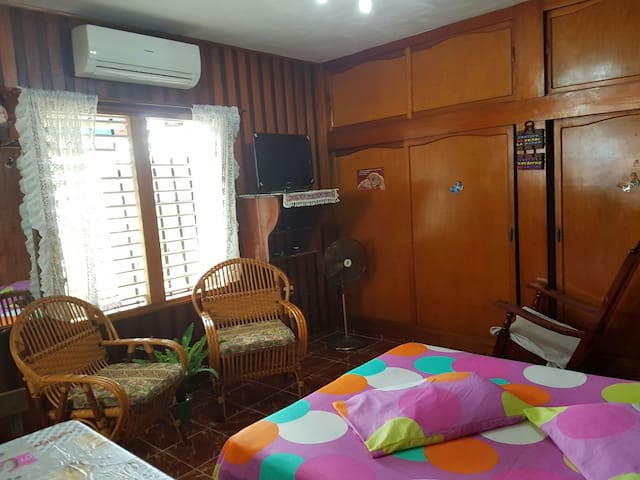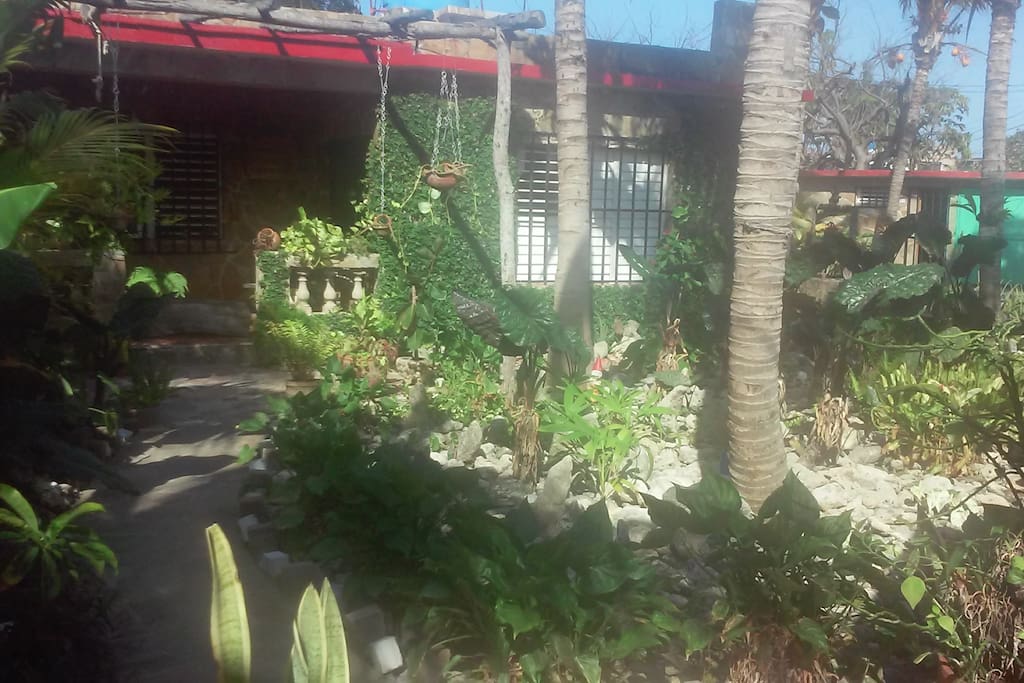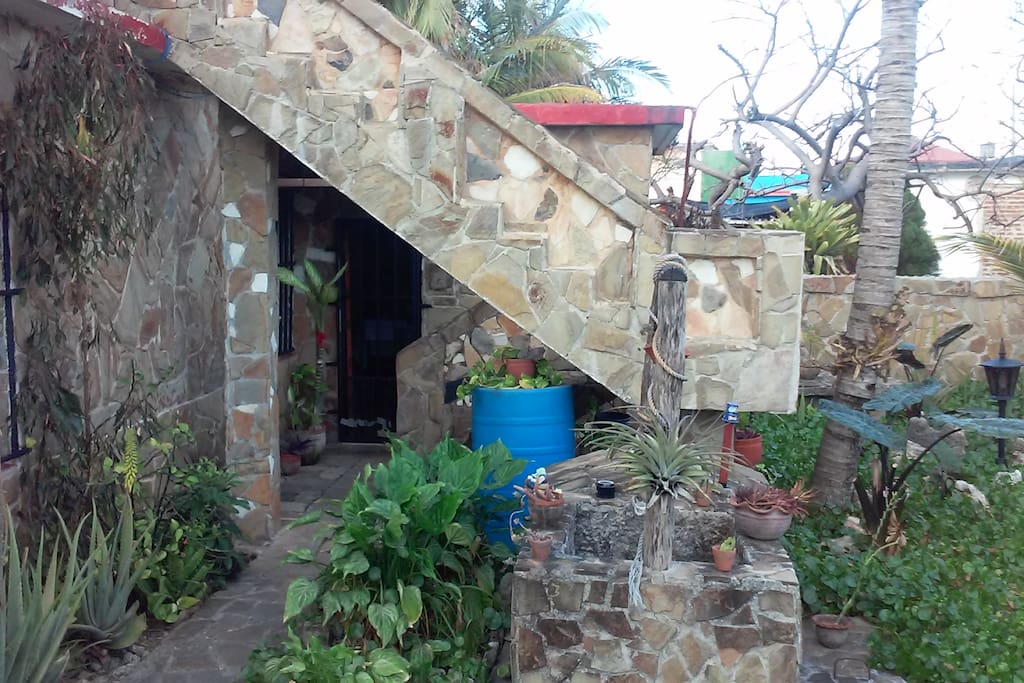 Es un lugar muy acogedor y tranquilo, a solo 10 minutos del Centro histórico de la ciudad y a 15 minutos de las Playas del Este.
---
Fantastica experiencia de una Cuba real y verdadera. En la casa de Aylet i Bismark vivia ya la tercera vez. Y realmente es uno de los mejores sitios que encontré en Cuba donde he viajado varias veces. Especialmente si alguien quiere estar cerca del centro de Habana (son 15 min en taxi) y al mismo tiempo disfrutar de tranquilidad, del mar y tener esa magnifica experiencia de vivir un poco de como vive una villa cubana. La habitación de Aylet es muy cómoda y lo que hace la diferencia es un pequeño patio privado, perteneciente a la habitación que da la posibilidad de comer, pasar el tiempo leer e incluso coger la ducha afuera (aunque también se puede tomarla en el baño - si alguien prefiere adentro) - bajo las estrellas :-) Mis experiencias con los anfitriones también son de la mejor calidad: amables, listos para ayudar en cada momento, amistosos y abiertos para compartir tiempo o hablar de varios temas (bueno para lo ultimo es importante hablar español - pero así es Cuba - aparte de hoteles lujosos y sitios similares no esperen a comunicarse en ingles u otros idiomas aquí). Ventajas adicionales del sitio son: una comunicación fácil con La Habana a la cual se puede viajar incluso en guagua por 1 CUP (0,10 EUR) - que es también una experiencia interesante; el malecón de Cojimar - un sitio lindo para pasar tiempo y ver como lo pasan los Cubanos; una abundancia de diferentes restaurantes - de los muy buenos con precios muy razonables y buena comida (Casa Grande, Cojimero) o paladares donde se come bien por casi nada; cerca de la casa un mercado típico cubano con frutas y verduras; una tienda en frente de la casa - muy útil y conveniente; Y lo mas importante - a 150 m de la casa hay un sitio para bañarse en el mar y yo cada mi día empezaba del mismo modo: un paseo a la orilla, 15 minutos nadando y a la vuelta a casa un cafecito cubano en un sitio vecino abierto 24/7. Para que este claro: aquí no hay playa de arena (para eso se tiene que viajar 15 minutos al este - playas de arena blanca y mar azul) y la orilla es - como a menudo en Cuba - rocas y basura, pero si se quiere disfrutar del mar para nadar - justo a un rincón de la casa... A mi me encanta esa posibilidad - despertarme y tirarme a un rato al mar!!! En resumen: si alguien quiere venir a vivir un poco de una Cuba mas verdadera que la de un resort de 5* en Varadero (similar a miles otros sitios así en todo el mundo) - Cojimar es un lugar perfecto y la casa de Aylet también. Y ya para acabar - un comentario a una de las opiniones: como en muchos sitios del mundo es importante acordarse de una cosa - si quieres que la gente te trate bien con...
---
This is a great little place to stay in Cojimar. Cojimar is not the place to stay if you want to be able to tour Havana without a car or tour guide to take you into town. But, if you are familiar with Cuba, or just want a quiet place to relax and unwind, this place is great. Aylet and her husband Bismark were welcoming and gracious hosts, helped us out with rides a few times when we needed it and were very accommodating. They do not speak much English, so if you don't have some level of Spanish, be prepared to be patient and understanding through the language barrier. Cuba has a rich and unique culture, do not expect things to be similar to the US and Europe. You will have a good time here if you are a go with the flow type person, open to learning about other cultures. The house here is beautiful, very clean, fully stocked for cooking, a great outdoor patio with an outdoor shower, AC (a great plus in this tropical climate). The bed was comfortable, and it is very secluded and private. There is a small store across the street with food, wine and drinks and a few restaurants within walking distance. My favorite is Parrilla, which has pizza and pasta and a great atmosphere. For the amazing price of this little casita, I highly recommend it!
---
Read carefully and rethink booking this listing. AirBnB listing of Aylet Rivera Garcia at Calle 1ra #8807, entre Calle A y Calle 8, Cojimar, Habana del Este, Habana, Cuba I am writing to clarify the illegal, unethical and dangerous behavior of Aylet Rivera Garcia, the host of my AirBnB accommodation. In light of this behavior, which is elaborated below, I am requesting: a full refund of the cost of my accommodations, reimbursement for the emergency, last minute flight that I was forced to book, as well as other expenses incurred (a total of $575); an immediate closure of the listing; and assistance in any legal action that I may take in Cuba or in America against Ms. Rivera Garcia. Additionally, I strongly suggest that AirBnB review the accounts of all the listings in Cuba, as while I was in Cuba, I met the man that Rivera Garcia pays 20 CUC a month to run her listing and learned that he runs the accounts of up to eighty other listings. OVERVIEW: Rivera Garcia illegally (under Cuban law) evicted me at night, in a storm, forcing me to walk miles, with all of my possessions, in the middle of a flooded road, where I was in danger of being robbed, raped, kidnapped, or killed. Additionally, during my stay, both she and her so-called husband, Bismark, consistently invaded my privacy, conned me into paying for their expenses and food, and, by all indications, attempted to rob me of the cash that I carried. SPECIFIC INCIDENCES: When I arrived at the airport in Havana, Rivera Garcia and Bismark were waiting for me with a sign with my full name. Bismark runs a taxi service. Rivera Garcia asked my name. When I told her it was Heather, she informed me that they would be calling me "Ay-lane-ay," the Spanish pronunciation of my middle name Elaine, because "Asi se hace en Cuba," or "That is how it is done in Cuba". This phrase became her constant refrain when she was doing something odd, unethical or, eventually, illegal. At the end of the taxi ride to the area of the accommodation, I asked them if there was a store or restaurant where I could eat. The store was closed, so they took me to a restaurant. Then, they also ordered food and waited for me to pay for their meals. I did not invite them nor offer to pay. However, at the time, in order to keep the peace, I paid for the dinner of both of them. The total was over 20 CUC, the equivalent of the monthly wage of an average Cuban. I later learned that this was literally the most expensive restaurant in the area. This was the beginning of their pattern of taking advantage of me. The next day was my birthday. I asked for a ride through Bismark's taxi service to Havana. Instead of providing at taxi just for me, Bismark and Rivera Garcia, uninvited, accompanied me to Havana. Again, I was...
Muy a mi pesar por ser mi primera clienta tan ansiada, he tenido yba dolorosa y triste experiencia que ojalá nunca se repita. Recibimos una clienta con severo trastorno de conducta y drogadicta consumidora en la Habitación, a pesar de varias ocaciones explicarle que eso es prohíbido en nuestro país. Es una persona muy agresiva, pateó nuestras mascotas, siempre con ropa interior a pleno día por el jardín de la casa provocando a mi esposo(yo presenciando desde el techo sin que ella se percatara). La habitación está enchapada en madera y en reiteradas ocaciones le pedimos que no provocara fuego(para los malos espíritus que según ella habían) haciendo caso omiso. Que lamentable abrir las puertas de mi casa con todo cariño y recibir a una persona tan...lo dejo a su consideración. En espera de nuevos amigos. Aylet
---