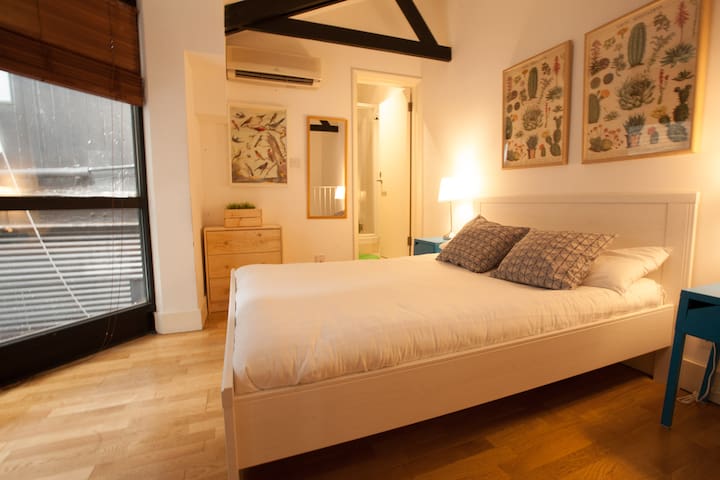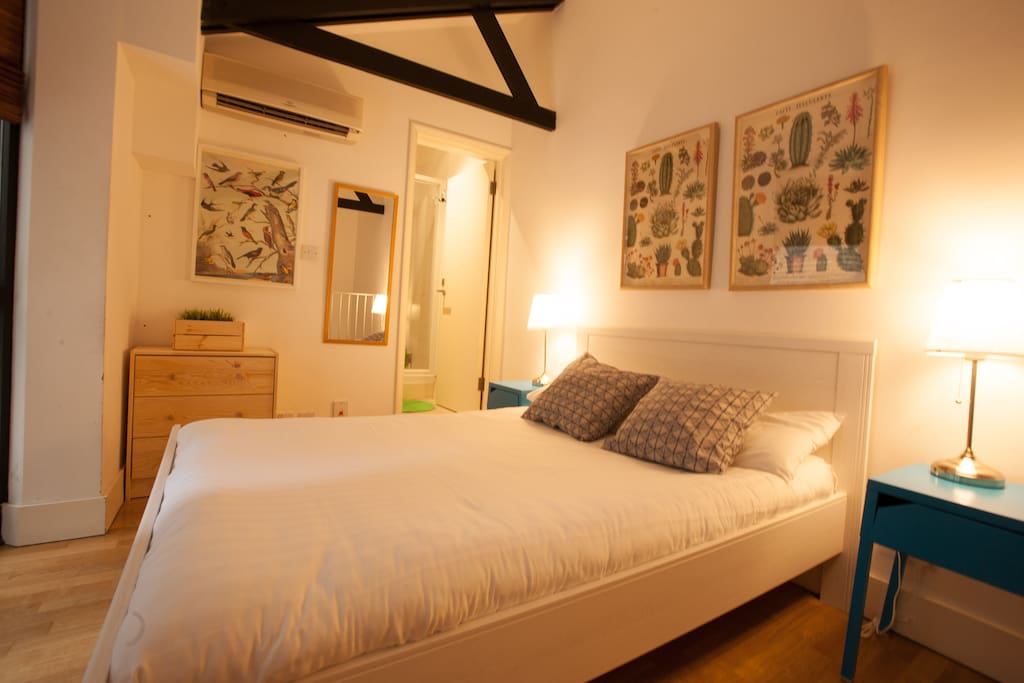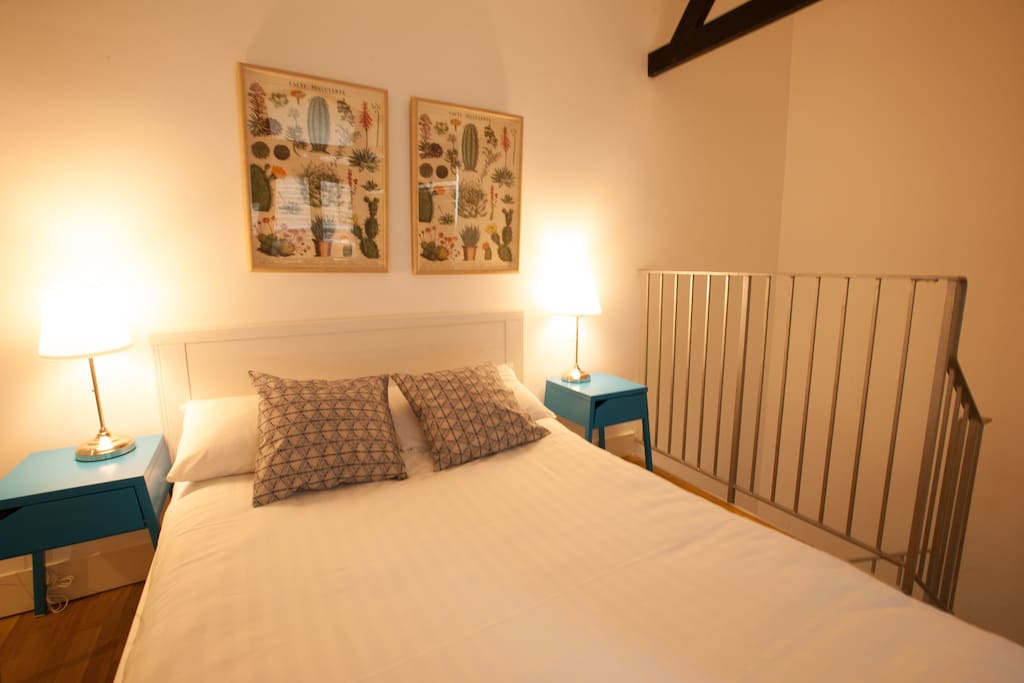 London City Court Yard Cottage
这个整个房子都在一个铺设的私人庭院内,让您享有位于伦敦金融城(1区)中心的优势,拥有一座平房风格的家居风格的宁静,卧室内设有高高的天花板,外露的横梁
This entire property is within a paved private courtyard which gives you the advantage of being in the centre of the City of London (Zone 1) having the charm and tranquility of a cottage style home with high ceiling in the bedroom and exposed beams
房源
这个整个房子都在一个铺设的私人庭院内,让您享有位于伦敦金融城(1区)中心的优势,拥有一座平房风格的家居风格的宁静,卧室内设有高高的天花板,外露的横梁 私人庭院内拥有迷人的自炊属性 这间紧凑的公寓拥有一个别墅的魅力,其外露的横梁和玻璃向前的凸窗 这家酒店拥有所有您需要的一个伟大的地方在市中心 一个可爱的家常浪漫的小点,当你在伦敦 无论您是在伦敦出差还是计划伦敦假期的美好时光,这将是您的最佳选择 这个整个物业都在一个铺成私人庭院的私人庭院内,让您享有在伦敦市中心的区域(1区)的魅力和宁静的平静风格的家庭,在卧室和外露横梁 该物业是完全空调的,我们提供电加热器以及谁更喜欢更传统的采暖方式 这个家庭对于两个人或两对夫妇来说是理想的,但也可以灵活地为那些正在预算旅行的客人提供4人入住,但希望有机会留在伦敦市中心,而不会打破银行。 睡眠安排在双人卧室里有一对夫妇,另一对夫妇在楼下的双人沙发床上。请注意,如果您将沙发床打开,这显然会限制公寓空间。 主卧室设有一间浴室,配有电动淋浴,洗手盆和卫生间 我们欢迎家庭,根据要求提供婴儿床和高脚椅,不收取额外费用 该物业配备了维珍提供的快速光纤宽带,以及高达230多个频道,其中包括56个高清晰度,可在28"LED高清电视上观看,在维珍电视上可以看到很多,从受欢迎的天空频道维多利亚电视台以最新,最棒的电视,以及我们独家的TiVo®系统爆胎,这是我们认为最好的观看方式。 还有一台洗衣机和一个带厨房柜台下方冰箱的冰箱 厨房紧凑,但您在伦敦逗留期间将需要您所有的一切 我们发送确认后,您的支票在指示一些建议,我们多年来收集的一些建议,使您能够充分利用您所在的住宿期间。 我们将通过电子邮件与您的自助登记详情和一些建议联系,使您的逗留尽可能舒适和愉快。电子邮件将是一步一步的图片文档,并附有必要的代码和过程,以从钥匙锁等中检索钥匙 公寓舒适地坐落在一些最好的餐馆和咖啡店,酒吧和小酒馆之间。他们中的大多数人都被列入米格林指南,或由英国领先的厨师如戈登·拉姆齐(Gordon Ramsey),雷蒙德·布兰克(Raymond Blanc)和杰米·奥利弗(Jamie Oliver)运营。但是,除了圣约翰斯餐厅,泰国泰国餐厅,现代餐厅等许多其他建立良好的餐馆,还没有其他选择, 您不可能得到更多的中心位于伦敦市区内,距离三个主要的地铁站只需很短的步行路程,距离国王十字/圣潘克拉斯火车站仅有很短的车程(10分钟)。 公寓距离三个主要的地铁站(老街,法灵顿和巴比肯)只有几分钟的路程,更不用说所有的伦敦巴士将带您前往牛津街,托特纳姆法院路等,所有巴士站就在街对面,如果步行是你的事情,那么你只是短短的步行到圣保罗大教堂,千年桥,泰特现代和伦敦的文化中心 - 巴比肯中心 如果您感觉适合35分钟的步行路程,那么您可以轻松地漫步到牛津街,因为它几乎只是一条向西走的直路。 从巴比肯地铁站的路线 沿着ALDERSGATE STREET开始,向北行驶。 经过150码直接驶往GOSWELL路,向北驶去。 您将到达您的目的地,距离GOSWELL路有1/2英里。 在戈斯韦尔路拐角向右转到杠杆街 老街地铁站的路线 沿着老街开始,向西走。半英里后,您将到达目的地。 沿着CENTRAL STREET出发,朝北方向前进。 150码左转后 PEARTREE STREET,向西走。 经过250码,右转进入GOSWELL路,朝北方向前进。 您将在GOSWELL ROAD到达目的地150码。 在戈斯韦尔路拐角向右转到杠杆街 如以前的客人已经评论过 - 请注意,公寓最初配有一对夫妇(2人),并允许在沙发床上的另一对夫妇显然会限制占地面积 - 然而关闭沙发床后使用它睡觉将恢复被占用的空间,使所有人都舒适。 (对不起,我不得不拼出这个,但有些以前的客人曾经评论过,希望得到白金汉宫的预算,即使他们已经阅读(希望)的描述。 我们允许在这间公寓里容纳4位客人,记住客人将受益于四人之间的预算价格。 我们相信这样可以让客人留在伦敦市中心,不得不支付极高的住宿费用。
This entire property is within a paved private courtyard which gives you the advantage of being in the centre of the City of London (Zone 1) having the charm and tranquility of a cottage style home with high ceiling in the bedroom and exposed beams
A charming self contained property within a private courtyard
This compact apartment has the charm of a cottage with its exposed beams and glass fronted bay windows
This property has all you will need for a great place in the centre of the City
A lovely homely and romantic little spot for you when in London
Whether you are on a business trip in London or planning a great time for a London vacation... this will be your best choice
This entire property is within a paved private courtyard which gives you the advantage of being in the centre of the City of London (Zone 1) and having the charm and tranquility of a cottage style home with a high ceiling in the bedroom and exposed beams
The property is fully air-conditioned and we supply electric heaters as well for who prefers a more traditional means of heating
This home would be ideal for two people or a couple but also has the flexibility of accommodating 4 people for those guests who are travelling on a budget but would like the opportunity to stay in central London in the heart of the city without breaking the bank.
The sleeping arrangements are 1 couple in the double bedroom and another couple on the double sofa bed downstairs. Please note that if you leave the sofa bed open this will obviously restrict the apartment space.
There is a bathroom upstairs in the main bedroom which is furnished with an electric shower, wash hand basin and toilet
We welcome families and supply a cot and a high chair upon request at no extra charge
The property is furnished with fast fibre optic broadband supplied by Virgin as well as up to 230+ channels, including 56 in HD that can be viewed on the 28" LED HD TV, there's plenty to see on Virgin TV. From much loved Sky channels and live pay per view events, Virgin TV is bursting with the latest and greatest TV, as well as our exclusive TiVo® system, which we think is the best way to watch it.
There is also a washing machine and a fridge with an ice box under the kitchen counter
The kitchen is compact but is equipped with all you will require during your London stay
We send out after confirmation along side your check in instructions a little set of recommendations that we have gathered over the years to enable you to get the most out of the area you are in during your stay.
We will be contacting via e-mail with your self check-in details and some recommendations to make your stay as comfortable and enjoyable as possible. The email will be a step by step picture document with the necessary codes and process to retrieve the keys from the key lock etc
The apartment is comfortably situated amongst some of the best restaurants and coffee shops , pubs and bistros. Most of them either listed on the michelin guide or run by some of the UK's leading chefs such as Gordon Ramsey, Raymond Blanc and Jamie Oliver. But taking no merit off the other well established great eateries such as St Johns Restaurant , Thai Thai restaurant , Modern Pantry and so many others to choose from
You couldn't get any more central then this as being located within the city of London with just a very brief walk from three of the main underground stations and just a short cab ride ( 10 Min ) from Kings Cross/ St Pancras rail station.
The apartment is just a few minutes away from three main underground stations (Old street, Farringdon and Barbican) not to mention all the London Buses that will take you to Oxford Street , Tottenham Court road etc with all the bus stops just across the street and if walking is your thing then you are just a short walk to St Paul's Cathedral , Millennium bridge , Tate Modern and the cultural hub for London - Barbican Centre
If you are feeling fit for a 35 min walk then you can stroll all the way to Oxford street with great ease as its practically just a straight road heading west.
Directions from Barbican Underground Station
Start out along ALDERSGATE STREET, heading north.
After 150 yards continue straight onto GOSWELL ROAD, heading north.
You will reach your destination 1/2 mile along GOSWELL ROAD.
Turn Right at the corner of Goswell Road onto Lever Street
Directions from Old Street Underground Station
Start out along OLD STREET, heading west. You will reach your destination after 1/2 mile.
Start out along CENTRAL STREET, heading north.
After 150 yards turn left onto PEARTREE STREET, heading west.
After 250 yards turn right onto GOSWELL ROAD, heading north.
You will reach your destination 150 yards along GOSWELL ROAD.
Turn Right at the corner of Goswell Road onto Lever Street
As previous guests have commented - Please note that the apartment is originally furnished to cater a couple ( 2 people ) and by allowing an other couple on the sofa bed would obviously limit the floor space - However closing the sofa bed after using it to sleep on would restore the occupied space making the property comfortable for all . ( sorry that I had to spell this out but some previous guests have commented expecting to get Buckingham palace on a shoestring budget even after they would have read ( hopefully ) the description.
We have allowed to accommodate 4 guests in this apartment keeping in mind the guest to benefit from the budget price to be split amongst four people.
We believe this gives the opportunity for guests to stay in central London with out having to pay extremely high accommodation costs.
---
---
---
- Treat the property like it where your home and be considerate to the neighbours and tenants We appreciate that you clean all cutlery and crockery after you use them as this helps us keep the house keeping costs as low as possible for everyone to enjoy a good and reasonable price for a central London apartment We do not expect you to spend a day cleaning the apartment before you end your stay but I am sure that the house keeping staff will appreciate your kindness and good manners if you washed your own dishes etc and left the apartment in a reasonably clean state If you want to be extra nice then please pull off the bed linen /sheets from the bed the day you would be checking out Check out is strictly until 11 am as we will need to have enough time to ensure a properly cleaned apartment as the next guests will be expected to arrive around 12 (noon) to drop off their luggage and some times probably like yourselves will be eager to get some rest especially if they have had a long journey. We do not have luggage storage facilities for after your check out but we do recommend a good service at main rail stations in London Please ensure that all doors are shut safely upon your exit Kindly report any breakages , we are aware that some time accidents happen and We normally we do not press for small breakages such as chipping a coffee mug, a broken plate ..etc Please be careful to not spill any liquids that can stain the upholstery of the sofa and other furniture Any issues need to be reported immediately as this will enable us to try and resolve what ever the issue as quick as possible ( not much point telling us at the end of your stay or after you have gone back home - some times things are easily solved when you are still in the apartment ) We may at some times need to access the apartment for safety checks, to inspect the boiler and central heating system as they will need to be serviced from time to time ( this is not something that happens often and normally once every 6 - 8 months for just a 10 min visit this ensures that you never run out of heating or hot water - don't worry we will not barge in on you and ample notice will be given - we will not expect you to hang around wasting your vacation time. we do not expect you either to have the place cleaned up for our visit The trash is left out on the street after 5 pm next to the street bin to be collected by waste services We strictly DO NOT allow parties in the apartment , No Smoking , No loud music late at night ( after 11 pm ) Breaking these simple rules may effect the loss of your deposit and also might be the cause of terminating your tenancy. Thank you for reading through the boring list of rules but Most important of all - enjoy London and all it has to offer

Late check in from 20:00 to 01:00 --- 30GBP
---
---
---
---
The apartment is clean and comfy, the bed as well. My grandma was sleeping on the sofa and she was happy too. The destination is perfect, bus 1 minute from the door. You can easily walk to main street (10 minutes) and take a bus to take you to the city center of London and enjoy the view from the double decker :-) The shower has slow flow of water even if you choose "high", first you have to wait till the water is hot, then it is too hot, so at the beginning it is kind of challenge to manage it, but after it is ok and it has the same temperature of water, just don´t stop the water flowing (my recommendation) :-) I understand that someone can be busy, but what I don´t understand is why someone can not replay to my messages in 3 weeks. I had to contact Airbnb to ask about help, after I received a response from Pablo. This was a really big disadvantage. Thank you anyway. We had a nice stay. It´s a pity that there were troubles at the beginning.
---
Hello! We are a property management company which has several holiday rental apartments and rooms around London UK and other cities!

We have a solid experience receiving guests from all around the world and would be happy to host you during your stay!
语言:
English、Español