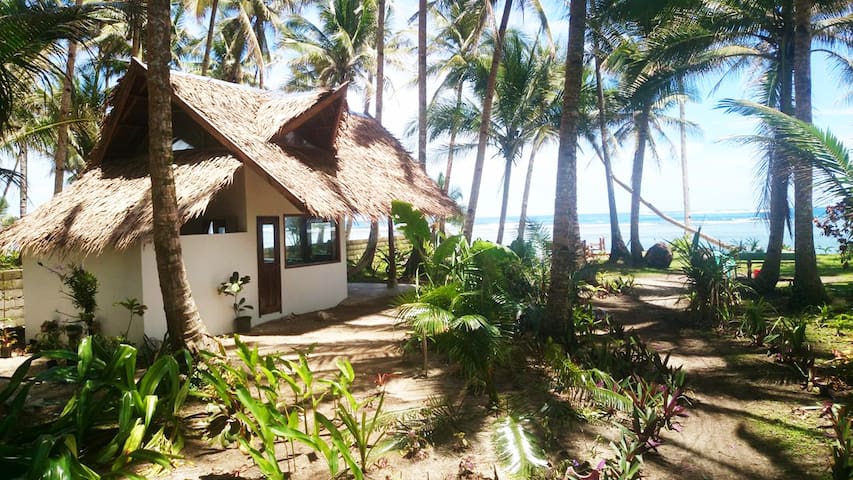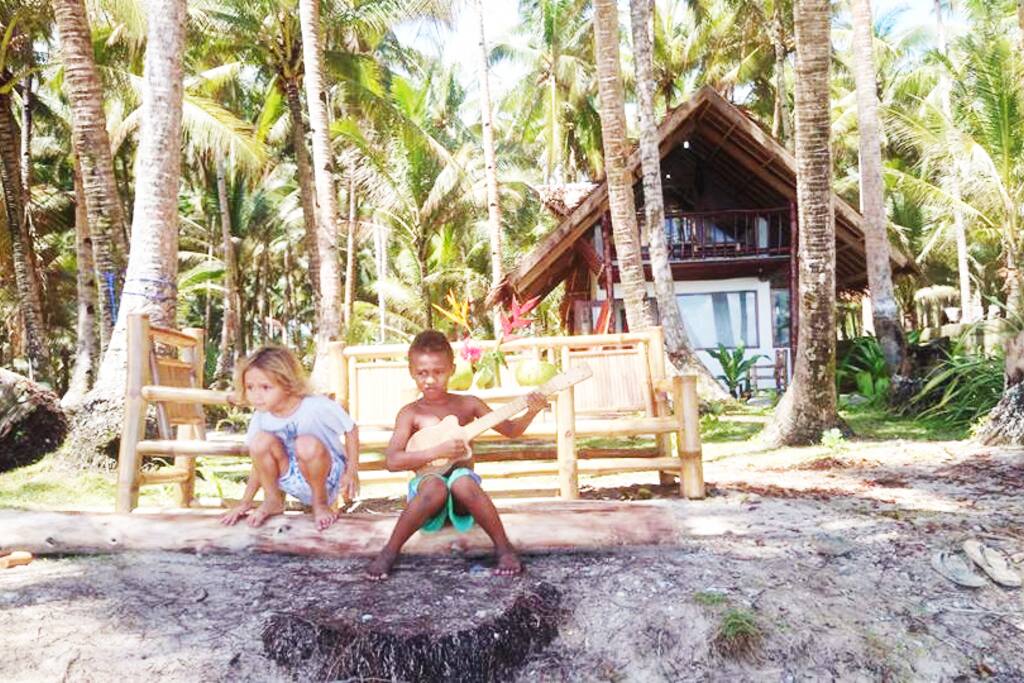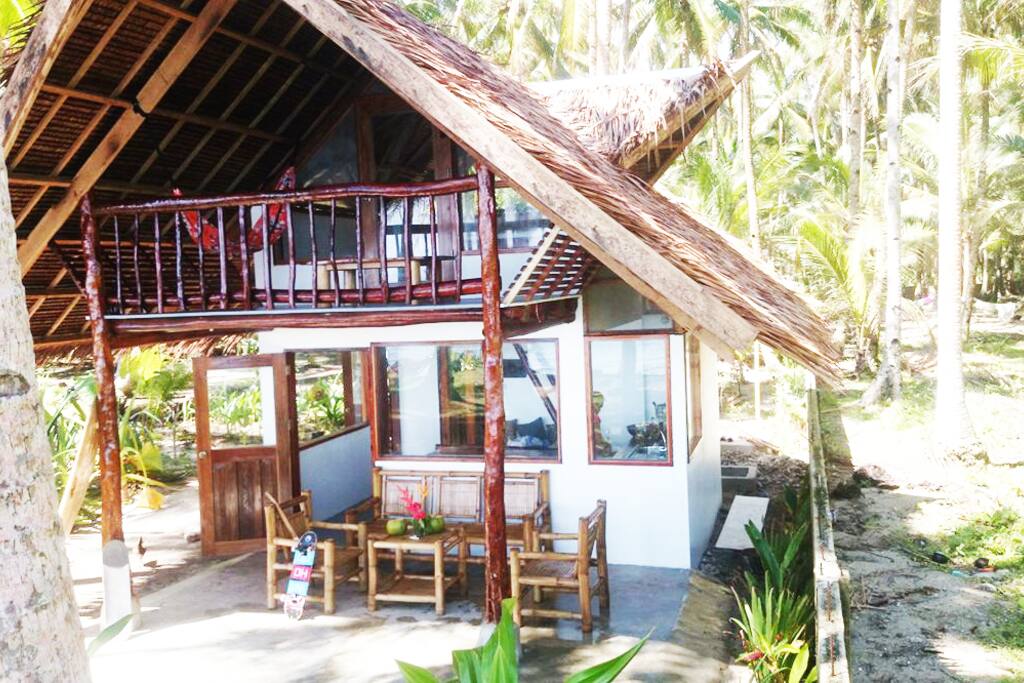 Probably Siargao's most unique farmstay. 30 mins drive from the main tourist area, you enter the cosy fishing village of Salvacion. A hidden gem, especially for adventurous people who wants to experience the filipino countryside. You may even enter the farm riding a water-buffalo if you'd like!
One of the best surf breaks in Siargao is so near you can listen to it while eating breakfast outside.
房源
THE PROPERTY
Siargao skate farm is just a few hundred meters from Salvacion, and it's right on the beach. It is mainly a coconut farm, with some fruit trees and a few animals inside our garden. Our family of 5 will be your good neighbors during your stay, providing you with things you may need. There is also a big miniramp here free to use.
Feel like surfing? Skating? Kiting? SUP? Just ask us and we'll get you what you need. If not; chill out in the hammock, explore life in the village, rent a motorbike exploring the island, go deepwater fishing.
THE HOUSE
Right on the beach, with an amazing seaview.
This house have all you need, fully equipped kitchen, fridge/freezer that is full on arrival so you don't have to go shopping. A small breakfastbar facing the ocean and a big porch with native bamboo furniture just outside.
Open air bathroom with a big plantbed full of native plants, shower, toilet and a handcarved tiki sink and waterbuffalo faucet
Upstairs is a natural ventilated bedroom with a queensized bed, where the ocean breezes will cool you while you fall asleep to the waves crashing on the beach. There is also a big balcony made of roundtimber. Here you can enjoy the seaview from the hammock. It really feels like you're in a treehouse on the beach.
THE AREA
Salvacion is a fishing village surrounded by rice fields and farmland. There are 2 surf breaks just outside the bay of Salvacion, and many more easily accessible by boat. The place is great for nature-lovers and mangrove padling trips. The famous Magpopongko is just a short boattrip away.
There are two dining places serving local food and beer, and groceries are accessible in the local stores.
You can perfectly cook your own food, or ask us in advance to arrange your food for an additional fee. We can cook simple dishes or arrange a barbeque on the beach.
与房客的互动
We try to help our guests as good as we can so they'll have a pleasent stay.
---
If you're up for an amazing experience outside of the usual touristy places, this little paradise with a cozy 2 floor bungalow and a private beach is just the place for you! A beautiful serene hideaway that is completely isolated, your only neighbor, the lovely hosting family with their 3 adorable kids :) We loved it! Note: come prepared with food and everything you need for your stay as there is no place to shop within 20 min.
---
This place is breathtaking. The house itself is nice with a sort of garden bathroom. You'll love the sunrise and the sunset. Only issue was the distance and the road going there. But if you're in search for serenity and tranquility, this is the place for you. My girlfriend and I enjoyed this place.
---
Great place to stay in. You will spirited away in a location with minimum tourists. The place is yours to enjoy. The beach is not sandy though, but you get to enjoy nice rock formations and the surf break is also just very near. The host is also very welcoming and accommodating. Their kids also add to the overall charm of the area. The vibe is so relaxed and it'll make you want to think of never returning to the city again.
---
Hans and Graces Air BnB 'Skate Farm' was a perfect piece of rural Philippines we wanted to experience! Located in the midst of a palm tree forest just steps from the sand and reef breaking waves we felt immersed in the middle of this tropical island ready to relax into the island way of life. When we say rural, we don't use it light heartedly. If you want to see true filipino island life where everyone grows there own, breeds there own and children learn to climb trees before walking then this is the spot for you. Salvacion is a small fishing village on the coastline. There are no restaurants or places to buy groceries here. Just eggs, sometimes bread, beer and a few other basics (mainly chips and sweets). We were quite taken aback by this so be prepared. Grace will help you! To get to this tiny village it's a very bumpy gravel track off of the main road. Hans helped us to arrange a local man to pick us up from the airport. Definitely organize transport with the hosts as its great for the locals to earn some money as well as an experience in the almost tuk tuk style truck!! You'll see!! It costs 1000 peso. First impressions of this place started out high and continued throughout our trip. Greeted by Grace and her three gorgeous kids we were taken through their colourful green garden to the little hut we'd call home for the four days and given two fresh coconuts with straws!! As our flight came in early we asked if we could drop out bags off a bit before check in so we could go explore for the day. Grace had the room ready for us first thing and as we were shattered from a long flight we were so grateful we were had the room in the morning! (BONUS POINTS ALREADY!!) Grace was amazing, she gave us fruit from their garden to keep us going for the day and offered to get us some groceries from the main town (General Luna), as she was heading out there that afternoon. During our time here Grace offered to cook for us - DO THIS!! The food was amazing and only cost a few hundred Pesos for the two of us. The room was comfortable and clean, there was a mosquito net and a good fan, but do be warned it does get very warm in summer here!! The kitchen was simple but adequate. The views were beautiful and no doubt you'll walk up for sunrise as the day is bright at 6am. There are curtains in the room but it's best to make the most of the sunshine and take a dip in the sea we found!! There is of course the mini ramp ... I steered clear as there were too many mozzy's there but Dan enjoyed it! There was also a slack line where we enjoyed beers and a play! You won't be...
---