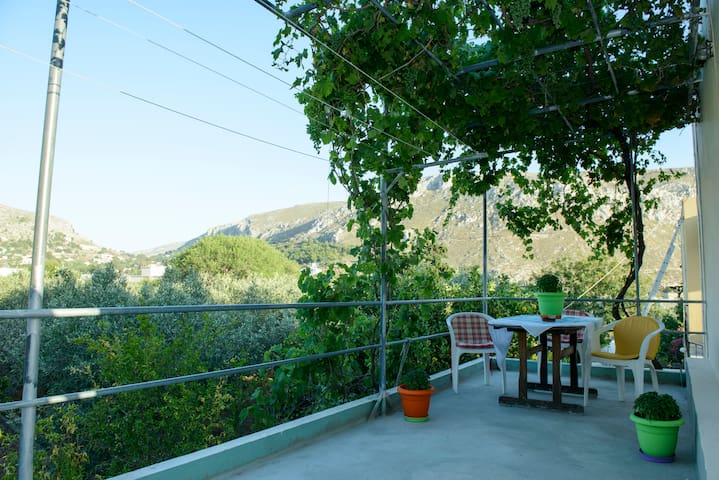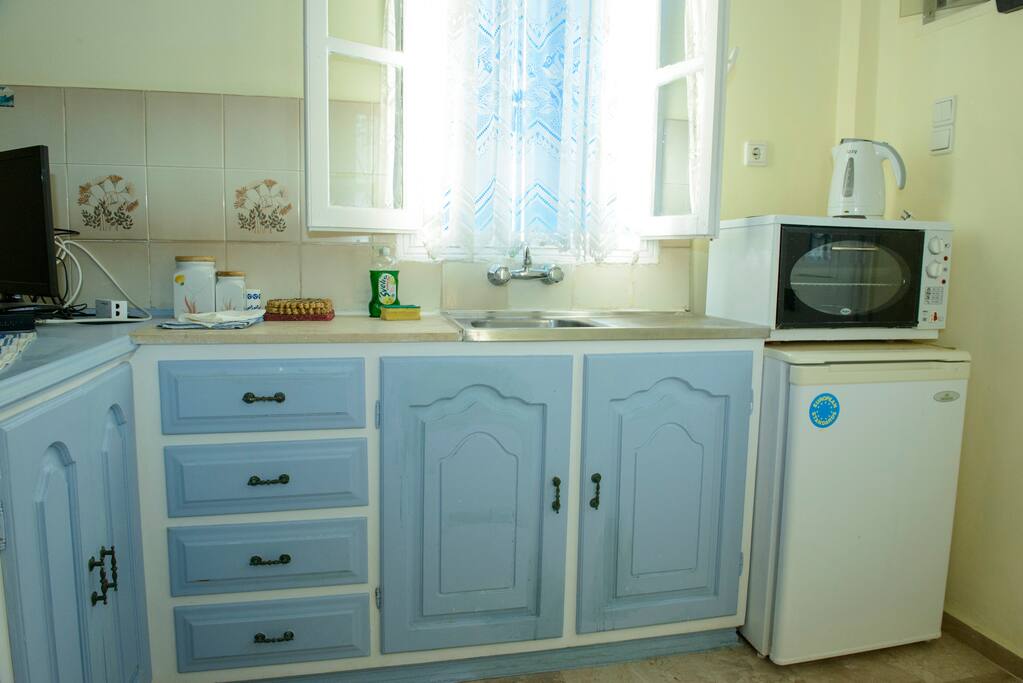 Nice large studio in the heart of Panormos village ideal location for relaxing and peaceful (URL HIDDEN) fully equipped:kitchen with oven,fridge,fast internet(Wi-Fi),Nova-sat T.V with movies free,air condition,private balcony,nice bath
房源
Our advantage:Great location,excellent daily room service with attention to details,comfortable and large room with own private balcony overlooking to the green garden fully of tress,fully kitchenette with microwave for cooking everything (the bigger super market of Kalymnos with the name Smalios is just 70 meters far),fridge,hair dryer,filter coffee,iron,boiler to make tea,air conditioning,internet(wi-Fi),Nova-sat.T.V plasma with worlds news,music free for the lazy days,nice bath with hot water 24h,BBQ in the garden fully of trees(you can use any time you like and then enjoying with your lovely (URL HIDDEN) studios are just 150 meters far from greek taverns with live greek music,stop public bus to the other village and main port of Kalymnos(Pothia),rent scooters or car and 400 meters far from nice beaches of Linaria/Kantouni,cafe night life,the best seafood restaurants on the wave.
房客使用权限
To the nice beaches,cafe,snack bar,night life,seafoods restaurants on the wave,cafes,public bus to Pothia(main port of Kalymnos) and all the other village of Kalymnos island,bigger super market with the name Smalios,rent scooters/car,ATM(cash bank),pharmacy
与房客的互动
Our hospitality friendly and serviceable,responsibile from first moment with our guests.
---
We stayed 10 days at Irene's studio and it was very comfortable in a quiet location but still close to shops, restaurants and transport. We were very well looked after and our room was cleaned daily and towels were changed regularly. Also the hosts were very flexible with check in and check out times. We'd definitely go back.
---
ΓΕΙΑ ΣΑΣ ΕΙΜΑΙ Η ΕΙΡΗΝΗ.ΜΕΝΩ ΣΤΗΝ ΚΑΛΥΜΝΟ ΚΑΙ ΤΗΝ ΑΓΑΠΩ ΠΑΡΑ ΠΟΛΥ.ΕΙΜΑΙ ΙΧΘΕΙΣ,ΜΟΥ ΑΡΕΣΕΙ Ο ΧΟΡΟΣ ΚΑΙ ΚΥΡΙΩΣ ΤΟ ΟΡΙΕΝΤΑΛ ΚΑΙ ΡΕΜΠΕΤΙΚΟ,ΕΙΜΑΙ ΣΥΝΑΙΣΘΜΑΤΙΚΟ ΑΤΟΜΟ,ΑΞΙΟΠΙΣΤΟ ΚΑΙ ΓΕΝΝΑΙΟΔΩΡΟ.Η ΜΕΓΑΛΗ ΜΟΥ ΕΠΙΘΥΜΙΑ ΕΙΝΑΙ ΝΑ ΚΑΝΩ ΚΑΙ ΑΛΛΟΥΣ ΑΝΘΡΩΠΟΥΣ ΝΑ ΓΝΩΡΙΣΟΥΝ ΚΑΙ ΝΑ ΑΓΑΠΗΣΟΥΝ ΤΟ ΝΗΣΙ ΜΟΥ ΜΕ ΟΔΗΓΗΣΕ ΝΑ ΑΣΧΟΛΗΘΩ ΜΕ ΤΗΝ ΕΝΟΙΚΙΑΣΗ ΔΩΜΑΤΙΩΝ ΚΑΙ ΤΗΝ ΠΡΟΣΦΟΡΑ ΟΙΚΟΓΕΝΕΙΚΗΣ ΦΙΛΟΞΕΝΙΑΣ ΣΕ ΟΣΟΥΣ ΜΑΣ ΕΠΙΣΚΕΠΤΟΝΤΑΙ.ΟΙ ΣΠΟΥΔΕΣ ΜΟΥ ΣΤΗΝ ΑΡΧΙΤΕΚΤΟΝΙΚΗ ΚΑΙ ΣΤΟ ΣΧΕΔΙΟ ΜΕ ΒΟΗΘΟΥΝ ΝΑ ΣΧΕΔΙΑΖΩ ΚΑΙ ΝΑ ΔΙΑΚΟΣΜΩ ΧΩΡΟΥΣ,ΣΤΟΥΣ ΟΠΟΙΟΥΣ ΟΙ ΕΠΙΣΚΕΠΤΕΣ ΜΑΣ ΘΑ ΑΙΣΘΑΝΟΝΤΑΙ ΣΑΝ ΤΟ ΣΠΙΤΙ ΤΟΥΣ.ΜΟΥ ΑΡΕΣΟΥΝ ΠΟΛΥ ΟΙ ΑΛΛΑΓΕΣ,ΓΙ'ΑΥΤΟ ΦΡΟΝΤΙΖΩ ΠΑΝΤΑ ΝΑ ΑΝΑΝΕΩΝΩ ΤΗΝ ΕΠΙΧΕΙΡΗΣΗ ΜΟΥ ΚΑΙ ΝΑ ΤΗΝ ΕΜΠΛΟΥΤΙΖΩ ΜΕ ΚΑΙΝΟΥΡΙΑ ΧΑΡΑΚΤΗΡΙΣΤΙΚΑ ΠΟΥ ΤΗΝ ΚΑΝΟΥΝ ΜΟΝΤΕΡΝΑ,ΛΕΙΤΟΥΡΓΙΚΗ ΚΑΙ ΕΥΧΑΡΙΣΤΗ.ΑΝΥΠΟΜΟΝΟΥΜΕ ΝΑ ΣΑΣ ΕΧΟΥΜΕ ΚΟΝΤΑ ΜΑΣ ΚΑΙ ΝΑ ΣΑΣ ΔΕΙΞΟΥΜΕ ΤΟ ΟΜΟΡΦΟ ΚΑΙ ΓΡΑΦΙΚΟ ΝΗΣΙ ΜΑΣ.
语言:
English、Ελληνικά