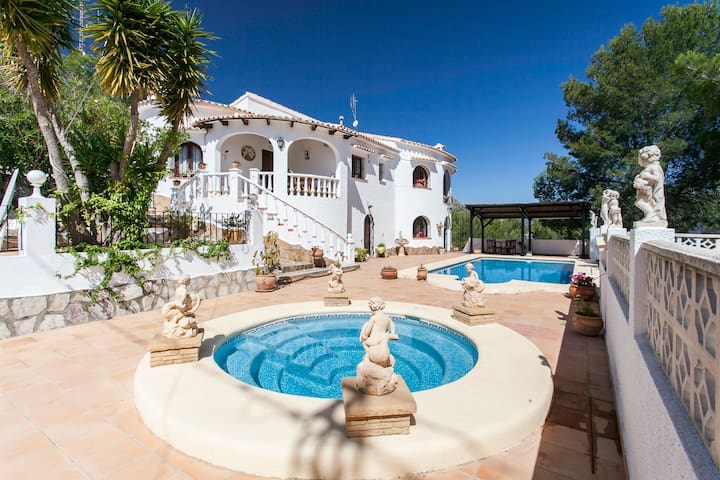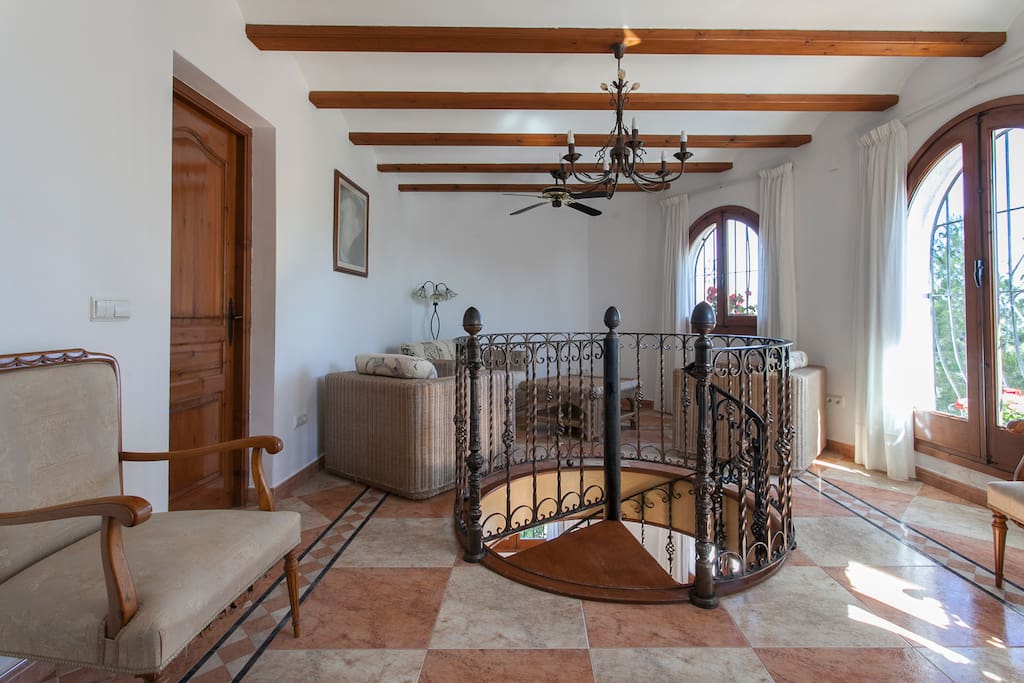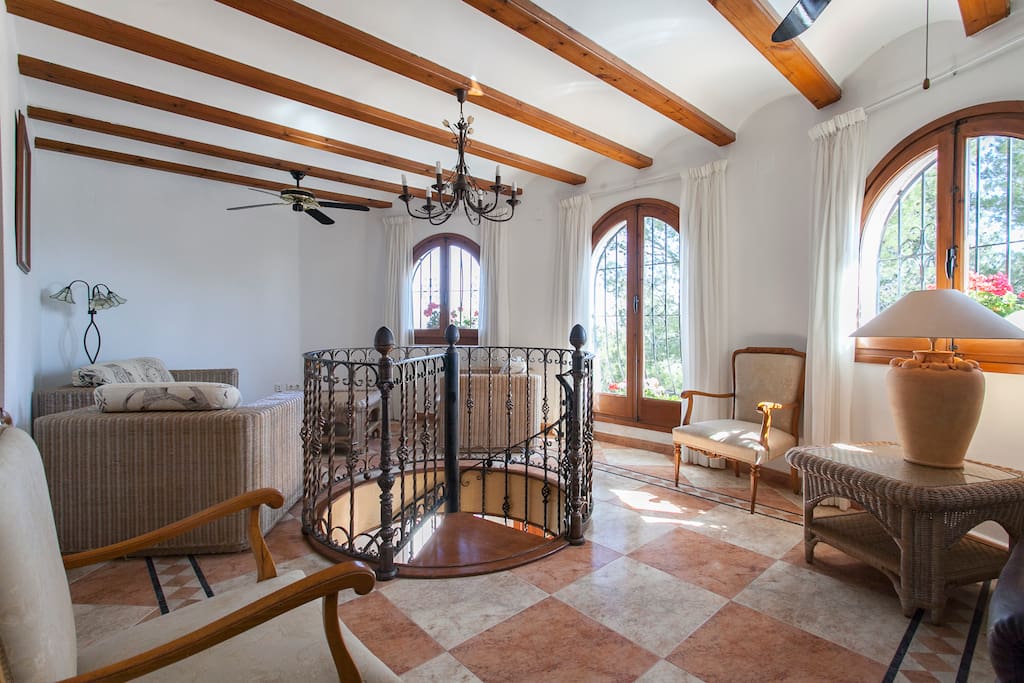 The Villa Guest house is situated on the outskirts of Parcent, the Marina Alta region of Costa Blanca North. It stands at the top of a pine clad hillside, to the side of Coll de Rates, a famous route for Cyclists.
The Villa is large and spacious and is structurally divided into two parts. One houses the owners accommodation and the other the Guest House (La Casa).
The grounds house 2 pools a courtyard with barbeque, sunbathing areas and sunbeds for the exclusive use of our guests.
房源
The 2 bedrooms are large and can house a single in addition to the Queen sized bed or can be adapted to house 2 or 3 single beds.
Each bedroom has en-suite bathroom facilities.
There is a newly fitted spacious kitchen with all mod cons
There is a lounge with TV (English Free View Programmes)
房客使用权限
Guests have their own private parking area for 1 car. They are allocated keys to enable access to the grounds via their own private entrance gate and also to the Guest house main door.
Guests have full access and the sole use of the 2 pools, sunbathing terraces, gardens and barbecue area during their stay.
Guests have the use of all the facilities available inside the guesthouse.
Cyclists have use of the garage to store their bikes when not in use.
Walkers and Climbers can also use the extra space of the garage for storing their boots and equipment.
与房客的互动
The owner of the property, Mary, lives in the adjacent villa with her dog Harri. If at home she will be available to welcome you give you the keys to your property and answer any questions you may have. In her absence a lady, who lives locally, looks after the property, guest arrivals and departures. She can also be contacted to answer any queries you may have during your stay.
其他注意事项
PLEASE NOTE: The owners accommodation, both inside and outside, does not encroach on the guests accommodation in any way whatsoever. Both are completely private.
Your accommodation will be available and ready for you on the day of your arrival from 3pm.
On the day of departure it essential that you leave the accommodation by 10am so that it can be prepared in readiness for the next guests.
---
---
---
- Smoking allowed outside of the villa.
Pets mean cats or dogs and must be trained so as not to destroy property and be amenable towards people and other animals. Pets are strictly not allowed in the pools.
The number of guests staying at the villa must match the number of guests on the booking form. The bedrooms are prepared according to each booking.
---
---
---
---
The property was absolutely perfect, exactly what we wanted for a total relaxation holiday. The location is stunning, set on the side of a mountain overlooking Parcent with amazing vistas. The outside catered for all our needs and then some! A gorgeous well maintained swimming pool, smaller plunge pool, shaded eating area, sun loungers, reclining padded seats and a beautiful outdoor BBQ. The outside area also has lighting for evening use. Both bedrooms are en-suite with powerful aircon and are spacious and comfortable. Modern kitchen and indoor dining. There is also a laundry room available just next to the pool. All in all the property had everything we needed. Mary was an absolute star! We arrived into Parcent later than we expected and got a little lost in the dark so called Mary. Rather than give us instructions she very kindly came and found us and we followed her back to the house!! Mary said that if we needed anything then not to hesitate in texting her as she was always willing to assist. If we had not choose to interact with Mary during our stay then we would not have seen her as her accommodation is totally seperate. However we are really glad that we chatted to her as she is so lovely and was happy to be our tourist information. This place is amazing with epic views, however to get these views you will need a car or be a member of team sky with thighs of steel (and a pushbike obviously). Lots of villages and towns within 10/15 mins drive with local Bodegas (1 litre of young wine for 1.95 Euros!!) and lots of great little restaurants. Really recommend La Casa and we hope to go back soon. :-)
---
La estancia en esta casa ha sido horrible. Llegamos 3 parejas para disfrutar de unas vacaciones y nuestra primera sorpresa fue que su casa no es que este en la villa de al lado, es que se comunica por las escaleras que se ven en la foto de la piscina, ademas dos ventanas de su casa dan directamente a la piscina por lo que intimidad poca.. Tambien, se ve que no leyo el mensaje enviado por airbnb comunicandole que al final eramos 6 personas y al llegar nuestra sorpresa fue que no nos dejaba quedarnos a los 6, sin embargo al final le ayudamos a montar las camas y nos dejo quedarnos, eso si durmiendo dos huespedes donde esta la cocina... Tambien recalcar que si pensais dar uso a la barbacoa NO VAYAIS. Nosotros el segundo dia ibamos a hacer una y al vernos la señora entrando con los troncos nos prohibio totalmente utilizarla cuando en la pagina se lee bien claro que se puede usar. Nos informamos a traves de la guardia civil por si era por el riesgo de incendio por las fechas que eran el no poder usarla pero nos dijeron que con mucho cuidado si que la podiamos hacer por lo que como por contrato en esos momentos era nuestra casa decidimos hacerla. Nuestra sorpresa fue cuando ya con el fuego encendido volvio a entrar por segunda vez la mujer en nuestra casa, cogio la manguera y nos apago el fuego, ademas de mojarnos a nosotros y darle un empujon a una de mis amigas. Nos queria echar de la casa el segundo dia que estabamos ahi, a las 10 de la noche, sin tener razon obviamente, asi que llamamos a la guardia civil. Era subrealista la situacion.. Al final decidimos irnos al dia siguiente ya que no podiamos aguantar mas a esa mujer. Por lo tanto, por mi experiencia y la de mms amigos NO RECOMIENDO este chalet. Nos arruino las vacaciones. Ademas es una mujer que no deja hablar, se pone nerviosa enseguida al no poder comunicarse bien y como ya he dicho se metio varias veces en nuestra casa cuando eso esta totalmente prohibido.
These guests have given a review which is total fabrication. I called the Guardia Civil because I was in fear of my property being destroyed. In addition, I insisted that the group leave my property for the same reason. The only thing left to say is that they were a nightmare I hope is never repeated. I also hope people looking to stay at my property will read all other reviews and look at the photographs, taken by Airbnb in April 2017, to see that the description written by these guests is untrue.
---
Hola Mary, estamos muy contentos con nuestras vacaciones en Villa La Paz. Hemos podido desconectar de la rutina que era nuestra intención, disfrutar de todo el conjunto de la casa, incluidas las 2 piscinas y la barbacoa. La casa no deja ninguna duda, es tal cual se ve en las fotos. Para Carolina y para mi ha sido perfecta, nos ha encantado y no dudariamos en repetir. Hemos estado muy a gusto tanto en la casa como en el trato recibido por la anfitriona. Mary es una persona encantadora, además te deja toda la privacidad que necesitas para que creas que la casa es tuya. La ubicación de la casa es magnífica, se encuentra en la montaña pero relativamente cerca de la costa, a 15 minutos. El tiempo es otra cosa que nos has gustado mucho, durante el día hacía mucho sol y calor, y durante la noche podías dormir perfectamente ya que refrescaba. No tenemos ninguna queja, han sido unas muy buenas vacaciones. Hi Mary, we are very happy with our vacation in Villa La Paz. We were able to disconnect from the routine that was our intention, to enjoy the whole of the house, including the 2 swimming pools and the barbecue. The house leaves no doubt, is as it is seen in the photos. For Carolina and me it has been perfect, we have loved it and would not hesitate to repeat. We have been very comfortable both in the house and in the treatment received by the hostess. Mary is a lovely person, plus she leaves all the privacy you need to believe that the house is yours. The location of the house is magnificent, located in the mountain but relatively close to the coast, 15 minutes. The weather is another thing that we liked a lot, during the day it was very sunny and hot, and during the night you could sleep perfectly as it cooled. We have no complaints, have been a very good holidays.
---
Mary's villa is in a lovely peaceful location on the hillside with great views up coll de rates, we hardly heard any other people. The pools were well maintained and great for our family stay, 4 adults and a 6 year old. The villa was well furnished and Mary was on hand to answer any questions we had. She even provided a starter pack of groceries which was very welcome as the nearest supermarkets were shut on Sunday which was our arrival day.
---
MAry es encantadora, nos ha hecho sentir muy bien, siempre preocupada por si estábamos bien sin invasor nuestra privacidad. Lo que más nos ha gustado sin duda han sido las piscinas! Luego la tranquilidad, la casa esta ubicada en la cima de una colina. Así que el Coche es necesario para Salir pero todo está muy cerca.
---