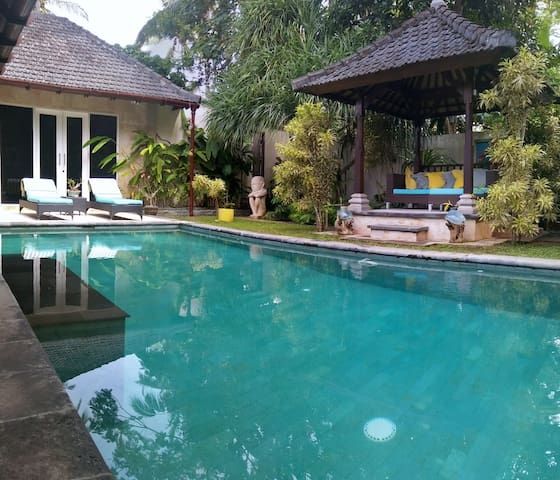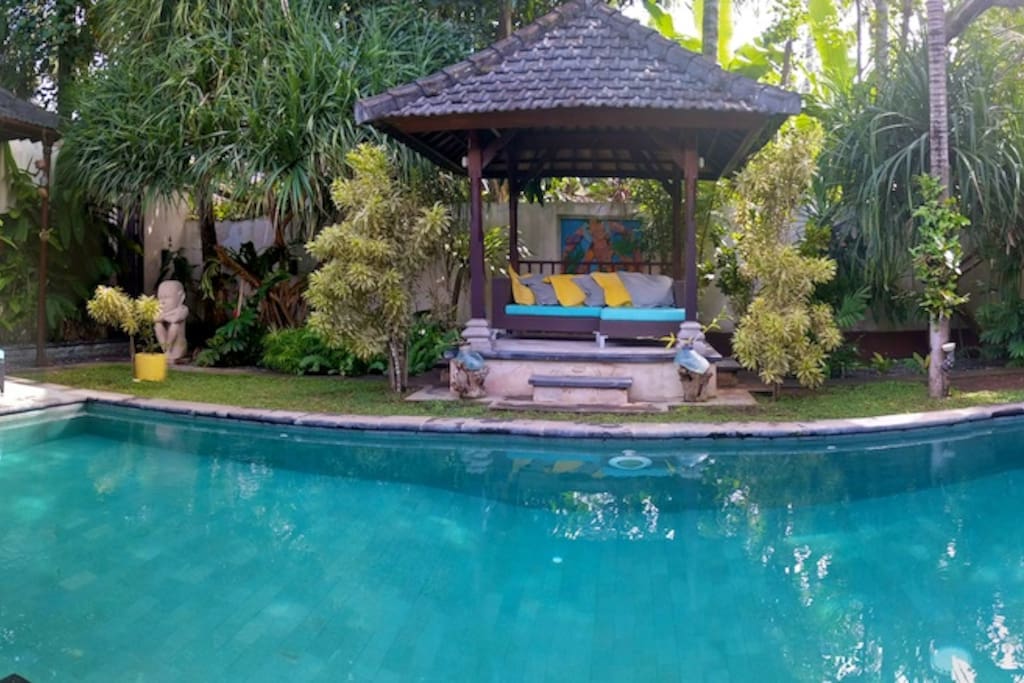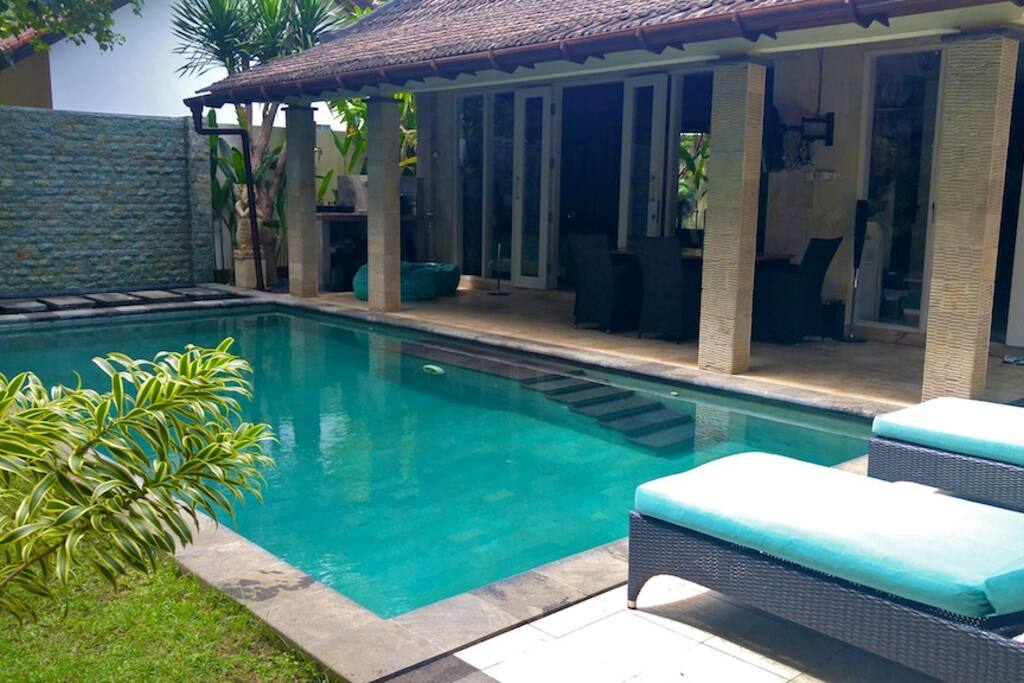 Beautifully designed villa, conveniently located a short 5-min walk to everything, shops, bars and restaurants. Set away from the main road and its loud traffic. Villa is only a 1 min walk to the ocean, & just a short walk to Puri Bagus Beach, which is great for swimming, snorkeling and a departure point for small boat trips. On our little side street you can find nice beachfront bars & restaurants, great cafés & little local fruit shops. There is even a convenient store on the corner.
房源
Villa las Brisas has 2 spacious bedrooms (can sleep 5 people), 2 full bathrooms, fully equipped kitchen, outdoor living area, swimming pool, comfortable gazebo, outdoor shower/ herb garden, covered garage space, Wi-Fi, large flat screen TV with DVD player, sound system, a safe for your valuables and 3 wonderful cats.
Both bedrooms have air-conditioning, fans and closet space.
The kitchen is fully equipped with a good size refrigerator and freezer, gas stove/oven, toaster oven, blender, rice-cooker, pots and pans, cooking accessories, dishes and silverware. There is also an outdoor BBQ grill and stove top.
The Villa comes with linens, bath towels and beach towels. There is also a collection of books and DVD's for your enjoyment. Villa las Brisas tries to be as eco-friendly as possible so we provide reusable shopping bags and refillable stainless steel water bottles. We also recycle plastic, aluminum, and glass.
Our 3 cats are the full time occupants of Villa las Brisas.
The staff will feed them twice a day, and take care of all the vet visits and any other needs they have.
If you want to feed or spoil them more, please do!
Villa las Brisas is our home ½ the year. We love Candidasa, and are happy to have the opportunity to share this amazing place with others.
房客使用权限
Full access to Villa, with exception of staff storage room.
与房客的互动
Villa las Brisas has 2 staff members, Komang and Wayan. One comes in the morning and one in the afternoon. They are both great guys and like family to us.
-Komang, the senior staff member, comes in the mornings. If you would like breakfast prepared just let him know. He can help with renting a motorbike, sending out laundry, booking tours and more. Komang is also an amazing cook. If you would like meals prepared at the Villa, give him a day's notice and discuss what you would like him to make. Local food is his specialty!
-Wayan comes in the afternoons. He takes care of the garden and the pool and can also answer any questions you might have.
The staff takes care of the pool and garden, cleaning the floors every day, washing dishes and cleaning the kitchen and bathrooms. They are responsible for all other maintenance, replacing the large jug of drinking water and changing the towels and linens once a week. If you need the towels or linens changed more often please let them know.
其他注意事项
Villa las Brisas is home to 3 wonderful loving cats.
-Stryder is our old man (17 years old, from America), but still very spry. He is more like a person in a cat's body and prefers the company of humans to that of the other cats. At this point of his life… we give him whatever he wants! He likes ice cream, and may try to demand a lick of yours. If you feel like spoiling him, please do! He loves to be brushed too, especially under the chin!
-Lilly is little but she eats like no cat you've ever seen. That's why we also call her "Piglet". If you scratch her back she licks the air and might start to sing for you. Given the opportunity she will steal Stryder's food.
-Apollo, also called "Orange Guy", is a great cat. He is affectionate, and playful but also self-reliant. He loves to be rubbed on the neck and chest, and sometimes in the armpits. He is a little gentleman most of the time. He and Lilly are in love and often chase each other and play around the Villa and in the gardens.
They are all great cats, but they do get excitable at feeding time.
The staff will feed them twice a day, and take care of all the vet visits and any other needs they have.
If you want to feed or spoil them more, please do!
To stay in Villa las Brisas.... you must love cats.
---
---
- No smoking in the rooms.
- MUST BE KIND TO CATS
- Children must be respectful to cats at all times.
- Books and DVD's are for your enjoyment, but please do not take them with you.
---
We stayed in Las Brisas for 12 nights. Along with friends and family. The villa is beautiful, we had the feeling that we were in the middle of the nature. During breakfast a little monkey would come and visit. As long as you don't give him any foods he would keep his distance. A staff would come everyday in the afternoon to clean the pool and clean the rooms and feed the cats and renew the offerings. He's very helpful and friendly too. We took some boat tours with the co host, whose wife cooked breakfast for us. They sometimes took their son with them and my son would play with him. The driver also has a Warung nearby and he would cook unbelievably delicious foods and bring them to you. There are restaurants at the main road. It's very near to the villa. They're tasty and most of them have reasonable price. You can call them and ask for a pickup if you don't feel like walking. With a baby and a 5 yr old, we sometimes made use of this opportunity. The beach is right down the road. It's very quiet, mainly used by the locals who are in the boat/fishing business. Some stranded dogs roaming around, some don't look very healthy, but I was told that all of them have been vaccinated against rabies. They usually are harmless. To the white sand beach, which is the better beach with little restaurants and sun chairs, you can take the boat or hire a taxi. I would recommend a boat since the road is being renovated so that it is very rocky and a bit adventorous. The communication with Shelach had been very smooth. He answered promptly everytime I needed something, although he wasn't in Bali at the moment. We could always talk to the staff as well. We will certainly stay in Las Brisas again when we go to Candidasa again in the future.
---