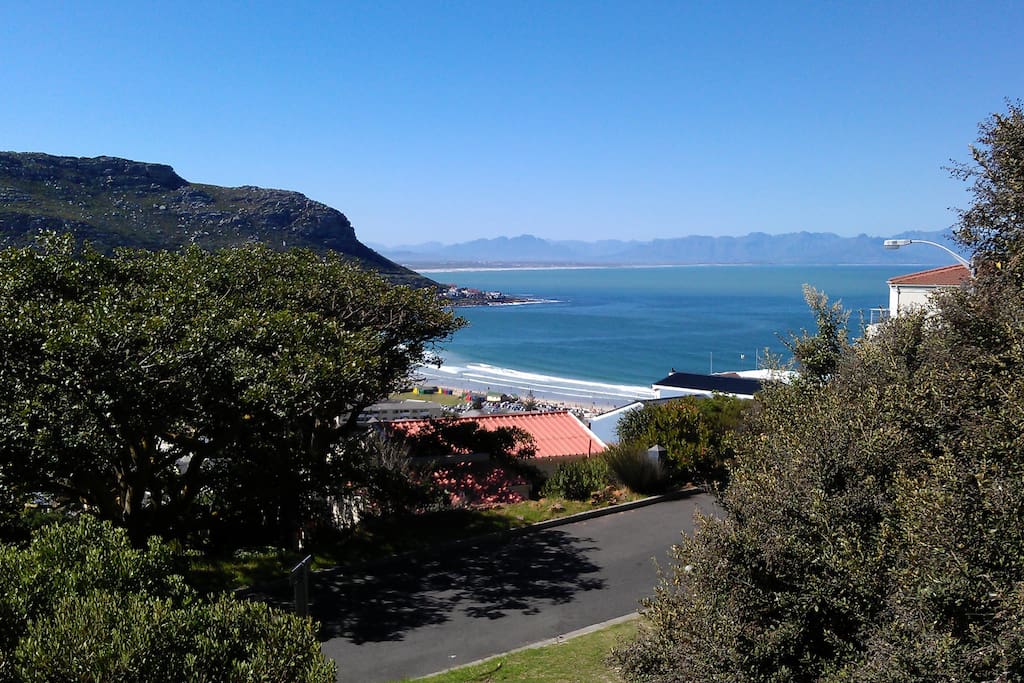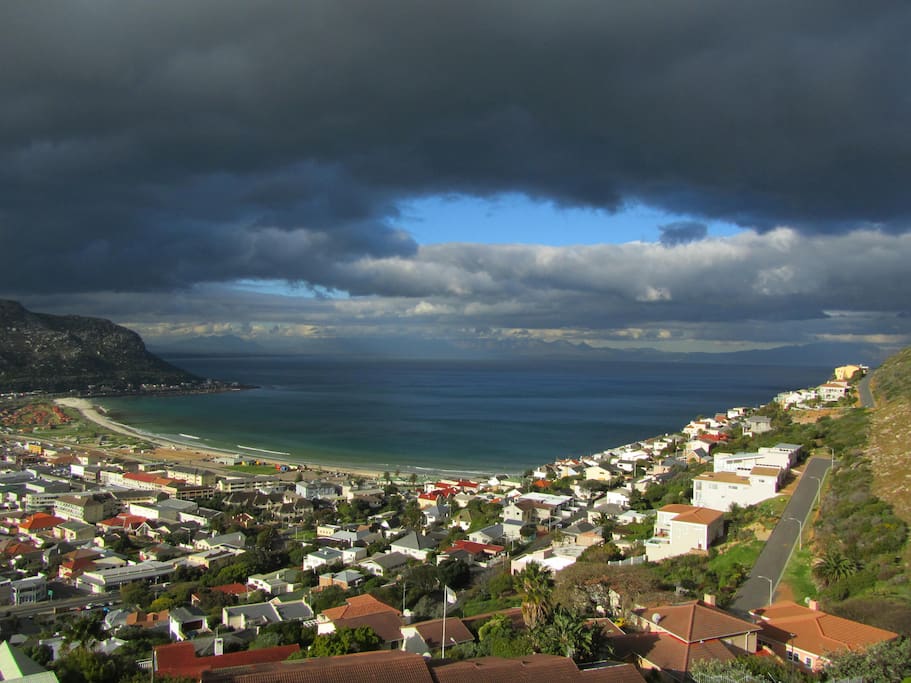 Spacious sunny, a north facing apartment with fabulous views over Fish Hoek Valley & beach. Conveniently situated at the top of the Ravine Steps, 'gateway' to the popular Elsie's Peak hiking trail above, and leading to Fish Hoek's wonderful beach below. Walking distance to the Main Road shops (5 minutes) Situated on a quiet cul de sac, with off-street parking & easy access. (The direct link to the Ravine Steps means that a car is not essential) Its large 'Lucky Bean' trees are a local land mark.
房源
This is a separate, spacious and well appointed apartment, above the occupied lower section of the home. It is a totally self contained flat, in a lovely 'green belt' setting. It has a nice kitchen, spacious lounge/dining area, with guest toilet. The main bedroom has a large ensuite bathroom and shower. An office / sun-room / second bedroom leads off the main bedroom, & has a single bed. The lounge also has a queen-size sofa bed.
A 7kg front-load washing machine is provided in a separate utility room. (This is in a courtyard downstairs, where there is also a fold-away drying line)
房客使用权限
Access is to the entire top floor apartment, and back garden. There is a separate entrance to the apartment making it private and self contained, but the house below is occupied by me.
其他注意事项
Although the apartment is all one level, and access from the parking area is level, there is a set of five brick steps midway between the road level and the apartment level.
---
To me the best AirBnb I've experienced. James is a wonderful host, paying lots of attention to your needs, and will go well out of his way to help if needed (i.e. my car battery went flat - he sorted it out). The attention he's paying to make your stay enjoyable is remarkable. So is the flat, its large and comfortable dimensions, all details being attended, not to mention a kitchen that a would-be chef like me could dream of. Nothing cheap there. I spent like an hour looking all over the place and couldn't bitch about anything. The location now: A magnificent view over Fish Hoek in front of you, and of the beautiful rocky mountains at the back. I don't mind at all being so enthusiastic about this AirBnb: I'll book it before you, since we come around every week-end. The 3 of us fell in love with the place. Thank you, James!
---
A friendly welcome from James, was the start to a lovely two days at Luck Bean Lodge. A spacious comfortable apartment well situated for relaxing beach views or local mountain walks. James showed me a nice walk which starts right behind the apartment into the nature reserve. I could only manage a short section of it, but it was lovely.
---
My son and his 2 friends (EMAIL HIDDEN)munication with James and check in was very smooth. We only booked the night before we checked in but it was not a problem. And at check out it was also smooth and since the flight back to Sweden was very late James allowed the boys to check out later. There was a fantastic view from the apartment over Fish hoek and the beach. Since it was winter the apartment was a little bit cold but there were extra blankets that could be used. James also offered my son and his friends to come in his car to Cape point but they had other plans. Fish hoek is very well located between Simons town and Kalkbay and Muizenberg and it is easy to get around with Uber so it is a very good option to stay at James. We wish James Good Luck with his new Airbnb.
Thank you Lars for your review, and concerned communication over the problems noted in my review. I was in the process of modifying it after your helpful and cooperative responses to my messages, but as I tried to save the changes, receiving your review may have unfortunately blocked my updated review, and I'm afraid I am no longer able to modify it. Just for the record, I have found Lars to be very concerned, cooperative and helpful over the problems expressed in my review. I am sorry that your son and his friends may have disappointed us all a little bit here...but they are young, and will learn as they go through life. I'm sure that future stays will be fine, and I would like to retract the statement that I made out of a perceived duty to warn other hosts. We were all young & foolish at some point in our lives and these young men will have learnt something from this. I do not want to harm Lars' reputation on Airbnb as he only made the booking on behalf of his son and friends, and it would be unfair to do this.
---