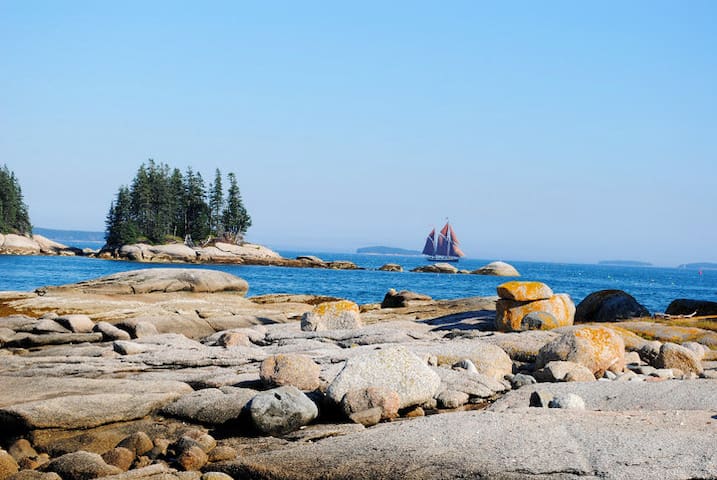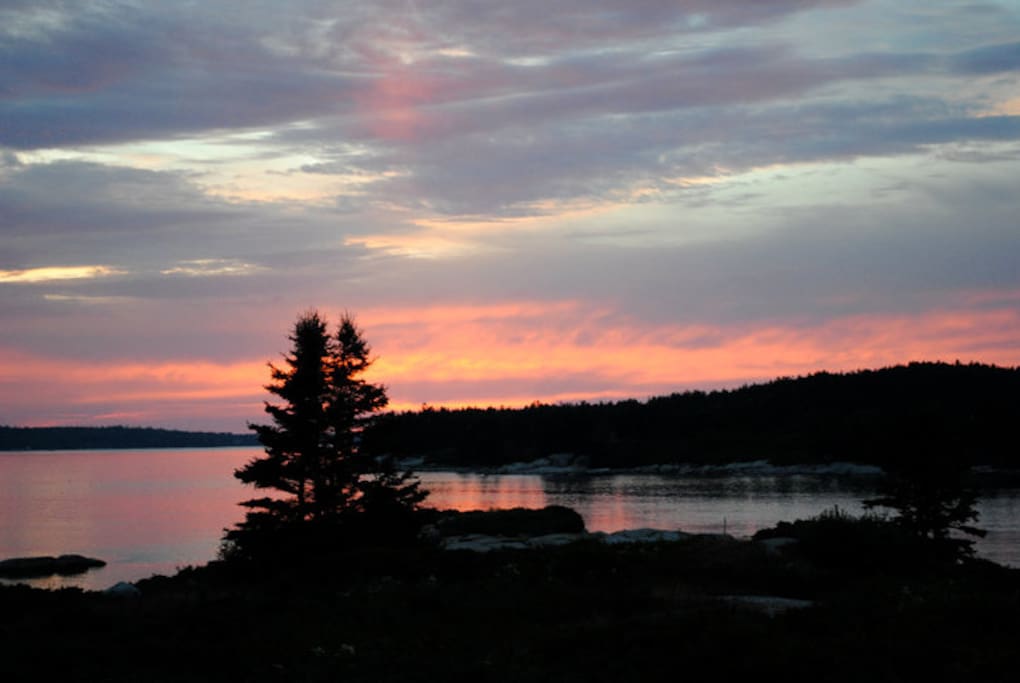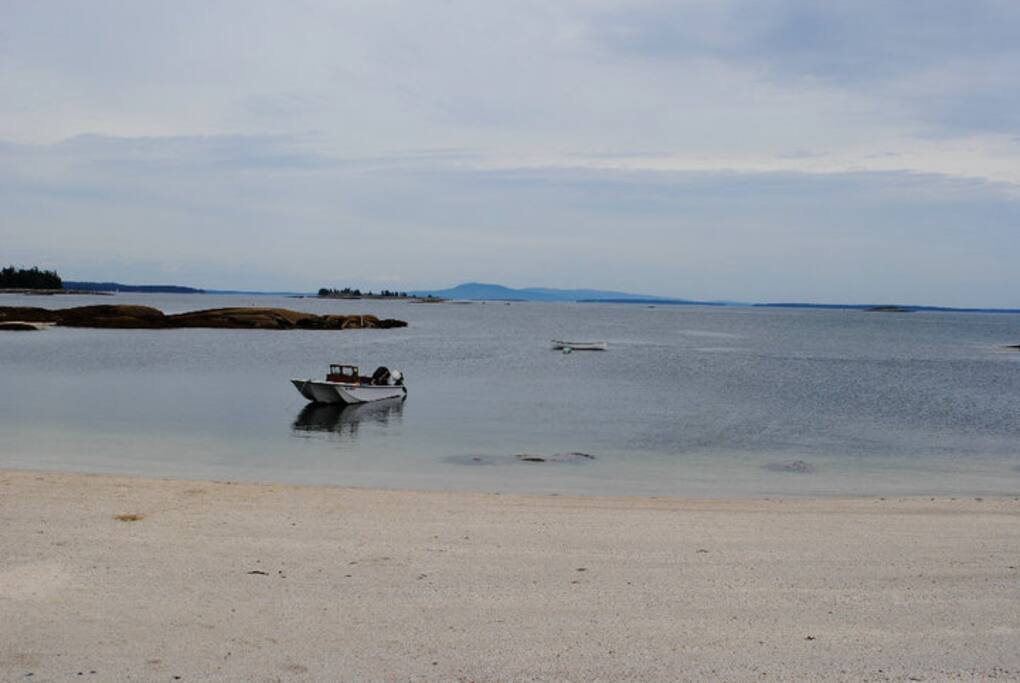 Private Island off of Deer Isle, Maine
Little Lazy Gut Island is just off the mainland of Sunshine, Deer Isle, Maine. Relaxing on the deck of the island cabin, yachts and fishing boats may be admired as they pass by. Enjoy exploring many inviting beaches, ledges and outcrops. The main sand beach makes a perfect landing for small crafts from high to low tide, and is excellent for all kinds of beach activities. Many other small islands are nearby to provide fun day trips. Enjoy a unique vacation with family and friends.
房源
The panoramic view is breathtaking from the wrap around deck and from inside the cabin. Think of this as luxury camping! The cabin floor plan is one large room about 24' X 24'. There is a roomy kitchen with a propane stove including cook top and oven and a propane refrigerator that has a small freezer. There is no electricity, so there are plenty of portable kerosene lamps, two fixed gas lamps and flash lights. We also suggest you bring your own headlamp for convenience. The living and dining area include plenty of seating, a Franklin stove fireplace, a queen-size bed and a separate bathroom with a vented peat moss toilet. A sleeping loft is a favorite with the kids and includes a double mattress. Additional air mattresses and linens are available for extra guests. Two large wooden tent platforms also provide getaways for tenting; or as little decks with views of their own.
A sun shower is available to use outdoors.
Take a short walk down from the cabin on a grass path to the fire pit. There is a picnic table to use for cookouts. This is great place to have fresh cooked Maine lobster or clams that you can dig yourself on the island beaches at low tide or to enjoy s'mores after dinner. Plenty of outdoor chairs are available to take to the beach or set up on the deck of the house.
房客使用权限
The sand beach makes a perfect landing for small craft from high to low tide, not to mention it is excellent for all kinds of beach activity. An out haul system is maintained for a row boat, and a mooring waits in the harbor for a larger craft. A short walk up the grassy path and you arrive at the cabin. There is a cart available to haul your gear from the beach to the cabin.
与房客的互动
We are always available by phone to help if needed. If the guest does not have a boat we recommend using boat transportation through Old Quarry Ocean Adventures in Stonington. They provide mainland parking and boat taxi service to and from the islands. The rate is $179.38 per hour for up to 6 people, $205.00 per hour for more than 6 people, $102.50 per hour for gear only. Total cost will include the time to load, unload, and travel time to and from the island. Total will be calculated at the end of the return trip when payment will be due.
其他注意事项
Spend your days boating and exploring the waters from the Brooklin peninsula to Isle au Haut, or explore your own island, digging clams, swimming in the cold water or visiting, reading on the deck, doing watercolors, taking photos, watching birds, seals and sometimes wild mink. Imagine your lobster cookout down by the fire pit and picnic table overlooking Blue Hill Bay and Mount Desert Island; everything tastes better on an island. Gather around to tell stories, wonder at the starlit sky, listen to the waves on the shore, smell the salt air, feel the breeze on your cheek and the grass between your toes. This place brings out your poetic side.
Available by the week at $1600 for standard occupancy of up to 4 people. $40.00 additional per day per person after 4 guests. No pets please. Repeat customers receive $100 discount.
---
---
There is a list called "Systems Orientation" which describes how to work the systems of the kitchen appliances, the toilet, the out-haul for boats, the gas lamps etc. These include some rules and we can provide this before there is a booking.
---
---
---
---
An extraordinary getaway for anyone in love with the seas around Deer Isle, ME. The natural beauty of the location is breathtaking.. The shell beaches so light-colored that some of the pockets of bay look tropical turquoise, and the scrub fields and round quartzite-like rock ledges are interspersed with masses of wild rose that attract thrushes and monarchs. You have to be willing to live by daylight and weather, and be frugal with your resources (I love to cook and though I was conscientious with water I did use up the kitchen rain-barrel's supply by the end of the sixth day without rain). The downstairs mattress is not the most comfortable, and some later sleepers will wish for window-shade or eyeshades, but we were roused early every morning by the diesel engines of lobster boats tending the literal hundreds of lobster pots in the bays outside! and preferred to follow the sun to bed at night, which made perfect sense there. Showers are fleeting affairs from the outdoor camp-shower bag you fill and heat in the sun. But never was camping so spectacular, and the lovely cabin makes for high-class glamping, with gas and oil lamps, and gas stove and fridge. A couple can fill the composting toilet bucket every three days, so you have to be prepared to haul it to the designated pit and clean it out with seawater, but I was wildly impressed with the odor absorbency of peat moss-- and convinced what a sensible system it makes. We brought a small (just larger than pocket-sized) portable folding solar pack that kept two smartphones charged even on a foggy day (of which we had two or three), and I was consistently able to pull in two bars of signal from AT&T. We love the sea, and rowed around adjacent islands every day in the pea-pod, and considered the whole week to be a sort of 7th heaven. Michele and Paul were responsive when we needed to ask a question (though we never met either in person), and the guys from Old Quarry Ocean Adventures (who got us out to the island) were indispensably efficient. We can't rave enough. If you are a marine nature-lover and/or artist-photographer type, you'll thrive--and never forget it.
---