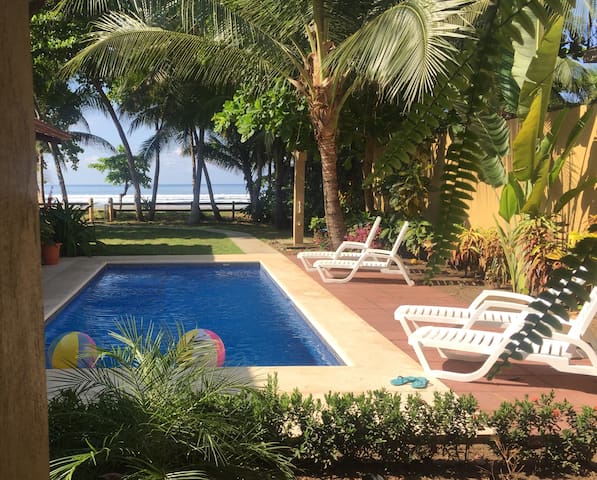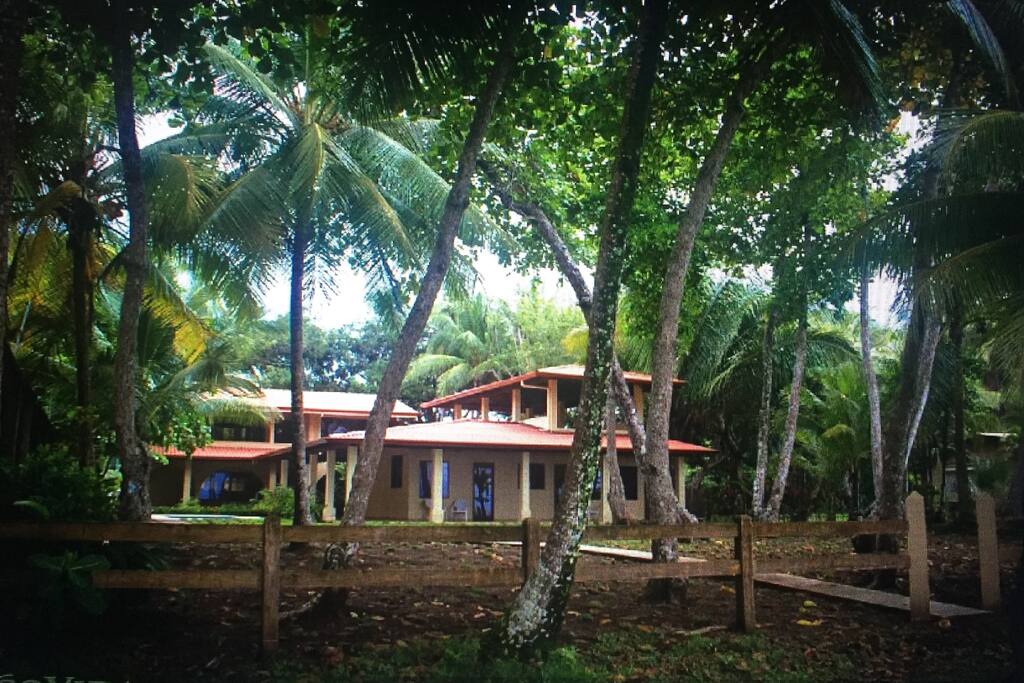 Beachfront Sand Unit - Casa Bejuco Ay Bonita
Beachfront Sand Unit - Casa Bejuco Ay Bonita
Casa Bejuco Ay Bonita - a beautiful Costa Rican beach front retreat! Right on the beach!
Beachfront retreat with beautiful pool! Friendly full time on-site caretakers from USA to help make your stay enjoyable. Fenced and gated for security.
Located about halfway between Jaco and Manuel Antonio.
The Sand Unit has one bedroom (queen bed) with bathroom and fully equipped kitchen . . . and a beautiful covered porch with hammock looking out to a blue flag beach!
---
Today, I am filled with sadness. As they say, "All good things must come to an end." Alas, I am back home and I have to go to work tomorrow. But yesterday, I woke up to hear Macaws in the backyard. I made coffee then sat on the porch with my girlfriend listening to the ocean waves, the Macaws flying around, the sloths sleeping in the trees and all of that nature has to offer; right at my back door. It was amazing. The first thing I will tell you is that the pictures on the Airbnb listing don't tell the whole story. Not only are you right on the beach, but there are coconut trees and almond trees that attract the local wildlife such as sloths and Macaws. We used to take annual trips to the beaches of Florida and one of the issues we always had to deal with was the hordes of people on the beach - Not in Bejuco. I counted maybe 80 people from horizon to horizon. It was awesome! We rented a car and went on day trips to see the local surroundings. I had some loose plans of where we would go when we arrived, but the hosts were able to steer us to places that were so much better. Casa Bejuco Ay Bonita is located in between two national parks and there are so many other things to do and see. On the recommendation of our host, we went to the Green Room in Jaco and had one of the best meals that I have had in a long time. There are many good places to eat nearby and there is a market just up the road from the casa. There is a Belgian French restaurant just down from the market that was really good and if you want, you can pick up an outstanding breakfast to-go at Soda La Fuente also in the same center as the market. I don't want to forget to mention that there are multiple hammocks around the porch outside. My girlfriend spent plenty of time laying in the hammock, while I brought her drinks. Something that I was happy about is that the bedrooms have air conditioning. Many people assume that air conditioning is just a given, but as someone who has traveled rather extensively in the world, I recognize a good thing when I see it. To summarize, my girlfriend and I are already discussing going back to Bejuco next year and staying at Casa Bejuco Ay Bonita. Of the many vacations that I have been on, this one tops all of them.
---
Rod and Diana are not only great hosts and always available, helpful and proactive in order for our visit became a great travelling experience, they went beyond all expectations when we ended up between 2 rivers and there was no possible way to came back, they found the way moving everything they could, talking with locals and driving to where we were rescuing us and let us be safe and sound. Thank you guys!
---