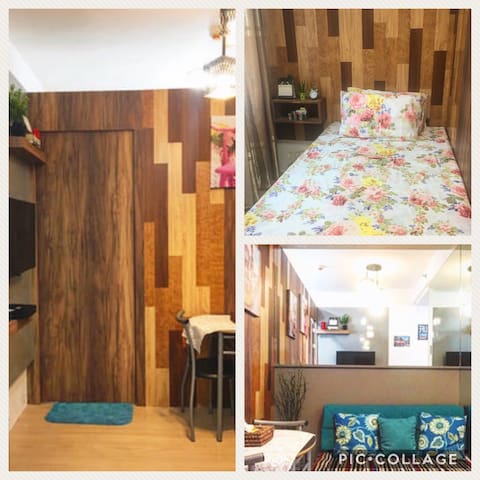 单位面积仅20平方米,可容纳2-3名成人入住。空间最大化,提供了舒适的所有基本需求。尽管空间有限,但我们创造了一个特别为夫妇设计的具有隐私设计的房间。这使得该单位非常适合带孩子的客人入住。儿童可以使用沙发床。安装了两个调色灯。还有一个COB LED灯安装在墙上,用于戏剧性的电影/电视晚上或在上网的同时。这个地方非常安静,完美的放松。
The unit is only 20 sqm and can fit 2-3 adult guests. The space is maximized and all basic needs for comfort are provided. Despite the limited space, we created a room with door for privacy designed especially for couples. This makes the unit perfect for guests with children. Children may use the sofa bed. Two toned lights is installed. There is also a COB LED light installed on the wall for a dramatic movie/TV night or while surfing the internet. The place is very quiet perfect for relaxation.
---
---
---
1. No Smoking and Drinking.
2. No party. This is a quiet place and there are neighbors. We need to respect each other's privacy.
3. Please turn off air conditioner when leaving the room.
4. Make sure to turn off water faucets.
5. I don't charge security fee. I request guests to take care of the things inside the unit especially the kitchen utensils. Don't break anything, and if you do, be honest to pay it.
6. Guests are requested to be responsible occupants. Don't leave the appliances turned on even if not in use. Very important to take note of not leaving any plastic containers on top of the stove especially when the stove top is hot, for safety reasons.
7. Guests are requested to not make so much mess for the benefit of the next occupants.
8. Take note:
3:00 pm check-in.
1:00 pm check-out.
---
---
---
---