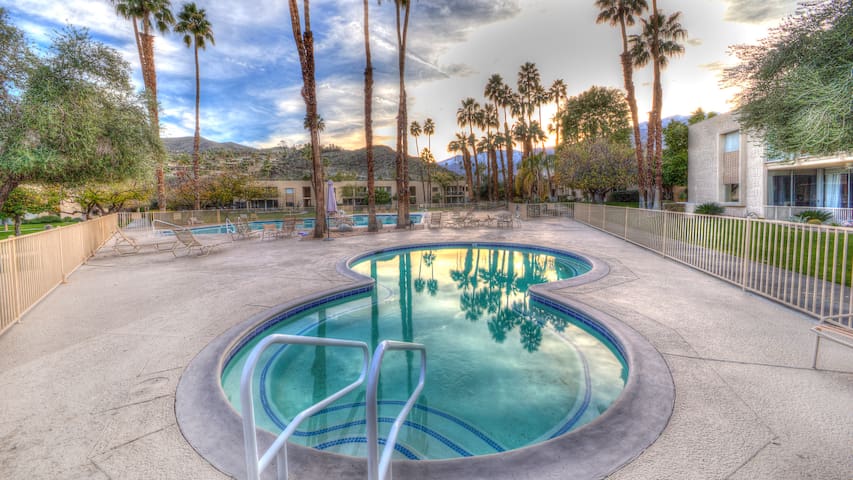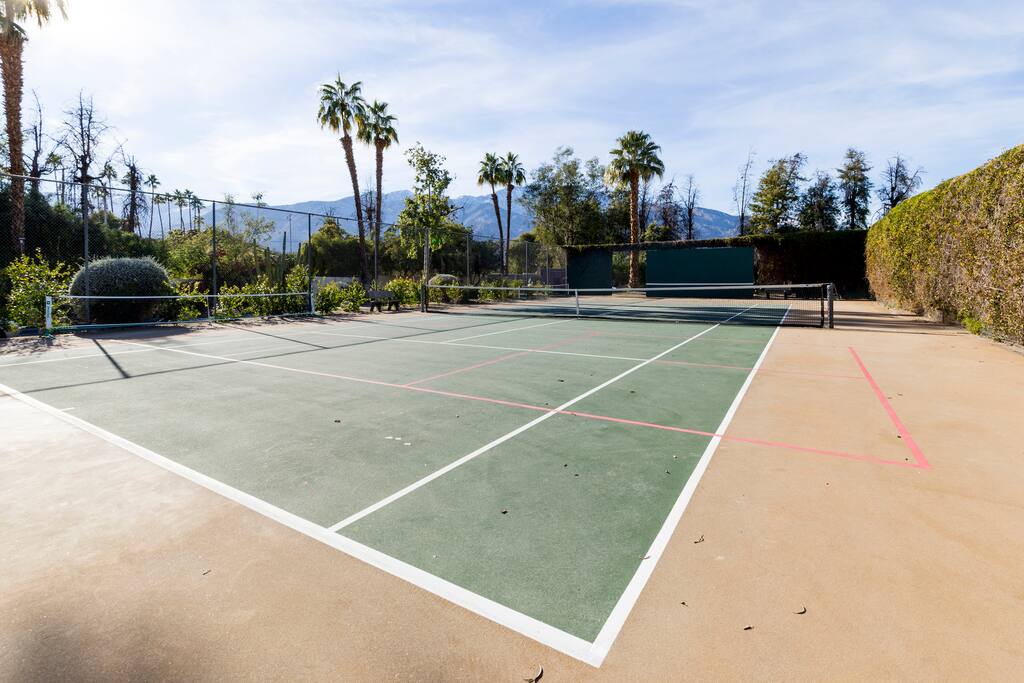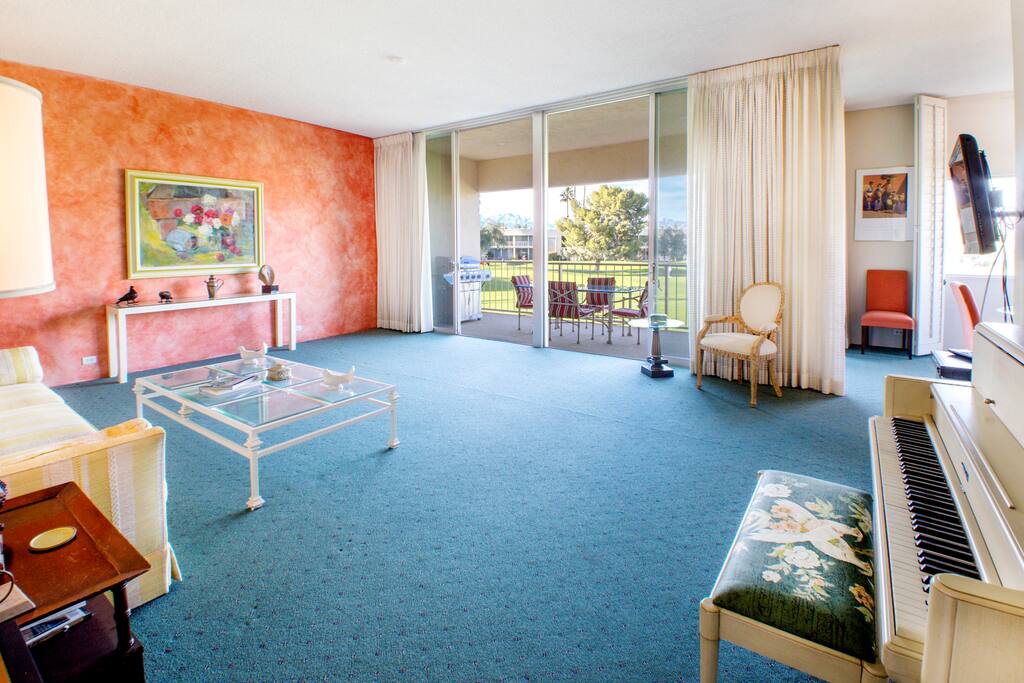 The Desert Lake House | An Air Concierge Property
TOT #3135
Just Listed April 2017!
Relax at this 3 bed & 3 bath old Palm Springs flavored condo now available at Lakes Country Club in Palm Springs. While the unit itself is average, the surrounding amenities on site are very very high end; Golf, tennis, 15 pools and spas with one located right out front. 10 foot ceilings with glass sliders for the big open feeling.
---
---
---
---
Any fines, citations or penalties imposed against us for actions triggering a violation of the City of Palm Springs will be deducted from the security deposit. Such examples can be found in our House Rules.
You will be asked to agree in writing to these new (April 2017) City of Palm Springs rules before being provided House Information.
There is no outside amplified noise (i.e., music) allowed at any Short Term Vacation Rental property while being rented. It must be fully contained within the property at all times.
Parking - Total vehicle allowed is based on number of bedrooms at a vacation rental property. See the chart below.
Occupancy and parking limits are based on the number of bedrooms at property. See the chart below.
Signing the City of Palm Springs Vacation Rental Statement of Rules and Regulations
No smoking
No parties or events
Check-in time is 4PM - 10PM.
Pets allowed (dogs, by written approval only and with a $250 pet fee and $250 pet deposit).
PALM SPRINGS NEW OCCUPANCY AND PARKING LIMITS, EFFECTIVE IMMEDIATELY
The city of Palm Springs has updated their website with many links to help you understand the changes. ONLY 2 CARS ALLOWeD.
All guests agree to the below rules and thus confirm an electronic signature and acceptance by confirming a reservation.
AIR CONCIERGE INC. VACATION SHORT TERM RENTAL AGREEMENT This Short Term Rental Agree Agreement is between AIR CONCIERGE INC. (herein referred to as "Manager" or "Property Manager") and you as Guest of the date set forth on the reservation details confirmation. For good and valuable consideration, the sufficiency of which is acknowledged, the parties hereby agree as follows:
1. Property. The property is located at the listed address on the reservation details confirmation page received by Guest known as a "House Packet" and may not be reflected correctly in the Airbnb website for privacy and confidentiality purposes. The property is fully furnished and includes all typical furniture, fixtures and equipment such as but not limited to furniture, stove, refrigerator, dishwasher, clothes washer and dryer, television with basic cable, internet, towels, bed linens, and cleaning supplies and equipment (broom and vacuum). Manager however states that it is not in breach of this agreement if any of these items shall not be present nor in good working condition at the time of the reservation but will use best efforts to ensure the home is as described and as photographed.
2. Rental Party: The rental party shall consist of the following persons either named or accounted for in number, in the reservation details confirmation page received by each.
3. Maximum Occupancy: The maximum number of guests is limited to the number of persons listed on the details page. Any additional persons determined to be on the property shall result in either a cancellation of this Agreement and/or an additional charge as determined by Manager.
4. Term of the lease. The lease shall commence and end as follows: begins at 4:00 pm on the start date as noted in the reservation details confirmation page and ends at 11:00 am on confirmation page. due to the rental activity at this property we respectfully request these times be honored as it gives the cleaning crew ample time to turn the property over and replenish all necessary items including linens, towels and other entries. early check in or late checkout may not be accommodated unless manager has given express written consent. a fee may apply in such instances prior to acceptance by manager of an early check in or late checkout and such fee must be received by manager before such accommodation is granted.
5. Maximum Stay: This property requires a maximum stay of 28 days. Any additional dates beyond those agreed to are a direct breach of this Agreement and shall result in additional charges including a charge per night of four times (4) the originally agreed upon nightly rate.
6. Rental Rules: Guest agrees to abide by the Rental Rules attached as Exhibit A at all times while at the property and shall cause all members of the rental party and anyone else Guest permits on the property to abide by the following rules at all times while at the property.
7. Access: Guest shall allow Property Manager or Agent access to the property for purposes of repair and inspection. Property Manager or Agent shall exercise this right of access in a reasonable manner.
8. SMOKING: A $1000 fine will be charged to Renter if there is any evidence of smoking inside or outside of the property within a 20' radius of the property.
9. PETS: A $1000 fine will be charged to Renter if there is any evidence of any pet inside the property unless Manager has given express written consent and a pet fee and pet deposit has been paid by Renter.
10. EVENTS, GATHERINGS, PARTIES. No events, special occasion hostings including but not limited to weddings, corporate functions, bridal parties or related events shall be permitted on the property for any reason. a violation of this clause shall immediately cause the property manager to terminate the rental agreement and renter to immediately vacate the premises. Manager shall impose a fee of up to $5000 for any violation of this provision unless express written consent has been provided by manager to renter.
11. Pool Heating and Utilities: For homes that offer a pool we may require an additional daily pool heating fee should you elect to have that service.
12. LIABILITY: The house is privately owned; the PROPERTY MANAGER is not responsible for any accidents, injuries or illness that occurs while on the premises or its facilities. The PROPERTY MANAGER is not responsible for the loss of personal belongings or valuables of the guest. By accepting this reservation, it is agreed that all guests are expressly assuming the risk of any harm arising from their use of the premises or others whom they invite to use the premise.
13. TOT Tax: In the event the listing website from which this home was booked does not charge a TOT (transient occupancy tax) then we reserve the right to charge such a fee prior to Guest taking possession of the home.
14. APPLIANCES: Only use appliances for their intended uses.
15. Parking. Vehicles are to be parked in the driveway or street. Any illegally parked cars are subject to fines; applicable fines/towing fees are the sole responsibility of the vehicle PROPERTY MANAGER.
16. KEYS AND ADDENDUMS: renter will be provided 1-2 house keys that will be on the property and accessible via secure code. renter must return key to this lock box upon departure. any lost or missing keys will result in a lock replacement and key replacement fee of $300.
17. ADDITIONAL TERMS AND CONDITIONS. In addition to the terms and conditions herein, Manager also has stated terms and conditions on its website at (URL HIDDEN) in section: "Air Concierge - Host Services Agreement for only when hosts & guests book a property through (URL HIDDEN) (URL HIDDEN) (or similarly titled sites owned and controlled by Company) subsection: "AIR CONCIERGE - GUEST RULES AND SERVICES AGREEMENT."
18. UTILITIES: Please be considerate when using equipment that draws a lot of gas or electricity, such as air conditioner and pool heater.
19. RULES AND REGULATIONS: Occupant agrees to comply with any and all rules and regulations that are at any time posted on the Premises, contained in or attached to the Agreement, or otherwise delivered to Occupant. Occupant is responsible for ensuring that all occupants and guests comply with the same. Additional rules and regulations may apply if the Premises is located in a condominium complex or subject to a community association.
20. NO ASSIGNMENT OR SUBLETTING: Occupant shall not assign any interest in the Agreement or subrent any part of the Premises. Any attempted assignment or subrental shall be void and ineffective and shall result in termination of the Agreement and occupancy of the Premises. In the event of such termination, AIR CONCIERGE shall be entitled to retain all sums paid by Occupant.
21. UNAVAILABILITY OR RELOCATION: If for any reason beyond the reasonable control of AIR CONCIERGE or their representatives, the Premises are unavailable, AIR CONCIERGE may cancel the Agreement. In this event, a full refund will be made immediately to Occupant, of all payments made. Until check-in, AIR CONCIERGE reserves full discretion to assign Occupant to a different vacation rental property. Reasonable effort will be made to substitute a property of equal or greater size and quality.
22. PERSONAL PROPERTY AND INJURY: All of the units are privately owned; the owners are not responsible for any accidents, injuries or illness that occurs while on the premises or its facilities. The Homeowners are not responsible for the loss of personal belongings or valuables of the guest. By accepting this reservation, it is agreed that all guests are expressly assuming the risk of any harm arising from their use of the premises or others whom they invite to use the premise. A. INSURANCE: Occupant's or guests' personal property, including vehicles are not insured by AIR CONCIERGE, home owners, home owner's association, or AIR CONCIERGE's agents, against loss or damage due to fire, theft, vandalism, rain, water, criminal or negligent acts of others or any other cause. AIR CONCIERGE, home owners, home owner's association, or AIR CONCIERGE's agents, does not insure against personal injury to Occupant, occupants, guests, or licensees, due to any cause or reason. B. INDEMNITY AND HOLD HARMLESS: Occupant, for himself/herself, his/her heirs, assignors, executors and administrators, fully releases and discharges AIR CONCIERGE and Owner and agrees to indemnify, defend and hold harmless, AIR CONCIERGE, AIR CONCIERGE's Representatives and the home owner, from all claims, disputes, litigation, judgments, costs and attorney fees resulting from loss, damage, theft or injury to Occupant, other occupants, guests or licensees, or their personal property, arising out of or in connection with Occupant's use and occupancy of the Premises, which is made, incurred or sustained by Occupant, other occupants, guests or licensees.
23. JOINT AND INDIVIDUAL OBLIGATIONS: If there is more than one occupant over the age of 18, each one shall be responsible for the performance of all obligations under the Agreement, jointly and individually with every other occupant.
24. AMERICANS WITH DISABILITIES ACT: Due to building codes applicable to residential homes not requiring full handicap accessibility, AIR CONCIERGE vacation rental homes ARE NOT ADA compliant. Please call us with any questions on accessibility. Please ask for the owner or general manager, not reservation staff.
25. VISIBLE HAZARDS: A. POOL AND SPA USE: The undersigned Occupant, on behalf of Occupant and all other occupants and guests during the Term, acknowledge renting a home that includes a swimming pool and/or water spa. Occupant further acknowledges that they have INTENTIONALLY ELECTED to rent that home that includes the POOL AND SPA AMENITIES. If a pool and spa are not desired at the home you are renting please stop here and cancel your reservation. OCCUPANT(S) ACKNOWLEDGE THAT POOL AND SPA AMENITIES CARRY INCREASED RISK FOR POTENTIAL PERSONAL INJURY AND/OR DEATH DUE TO, BUT NOT LIMITED TO, THE FOLLOWING:
1. The inherent risk of drowning associated with immersion in water.
2. The inherent risk of falling injury/subsequent drowning associated with hard surfaces surrounding the pool and spa which may become slick because of water on those surfaces, a risk particularly enhanced by horseplay and careless behavior. UNSUPERVISED CHILDREN are particularly susceptible to the dangers inherent in the use of the pool and spa amenities. DO NOT leave children unsupervised.
3. The inherent risk of drowning is enhanced by the USE OF ALCOHOL, and such use is not recommended before or during the use of the pool and spa amenities. The effects of alcohol may be enhanced by dehydration and desert heat.
4. The spa may be set higher than 98 degrees, and prolonged immersion in such temperatures can result in overheating of the body and subsequent medical complications, including death.
5. Spa heat can also result in unintentional loss of consciousness or falling asleep, which can result in drowning/death. This danger is accentuated by the use of alcohol. Occupant(s) acknowledge that AIR CONCIERGE provides NO SUPERVISION or other protection against the inherent risks associated with pool and spa use, whether by Occupant, their children or their guests, and Occupant accepts full responsibility for the increased level of care and potential injury associated with these amenities. Occupant further acknowledges that DIVING IS PROHIBITED in either the pool or the spa, because neither is of sufficient depth or design to accommodate diving. Diving will likely result in INJURY or DEATH.
B. FLOORS: Please take care to mop up any spills or standing water accidentally tracked indoors from the pool area. Like all solid surfaces, indoor and outdoor FLOORS CAN become slick and present a falling hazard if water is spilled or dripped on them. Additionally, the pool water may contain salts and chemicals, which if left standing on house floors and, can stain and etch the floor.
C. GLASSWARE: A full set of plastic glassware is provided for your enjoyment, please USE PLASTIC GLASSWARE ONLY when in the pool or spa or the immediate surrounding area. If broken glass accidentally enters the pool or spa, please notify AIR CONCIERGE immediately for your safety and the safety of future Occupants.
D. OUTDOOR GRILL: If an outdoor grill is provided for your enjoyment, please remember to turn it off when you are finished preparing food. Failure to do so will result in excessive gas consumption and a potential fire hazard. 26. CRIMINAL ACTIVITY: All criminal activity, including but not limited to the possession or use of illegal drugs at the home is strictly prohibited, and such criminal activity shall cause occupancy to be terminated. In case of such termination, without limiting any other right or remedy, AIR CONCIERGE shall retain such sums as have been paid by Occupant without waiver of any right or remedy in favor of AIR CONCIERGE or owner of the Premises.
27. NOISE ORDINANCE & NEIGHBOR RULES: There are special rules for vacation rentals set forth by the City of Palm Springs. A copy of the "Rules for Vacation Rentals" is displayed in the property's house manual. Occupant can also access the ordinance list by visiting Palm Springs (EMAIL HIDDEN) under "Rules for Vacation Rentals". A copy of the City's "Good Neighbor Brochure for Vacation Rentals" is attached to this document. Any violation of these ordinances, and all noise ordinances, rules, and regulations in the City code, may cause Occupant to be responsible for any additional fees incurred by AIR CONCIERGE or the owner of the Premises, as well as fees or fines payable to the City of Palm Springs. The Occupant agrees to these terms on behalf of all occupants and guests, and shall be responsible for fees, fines or damages caused by other occupants and guests. Noise violations include no outdoor powered speakers are allowed.

By confirming this reservation, Occupant represents that he/she has read and understands the City of Palm Springs "Rules for Vacation Rentals" and the " Good Neighbor Brochure for Vacation Rentals" and accept legal responsibility for compliance of all occupants of the Premises during the course of the Term.
28.ATTORNEY FEES: In any action or proceeding arising out of the Agreement, including but not limited to any action for recovery of possession of the Premises or for property loss or damage, the prevailing party shall be entitled to their reasonable attorney fees and costs.
29.LIMITATION OF LIABILITY: In the event of any claim for damages against AIR CONCIERGE for any reason, whether based on breach of contract or tort, any recovery shall be limited to reimbursement of all sums actually paid by Occupant to AIR CONCIERGE. Under no circumstances shall AIR CONCIERGE be liable for and Occupant hereby waives any claim for consequential, punitive and/or exemplary damages. AIR CONCIERGE shall not be liable for events beyond their control that may interfere with Occupant's occupancy, including but not limited to Acts of God, acts of governmental agencies, fire, strikes, war, or inclement weather. NO REFUND will be offered in these circumstances.
30. VIOLATION OF AGREEMENT: If Occupant violates any of the conditions of the Agreement, AIR CONCIERGE may terminate the occupancy and enter Premises. Upon notice of termination of Occupancy, Occupant and all other persons shall vacate the Premises immediately and forfeit all rents, prepaid fees and charges, and security deposits.
31. MISCELLANEOUS: Time is of the essence in all provisions of the Agreement. All prior agreements between AIR CONCIERGE and Occupant with respect to this reservation (and not any prior reservations or stays) are incorporated into the Agreement, along with any addendums and attachments, which constitutes the entire contract. It is intended as a final expression of the parties' agreement, and may not be contradicted by evidence of any prior agreement or contemporaneous oral agreement. Any provision of the Agreement that is held to be invalid shall not affect the validity or enforceability of any other provision in the Agreement. The waiver of any breach shall not be construed as a continuing waiver of the same or any subsequent breach. The Agreement shall be governed and construed in accordance with the laws of the State of California. The Agreement is deemed to have been entered into in San Diego, California, and California shall have personal jurisdiction over the parties and the county in which the premise is located. The San Diego Branch of the Superior Court of San Diego County, California, shall be the forum and venue for any legal action brought in relation to the Agreement.

32. LIQUIDATED DAMAGES: OCCUPANT ACKNOWLEDGES AND AGREES THAT CERTAIN CHARGES DESCRIBED HEREIN ARE A REASONABLE ESTIMATE OF AIR CONCIERGE'S DAMAGES IN THE EVENT OF VIOLATIONS OR DEFAULT IN SUCH PROVISIONS OF THE AGREEMENT BY OCCUPANT. THE PAYMENT OF SUCH AMOUNTS AS LIQUIDATED DAMAGES IS NOT INTENDED AS A FORFEITURE OR PENALTY WITHIN THE MEANING OF CALIFORNIA CIVIL CODE §3275 OR §3369 BUT IS INTENDED TO CONSTITUTE LIQUIDATED DAMAGES TO AIR CONCIERGE UNDER CALIFORNIA CIVIL CODE §§(PHONE NUMBER HIDDEN), AND 1677. NOTHING IN THE AGREEMENT WILL, HOWEVER, BE DEEMED TO LIMIT OCCUPANT'S LIABILITY TO AIR CONCIERGE FOR DAMAGES OR INJUNCTIVE RELIEF FOR BREACH OF OCCUPANT'S INDEMNITY OBLIGATIONS UNDER THE AGREEMENT, FOR ATTORNEYS' FEES AND COSTS AS PROVIDED IN THE AGREEMENT, CLAIMS MADE AGAINST AIR CONCIERGE BY THIRD PERSONS WHERE THE CLAIMS ARE A RESULT OF A DEFAULT BY OCCUPANT UNDER THE TERMS OF THE AGREEMENT.  
---
严格
旅程开始前的7天之前取消预订可以获得50%的退款。如果在旅程开始前7天内取消预订,该预订将不可退款。
---
---
此房源没有收到任何评价。如果您选择入住此房源,您的评价将出现在这里。