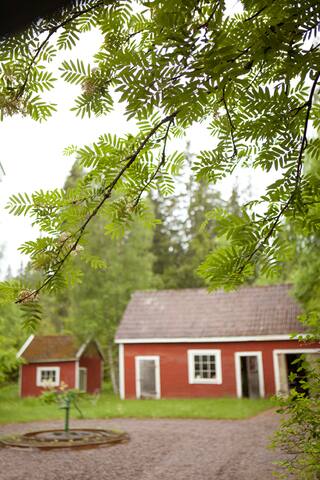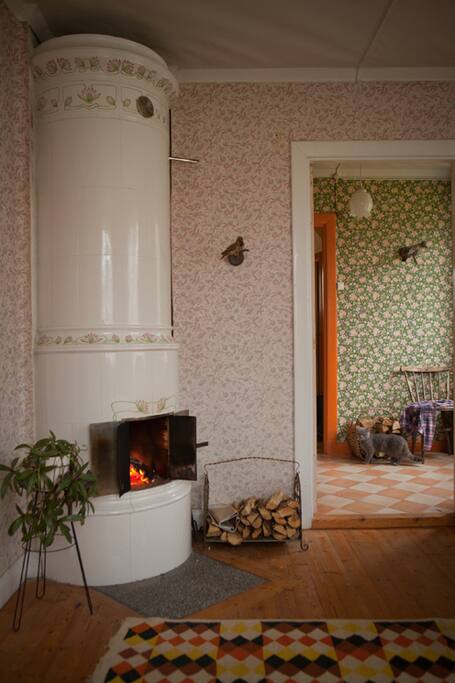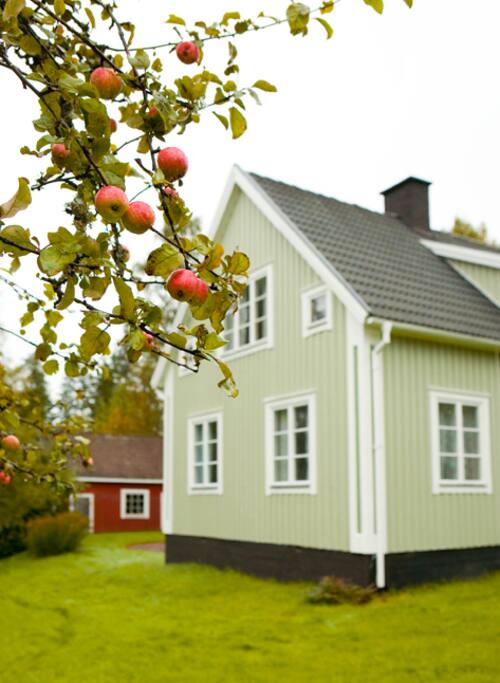 Comfortable 1930s wooden cottage/house and outbuildings. Old touch but with facilities such as electricity, running water, kitchen and a bathroom with shower.
Enjoy Småland, the land of the thousand lakes in a unique and beautiful setting.
---
We had a wonderful visit at Elisabeth's place. It was so nice to go 'off grid' for a few days... So relaxing and the house is really special. Our young girls had the best time playing in the garden and in the lottle play cabin. The surrounding area is beautiful with gorgeous woodland for walks and some lovely picturesque lakes near-by. Also great for antiquing in the general area! Thanks for a special holiday!!
---
We had a lovely time at Elisabeth´s cabin. The house is very special, with all it´s original features, and beautiful 1930s wallpaper! Elisabeth has decorated it in a cosy and unique way and we felt really at home. We loved hanging out by the fire and some great walks in the near by forest. Perfect Autumn weekend! Elisabeth was very easy to comunucate with and left lots of great tips for us. Thank you Elisabeth!
---
Dear Elisabeth, during our holidays your house became a true home for us - your house is a gem! We wish you and your family all our very best and would like to come back. Thank you for sharing your lovely house with us, Vendulka, Arnold, Helen & Leona
---
We had a fantastic time at Elisabeth's summerhouse. The listing was exactly as described. Each room is unique and cosy and the house itself is super clean and tidy. The peace and quiet. The birch trees. Oh and the woodburner. Wonderful! Our 2 children loved their room and even asked us to put up the same wallpaper in their own room when we got home. Elisabeth was very welcoming, in her communication she left very clear and detailed instructions on how everything worked in the house, places to visit and handy tips on the local amenities. We loved visiting the lakes and walking through the surrounding forest. We would definitely like to come back next year to do more exploring. Thank you for a wonderful stay!
---
We stayed at Elisabeth's house for 2 nights - 2 adults and 2 children. This is such a unique and beautiful house, as shown in the photos, and much much more. Every room and corner in the house and outside it as well, have such a character, with lots of attention to details. So much to see, we felt that just being in this house is an experience of its own. Beside all that, the house is really comfortable, and has everything you need. All communication with Elisabeth went great, she responded warmly and real quickly and answered all my questions. She also leave a guide in the house (and what a lovely guide it is!) with Detailed instructions for how to use everything in the house, as well as lots of recommendations and tips about the surrounding area. The house was super clean, the beds were really comfortable and the sheets and linen where the most beautiful I've ever seen, and smelled wonderful as well (: Highly recommended house. I really hope to be back there soon, and this time for a longer visit (:
---
This summerhouse was indeed unique - original 1930s wallpaper and stoves in every room, beautiful birch and pine forests surrounding... So much character - it's just like the photos - but even better! Plus, there was everything we needed to cook, clean and play. Elisabeth was very welcoming, leaving clear instructions about how the house works, and helpful tips about the best swimming lakes, towns and antique shops to visit. My hand luggage was very heavy on the flight home ;) We had such a lovely time - can't wait to visit Smaland again!
---
Independent cross-disciplined designer/artist who works within design, photography and art. I live and travel with my family – husband Dennis, son and daughter, 13 and 16 years old.
语言:
English、Svenska