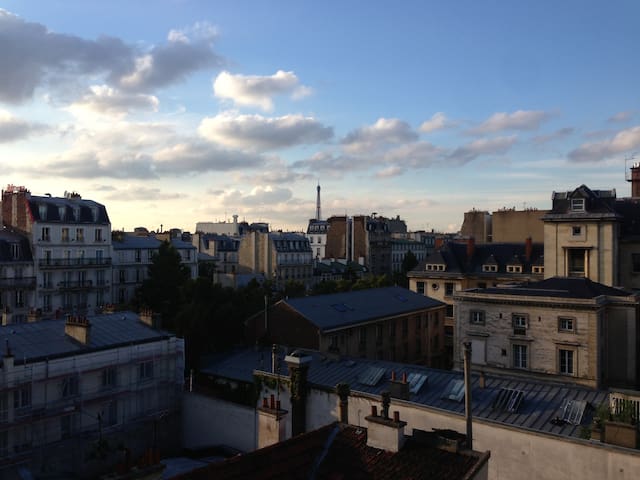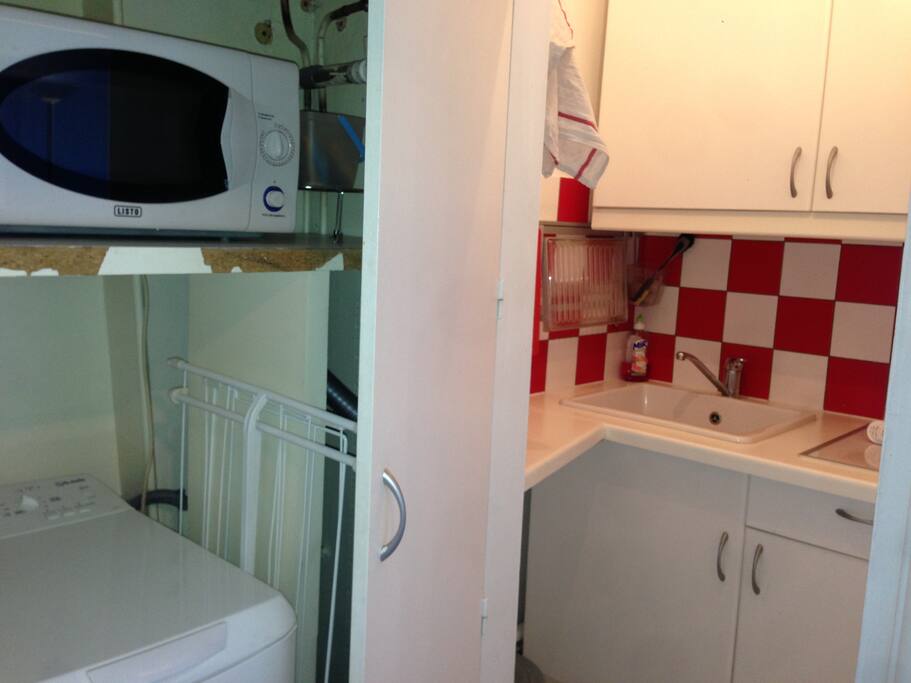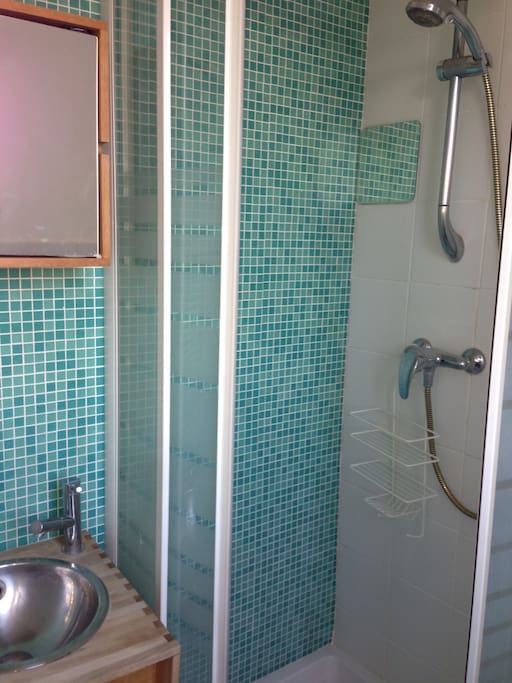 Appartement 2 pièces typiquement parisien au coeur de Montparnasse, proche St Germain des Prés et Luxembourg. Chambre avec vue sur la Tour Eiffel. Quartier animé et agréable : cinémas, théâtres, restaurants, bars et magasins. Gare, métro, vélos et bus à proximité.
---
This place is great for the location and the bed is comfortable. It is on the fifth floor with no elevator, which sounds doable, but quickly becomes tiresome, and tiring, because there is not air conditioning. Of course, not having air conditioning is not a deal breaker, but with people working on the exterior of the building next door and on the floor above (the dust came in with the window open) it did get hot, especially after 5 floors. It would have been nice to have the access code to the building BEFORE arriving, because I had to detour to the local McDonalds to have wifi access to get the code to the building. Then, I couldn't figure out how to get the wifi to work in the apartment--so I went back to McDonalds to message the host. Then I had to go back to McDonalds to get the response. This could have been messaged to me earlier, or perhaps left on a paper on the router itself. Another good thing to know in advance would be the process to take out the trash. It is worth it for the price and the location, super close to several stores, the train station and metro/bus stops. Alex was good with communication, other than the issues above, which can be easily rectified. I might consider using this place again if I need to stay in the area, because it was comfortable and there was a lot of space.
---
The spacious apartment in a great area of Paris was perfect for our short stay. Alex was incredibly helpful with our late check-in and questions about the city. The bedroom had a beautiful view of the Eiffel Tower and was very nice and clean. The apartment was located in a perfect area and it was very easy to find a restaurant nearby or take the Metro to other tourist areas. Overall, great experience in Paris -- thanks Alex!!
---
Alex's apartment was a perfect place for me to spend a few solo days in Paris. He was a great host - very communicative and helpful. The apartment is exactly as pictured and very cozy - with a bonus view of the Eiffel Tower from the bedroom. It's well located near several Metro stops and a block from Gare Montparnasse. Keep in mind that it is a five floor walk up so take less luggage than I did. I would absolutely recommend this apartment for another solo traveller or couple.
---
Excellent experience! The apartment was great: clean, charming, and centrally located near transportation (1 min from Gare Montparnasse), restaurants (rue d'Odessa, rue du Cherche-Midi, etc), and stores (rue de Rennes, rue du Cherche-Midi). In spite of being at the center of everything, the room was quiet (court facing). Internet access via wifi was very good too, which was important for me. And the view on Paris rooftops and the Eiffel Tower was a nice bonus! Communication with Alex great, and he went out of his way several times to make sure I had everything I needed. Thank you for being so welcoming Alex! This for sure has become my default place to stay in Paris when I'm visiting.
---
We had a fantastic time at Alex's! As other reviewers have stated, the location is great - restaurants, cafes, grocery stores, etc. are all within walking distance. The apartment was comfortable and had everything we needed. As for Alex - he was an excellent host! He met us at the train station, gave us great restaurant recommendations, was flexible with checkout time. We stayed for 7 days.. would definitely stay here again. Thanks Alex!
---