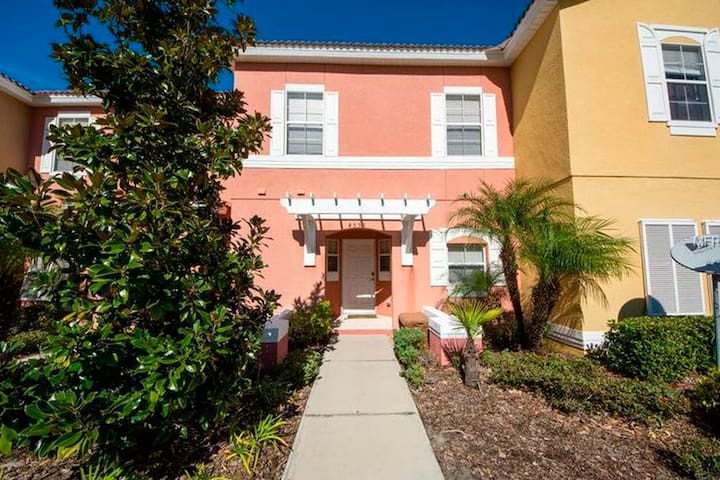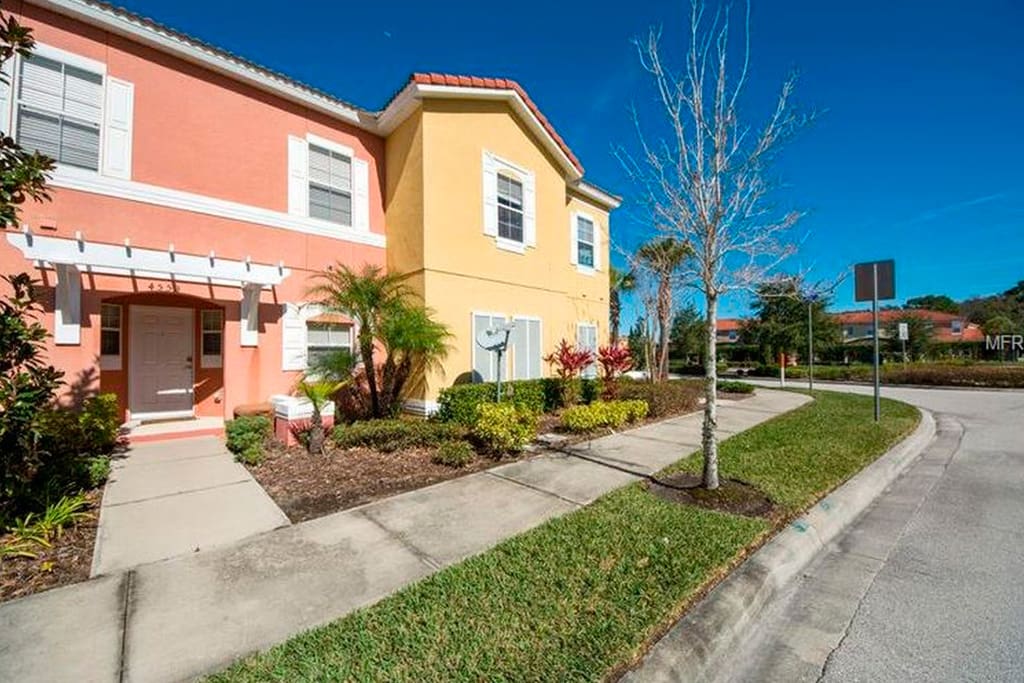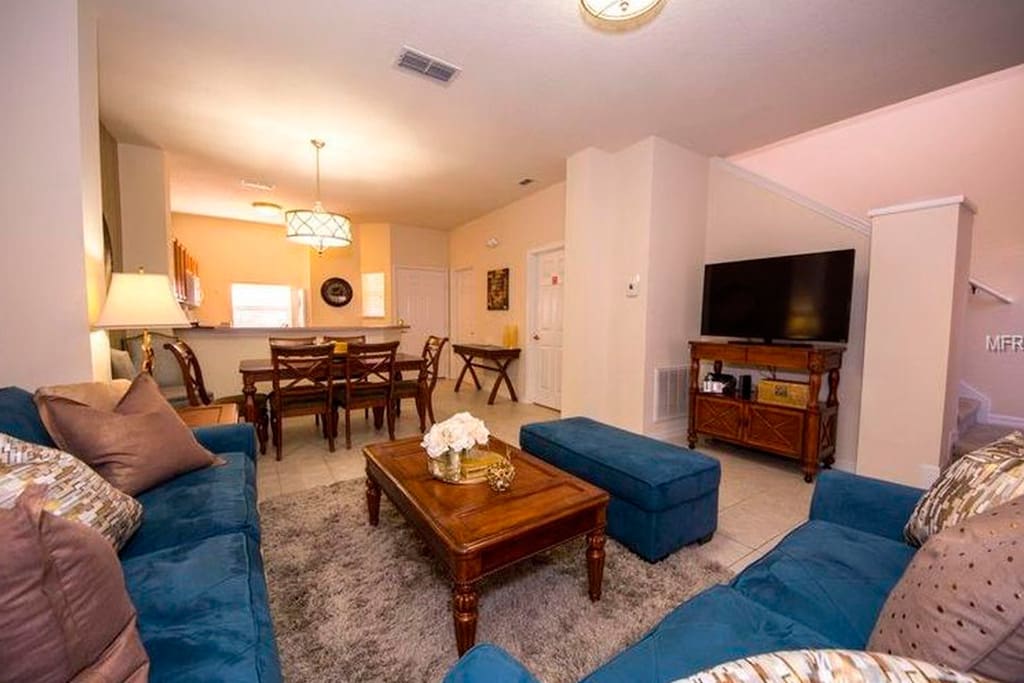 Fully equipped 3 bed, 2 bath Villa near Disney
房源细节
*** IMAGES OF PROPERTIES ARE ONLY FOR REFERENTIAL PURPOSES. ***

(URL HIDDEN) You're going to fall in love with this amazing 3 bedroom and 2 bathroom townhome! The Bella Vida Resort is located behind the famous Medieval Times Dinner Show and next to the Super Wal-Mart. You and your guests can enjoy the holiday season in this amazing, ready to use vacation home! This home was made with vacationers in mind is has all the amenities and commodities that you and your guests will need during your stay. This Townhouse is perfect for a large family since you can accommodate up to 8 guests! The house has everything that you need to enjoy your stay!

You have a fully furnished kitchen with all the necessary cooking utensils and dishware to serve a deliciously home cooked meal! The home is completely equipped and furnished with A/C, washer and dryer, a Living Room with a large LCD T.V, dining room and a completely equipped kitchen with all the appliances you could need to prepare an amazing family meal. Most of the bedrooms have a Flat screen TV and there is Wi-Fi throughout the entire house for your convenience, so you stay connected and share with your followers all the fun that youre having at Bella Vida Resort!
You even have your very own private pool available on the patio! After a long day, kick back and relax by soaking your feet into the relaxing pool! You can even fire up the grill and have a BBQ! (*BBQ services has an extra fee)
You will enjoy all the amenities that the Clubhouse has to offer. Youll love the Resort Style Swimming Pool. Play a friendly game at the Sport Courts where you can play Basketball and Tennis! Theres even a place for you to play volleyball in the soft, white sand! There is a kids playground, a Fitness Center and a Lake where you can watch the beautiful sunsets! Theres a game room that has ping pong and table soccer as well.
Bella Vida resort amenities:
• Gated community
• Playground
• Community Pool
• Cyber Caf
• Fitness center
• Basketball Courts
• Volley Court(URL HIDDEN)Gathering Room with Television
• Over 15 acres of Lakes
• Walking Trails
• Picnic Area
• Italian Gardens.
Bella Vida Resort is just 5 minutes away from Walt Disney World and other Orlando Attractions!. At Bella Vida you have everything that you could possibly want or need right here to have a magical and memorable vacation!
• Payments: All payments are in advances for booking the dwelling, rental cost and security deposits are to be made directly to our organization; and only when such payments are received by us will the customer be entitled to check in.
• Pets: Pets are not allowed to stay in any of the properties, no visitor or guest is allowed to bring pets into the properties either. If this rule is violated, will be a charge of $300.
• Smoking: any part of the property is considered NO SMOKING AREA. We hope that you comply with this rule. A $3000 dollar charge might be considered for this violation
• Check-In: All property check-in will be done at 4 p.m and not before unless there is an otherwise statement. All guests must bring a credit card and ID with them at the time of check in, otherwise the guest must leave a $250 guarantee amount to assure any property management.
• Check out: all check outs must be done at 10:00 am eastern time, at the check-out day) there will be a $25 fee per hour if the client does not comply with this. If circumstances beyond the client's control were to happen, the client must notify us 48 hours before, by any means the guest can stay at the property later than 12.00 pm (noon). If the guest requires an extension of their stay please notify us 48 hours before so we can proceed to make arrangements.
• External Factors: / the owner/Management Company accepts no responsibility and shall not be liable to any loss, damage, alteration, delay or changes arising from circumstances beyond our control, such as war or threat of war, Local, Federal or international conflict, fire or adverse weather conditions, government actions, closure, congestion at airports, cancellation or changes of schedules by airlines, or theft. We reserve the right to cancel any booking in case of a mayor issue.
• Unit/House confirmation: All bookings are for a specific unit and an agreed upon duration of the stay. However in case of mayor issues and unforeseen circumstances, should the assigned unit become unavailable, every effort will be made to provide an accommodation with the same or better characteristics and no refund will apply for the substitution.
• Payment: For booking, the guest must pay 50% of the total amount for the rent of the vacation property. The balance must be paid 30 days before your arrival, otherwise will be considered as cancellation and the corresponding penalties will apply.
• Problems during stay: if for any strange reason the property does not meet your requirements, or should you find any imperfection please let us know the exact day of your arrival either reporting by calling us ((PHONE NUMBER HIDDEN) o ((PHONE NUMBER HIDDEN), or by mail (EMAIL HIDDEN) in order to give a solution to any problem and assure you a pleasant stay. Any complain made after 2 complete days after your arrival will not be accepted, in case there is any kind of service malfunction Business and Technology Services will proceed to fix the issue completely, and will not make any refund by these causes
• Emergency calls: An emergency call is conceded a call regarding fire, flood, theft, mayor property damage, total damage in the air conditioning system, being unable to enter your property by late night, or gas leak.
• Cleaning service: we cannot provide cleaning service if somebody is inside the house at the time of the programed cleaning, the house must be empty in order to perform a complete cleaning.
• Loss charges: there is a $50 charge for loss of key or remote control.
• Other charges: the client/guest understands that if any object inside the property is damaged or lost, he/she will be responsible of repair or replacement of such item. Also it is clear that there must not be any kind of debt, or broken/lost item at the time of check out, if this were the case the client authorizes us to charge this amount from their credit card.
• Number of occupants: The undersigned, agrees that the property being rented is for the number of people specified. If additional occupants are found in the unit, it will constitute a breach of agreement. In such case, the undersigned agrees to vacate the unit immediately and forfeit all money collected including all deposits. In addition, you will be held responsible for all damage sustained, fines, lost revenue or attorney's fees. Under no circumstances, will the undersigned allow more than 14 people to occupy a 6 bedroom, 12 people to occupy a 5 bedroom, 10 people to occupy a four bedroom, 8 people to occupy a three bedroom, 6 people to occupy a two bedroom or 4 people to occupy a one bedroom condominium or home. While there is no specific quiet time policy, though guests are asked to be respectful of the privacy and comfort of their neighbors. This applies for all our properties.
• Refunds: there will be no refunds for departures before check out date, or climatic incidents what so ever.
• Property and date changes: It will be assumed as a cancellation, any dates and property changes made within 30 days before arrival. If changes occur within 90 to 30 days they are subject to availability and penalties of $100 or more may be applied, however, Business and Technology Services will do our best to accommodate you as needed. This also stipulates that only 1 change of date may apply, a second change is taken as cancellation of booking and if so, respective penalties will be applied.
• The company owner / manager accepts no responsibility or liability for any loss or physical damage that would result from the occupation of the properties. We strongly recommend that you should acquire a holiday insurance to cover unforeseen circumstances during your stay