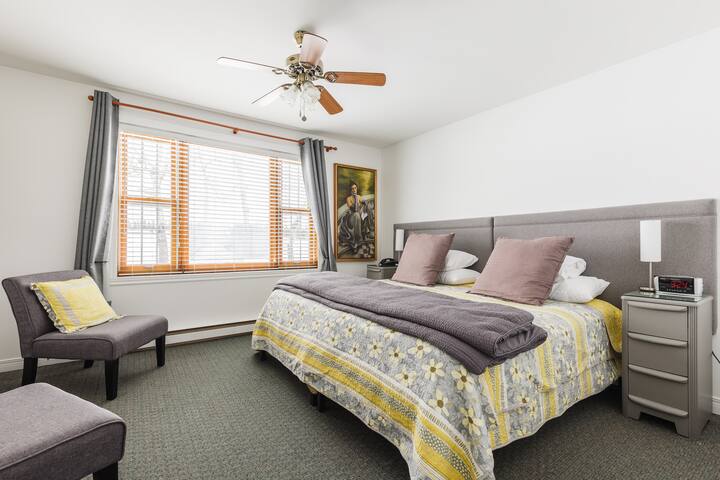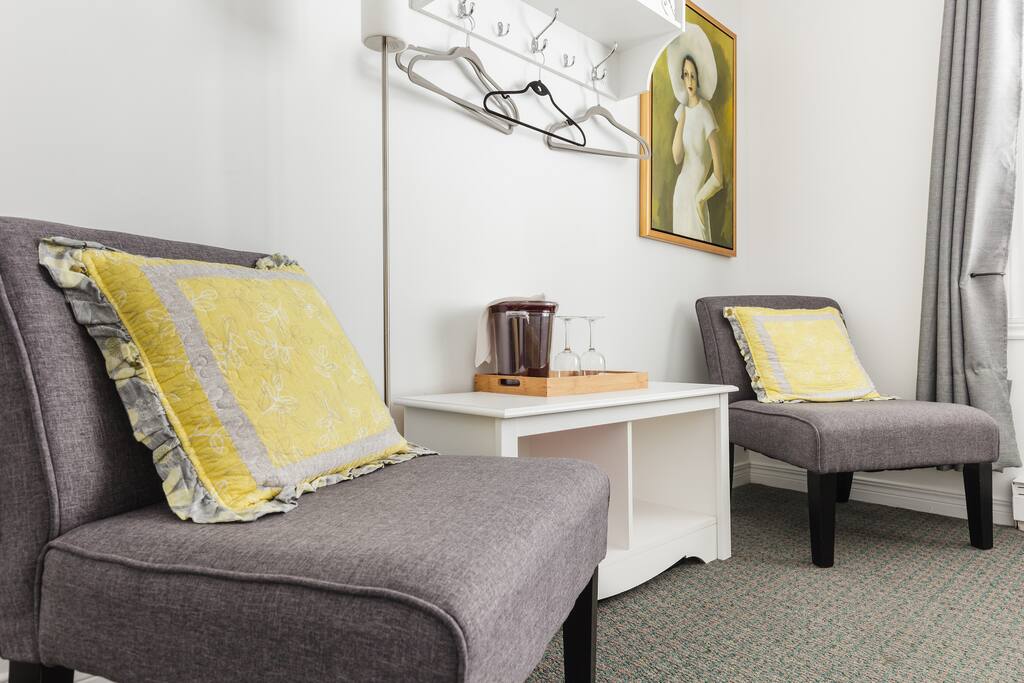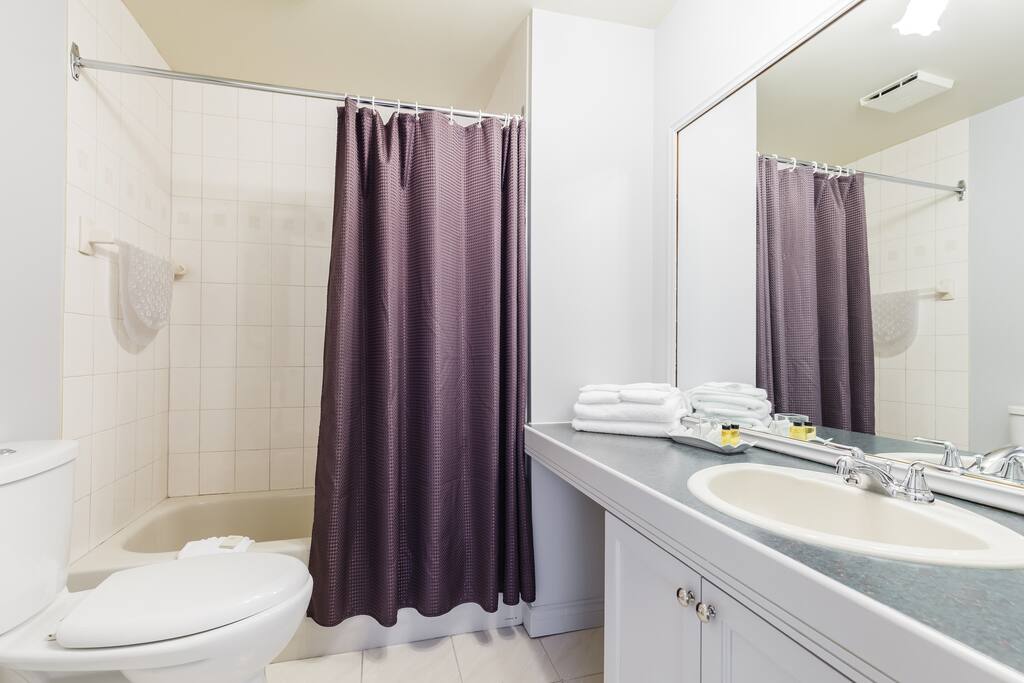 Modern room at a quaint inn with parking & grocery
Modern room at a quaint inn with parking & grocery
欢迎光临您在Ile d'Orleans的假日避难所,魁北克市外的天堂!距离老城区只有15km / 9.5mi,享受我们酒店田园诗般的气氛;我们的热烈欢迎将让您立即感受到家中! 明亮而舒适的客房设有传统客栈的私人浴室。 12岁以下的儿童免费入住,停车和WiFi包括在内! 早餐和其他餐点可以在一楼的优质杂货店买到一点点钱。 通过摩托车或自行车探索岛屿;我们租两个!
Welcome to your holiday haven on Ile d'Orleans, a paradise just outside Quebec City! Only 15km/9.5mi from Old Town, enjoy the idyllic atmosphere of our inn; our warm welcome will make you feel at home right away!
Bright and cozy room with private bathroom in traditional inn.
Children up to 12 years stay for free, parking and WiFi included!
Breakfast and other meals available for little money at the fine grocery store on the ground floor.
Discover the island by scooter or bike; we rent both!
房源
您安静无间的洁净室配有无线网络连接,小冰箱和一张特大号床。与朋友住在一起时,两张单人床可能分开。请告诉我们,你想要更多的床上用品。如果需要,我们可能会添加一个婴儿奶瓶。 在炎热的夏日,您可以使用空调! 一个宽敞的衣柜提供存放行李的空间。 您的私人浴室配有浴缸/淋浴,卫生间和洗脸盆。 要以最好的方式开始您的活跃发现的一天,您可以在一楼的精致杂货店享用早餐或小吃。 所提及的地址仅限于入住地址,一小汽车旅馆。与您的房间的实际宾馆距离道路约3分钟车程。 如果您没有自己的汽车访问Ile d'Orleans,我们建议留在我们的(更好的连接)主要地址,汽车旅馆Ile d'Orleans。请看我们的其他列表!
Your quiet and spotlessly clean room comes with Wi-Fi, a small fridge and one King size bed. The bed may be separated in two single beds, when staying with a friend. Please tell us, which bedding you'd like more. We may add a baby parc, if needed.
For hot summer days, you may use the air condition !
A spacious wardrobe gives room to store your luggage.

Your private bathroom contains a bathtub / shower, toilet and washbasin.

To start off your active day of discovery in the best way, you may have breakfast or snacks at the fine grocery on the ground floor.

The mentioned address is the check-in address only, a little motel. The actual guesthouse with your room is situated some 3 min by car down the road.
If you visit Ile d'Orleans without your own car, we suggest to stay at our (better connected) main address, the Motel Ile d'Orleans. Please have a look at our other listings!
房客使用权限
宾客入口处是宾馆的左侧。谢谢你一直使用这个入口;主入口是精品杂货。 在一楼,您会发现精美的杂货店"Marchégourmande Un des 2",提供自制外卖食品,当地特色菜以及美味的单点早餐。 还在一楼,你会发现一个小休息室。在这里,您可以在精致的杂货店享用早餐或其他餐点。晚上,精致的杂货店关闭后,您可以坐在这里(合理的噪音水平,请自己清理后) 你也被邀请坐在花园里(合理的噪音级别,请自己清理后) 你的房间在二楼(一层楼,不带电梯)。
The entrance for you, our guests, is on the guesthouse's left side. Thank you for always using this entrance; the main entrance is for the fine grocery.
On the ground floor, you'll find the fine grocery "Marché gourmande Un des 2", offering house-made take-out food, local specialities as well as delicious à la carte breakfasts.
Also on the ground floor, you'll find a little lounge. Here, you can have breakfast or other meals, served at the fine grocery. In the evening, after the fine grocery is closed, you may sit here (at a reasonable noise level and please clean up after yourself :)
You are also invited to sit in the garden (at a reasonable noise level and please clean up after yourself :)
Your room is on the 2nd floor (one stair to take, no lift).
与房客的互动
我们会说英语,法语和德语。 我们的主要地址服务台上午8点至晚上7点,路易斯安那州约3分钟的汽车旅馆Ile d'Orleans可以回答您的问题。 在这里,我们提出了很多有趣的活动来探索Ile d'Orleans和魁北克市: SCOOTERS:我们提供滑板车出租!感觉到开放的道路的自由,当你巡游! 自行车:Ile d'Orleans是骑自行车的天堂!租一辆自行车,以自己的节奏循环! 建议您提前预约yor,请随时提出问题! 此外,我们与当地的各种合作伙伴合作,为客人提供折扣或折扣!在圣劳伦斯河上引导皮划艇游览,魁北克市动画苹果苹果酒品尝或公交旅游,只需让我们知道您的兴趣!
We speak English, French and German.
We are available from 8 am to 7 pm at the service desk of our main address, the Motel Ile d'Orleans, some 3 min down the road, to answer your questions.

Here, we propose plenty of fun activities to explore Ile d'Orleans and Quebec City:
SCOOTERS: We offer scooter rental! Feel the freedom of the open road, as you cruise around!
BIKES: Ile d'Orleans is a cyclists' paradise! Rent a bike and cycle at your own pace!
It is recommended to book yor rentals in advance, please feel free to ask your questions!
In addition, we work with various local partners, offering discounts or gratuites for our guests! Wether guided Kayak excursions on the St.Lawrence River, animated apple cider tastings or bus tours in Quebec City - simply let us know, what you are interested in!
其他注意事项
所提及的地址是抵达的地址,位于汽车旅馆Ile d'Orleans。 与您的房间的实际客人距离道路约3分钟车程。 办理入住手续的时间为下午3点至7点。 如果您计划在晚上7点之后到达,您将在露台上的迟到信箱中找到一个带有您名字的游泳池,旁边是汽车旅馆的前台门。 它包括你的房间的实际地址,你的房间,你的房间的关键,WiFi信息和我们的房子规则被尊重。 有一个顺利的到来和一个伟大的第一个晚上在我们的地方! 12岁以下的儿童可以在父母的房间内免费入住。感谢您让我们知道他们与您一起旅行,所以我们可以相应地准备房间。 我们的财产是100%无烟!我们要求你不要在房间里吸烟,或者距离任何建筑物(魁北克省法律)不到30英尺/9米。任何违反本规则的行为将导致200.00 $ CAD罚款! 我们不能欢迎整个宾馆的任何宠物。 停车和WiFi包括在内
The mentioned address is the address for arrival, situated at the Motel Ile d'Orleans.
The actual guestjouse with your room is situated some 3min by car down the road.
Check-In takes place at the motel, from 3pm to 7pm.
If you plan to arrive later than 7 pm, you'll find an envellope with your name on it in our late arrival letter box on the terrace, next to the motel's reception's door.
It includes the actual address of your inn, where your room is, the key to your room's door, WiFi information and our house rules to be respected.
Have a smooth arrival and a great first night at our place!
Children up to 12 years stay for free in their parent's room. Thank you for letting us know they're traveling with you, so we can prepare the room accordingly.
Our property is 100% smoke free! We ask you not to smoke in your room, or closer than 30 ft / 9m to any building (Quebec provincial law). Any violation to this rule will result in a 200.00 $ CAD penalty!
We can't welcome any pets in the entire guesthouse.
Parking and WiFi included
---
---
---
- Children of 12 years or younger stay for free in their parent's room. Please let us know they are travelling with you, so we can provide additional bedding, if needed.   
Please do not smoke inside our entire building. For each violation of this rule, you will be charged with $ CAD 200.00 for the necessary additional cleaning efforts. We invite you to use our smokers' zone in the garden.   
Parking is for free and Wi-Fi, too! 
---
---
---
---
The place was just as advertised, very nice and comfortable. It had ac which is not always the case in Quebec. I had a lovely stay and Stephanie told me where to go for good seafood.
I thank you a lot, Karen, for your nice words about our place and our recommandations! All our rooms offer air condition (and heating for the chilly days of fall), a small fridge and a private bathroom - all basics you need to feel comfortable during your stay on beautiful Ile d'Orleans! It was a pleasure to host you and we'd be happy to welcome you again the next time you come to the beautiful Quebec area!
---
We could not have enjoyed our stay more. Stephanie was absolutely the best host. She was very knowledgeable about the area and very helpful with suggestions of things to do and see. The hotel was very quaint and comfortable. We hope to come back again in the future.
Thank you so much, Melissa, for your great review! We love to take our time with our guests, opening up the island's map and give suggestions how to spend the best time on Île d'Orleans. We know most of the local places (restaurants, vineyards, the micro brewery as well as beaches or bike circuits - the island has so much to offer for all kind of travellers!) We also rent scooters and bikes at our place, so you may experience Ile d'Orleans from a different perspective!
---
Stephanie was an excellent host and was very helpful in providing recommendations on what to do on the island! She went above and beyond! Our room was excellent and exactly as shown in the photos. The rooms have all just been renovated and they were just completing the finishing touches of the outside renovations this week. The place looks great. Our room had a lovely garden outside with benches and picnic tables and downstairs from our room was a deli/mini grocery store with excellent food (and at great prices!!). A great place to stay on the island!
Thank you Kathryn, for your very nice comment :) Indeed, we take care a lot of our guests; as we are living on the island ourselves, we know a lot of hidden places and take our time refer restaurants, historic sites or vista points, so you can discover beautiful Ile d'Orleans on your own pace and in an authentic way - for example by the help of our rental scooters or bikes! We may also organise transportation to Quebec City center - just let us know, what you have in mind for spending a great holidays with us!
---
The Island and Stephanie's room are good options to visit both the Island and quebec city. There is a little shop in the same building as the room If you wish to have breakfast.
---
Vraiment bien d'avoir l'épicerie sous les pieds offrant des cafés/mets préparés/... J'aurais aimé savoir qu'il n'y avait pas de télé dans la chambre!
---
We had wonderful time out on the island, Stephanie was a wonderful host and made our time here better than we could have expected.
Thank you Tara, for your very enthousiastic words! We love sharing our knowlegde about island Ile d'Orleans: vineyards with stunning views on the waterfalls, public gardens and lavender fields to be visited with a guide and historical sites telling you about the first settlers, the island has it all! And with our on-site scooter rental, you make sure to enjoy it in a fun and active way!
---
We are more than excited to host you this spring and summer 2017! We would love to provide a lovely place to stay during your holiday!
We are active people, fun and easy-going. That's why we offer guided tours and rentals of scooters, bikes and kayak so can discover Ile d'Orleans, Quebec City and the whole region in an active and authentic way!