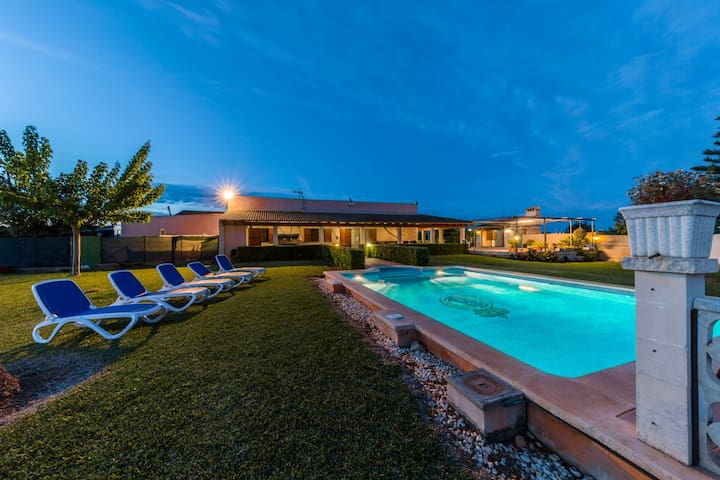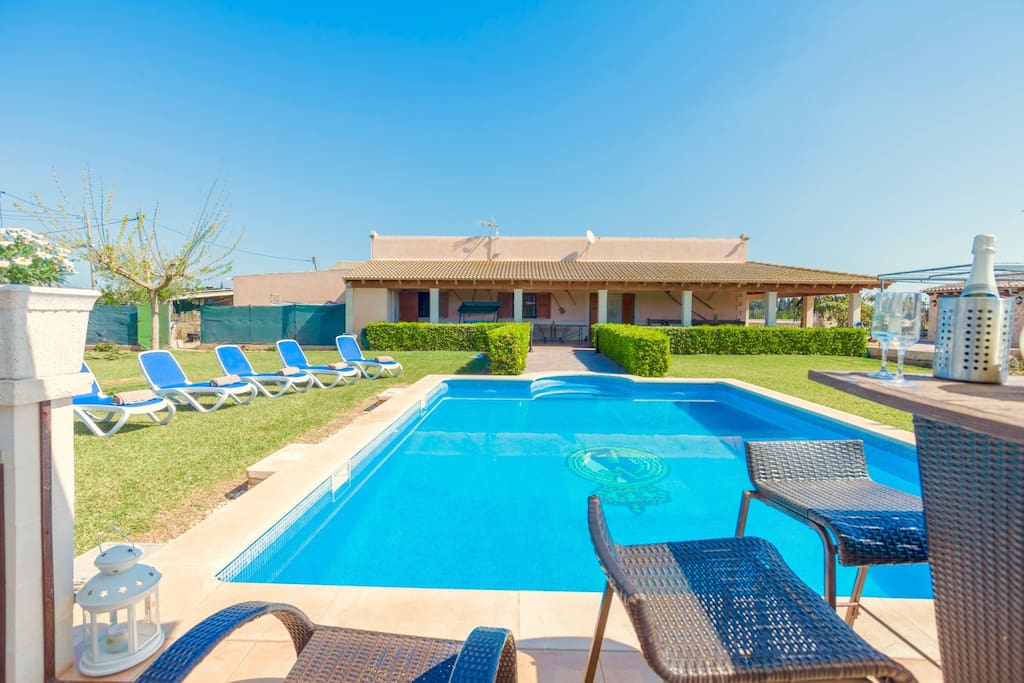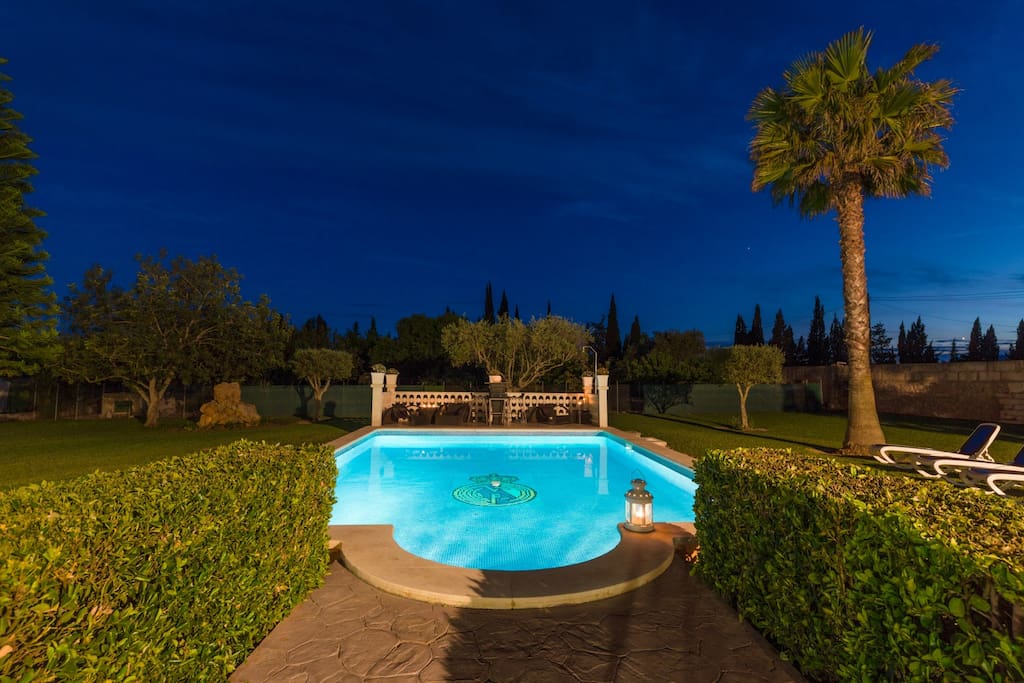 Villa Muro, with 3 bedrooms, a large private pool and extensive grounds, is a true oasis in the most unspoilt area of Mallorca. The property, carefully restored to the highest standard yet retaining most of its enchanting original features, is now a welcoming holiday home able to accommodate up to 7 guests and surrounded by more than 800sqm of private gardens with flowers, fruit trees and Mediterranean shrubs providing privacy as well as an unique Mallorcan atmosphere.
---
We just came back after spending 2 weeks in Mallorca and here are our thoughts on the house. It is a well appointed house, on the small side but comfortable enough for a family or maybe two small families. It is important to know that there is only one bathroom. (second toilet outside the house) The garden is very well kept and there is enough space for kids to play and run around and the pool although smaller than what appears in pictures, it is good and cleaned regularly. It is hard to find even with the GPS coordinates, we had visitors who got lost fro over an hour trying to find us, we also had difficulties to get there, but it is well located and not far from Pollenca and Alcudia and only 40 minutes from Palma. Even though the house is in the middle of fields, it can be very noisy. It stands not further than 100 mts from a train track and although not very frequent, the train does pass by making noise. It is also important to know that this is a farm house, and there are a lot of animals around it and they can make a lot of nose at night. We ended up getting used to them but the first nights we kept waking up with the chicken and roosters and the barking dogs. We found that the mattresses were really uncomfortable and the bed linens quite old as well as the towels. Although we were given plenty and they were changed after a week, they're quite old and get smelly very quickly. We truly believe that an upgrade in mattresses, bed linens and towels is not only necessary, but would make the stay much more enjoyable. There are severe problems with the Wifi and we don't know if this could be improved but it is basically useless during the day and pretty bad at nights. The actual owners of the house come often to clean the pool,cut the grass and feed the animals on the field next to the house. They were very nice, brought us a couple of wine bottles, offered us fruits and fresh eggs and were really kind to our kids too. The last thing to consider is that we were told that the house would be cleaned every week. This didn't really happened, the owner did come and did some very light cleaning but it was not what we were expecting so it might be worth discussing more before booking. Easyvillas responded to our queries rapidly and were helpful when we needed them.
---
The stay in the villa was more than great! The communication was remarkably good- if there were any questions, the communication went fast and very friendly. The host welcomed us with fresh fruits and drinks and brought majorquin pastries. The description to find the property was very easy to understand and clear. The property was clean. The hosts came to clean up the swimming pool and lawn mowing. It was very convenient to have two bath rooms, one in the house and one outside. Additionally there was a kitchen outside the house in a small summerhouse with a barbecue in it, which made it very nice, if you want to cook or make a barbecue. The house was very clean and in every room was a cooling fan. There were enough towels. Furthermore there was a ping pong table, playing cards and small tennis racquets for playing in the water. Next to the villa was a property with chickens, so there were noises in the night/morning, but only for a very short amount of time. Furthermore there were cats on the property of the villa. It is a nice house to go with friends or family with children. The property is big. It was a pleasure to be a guest in this villa! We can only recommend this house and would be pleased to be guest again. Many thanks!
---
The villa was the same as we expected - very good pool, terrace and good place for children. But communication with Easy Villa was very bad - we did not get good an clear instructions how to find villa and the correct address so we could not find it at night when we arrived to Mallorca. The contact phone given on the Airbnb page did not answer and we got help from Easy Villa only in the morning. So we had to spend the night in the car.
Hello Sigitas! Thank you for your review and for your nice comment about the villa. I am anyway concerned about your feedback about communications with us. As all the previous guests who found the villa easily with no problems, you were provided with GPS details, driving instructions, useful phone numbers in case of emergency. We were only contacted by you the morning after your arrival, via airbnb, asking for someone to pick you up as you couldn't find the property. And, despite being sunday, we sent you a member of our staff straight away who took you at the property. We always try to do ur best to provide unforgettable holidays at attractive rates, and I really hope that despite this misunderstanding (maybe you tried to contact us during the night at the office number instead of the emergency number?) you had a nice holiday. I hope to welcome you again in Mallorca. Best regards, Daniel EasyVillas Mallorca
---
Great villa in a lovely isolated location where kids can unwind and play without worrying about the neighbours. Pool is great as is the barbeque house. Perfect place to unwind.
---
Alles in allem war es ein super schöner Urlaub und wir waren gut zufrieden! Der Garten ist wunderschön und sehr gepflegt, genau wie das Haus auch! Der Pool ist von der Größe und Sauerkeit top! Die Vermieter waren super nett, haben sich um alles gekümmert und waren bereit jede Frage zu beantworten! Leider fanden wir die Betten etwas unbequem und der Hahnenschrei ab halb 6 morgens hat den Schlaf zusätzlich etwas gestört... Toll war zwar dass es eine Spülmaschine gab, allerdings ist das Geschirr nie so ganz sauber geworden... Diese Punkte haben aber unserem wunderschönen Urlaub keinen Abbruch getan! An der Anfahrtsbeschreibung sollte unserer Meinung nochmal gearbeitet werden, wir haben die Villa nicht sofort gefunden ;)
---