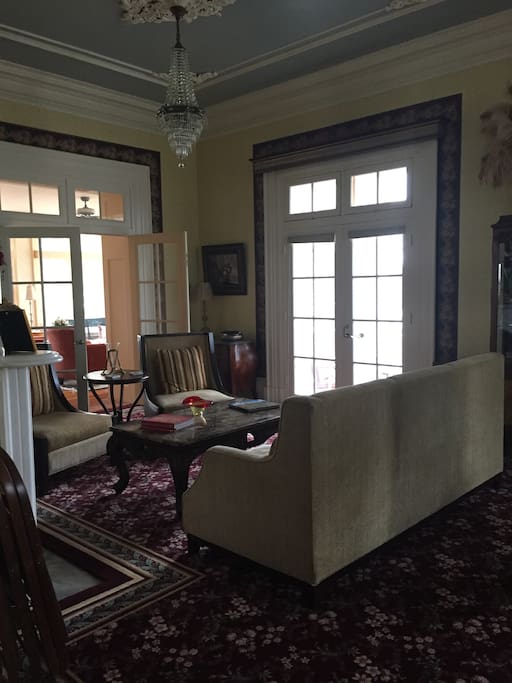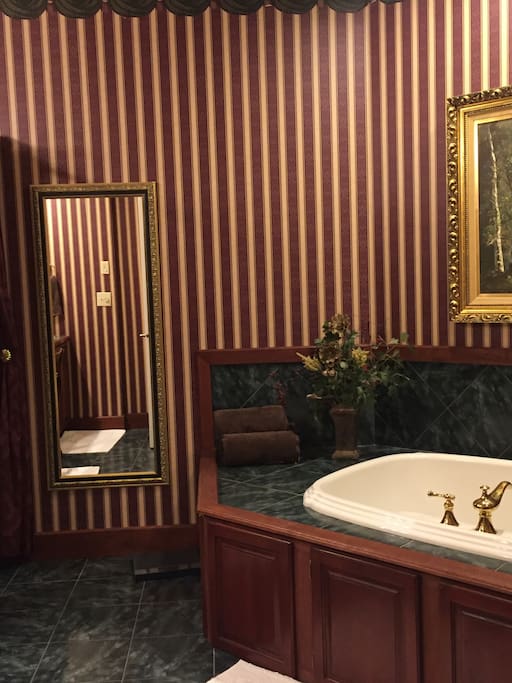 The Ludlow Mansion Extended Stay Ludlow Suite
Enjoy a large private room with bathroom in our historic home. The Mansion is one of the most prominent homes in the area with a large parlor and sun room for guests to relax as well as a study for reading and reflection. The Mansion sits on five acres of park-like lawn with a front portico and grill for picnics. Come and enjoy.
房源
The room includes small refrigerator, flat screen television with cable and private bathroom. Free WiFi throughout.
---
We stayed here for four nights in the Ludlow Suite. It was AMAZING! The entire space was spotless and really well done. We felt absolutely comfortable in our room as well as the shared space. We had total privacy, enjoyed lots of time on the spacious porch and sunroom and at night enjoyed a movie in the study. Our jacuzzi was also spacious and meticulously clean. It was a nice walk to the park, frisbee golf and bike trail. This was by far 100% better than any hotel. I highly recommend staying here if you are in town. Plus, we had a really good experience with everywhere in Monroe we went to eat.
---
What a beautiful historic home and room. My wife and I stayed in the Ludlow Suite. It was beautifully decorated and very comfortable. The rest of the first floor was open for us to use as we wished. The front porch was especially nice to spend time on. Penny and Greg were great hosts. They were hardly visible as they had their own wing but if we needed anything all we had to do was knock on their door. Monroe was great to spend time in. We ate at Pancho & Lefty's, Buggyworks, and Amy's Corner Cafe (twice, for breakfast); all were great.
---
Ludlow Mansion is a beautiful old house with lovely architectural details such as a dreamy porch. It is beautifully updated and very comfortable. Penny has done a lovely job of renovating and decorating and it is very beautiful, comfortable and inviting. Penny provides an easy "coffee bar" with Keurig coffee pods and breakfast options like yogurt and granola bars. Bring singles as there is a jar to pay for items. It was truly a lovely place to stay and Penny was so kind as to answer our many questions about the curious history of this beautiful place!
---
There aren't too many places to stay where everything is perfect, but this is one of them. Besides those things we expect - a clean room with fresh linens, working internet and TV - Penny's Ludlow Mansion offers much, much more at a fantastic price and wonderful location a stone's throw from the historic town square and inviting Badger bike/walking trail. On top of this there is the unmatchable hospitality offered by her and her husband, for whom Ludlow is a labor of love. They've beautifully restored every inviting room, giving visitors a feeling of comfort while surrounded by history. There's even a kitchen area with beer, wine, water and facilities for making your own meal if you want. But you needn't, as there are wonderful restaurants close by. Don't miss a chance to enjoy this rare gem.
---
Stay at this place if you have the opportunity. I was afraid the place was going to smell like an old folks home but it smelled great! The entire house is stunning and the hosts Penny and Greg were truly awesome. Really gracious and just plain nice people/interesting people. Wasn't necessarily looking forward to working in Monroe for the week but staying at the Ludlow made me sad to leave. So glad the super 8 hotel was full that week, turned out to be a blessing in disguise. I cannot describe how happy I was with my stay here. I just wish I had an excuse to come back.
---