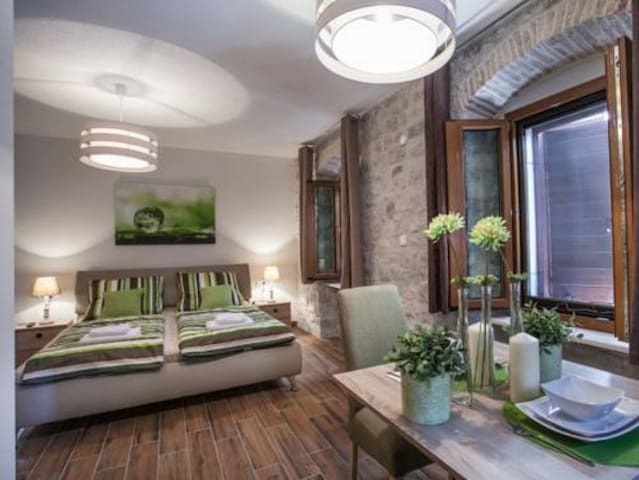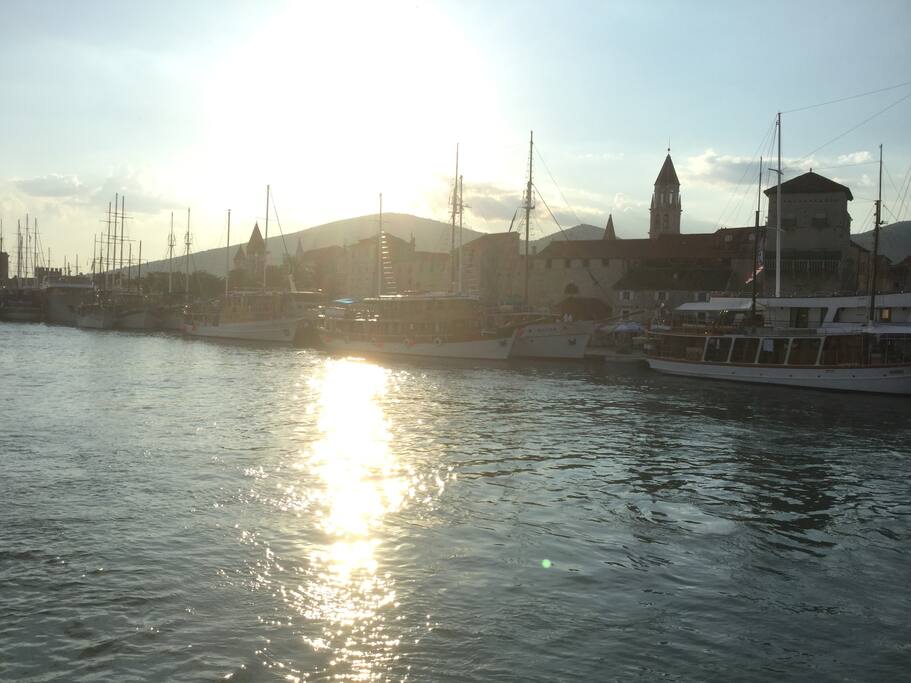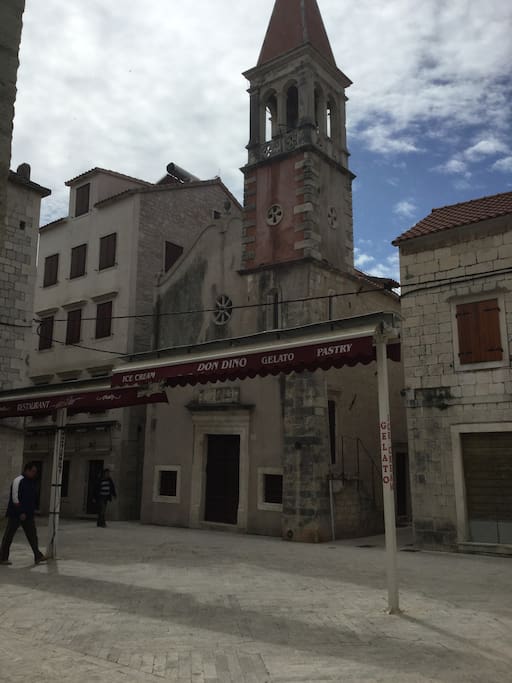 Die Studio Apartments Anna erwarten Sie in ausgezeichneter Lage in der Altstadt der UNESCO-geschützten mittelalterlichen Stadt Trogir. Diese Unterkunft ist 3 Minuten von der Hafenpromenade und 4 Minuten vom historischen Marktplatz, mit seinem Rathaus entfernt. Zahlreiche Restaurants befinden sich in der Nähe. Der nächste kostenpflichtige Parkplatz befindet sich in 50 m Entfernung. Der tägliche Markt ist über eine Fußgängerbrücke in 5 Gehminuten erreichbar.
Flughafentransfer auf Anfrage.
---
Das Appartement liegt mitten in der wunderschönen Altstadt von Trogir, umgeben von zahlreichen tollen Restaurants. Anreise mit dem Auto ist leicht möglich, da die zwei Parkplätze an der alten Steinbrücke, bzw. dem Markt, gleich daneben sind. Das Auto braucht man danach eigentlich nicht mehr, zum Strand kann man per Boot fahren. Das Appartement selbst ist in einem kleinen Gässchen und ist sehr geschmackvoll eingerichtet (wie auf den Fotos abgebildet). Die guten Fenster halten den Altstadtlärm draußen. Anna und Thomas waren sehr hilfsbereit und gaben uns gute Tipps. Auch beim Check out waren sie flexibel. Ich würde das Appartement allen empfehlen, die ein modernes und sehr gut gelegenes Appartement in Trogir suchen.
---
Anna's apartment was beautiful and in a fantastic location, but also very quiet. You just walk out the door and you are in the heart of Trogir with it's wonderful restaurants and lovely cobbled narrow streets. The marina where you can catch a boat is a 5 minute walk also. Anna was a helpful host and nothing was to much trouble.
---
We were staying at Studio Apartments Anna for 7 nights and we highly recommend it to everybody who plans to stay in the beautiful old town of Trogir. It is also a nice alternative if you find Split too crowded and busy. Andrej is an excellent host and was always very helpful and responsive to our requests already before the trip. Due to our early arrival he invited us for a coffee and gave us some useful information on the transportation and the area around Trogir while we were waiting for the room to be cleaned. He exceeded by far all our expectations by taking his time to drive us to Duga beach which is not easy to reach if you don't have a car like in our case. This was definitely one of the highlights of our trip. If you are looking for beautiful beaches, Duga beach should be on your list. Andrej is really walking the extra mile for his guests and even invited us for more drinks in the evening. The apartment is in the heart of Trogir, where you can admire the beautiful roman architecture at your doorstep. You have all kinds of restaurants, cafes and bars near the apartment. If you feel like cooking by yourself, you can reach the next supermarket within 5 minutes of walking. If you are on a budget, you can try out the various fast food restaurants all within reach. We recommend that you try the pizza and ice cream there. We stayed at the apartment on the first floor. It is clean, spacious and decorated with lots of love. It is equipped with the basic kitchen tools that you need to cook a meal. It has air conditioning that you can adjust to your liking and we felt very comfortable. From Trogir, you can reach Split within an hour by taxi boat that leaves from the peer. The price of the ticket is 35 kuna per person. You can check the schedule online. Make sure that you get there early as the boat closes once the maximum number of people is reached and there are normally quite long queues. Visiting split is great for a daytrip. You can also walk to the Beach Trogir within 15 min. There are two cafes near the beach and you can rent the beach beds and an umbrella for 60 kuna a day. Also quite close is Pantan beach which can be reached by Bus Nr. 37 with the direction to the airport. You can get off the first stop and walk 10 min to get there. There is a cafe where you can rent one beach bed for 20 kuna a day. Pantan beach was much more windy than Trogir beach when we were there but still very enjoyable. All in all we would rank Croatia, Trogir as one of our favorite destinations so far and if you are planning to visit Trogir, definitely try out a stay at the Studio Apartments...
---
Nice and clean apartment, very central i Trogir. We had a lot of restaurant near by, but quiet during night. 3 min walk to boat-transport beach. Anna was healpful it we need anything, and was very satisfied to be picked ut at the airport. Split Airport is only 15 min away :) Thanks for a plesant stay!
---