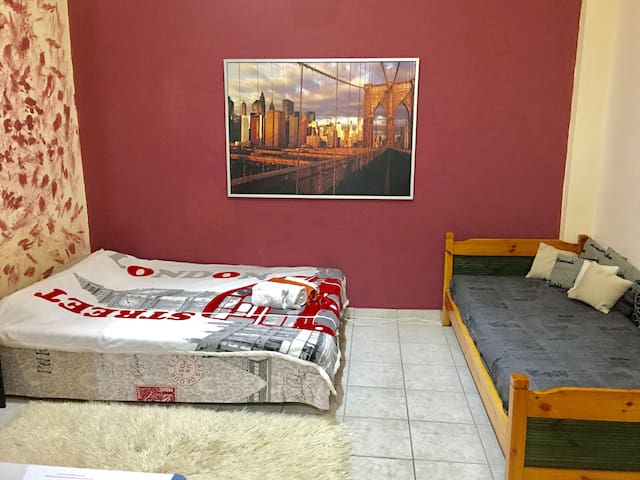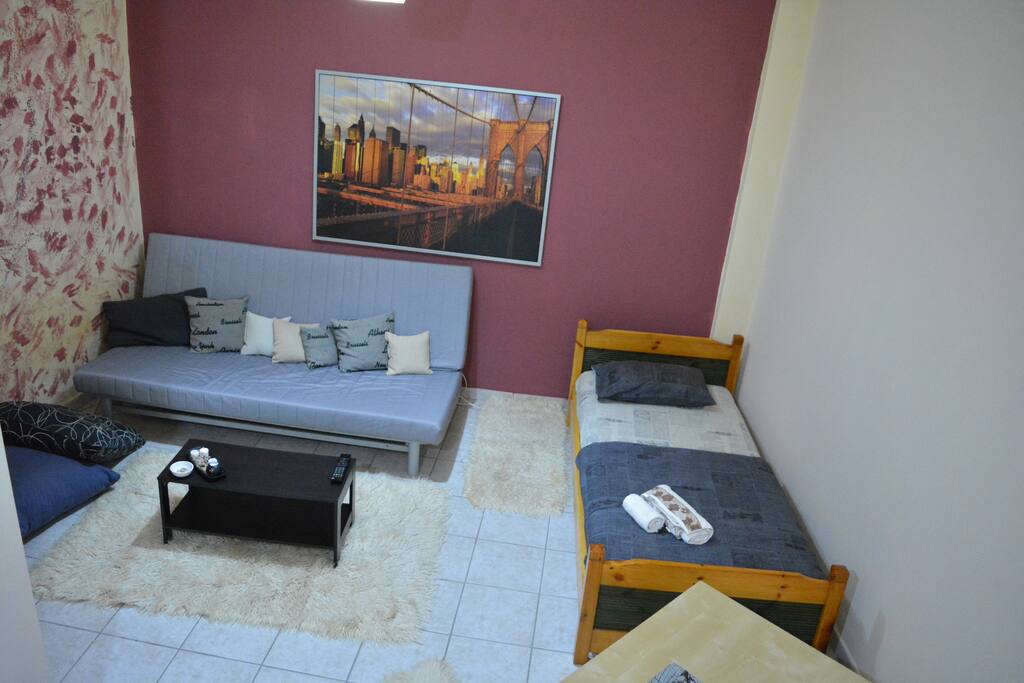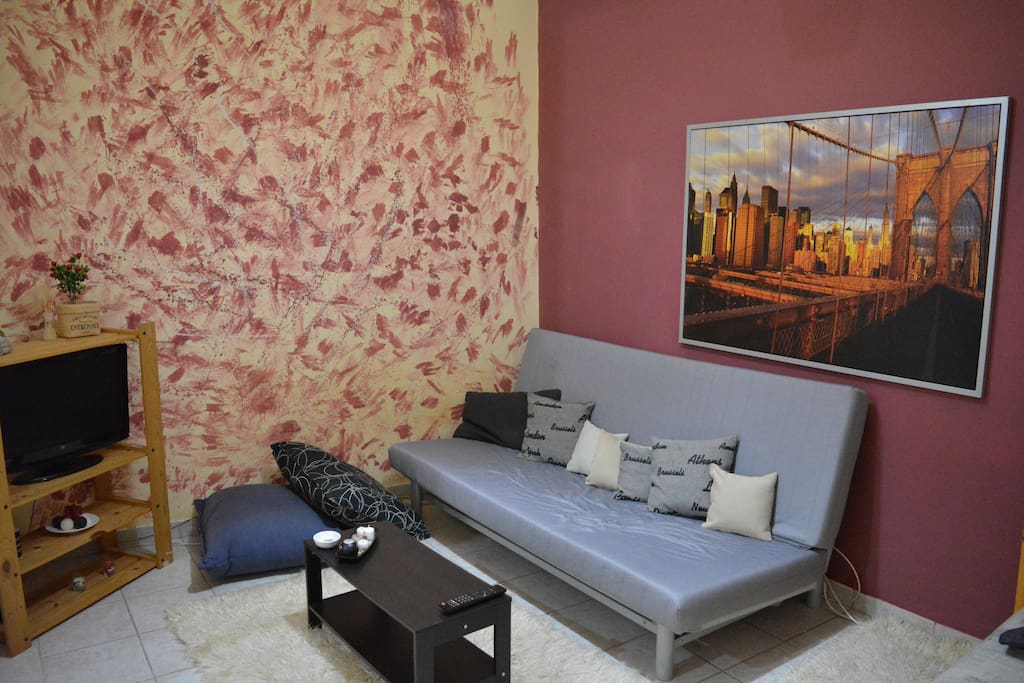 ΠΡΟΚΕΙΤΑΙ ΓΙΑ ΕΝΑ ΜΙΚΡΟ ΔΙΑΜΕΡΙΣΜΑ ΣΤΟ ΚΕΝΤΡΟ ΤΗΣ ΘΕΣΣΑΛΟΝΙΚΗΣ,ΕΥΚΟΛΑ ΠΡΟΣΒΑΣΙΜΟ ΚΑΙ ΜΕ ΤΑ ΠΟΔΙΑ ΑΛΛΑ ΚΑΙ ΜΕ ΣΥΓΚΟΙΝΩΝΙΑ ΣΕ ΟΛΗ ΤΗΝ ΠΕΡΙΟΧΗ ΤΟΥ ΚΕΝΤΡΟΥ! ΕΠΕΙΔΗ ΒΡΙΣΚΕΤΑΙ ΠΑΝΩ ΣΤΗΝ ΠΛΑΤΕΙΑ ΝΑΥΑΡΙΝΟΥ ΥΠΑΡΧΕΙ ΠΛΗΘΩΡΑ ΜΑΓΑΖΙΩΝ(ΣΟΥΠΕΡ ΜΑΡΚΕΤ, ΚΑΦΕΤΕΡΙΕΣ,ΜΠΑΡΑΚΙΑ,FAST FOOD,ΦΟΥΡΝΟΙ ΚΤΛΠ) ΤΑ ΟΠΟΙΑ ΕΙΝΑΙ ΠΟΛΥ ΟΙΚΟΝΟΜΙΚΑ ΕΠΕΙΔΗ Η ΠΕΡΙΟΧΗ ΘΕΩΡΕΙΤΑΙ ΦΟΙΤΗΤΙΚΗ! ΤΟ ΔΙΑΜΕΡΙΣΜΑ ΕΝ ΟΛΙΓΟΙΣ ΕΙΝΑΙ ΙΔΑΝΙΚΟ ΓΙΑ ΑΤΟΜΑ ΠΟΥ ΘΕΛΟΥΝ ΝΑ ΓΝΩΡΙΣΟΥΝ ΤΗΝ ΘΕΣΣΑΛΟΝΙΚΗ ΚΑΙ ΑΠΛΑ ΑΝΑΖΗΤΟΥΝ ΜΙΑ ΒΑΣΗ ΓΙΑ ΞΕΚΟΥΡΑΣΗ ΚΑΙ ΥΠΝΟ!
房源
It is a small appartment located in the historical centre of Thessaloniki. It's ideal for those who want to visit Thessaloniki and they need a home to rest and sleep.
房客使用权限
It is located as i said in the centre of Thessaloniki so it is very easy to walk towards anything in the centre (10-15 min by foot) and has also access to many bus lines (2min by foot).
与房客的互动
I am willing to answer to any questions you have and suggest you places you can visit. I am available most time of day so don't hesitate to contact me for anything.
---
The apartment has immense value for money considering it's location right at the heart of the city. The pictures are accurate and the host was more than willing to help with any questions. The only slight complain is that there is no window looking directly out at the street, but that is pretty minor considering everything else, especially if you are planning to spend most of your time outdoors. An overall great experience!
---
A difficult critic. The apartment is located right at the heart of Thessaloniki, the price is OK, the girls are very helpful and doing the best they can to keep the place clean. However, the building is really old, the entrance reeked of urine for the two days I was there, there are 3 big mould stains on the entrance wall and the whole place smells a lot of mould. Adding the lack of basic amenities such as A/C and WiFi...proceed at your own risk.
---
The neighborhood was a block away from everything downtown, but it wasn't the nicest one, a lot of homeless and junkies in the next block. They never bothered anyone, but it did smell like piss before going home. The place was okay, it was in the first floor. Only 2 windows without any views. It was clean and the host was always ready to help. Definitely worth the price.
---
Although I told the tenant that I would be there at 6 pm, she told me, after I called her to tell her that I will soon be there, that she couldn't come before 9 pm so I had to wait 3 hours. The room was clean an tidy but I had an awful smell and was very dark although the window was opened all the time. Because of that I couldn't stay as long as I had planned. A positive point is, that you can reach the cenrte easily and fast.
---
Check in was nice, even I was a bit late (maybe one hour or so) they waited for me with no complains. Vert central apartment, Minimum needs are covered. No wifi. I had hard time getting my questions replied. When checking out I left my jacket in the flat and could'nt reach (via messages) Maria back since then...
---
ΤΟ ΟΝΟΜΑ ΜΟΥ ΕΙΝΑΙ ΜΑΡΙΑ ΚΑΙ ΜΕΝΩ ΣΤΗΝ ΘΕΣΣΑΛΟΝΙΚΗ! ΑΣΧΟΛΟΥΜΕ ΜΕ ΤΗΝ ΜΟΥΣΙΚΗ ΚΑΙ ΤΟ ΤΡΑΓΟΥΔΙ.ΘΑ ΧΑΡΩ ΠΟΛΥ ΝΑ ΣΑΣ ΦΙΛΟΞΕΝΗΣΩ ΣΤΟ ΧΩΡΟ ΜΟΥ! ΕΥΧΟΜΑΙ ΝΑ ΠΕΡΑΣΕΤΕ ΟΜΟΡΦΑ ΣΤΗΝ ΘΕΣΣΑΛΟΝΙΚΗ ΓΙΑΤΙ Η ΖΩΗ ΠΡΕΠΕΙ ΝΑ ΕΙΝΑΙ ΓΕΜΑΤΗ ΟΜΟΡΦΕΣ ΣΤΙΓΜΕΣ ΚΑΙ ΠΡΟΡΙΣΜΟΥΣ :)