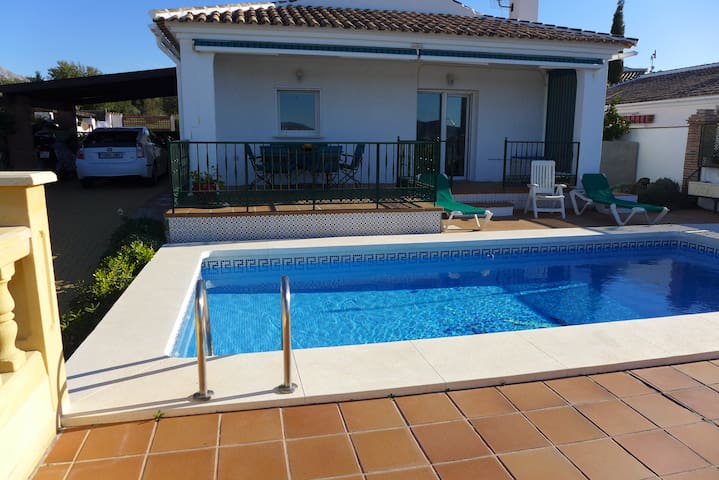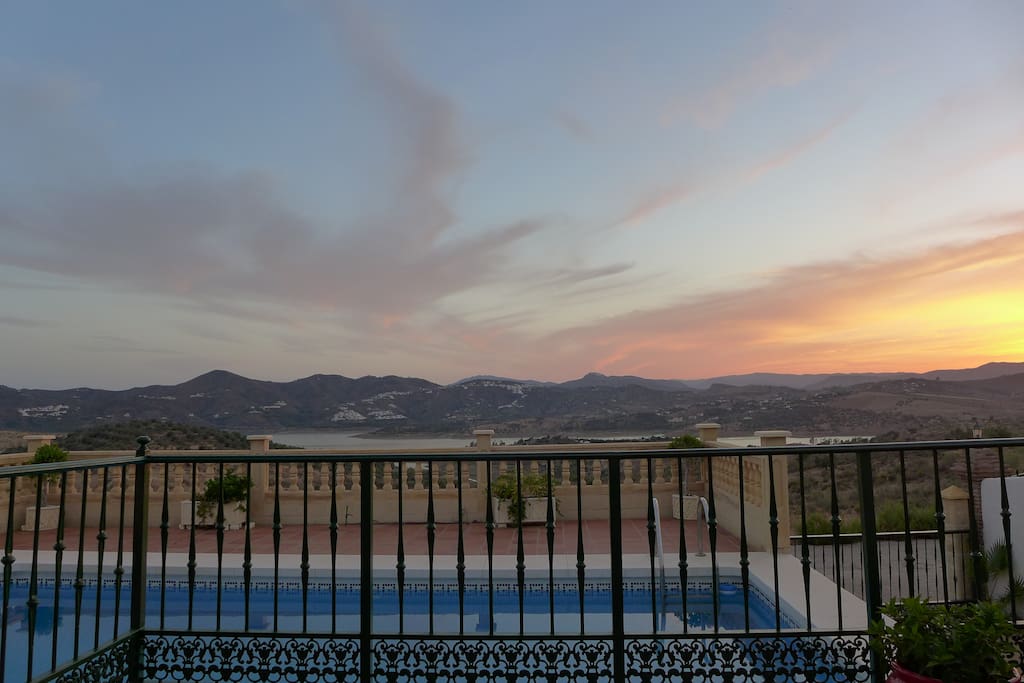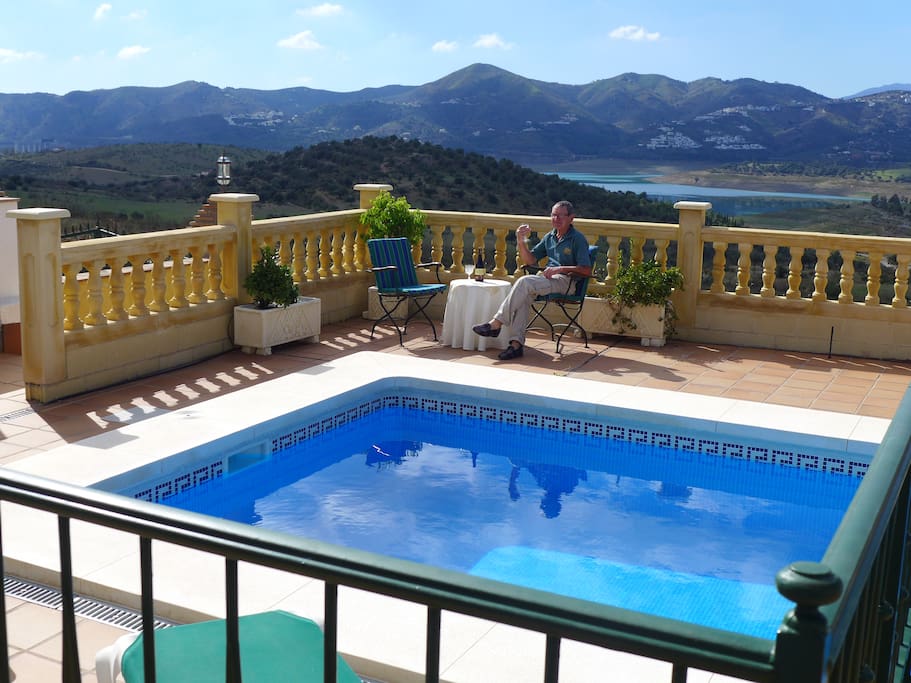 Our home is light and spacious and overlooks lake Vinuela. It's great for cycling and exploring Andalucia with it's white villages, or just chilling out by the private pool. The swimming pool is fenced and gated for the safety of children .There is a beautiful hotel on the Lake which is within walking distance across the countryside...Hotel Vinuela which is a favourite wedding location.
---
This is a beautiful, well equipped, peaceful villa about an hour's drive from Malaga airport. From the first to the last moment we never got tired of the view of the mountains and lake. Everything is well arranged for spending time lazing by the pool. The house layout means it was easy to have all our meals on the terrace. The location is isolated and you will need a car. The local village is a few minutes drive and has supermarkets, a few bars, a butchers and a bakers. There are two larger supermarkets near the motorway exit that are cheaper and have more choice. For eating out there are several bars, restaurants and hotels in the area that are within easy driving distance. We explored further some days and found the countryside spectacular, but were happy to get back to cool off in the pool. We could not fault the location, accommodation or equipment supplied in this villa. With everything provided it was so easy to relax. It truly felt like being at home but much warmer and with better views. We would love to return sometime. Thanks
John and I are delighted that Mary and her son had such a special time at Sueños and loved the spectacular views. We feel the same way after exploring Axarquia when we return to cool off in the pool. Looking forward to having them stay again in the future. Thank you for caring for our home so well. Joyce
---
Rarely have we enjoyed a vacation as we did with our stay at Casa Sueños. If you choose to stay at this fantasitic holiday home you won't regret it - everything is set for a wonderfull and relaxing vacation. The surrounding are spactaculare and the house was perfect for our family needs. We'll miss the private pool and the view! Hopefully we'll come back again soon!
My husband and I are pleased that Mette and her family had a relaxing holiday at Casa Sueños. We also love the wonderful views and are happy to share it with our guests.This is the first time we have had a baby stay in our home and we put in lots of safety measures around the pool.
---
To say that this is stunning views is an understatement. Spending the daytime and evening surrounded by mountains and overlooking the most beautiful lake I have ever laid eyes on is the most wonderful experience I have had in Sunny Spain! We had a car and used this beautiful villa as a base to unwind and relax in between visiting many places in South Spain. The host is extremely kind and communicative and has left the villa very well equipped with a lot of thought for younger children and toddlers access in and around the pool. The gates were perfect with our two year old boy. We had the most wonderful time and will definitely be coming back to this villa. Value for money and we couldn't have asked for a better holiday. Thanks John/Joyce
John and I were happy to host Matt and his family and share our lovely Andalucian countryside with them. We kept in touch with them before, during and after their holiday and are so pleased that they appreciated the safe pool area for their two year old. Tina and her management team looked after all their needs during their stay to make them feel at home. We look forward to having them visit Sueños again in the future. Gracias amigos.
---
The house is in a nice and quiet location. Everything is as advertised. Coming by a car is very much recommended. John and Joyce are good hosts, even though not present, always trying to make sure you have a pleasant stay in their house.
John and I are pleased that Pavel and his mother enjoyed our home and it's location in front of Lake Vinuela. We agree with him that a car is essential for a holiday at Sueños as public transport is very limited. Although not in Spain ourselves at the moment, Spanish management look after our guests and our home very well. Happy travels Pavel.
---
Our holiday was perfect! A beautiful and complete house. A wonderfull place with lovely vieuws. Very clean and Cosy
---
I'm a retired teacher from Cornwall who moved to Spain 14 years ago to enjoy the beautiful scenery around Lake Vinuela and the Spanish way of life. My hobbies are cycling, walking, reading and music. My wife and I also are keen dancers. I love red wine and good food and the view from my terrace across the lake .I travel to Malaysia each year to visit my elder son and have travelled to most countries through home exchange.