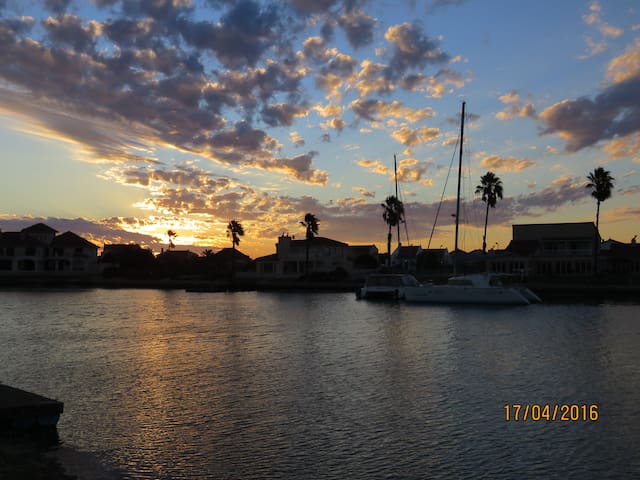 • Our home is a comfortable and cozy place where you can relax and enjoy your stay.
• A picturesque, waterfront view of the Marina.
• Lies between Laaiplek and Velddrif.
• It is within walking distance of three or more convenient stores.
• There are many outdoor activities available in the area.
• Access to the sea and Berg River.
• Great for fish and boat lovers.
• We welcome anyone from anywhere.
房源
• Picturesque view of the Marina
• Back porch is about 3m away from the water for you to access by jetty
• A jetty available
• Handpicked and personalised decor
• Quiet and cozy
与房客的互动
If there are any queries or emergencies, feel free to contact the host by their cell or email.
---
This is by FAR the best airbnb I have stayed at. We had a little trouble finding it at first but called James and he sent Andre out to help us. Andre is lovely and such a helpful man! He helped us find parking spots and showed us the lovely home. The house itself is very unassuming from the outside but once you open the doors it is tastefully decorated and SO clean. There was a welcome package of wine, biscotti and ice cream which was so thoughtful! There was a Bluetooth speaker we were told was at our disposal. Andre left us telling us to have a good time and enjoy ourselves. The pictures do NOT do this home justice. You are literally on the water. The view is gorgeous!!! There are ducks I fed everyday, boats that come and go, kids laughing and play and.... The sunsets are breath taking! There is a great braai area stocked FULL of wood. There is a nice canvas screen so you can still have the doors open but not get cold at night. The neighbors we so kind! The rooms were clean and all but one has the view of the harbour through big windows or a large balcony. They are all nice sizes with good size beds. Very comfy and cozy. I really can't say enough about this place! Its stunning and there are big stores conveniently located near by. If you want to stay in Velddrif or any town near by... Or even if you don't know where you want to stay, choose here. Promise you will NOT regret it!
---
James' spot was ideal and exactly what we were looking for. We were two couples with 2 children each. The house looks over the water which creates a magical atmosphere and fantastic sunsets. With it's own private Jetty, we had lots of fun with the Kayak, Boat and fishing. In addition, the community feel was great with neighbors being generous with the Snoek they caught (wonderful on the Braai!) The check-in was great with Andre being there to support us when needed. He also cleaned the Braai daily and offered us wood which was greatly appreciated. There was a small incident where the wind blew a frame over (glass broke), which when we informed James he was really cool about it which was much appreciated. From the bottle of wine that was left on arrival, to the ice cream in the fridge, these guys rock and we will definitely be back. One of our best getaways yet! Thanks you!
---